Josep Maria Bartomeu Resigns Ahead of No Confidence Vote at FC Barcelona; Real Madrid Salvage Point vs Borussia Monchengladbach in Champions League (Football Round-up)
Short Passes (Football News Round-up): Josep Maria Bartomeu resigned following increasing fan protest against his presidency at FC Barcelona | Real Madrid made a comeback to salvage a point with a 2-2 draw at Borussia Monchengladbach in the Champions League | Atalanta striker Josip Ilicic struggles with depression after Covid-19 infection | FA launches diversity code to ensure BAME and women representation in executive and managerial roles at English clubs | Marcus Rashford has done more to eradicate child poverty in six months than any politician in 25 years, says Manchester city councillor.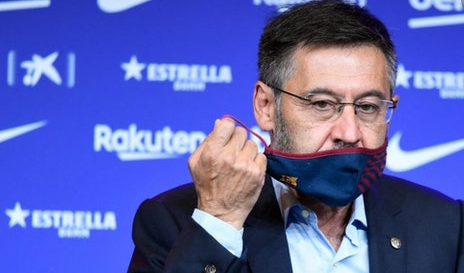 Josep Maria Bartomeu had been due to step down in March, having served the maximum two terms as FC Barcelona president.
On a Champions League night, a day before their high profile clash against Juventus and an hour before Real Madrid went down by a goal to unheralded Borussia Monchengladbach, Barcelona fans received the best news they could have possibly asked for this year. 
Josep Maria Bartomeu has resigned as Barca president. And he has taken his board of directors with him. 
The memes have been simple and to the point. Most of them involve Lionel Messi, a cigar, a glass of scotch and the words 'I win'. But memes are, by nature, fleeting, and Bartomeu's presidency has been anything but. Under increasing pressure over the past few months the 57-year-old had been desperate to cling on to power for as long as possible. He survived a coup attempt from within his own ranks. A humiliating Champions League defeat to Bayern Munich. Their greatest ever player saying he wanted out. In the end it wasn't one thing that brought him down. It was all of them.
Also Read | It's Scary Out There: The Unsafe Gaze in a Public Space
On Monday, Bartomeu had resolutely said that there is no reason to present [my] resignation", and "it is not a good idea to leave the club in the hands of an administrator", a situation that would have been brought on after over 20,000 club members' signatures had been gathered to form a referendum on his presidency. Barcelona, after all, are owned by their supporters who elect a president to run the club.
The club sought to postpone the no confidence motion to November, but the Catalan government refused, effectively leaving Bartomeu with the choice of a public sentencing or silent execution. By stepping down he chose the latter.
Bartomeu had been due to step down in March, having served the maximum two terms as club president. He is gone a few months early. An interim board is expected to take over and prepare for presidential elections. 
Real Comeback to Earn a Point
Statistics don't tell the whole story, but in the manner of tragic heroes and scorned lovers they create outstanding plot points for a narrative. Real Madrid have played 1,052 Champions League games in their history. Borussia Monchengladbach and Shakhtar Donetsk have a combined 543 matches between them. Monchengladbach, in fact, have played 163 matches in the Champions League. Real's captain Sergio Ramos played his 124th game against the Germans Tuesday night.
Experience matters. Right till it doesn't. Here's the tragicomedy of all those statistics: Madrid have now conceded five goals to these two teams to kick off their campaign in Europe this season. Against Shakhtar, they went down by three in the first half, only to rally on and score two in the second, denied a point by the intervention of VAR in injury time. 
It was much the same on Tuesday. Monchengladbach went up by two at home (Marcus Thuram 33', 58'), looked comfortable enough, right till they didn't. It was almost like they realised what was happening at the wrong time of the game. Real have never lost four Champions League games in a row. They narrowly avoided it, seven minutes of enterprise and vision undoing 87 minutes of agony.
Karim Benzema's goal right at the death seemed a lifeline — or a consolation if you were slightly otherwise inclined. It wasn't against the run of play because in the last 10 minutes the Germans had decided to sit in their own half, happy to hit on the counter. But it seemed like again the Real engine had kicked on only when the race had slipped away. Not to be so. In the last minute of stoppage time, Luka Modric floated a fine ball towards the far post, Ramos headed it down and Casemiro slotted it home from close range. This time VAR agreed and Zinedine Zidane will find some relief. 
Ilicic's Bout With Depression After Covid-19
Atalanta's Josip Ilicic struggled with depression after testing positive for Covid-19, his skipper at the Italian club, Papu Gomez, revealed.
Bergamo was one of the worst hit cities in Italy when the coronavirus pandemic peaked in the country earlier this year. And, the Champions League fixture between Atalanta and Valencia -- known now as Game Zero -- is considered one of the major reasons for the escalation of cases in Bergamo, Italy, and in Spain as well. 
Also Read | Four Indian Women Named in FIFA Elite Panel of Referees
Ilicic, who had a spectacular last season with the club that saw it finish third in Serie A, scored four goals in that match. His strikes saw Atalanta progress to the quarterfinals of the Champions League. The Slovenian had, in fact, donated the match ball to an hospital in Bergamo which was one of the fronts in the city's battle against the coronavirus. 
The striker's form has dipped since matches restarted post lockdown. Reports in Italy claimed the 32-year-old was not in the right frame of mind. Gomez has now revealed that he struggled after being diagnosed with Covid-19. 
"He had the coronavirus and fell into depression," Gomez said in an interview with TyC Sports. "There comes a moment when the head explodes. Luckily he recovered and he's fine now. He is very important to us."
Ilicic missed the last seven games of Atalanta's 2019-20 campaign, including the Champions League quarter-final defeat to Paris Saint-Germain (PSG).
FA's Diversity Code
The English Football Association (FA) has decided to act to correct the imbalance in gender and ethnic diversity in managerial and other supporting cast roles at clubs. The imbalance is all the more glaring when compared to the demography on the pitch. The FA's Football Leadership Diversity Code is an attempt to correct it.
The voluntary code was signed by 19 top-flight clubs. Southampton is the only club from the Premier League to have not signed it. 19 sides from the EFL and three from the Women's Championship not affiliated to professional clubs have also expressed a willingness to adopt the code.
Clubs which adopt the code are expected to meet set BAME (Black, Asian and Minority Ethnic) and women recruitment targets in positions ranging from the executive level to coaching. 
Also Read | Mohammedan Sporting's Ghosts Refuse to Disappear
The code stipulates that 15% of new recruitment in senior leadership roles at the clubs should be black, Asian or of mixed ethnicity and 30% of new hires should be female. In coaching at men's pro sides, 25% of new hires should be black, Asian or of mixed heritage. 
Southampton, who did not sign to adopt the code, said they agreed with the principles but are comfortable without officially signing. The larger feeling among the club officials was that they did not get enough time to analyse the implications of the code before  its launch. They also justified the decision by citing that the club meets the Premier League's Advanced Equality Standard and that  proves that they are much ahead of things which the code hopes to achieve.
Rashford Has Beaten Politicians Hands Down
Marcus Rashford, who lobbied and forced the government to provide free meals to underprivileged kids during the summer holidays in the UK, criticised politicians last week for voting against extending the policy till Easter next year. His campaign, #endchildfoodpoverty, garnered overwhelming support from many organisations, enabling the setting up of a private pool to ensure free food distribution for the needy children. 
A Manchester city councillor, who feels Rashford should be honoured with the Freedom of the City award, said the striker  has done more to combat child poverty than any politician has in the last 25 years.
"I wonder whether we ought to be looking to better reflect the diversity of the city, and whether or not there are people from other backgrounds who ought to be recognised for their contributions to the city," city councillor John Leech told the nomination committee, as quoted by Manchester Evening News.
"For example one of those people that have been mentioned in recent months has been Marcus Rashford," he added.
"Despite being a [Manchester] City fan, I think Marcus Rashford has probably done more to highlight and raise the issue of child poverty in the last six months than any politician has managed in the last 25 years."
Get the latest reports & analysis with people's perspective on Protests, movements & deep analytical videos, discussions of the current affairs in your Telegram app. Subscribe to NewsClick's Telegram channel & get Real-Time updates on stories, as they get published on our website.
Subscribe Newsclick On Telegram