It's Scary Out There: The Unsafe Gaze in a Public Space
How safe do you feel outdoors? How much of that is because of your gender identity? If you are male, chances are, you can walk in the park with no fear of any kind. For women in this country though access to public spaces is a double edged sword. Even today, many women do not feel safe outdoors, fearing violence, abuse and objectification. In conversation with fitletes, athletes and women who engage with sport as part of daily life, Newsclick tries to understand the extent of the menace.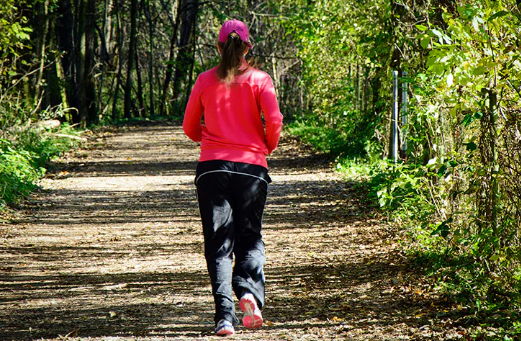 (Representational image) In India there are very few places where women can feel safe working out alone. They, invariably, end up going to the park for a jog or workout with a male companion or in groups (Pic: LBB).
Harassment in public spaces is one of the most common, and on most occasions overlooked, forms of sexual violence a woman encounters. It could happen almost anywhere -- when they're walking on the street, jogging in a park or coming back home from work. One would assume there is a safety net in crowded spaces such as public transport. But no, we know the kind of harassment that takes place on a bus, or in metros or trains. Those stories are documented on a daily basis.
According to the 2019 Neta Survey App, 43 percent of women have felt "unsafe" outdoors and 78 percent feel that not much effort has been made by authorities to provide a safer environment for women in India. The numbers are staggering and damning. 
Last week, a young girl on a bicycle was reportedly harassed by a man in a car in Dwarka, New Delhi. The car did not have a number plate and its back glass was also broken. The man demanded sexual favours from the girl while following her, and shouted derogatory comments at her. He also, reportedly, unzipped his pants and masturbated as he trailed her. 
Also Read | Sacking, Promotion, Celebration and Caution: Mohammedan Sporting's Ghosts Refuse to Disappear
Although a complaint was lodged, the perpetrator still remains at large and even more distressing is the fact that such incidents have become a common occurrence in the area, a residential suburb in the national capital. 
Go back to last month, to another city. The actress and former Roadies contestant, Samyuktha Hegde, was harassed publicly for working out in a sports bra at a park in Bengaluru by Congress leader Kavitha Reddy and a few others. She was accused of being 'inappropriately dressed'. People present in the park later vouched that Hegde maintained social distancing norms and did not create a ruckus or disturb anyone. Hegde uploaded a video of the incident on social media where she and her friends were almost assaulted for a simple thing such as working out in athleisure clothing. 
The two recent incidents narrated here shows that regardless of the city or the social or economic standing of the woman, harassment is a reality. She is under a constant threat.  The Hegde incident also brings out the misogynistic remarks that invariably follow incidents of harassment -- justifying the harassment on the basis of the clothes the victim is wearing.
In Hedge's case, the altercation that broke out took place between two women. Hegde was almost assaulted by the Congress leader. Imagine being confronted by a man in a similar situation. Reflecting upon this incident, fitlete and yoga practitioner, Radhika, who is very vocal about safe spaces for women on social media, says "Samyuktha has the chance to go on an Instagram live and put it out on public domain what happened to her. Many girls don't have the knowledge or the quick response to do so." 
Newsclick got into conversations with fitletes, athletes and common women -- from professionals to office commuters and homemakers -- trying to understand from them the real extent of the menace. It was also an attempt to gauge -- most of them being used to moving about alone outdoors -- how safe they feel working out in public places regardless of dressing choices and location.
One Has to Be Ever Alert: Athletes
Former tennis player Manya Nagpal says, "As tennis players, we train outside more than just in gyms. As long as you are in a group, you're okay.
"Even if you're in a park where people are walking or something, maybe at early hours of the day or early evening, you really don't know how the people around you are," she adds. "There are a lot of things. If you're training outdoors, you're doing weights… people actually stop and watch. The worst is when you're training outside, you're wearing sports bras, they are tight on your bust, people would want to walk around that area so they can eye you. If you're doing circuit training-- squats and weights included, people just stand and stare at you."
Nagpal is based in Delhi. Athletes in other towns -- especially places where they are used to women athletes training in the open -- fare better. Only slightly though.
Niharika Vashisht, 24, a triple jumper, says she has never been cat-called or eve-teased while training trains in the local park near her house in Chandigarh. "I have never faced such a situation in my life when I go out to train. No one ever tries to interfere with my training. Even when people approach me, it is only to cheer me on, and tell me what a nice job I am doing," she adds.
"Maybe it has something to do with the city I am in," says Vashisht. "People here are so used to having athletes or people train that they never seem to be bothered by what we wear. Though I try to wear proper equipment-- shoes, grips and sports bra-- all of that is for myself, and not because I fear being teased or stopped from training."
"It is the mentality of the person and the eventual moulding of the environment they are around that makes them used to women being out in the open (to train)," adds Vashisht.
Vashisht's experience seems to be an exception. Nagpal presents the flip side to the story, the one that's a more common narrative across various cities, towns and villages in India. A woman has to either train with other athletes or have men accompanying them during workout. 
Also Read | Silent, Inert or Watchful? What is the AIFF's Game Plan to Address the Elephant in the I-League Room?
"I have always had a group of guys training with me. Even if someone would try, when we used to train in the University area (Delhi University), we used to gym outside, the boys around me made me feel safe," she says. 
"It also depends on the place that you're at… Like I said.. We used to work out in the Bonta area, I never faced an issue, because there were many other athletes and pehalwans (wrestlers/strongmen) who would train there. But the odd one or two would ogle," she adds.
"I eventually started training in a park in Punjabi Bagh. Most people would constantly have their eyes on you… they watched while you were skipping, jumping or even when you're doing sit ups. There were some people who particularly noticed that I went there at 7 am and they started coming there at that time, and they changed their walking path-- the ones who would take full rounds, now only walked up and down around the area I trained at," she narrates.
Nagpal's ordeal is all the more worrying because she was with her trainer, a man. "All of this happened when I used to have my trainer with me. My trainer would initially try to ask them to leave but it eventually became "main kitno ko rokunga"... so I found my way around things, like I would turn my back towards them and then finish my workouts," she says. 
If metros cities like Delhi and Bengaluru are unsafe for women to work out, we can imagine the predicament in tier 2 cities.
Culture Battle Around Wearing Sports Attire
Neha Pardeshi, former captain for the Indian women's rugby team and a fitness coach, believes that people need to change their mentality when it comes to women and sportswear. 
"I personally have not experienced a situation where I have felt unsafe, I am from Pune and now I live in Delhi," she says. "I go for runs early in the morning and at least in the areas I have lived in, I haven't experienced any such issues. However, I would like to add that these areas where I go running are male dominated. For example, you will see men and there will not be many women around in the streets or on the ground.
"Many women might feel uncomfortable but according to me, most of the time, it's the psychology and the mentality which needs to change and improve," she adds. "I mean, if women are wearing sports bras and training in gardens, then it's not a bad thing. People should not get too offended. I do that and I have not experienced this."
Nagpal, despite being a tennis player, had to ensure that she wears her tennis skirts only within the stadium premises to avoid trouble or issues while commuting even a short distance from her hotel to the venue.
"I remember travelling for my tournaments, and if I had to go to a stadium from the hotel, I always wear a full-length lower over my skirt or carry my skirt, reach the stadium and then change. I can't think of getting out of my hotel in a skirt, as the hotel staff would ogle. However, I would say 80% of my experiences were safer because I was in a group of guys."
It's a Matter of Health Too
Dipti Shankar, is the founder and director of Safe Campus, an organisation she established six years ago to empower women and children. The organisation focuses on physical, emotional and mental well-being and safety of women, bringing about positive changes and making it a way of life. She sheds light on a very important and long-term ill effect of women not being able to pursue sport or exercise outdoors. Their health and fitness deteriorates.
"In India, we do not have a culture of working out, especially among women," she says, while explaining how pubescent girls tend to be conscious of their bodies while the prying eyes and judgemental statements even from family makes them prone to insecurities. This insecurity dictates their fashion choices while most of them chose not to work out because it involves wearing tight clothes or shorts. 
Also Read| Bikash Yumnam and India's Fading Memory of Long Throw-In Maestros
"The general masses are very particular about what they wear when they go out. As this is how things are here. If women wear clothes that are even a little revealing or maybe even a little tight, people are always either starting or glaring," she says.
"In India, we haven't even thought about health and fitness for women and the data clearly indicates that cases of heart attack, blood pressure etc are higher among women," adds Shankar.  "We need to change the way we look at women in general. We need to work on both women and men to change their mindset."
Shankar narrates her own experience of working out in the gym.
"I have a team of around 15 people and they are all young girls between the age of 20 to 25 and we have a tie up with a gym in Gurgaon and we have a three-hour session in the morning for our own training and fitness regime," she says. "Every time we work out, men try to approach us. 'Oh what do you do? Oh you look so great' and so on. It is very uncomfortable so we prefer to select timings when there are not many people around. While men are more likely to choose timings when women are most likely to be in the gym.
"Some people come up and ask for numbers, contacts, chase us on social media, harass us on messenger and Instagram," she adds. "Every day I get at least 10 messages in my messenger box and Insta where people write to me saying, "'oh you look so hot! You look so young!' and so on. I mean do I really want to hear all that!" 
An Unsafe World Out There
Crime against women in India is rising. An IndiaSpend analysis, cited by Scroll, states that 2.24 million crimes against women were reported over the last decade. According to available figures, 26 crimes are reported every hour, or one complaint every two minutes.
Public safety for women is not just an issue in India, though. It's a global menace. Even developed countries, the West which supposedly offers more freedom for women, have been struggling to provide a safe environment for women. The available data on gender violence is really depressing.
According to a 2016 UN report, the worldwide figure suggest that about 88 percent of women reported having some form of verbal sexual harassment, which included comments of sexual nature, whistling, leering or making obscene gestures etc in their life time. 
Last month, a woman in Strasbourg, France, was punched in the face by three individuals for wearing a skirt. A 2015 study released by the High Council for Equality between Women and Men (HCEfh) revealed that 100 percent [of more than 600 women surveyed across the country] had faced sexual harassment. 
The United States is no better. According to a 2014 study by the nonprofit organization Stop Street Harassment (SSH), more than 107 million women in the country had experienced incidences ranging from being called 'hey baby', slurs, groping, sexual harassment and assault in public spaces. Around 65 percent of all women nationwide had experienced some sort of street harassment. 
The United Kingdom is not far behind either. According to a survey carried out by House of Commons Women and Equalities Committee who commissioned YouGov to carry out exploratory research on attitudes related to sexual harassment in public, brought out some damning figures. 63 percent of girls and young women between the age 18-24 felt unsafe walking home alone. A 2016 survey by  End Violence Against Women Coalition, which was also commissioned by YouGov to conduct the first national poll on street harassment in 2016, stated that 64 percent of women of all ages have experience unwanted sexual street harrassment with 45 percent of women experiencing unwanted touching. 
The numbers indeed paint a depressing picture indeed. The situation is the same cutting across borders, cultures and societies. How can one bring about a change? The athletes and women Newsclick spoke to have no clear cut answer for it is clear that the menace is not because of a lack of safety or security measures or policing, or lack of a prevalent culture of women being outdoors. The rot is something deeper and the women feel they could do their part just by fighting it and being out there, fighting for among many things, their right to walk free without fear.  
Get the latest reports & analysis with people's perspective on Protests, movements & deep analytical videos, discussions of the current affairs in your Telegram app. Subscribe to NewsClick's Telegram channel & get Real-Time updates on stories, as they get published on our website.
Subscribe Newsclick On Telegram