Judge Hearing Sohrabuddin Fake Encounter Case may not have Died of Heart Attack
Over a year-long investigation, journalist Niranjan Takle discovered serious inconsistencies in the official accounts of the death of Justice Loya, who was hearing the case in which Amit Shah was the prime accused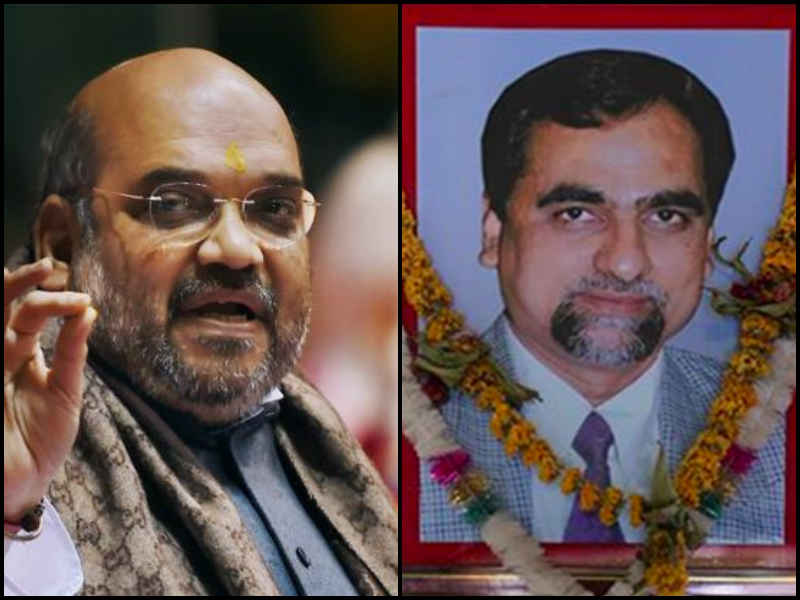 Three years ago, a judge died, while presiding over the case of the fake encounter killing of Sohrabuddin Sheikh in 2005 that named one of the country's most powerful politicians, Amit Shah, as a "prime accused".
The death of Justice Brijgopal Harkishan Loya, special CBI court judge in Mumbai, was reported in the media as caused by a "heart attack".
But a year-long investigation by journalist Niranjan Takle—who spoke to Loya's family members and other sources—suggests that there may have been 'unnatural causes' rather than a cardiac arrest responsible for Loya's sudden death.
In fact, Justice Loya's sister Anuradha Biyani has now alleged that her brother was offered a bribe of Rs 100 crore by Mohit Shah, who was Chief Justice of the Bombay High Court between June 2010 and September 2015, for a 'favourable' judgement.
Besides BJP national president Amit Shah, the accused included top Gujarat police officers. Sohrabuddin Sheikh was a gangster said to be extorting money from traders in the marble industry. It is alleged that Amit Shah, who was Gujarat's minister of state for home at the time, had links with Sohrabuddin through a senior IPS officer in Gujarat.
In November 2005, Sheikh and his wife Kausar Bi were on a Hyderabad-Sangli bus, when they were stopped and made to get down by the Gujarat Anti-Terror squad, and were shot dead near Gandhinagar.
After Justice Loya's death, Amit Shah was given a clean chit on 30 December 2014, by the new presiding judge, MB Gosavi, for lack of evidence.
The judge hearing the case prior to Justice Loya, JT Utpat, was transferred soon after he reprimanded Amit Shah for not appearing in court.
All of this was done violation of the Supreme Court order that the trial be heard by the same judge from beginning to end. In fact, the apex court in 2012 ordered that the trial be shifted from Gujarat to Maharashtra in order "to preserve the integrity of the trial."
In two stories published over two days by the Caravan magazine, the family has flagged several "suspicious" circumstances and inconsistencies between what they saw, what they were told and what was reported about Loya's demise — from the time of death to the post-mortem procedure to the condition of the body when it was received by the family.
Loya, aged 48, died in Nagpur, where he was attending the wedding of a fellow judge's daughter, in the wee hours of 1 December 2014.
In Nagpur, Loya was staying at Ravi Bhavan, a government guest house for VIPs, along with the other judges who were attending the wedding.
At 11pm, he had called his wife Sharmila and spoke to her for over 40 minutes. The family was later told that he had chest pain and was taken to Dande Hospital, a private hospital in Nagpur, by auto-rickshaw, and later shifted to Meditrina hospital, another private hospital, where he was "declared dead on arrival."
During his investigations, between November 2016 and November 2017, Takle also spoke not only to Loya's relatives but other sources as well, including two sources at Nagpur's Government Medical College—where the post-mortem was conducted—and Sitabardi police station.
Anuradha Biyani, Loya's sister and a doctor in government service gave Takle copies of a diary she maintains, which included entries recorded at the time of her brother's death. Takle also spoke extensively to Loya's father, Harkishan Loya.
The major inconsistencies as pointed out by Loya's family are:
1) The time of death
Loya's family members said they began receiving calls informing them of Loya's death from early morning onwards on 1 December 2014. The earliest call came around 5am to Sarita Mandhane, another of Loya's sisters. But the post-mortem report records the time of death as 6.15 am.
"The time of death cited in the report—6.15 am—appears incongruous, since, according to Loya's family members, they began receiving calls about his death from 5 am onwards," notes Takle.
Importantly, "two sources in Nagpur's Government Medical College and Sitabardi police station told me they had been informed of Loya's death by midnight, and had personally seen the dead body during the night. They also said that the post-mortem was done shortly after midnight," adds the Caravan report.
"The source at the medical college, who was privy to the post-mortem examination, also told me that he knew that there had been instructions from superiors to 'cut up the body as if the PM was done and stitch it up.'"
2) The condition of the body
A diary entry by Biyani, written after the family received the body, says: "There was blood on his collar. His belt was twisted in the opposite direction, and the pant clip is broken. Even my uncle feels that this is suspicious."
Mandhane, and Loya's father Harkishan, also told Takle that there were bloodstains on the clothes.
Since Biyani is herself a doctor, she said she found the state of the body "suspicious" because, "I know that blood does not come out during PM"—post-mortem—"since the heart and lungs don't function."
But again, in the post-mortem report, under a category described as "Condition of the clothes—whether wet with water, stained with blood or soiled with vomit or faecal matter," a handwritten entry read "Dry."
3) The signature on the post-mortem report
The post-mortem report is signed by someone with the phrase "maiyatacha chulatbhau", meaning the "paternal cousin brother of the deceased". This person also apparently received the body after the post-mortem examination.
But Loya's father Harkishan said there was no such relative in Nagpur.
"I do not have any brother or paternal cousin brother in Nagpur," Harkishan told Takle. "Who signed on the report is another unanswered question."
The family was not asked for permission for the post-mortem to be carried out, and was not even informed that it was being done. No one knows who ordered the post-mortem. No panchnama was prepared, nor a medico-legal case filed, which should have been done since the body was sent for a post-mortem.
4) Role of RSS worker Ishwar Baheti
Loya's father received a phone call from an RSS worker named Ishwar Baheti, informing him that he "would arrange for the body to reach Gategaon."
"Nobody knows why, how and when he came to know about the death of Brij Loya," Biyani told Takle.
Further, Mandhane said Baheti came to a hospital in Latur, where she was visiting her nephew.
She told Takle that "just as we were leaving the hospital, this person, Ishwar Baheti, came there. I still don't know how he came to know that we were at Sarda Hospital."
The story goes on, "According to Mandhane, Baheti said that he had been talking through the night with people in Nagpur, and insisted that there was no point in going to Nagpur since the body was being sent to Gategaon from there in an ambulance. "He took us to his house, saying that he will coordinate everything," she said. (Questions that I sent to Baheti were still unanswered at the time this story was published.)"
In fact, Baheti also returned Loya's mobile phone to the family.
5) Deletion of data from Loya's phone
Biyani says that when Baheti returned the phone to the family, after three or four days, all data on the phone had been deleted.
"We got his mobile on the third or fourth day," she told Takle. "I had asked for it immediately. It had information about his calls and all that happened. We would have known about it if we got it. And the SMSes. Just one or two days before this news, a message had come which said, 'Sir, stay safe from these people.' That SMS was on the phone. Everything was deleted from it."
6) Sound medical history
The post-mortem report mentioned "coronary artery insufficiency" as the probable cause of death. However, according to Biyani, Loya did not suffer from any of the conditions – such as old age, family history, smoking, high cholesterol, high blood pressure, obesity, diabetes – that could contribute to coronary artery insufficiency.
"Brij was 48," the article quotes Biyani. "Our parents are 85 and 80 years old, and are healthy with no cardiac history. He was always a teetotaller, played table tennis for two hours a day for years, had no diabetes or blood pressure." Indeed, Biyani said she did not believe the official medical explanation for her brother's death.
Get the latest reports & analysis with people's perspective on Protests, movements & deep analytical videos, discussions of the current affairs in your Telegram app. Subscribe to NewsClick's Telegram channel & get Real-Time updates on stories, as they get published on our website.
Subscribe Newsclick On Telegram