Karnataka: 150 Factory Workers Verbally Sacked by Auto Firm Yazaki
The workers at the auto parts company were unable to punch out after their shift ended, following which they were informed that they had been laid off.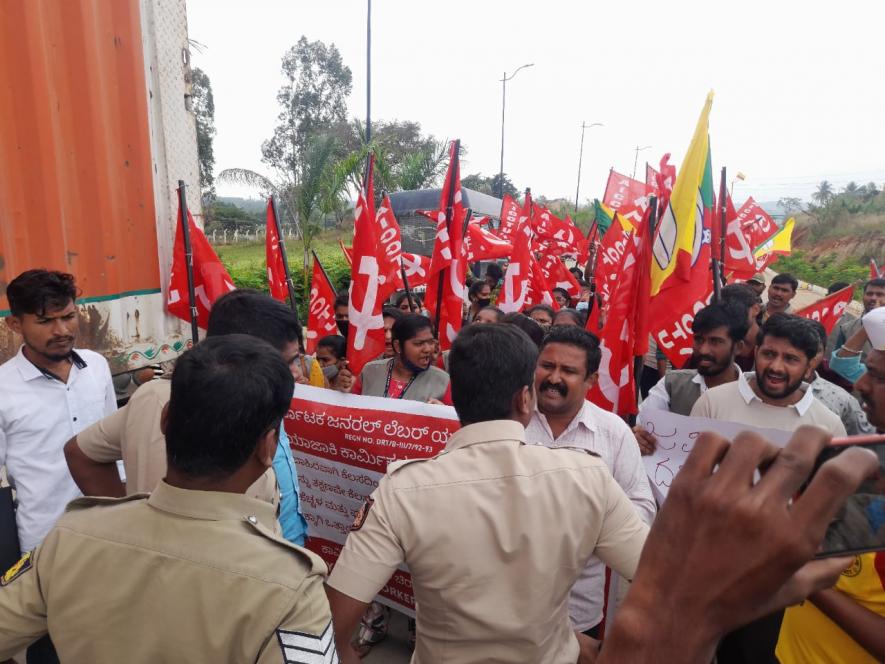 Workers at Yazaki Pvt. Ltd., based in the Bengaluru Rural district, alleged that the company had verbally sacked at least 150 workers in December. The Yazaki plant in Lakkenahalli assembles wire harnesses for Toyota and Maruti cars. The workers said they were not given any termination notice, and their biometric authorisation was revoked. Around 50 workers were allegedly fired on December 13, following which another 100 workers were sacked the next day. There are 2,000 employees in the Lakkenahalli plant. The workers are being assisted by the All India Central Council of Trade Unions (AICCTU), which filed a memorandum with the Deputy Labour Commissioner (DLC) and educated workers about their rights and entitlements. They commenced a protest for reinstatement on Monday and are determined to continue until their objectives are met.
A sacked worker who wished to remain unnamed said he had worked at the company for five years. He started working at the Jigani plant, after which he was asked to shift to the Lakkenahalli plant outside Bengaluru city limits.
"I have been working at the Jigani plant since 2018. A few months ago, there was a change in management, and we were asked to shift to Lakkenahalli. It is very far away, so we initially refused. They promised a room and two meals daily if we agreed to shift. They also promised wage hikes. However, they did not fulfil any of their promises. My last salary was around Rs 11,000/month. It has remained unchanged for five years. On December 13, around 50 workers could not punch out after their shift ended. They were informed that their employment was terminated. The next day, some of us felt insecure about our employment status when we saw how our colleagues were dismissed. After our shift ended, we sat down inside the premises and refused to leave until we received some assurances from the management."
However, the management did not meet them. Instead, the police were called. The workers allege that the police took photographs of the workers who had sat down on the spot. Another worker who wished to remain unnamed said that shortly after the police took the photographs of the workers, they were all sacked. At least 60 of the sacked workers are women.
Most of the sacked workers had completed training courses at Industrial Training Institutes (ITI). They had different trade certificates such as fitter, electrician, mechanic etc. Some among them also hold diplomas in electrical engineering. Before their termination, they were not unionised. However, they have started a Yazaki workers unit under the Karnataka General Labour Union. Around 100 laid-off workers joined the union.
Chandrashekhar, head of HR at the Yazaki plant, provided a statement to NewsClick about the termination of workers. Speaking on the phone, he said, "We have removed employees as per an agreement we have with them. We have recruited them under the Apprenticeship Act. We can give them training for up to three years. During that period, we can remove them anytime. Some political people are involved in the protests, and now, they are claiming permanent employment. The (terminated) operators told us that they are being forced to join the protests."
When asked why they were not given a termination notice, he said it was not required.
"We provided mail communication to their HODs three days before termination. We are not required to give any notice to the workers. We were forced to fire some people because the business is down at the moment."
While the workers believe there is a change in management, Chandrashekhar confirmed that that was not the case. The plant was shifted from Jigani to Lakkenahalli, but the management remains the same.
Maitreyi Krishnan of AICCTU condemns the use of apprentices for core production. She says, "Apprentices act was brought to provide short-term training to workers. It's being abused by employers to deny job security and decent wages to people who are involved in core production. This practice has also been observed and criticised by the courts. Moreover, under section 25(n) of the Industrial Disputes Act 1947, you have to follow a certain procedure for layoffs. You need to take permission from the labour department and give workers at least three months of notice. This has not been done."
Get the latest reports & analysis with people's perspective on Protests, movements & deep analytical videos, discussions of the current affairs in your Telegram app. Subscribe to NewsClick's Telegram channel & get Real-Time updates on stories, as they get published on our website.
Subscribe Newsclick On Telegram