Karnataka: BJP Faces Wave of Discontent, Hoping Modi Will Rescue
Caste and regional divisions may be overridden by economic woes and a government seen as corrupt.
Image of Legislative Assembly of Karnataka. Image Courtesy: Wikimedia Commons
It has become customary to analyse electoral battles as just various castes/communities voting en masse for this or that party. As elections to the 224-member Karnataka Assembly approach, mainstream media is full of experts churning out such analyses that pass off as 'insights'. The focus is primarily on Vokkaligas and Lingayats, two numerically big castes in the state. Is the ruling BJP's Lingayat bastion under threat due to desertion of some of its leaders? Will the Bharatiya Janata Party (BJP) successfully breach the Vokkaliga stronghold of Janata Dal- Secular or JD-S? What do the candidate lists indicate? These and numerous such questions are being thrashed around. In addition, there is the rather clear regional differentiation in Karnataka – derived from historical administrative divisions and overlapping with caste, linguistic and religious identities.
All of these factors do play some role. But is it as much as it is made out to be? Why would certain castes vote this way and not that way? In any case, do they vote monolithically or are there divisions? Apart from caste, language, religion or region, are there other factors that influence voting choices? What are these?
Before going into these knotty issues, let us first look at the vote shares in the past two Assembly elections of 2013 and 2018. (See chart below)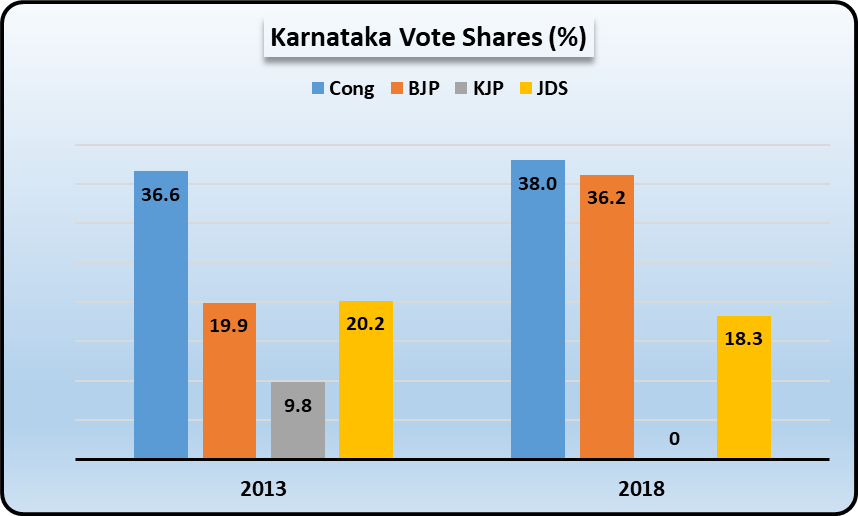 In the last Assembly elections held in 2018, Congress got 38% of votes polled, while BJP was slightly behind at 36.2%. The JD-S had got 18.3% votes. This vote division was reflected in seats as follows: Congress – 78 seats; BJP - 104; and, JD-S – 37. Since no party had a clear majority, Congress and JD-S put in place a coalition government.
However, in an infamous turn of events, the alliance was upended after several legislators defected from Congress and JD-S to join BJP. This led to the swearing in of the present incumbent BJP government, led by B.S. Bommai.
The previous Assembly election of 2013 holds interest because, as shown in the chart above, B.S. Yediyurappa the BJP strongman, had quit the party and formed a splinter outfit called the Karnataka Janata Paksha (KJP). This decimated BJP votes in the state, bringing them down to just 19.9%, giving Congress a clear lead at 36.6% vote share. Yediyurappa was persuaded to rejoin the party in 2014 in the run-up to the Lok Sabha elections and status quo ante was restored.
These events spawned a series of myths that have since dominated public discourse of Karnataka's electoral arithmetic. One of them was the importance of the Lingayat votes, which have been with BJP for several years now except for the 2013 split when Yediyurappa carried away a chunk leading, damaging the BJP.
The other was the stability of Vokkaliga votes, mainly concentrated in the southern or Old Mysore region of the state, which appear to have largely remained with the JD-S. Hence also the current obsession of analysts who are keen to show BJP's imminent victory and are strenuously arguing that this Vokkaliga bastion will probably be broken into by BJP this time round.
Other notable features of the 2018 Assembly elections were the advantage that BJP established in the coastal constituencies, winning over 52% votes and 16 of 19 seats there. A similar advantage was visible in the central and Malnad region with the BJP winning 43% of votes and 23 of 28 seats. Part of the reason behind BJP's better showing in these regions has been attributed to the rise of aggressive Hindutva, which has had a bigger impact in these mixed population areas.
But remember: despite all this dominance in certain regions, despite Lingayats returning to their fold and despite the so-called 'Modi magic' working overtime in the last Assembly election campaign, the BJP still lost.
Rampant Corruption
The BJP-led government in Karnataka was born out of engineered defections, not from people's mandate. Its very foundation was perceived as riven with undemocratic practices. There were allegations of horse trading. This cloud of malfeasance has only grown over the past four years of its rule.
In August 2022, Associations representing 13,000 private schools wrote a letter to Prime Minister Modi alleging that the Bommai government had institutionalised bribery in the state, with government departments demanding bribes on all kinds of issues. In fact they accused the minister concerned of being directly involved in this.
In January, the Karnataka State Contractors' Association alleged that over Rs.25,000 crore worth of bills were awaiting clearance from state government departments concerned and bribes at the rate of 40% were being demanded. They even released an audio tape allegedly with a recording of BJP MLA GH Thippareddy demanding money from the Association's vice president.
Earlier, in April 2022, minister K.S.Eshwarappa was forced to resign after a contractor committed suicide due to demands of 40% bribes. The contractor, Santosh Patil, was working on the Smart City project. Eshwarappa has since been denied a ticket in the upcoming polls but Prime Minister Narendra Modi personally called him up to praise his work and contribution to the party.
In March, the Lokayukta police arrested Prashanth Madal, son of BJP MLA Madal Virupakshappa, for allegedly seeking bribes from a company supplying raw materials to the state-run Karnataka Soaps and Detergents Ltd (KSDL). Prashanth was caught accepting Rs.40 lakh as bribe. Later, the police seized around Rs 8.1 crore in cash from the MLA and his son. Virupakshappa had to resign as chairman of KSDL.
These incidents highlighted the widespread graft and bribery in the state for which the Bommai government is squarely being held responsible. It is a measure of the desperate straits that the BJP is in, that despite such an unsavoury reputation, the party is sticking to Bommai's leadership, with Home Minister Amit Shah praising him for "good governance".
Inflation and Unemployment
In a recent pre-poll survey carried out by Kannada media outlet Eedina, besides corruption, the two other key issues highlighted by voters that will affect their voting choices were unemployment and price rise. While 68% of those surveyed identified corruption, 47% said price rise and 34% said unemployment were important factors in deciding which way to vote.
The survey covered 40,000 voters spread over 183 constituencies with results for 28 more seats awaited.
The survey found that among poorer sections, price rise becomes an even bigger issue with about 51% of respondents reporting it as a major factor.
Inflation, especially of essential food items and cooking fuels, has been raging very high across the country and in Karnataka too. This has decimated family budgets, especially in the context of stagnant wages that have marked the past two-three years. With the Public Distribution System insufficient and inadequate in its coverage, and the free 5 kg foodgrain scheme withdrawn, family budgets are facing a dire situation. Last year saw a massive spike in cooking oil prices while LPG cylinder costs too have skyrocketed, especially since the Ujjwala subsidy was withdrawn.
While headline unemployment numbers for Karnataka appear to be less than the countrywide average, in reality, this is because of disguised unemployment or under-unemployment. This happens when, in the absence of well-paying jobs, people are forced to accept very low-paying, insecure, transient jobs just to make ends meet.
Agricultural wages in Karnataka are lower than neighbouring Tamil Nadu, Kerala, Andhra Pradesh, according to latest available wage data from Labour Bureau. This phenomenon is not restricted to Karnataka alone – it is raging throughout the country. That is why unemployment has remained a big issue in a series of elections to State Assemblies in the recent past.
The crisis in the IT industry has also hit jobs in a big way in the metropolitan hub of Bengaluru. Thousands of IT- related jobs have been lost as a result of global crisis in the sector.
Farmers' Misery
Farmers in Karnataka were facing the usual squeeze of low returns and non-availability of Minimum Support Prices for many produce. This is what had motivated thousands to take part in the year-long struggle against the three black laws brought in by the Modi government in 2020, which were ultimately withdrawn.
However, Karnataka farmers have seen steady erosion of the APMC (Agricultural Produce Market Committee) system and government procurement causing heightened distress as well as increasing indebtedness. Although previous governments have announced loan waivers, these have been insufficient. Water availability for irrigation is also an unresolved issue in Karnataka.
The Bommai government has encouraged takeover of farm lands for non-farm purposes on a large scale, causing increased insecurity among farmers.
Rising Discontent
All these factors are over-riding the caste and regional divisions in the state. The BJP is perhaps banking on the communal divide which has been assiduously fanned by the Bommai government in the past few years by raking up issues like hijab, love jihad, Uniform Civil Code, and such other divisive issues. But clearly, these are not going to determine voters' choices. The BJP appears to be facing a tough battle to retain power in the state.
Get the latest reports & analysis with people's perspective on Protests, movements & deep analytical videos, discussions of the current affairs in your Telegram app. Subscribe to NewsClick's Telegram channel & get Real-Time updates on stories, as they get published on our website.
Subscribe Newsclick On Telegram