Karni Sena's Attack on Padmavati
Questions of historical inaccuracy and nationalism.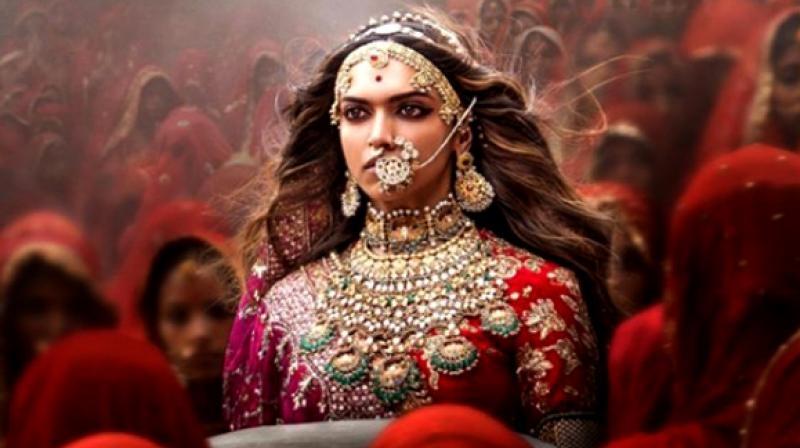 Image Courtesy: Deccan Chronicle
Sanjay Leela Bhansali's latest movie, Padmavati, has run into trouble weeks before its scheduled release on December 1, 2017. Shri Rajput Karni Sena, a right-wing "nationalist" organisation, warned that there would be violent protests unless the movie was banned. Their primary concern is "historical inaccuracy".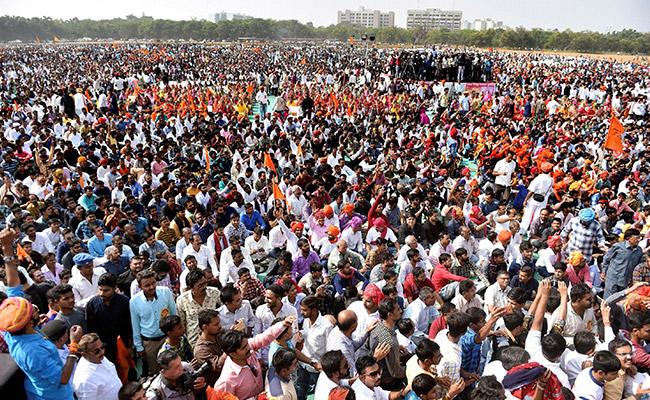 Massive Rajput gathering in Gandhinagar in protest against Padmavati. Image Courtesy: NDTV
This isn't the first time that the Karni Sena has called for the ban of a movie. In 2008, they raised objections to Ashutosh Gowarikar's Jodhaa Akbar. They then went on to ask for a ban on the Balaji Telefilms television series by the same name, Jodhaa Akbar,that premiered in 2013.
This, also, is not the first time that the Karni Sena has raised objections to Padmavati. In January this year, Bhansali had to shift the shooting of the movie to Mumbai after some Karni Sevaks vandalised the sets in Jaigarh Fort, Jaipur. The filmmaker was also, allegedly, slapped. In March, supporters of the Sena vandalised the Chittorgarh Fort by breaking the mirrors in the Padmini Mahal—according to the folk tale, Alauddin Khilji's first glimpse of Padmavati was of her reflection in one these mirrors, which led him to fall in love with her—claiming that the mirrors were added after Rani Padmavati's time and therefore distorted history. The sets of the movie were also vandalised again in March, this time in Kolhapur's Masai Plateau. In September, the Karni Sena publicly burned the posters of the movie to protest against its release.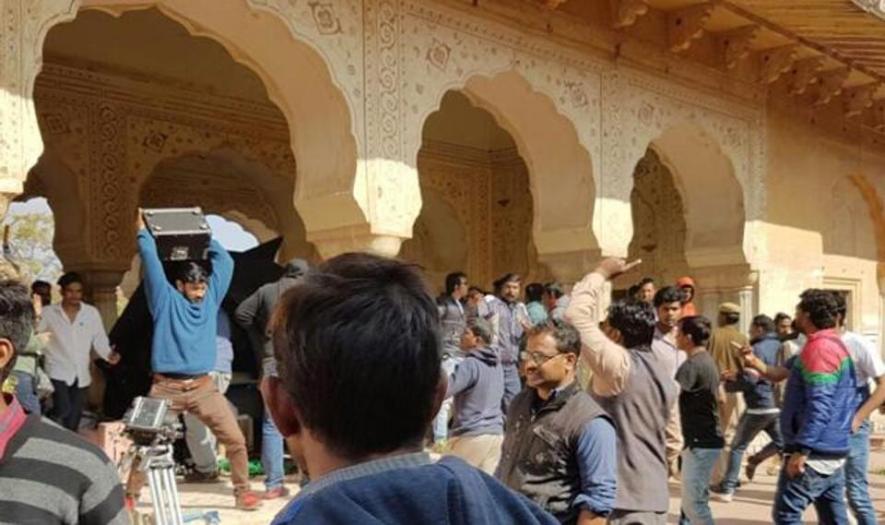 Supporters of Karni Sena disrupt the shooting at Jaigarh Fort, Jaipur. Image Courtesy: Hindustan Times
Now, their demand is that the release of the movie be stayed till it is shown, and cleared, by a body of select Rajput organisations and historians. If the producers do not agree to this, the Karni Sena has demanded a complete ban on the movie, warning of violent protests and marches if it isn't banned. Kota has already experienced such violence where a cinema hall was vandalised for showing the trailer of the movie.  The Rajasthan chapter of the Jamaat-e-Islami Hind has also extended their support to the demands of the Karni Sena. The Karni Sena has also threatened to chop off Deepika Padukone's nose, the actress who plays Rani Padmavati, for her comments against the protests.
The primary objection that Karni Sena, and other groups supporting their demands, have with Padmavati is its portrayal of Rani Padmavati, apparently a revered figure in Rajasthani folk lore. One specific instance that has been picked up as objectionable seems to be a dream sequence in which Alauddin Khilji is seen romancing Rani Padmavati. "We have learnt that there is a dream sequence in the movie wherein Rani Padmavati has been shown romancing with Allaudin Khilji. We condemn such a heinous portrayal [of) our queen. Karni Sena will never allow such movie to hit the theatres," said Mansinh Rathod, leader of the Gujarat chapter of the Karni Sena.
The whole thing is quite ridiculous to begin with. .
One, the historical existence of Padmavati is still debated by historians, as pointed out by eminent historian Irfan Habib. On what historical sources, then, is the Karni Sena basing their claims of historical inaccuracy? Secondly, even if they do have historical documents to support their claims, there is no reason why a movie can't deviate from history. There is, after all, something called creative freedom. This isn't the first time a filmmaker has taken liberties with history. Look at Mughal-e-Azam, for instance. It is one of the highest grossing films in the Indian film industry. There were significant historical inaccuracies in Mughal-e-Azam too but no one demanded its ban. Another reason that has led to the call for a ban is the dance sequence which accompanies the song "Ghoomar", which has Rani Padmavati dancing. This, according to some, is historically inaccurate because Rajput Maharanis didn't dance in front of anyone. Apparent,, such portrayal is disrespectful towards Rani Padmavati. Again, why such insistence on historical accuracy? Even the famous Sheesh Mahal dance sequence in Mughal-e-Azam was an anachronism, depicting a 19th century dancing style, whereas the movie was set in the 16th century. There were no objections then. Two, if someone finds the sequence disrespectful, they're free to not watch it. But why must they not let anyone else, who may not have any issues with it, watch the movie by calling for its ban?
The Karni Sena, and any other organisation that wants to join the bandwagon, is free to criticise and point out the discrepancies between historical documents and the movie, but calling for its ban is an extreme step and takes away Sanjay Leela Bhansali's right to make a movie.
Besides, why must a movie be judged on the basis of how historically accurate it is? Shouldn't it be judged on other aspects, like whether its script is good enough, what the cinematography is like, how is the direction, etc? That is, ultimately, what decides how good or bad a movie is going to be. After all, there isn't any award for the most historically accurate film. Maybe the Karni Sena should start giving out one every year, to encourage film makers to do better research.   Unfortunately for the Karni Sena, such decisions can be arrived at only after a film releases.
Disclaimer: The views expressed here are the author's personal views, and do not necessarily represent the views of Newsclick.
Get the latest reports & analysis with people's perspective on Protests, movements & deep analytical videos, discussions of the current affairs in your Telegram app. Subscribe to NewsClick's Telegram channel & get Real-Time updates on stories, as they get published on our website.
Subscribe Newsclick On Telegram