In Kashmir, Locals Suffer Side-Effects of Mining but are Denied its Benefits
People who live along the gypsum mountains in remote areas say that unlike the small-scale mining of the past, big (and illegal) miners are spreading illness and pollution.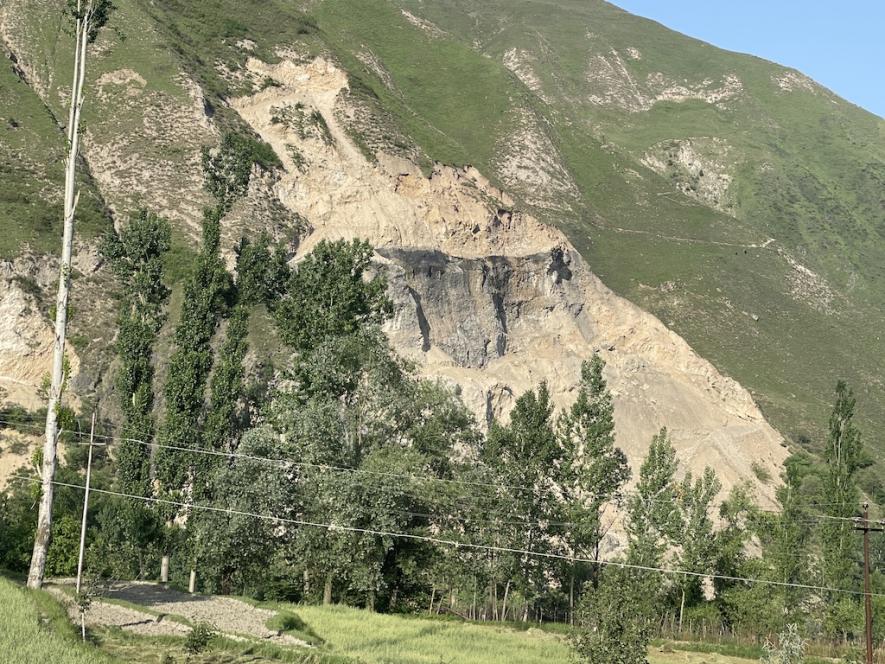 As you cross the bridge over the Jhelum river towards Bijhama village in the Baramulla district, you will be struck by awe and cough at the same time. While your left ear will hear the river roar, your right will be troubled by the cacophonous hammer breaking down the mountain. If you have trouble breathing, keep in mind that inhaling clouds of gypsum smoke is not unusual here. On the highway, you will find big dumper trucks ferrying gypsum from the mountainous mines to the plains daily. Often, they make the road slump and thus dangerous for small vehicles. 
If you continue your journey north-west towards Uri, you will be closer than ever to the gypsum mountains. Gypsum has contributed to transforming Uri from a village in the eighties into a small town. Day and night, JCBs, big trucks and heavy machinery bring down the forests or strip the mountains of their precious ore and transport it as pale yellow boulders to industries on the plains. The area is noisy and has created pools of toxic slurry. Locals have complained that mining has made diseases more prevalent.
For all you see on a visit to Bijhama and Uri, you will return convinced that mining in Kashmir needs stricter regulation. Adjacent towns and villages, Bhagna, Naloosa, Jabadar, Zamboor Pattan, Dara Gutilian and Dachina Salambad, also have open mines. The reason, according to locals, is that the government is not enforcing applicable laws that would have made things much easier for them. These are remote areas of Kashmir, close to the Line of Actual Control. Therefore, the mines here often get overlooked. But the Kazinag National Park in the Baramulla district is close by. It is home to the bearded, long-haired endangered Markhor from the goat family whose habitat traverses the LoC. Kazinag is a stone's throw from several mining sites, some dangerous, near Markhor habitats and breeding areas. 
"Until recently, mines operated near the sanctuary, polluting the water, causing deforestation, and noise. Animals used to run away from the area. After much effort, we have managed to stop one mine," says a forest official posted in the area, who spoke on condition of anonymity. 
Successive governments ignored the demands of the Kashmiri locals and environmental activists to strengthen and enforce environment and wildlife protection laws in the erstwhile state. After the central government read down Article 370 of the Constitution, central environment regulations such as the Wildlife Protection Act, Forest Conversation Act, etc., were enforced in Jammu and Kashmir. Some central laws are more stringent than those of the erstwhile state. For example, recently, the Supreme Court declared that near sanctuaries, mining should take place only beyond a minimum one kilometre no-mining zone. But all this seems to be overlooked in Uri and around. 
There are implementation gaps in the current system. Federal laws are in force, but only on paper, while the previous regulations that applied to the former state no longer apply. The region is operating in a vacuum, as always, at the cost of residents.
"We managed to stop one mine near Bijhama, but a mining mafia is in action, so we cannot do much. Very influential people are involved in mining," says the same forest official, who spoke on condition of anonymity. Other local administration officials in Uri and Baramulla this author met said, "all mining in the region is legal". 
This author also visited two mines at Bhagna, taking a road on the verge of collapse due to the constant movement of overweight trucks. Some of these roads lead to forward Indian Army camps and are essential for ferrying supplies. However, they are in bad condition and poorly maintained. It was obvious that the gypsum miners were contributing to the wear and tear of these roads.
In Bijhama village, sarpanch Naseem Muhamed Beg said he was disappointed with the government's response to his many appeals to bring the miners within the ambit of the law. "Two mines function in our area twenty-four hours a day. They create extreme noise and water pollution. But nothing is ever done about it. How could they get air and water pollution go-ahead? The noise does not let children study, while lime and gypsum pollute fields and drinking water. We cannot grow paddy here any longer," Beg says.
All the time, one hears rock-breakers blasting through gypsum rocks. Beg says that since the mining began, the sound of heavy machines has made those residents of Bijhama who have not already lost their hearing wish they were deaf. There are many landslides due to deforestation. However, the biggest problem is locals do not benefit from these mines, as there is no clarity under which laws they operate. 
"Mining is not taking place as per the rules. We residents get no benefit from it and suffer all its side effects. Sixty per cent of the village suffers from respiratory conditions, including asthma. After Art 370 was revoked, these mines should have got an NoC from the wildlife department since we are less than 500 metres from a sanctuary," Beg explains. 
Abid Farid Khan, a panchayat ward member, says, "Until labourers were employed as manual miners, the mining was sustainable. Ever since the heavy machinery has come here, our problems have escalated. Rock-breakers over-exploit minerals and cause excessive pollution." According to him, unsound mining practices have exacerbated landslides. In June, an operator was killed during rock-breaking. "Why are there no maximum limits or daily extraction quotas? The government has given Panchayati Raj Institutions mining rights, and we have tried to get mine-owners to the table, but they don't want to talk with us," Adib says. 
"We have briefed the top district officials on all our concerns, including the effect of unregulated mining on children. Eight schools are affected by uncontrolled mining. The problem is the mine operators are not using water to settle the dust, which is causing breathing problems, and they release toxic slurry into our river," Adib says. 
Downstream, at Chandanwari in the Baramullah district, I met Parvaiz Meer, whose story illustrates the woes in the mining area. After his kidneys failed, his wife donated him one. However, he has to work hard at a restaurant in the market, which is not medically advisable for people with kidney ailments. Meer says kidney problems are common in the area. "The doctors could not say why my kidneys failed, but I know many here have kidney disease, apart from asthma. We believe it is because of the limestone dust and quarry slurry in the air and water," Meer says. 
What Uri's natural resources and people are becoming victims of is predatory capitalism. Illegal mining is an open secret in this belt, yet there is hardly anyone who dares raise a concern about it. 
Abid, however, makes it clear what the locals want: stricter regulations and full implementation of mining and wildlife laws. Miners must use water to settle the dust their activities raise. Using silent rock-breakers must be mandatory, and extraction quotas must be pre-defined. "The government should also clearly instruct what vehicle load-bearing capacities are acceptable on these roads. Then, it should get the roads repaired, keeping the expected load in mind. Finally, the obligatory CSR funds of mining companies should go into community development, water filtration plants and hospitals to treat respiratory diseases." These steps, he says, will go a long way to heal their gasping breaths.
The author is an independent analyst and writer. The views are personal.
Get the latest reports & analysis with people's perspective on Protests, movements & deep analytical videos, discussions of the current affairs in your Telegram app. Subscribe to NewsClick's Telegram channel & get Real-Time updates on stories, as they get published on our website.
Subscribe Newsclick On Telegram