Kashmir Not Happy with Abrogation of Article 370 as Media and Govt Claims, Says Report
"When we talked to students, they expressed fear of losing one academic year since the schools remain closed," said Mollah, a member of the four member fact finding team which had visited Kashmir to find out the ground reality.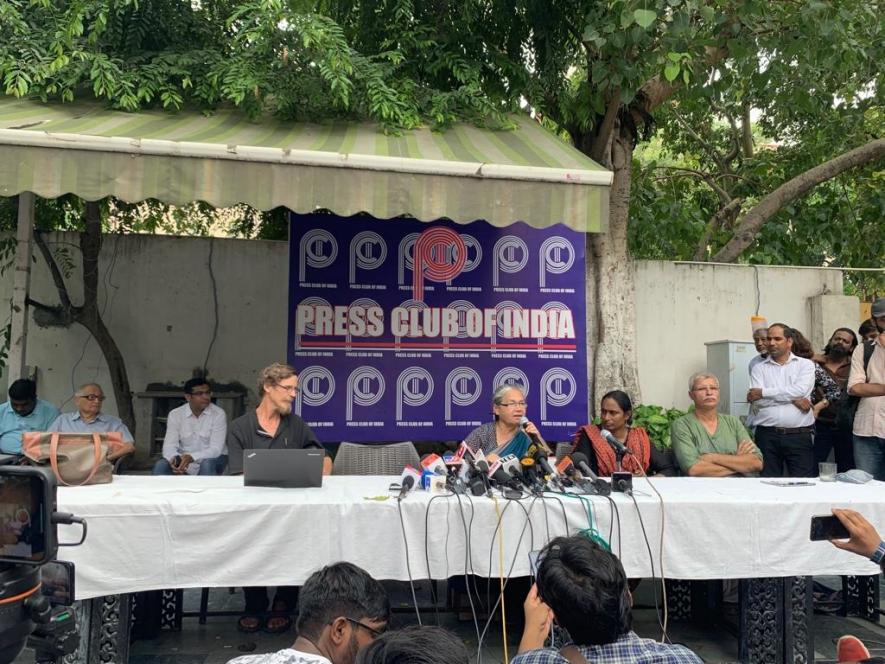 While the Indian mainstream media is busy praising the BJP-led Centre's decision to abrogate Articles 370 and 35A of the Indian Constitution and bifurcating the state of Jammu and Kashmir into two union territories, there are hardly any reports that talk about the ground realities in the region.
In one such effort to bring out the real voices rather than the fabricated opinions, a four member team comprising of economist Jean Drèze; Kavita Krishnan of the Communist Party of India (Marxist-Leninist) and All India Progressive Women's Association; Maimoona Mollah from the All India Democratic Women's Association (AIDWA) and Vimal Bhai from the National Alliance of People's Movements (NAPM), travelled extensively across the Kashmir Valley for five days from August 9. They found that, unlike what the mainstream media along with the Centre and the ruling Bharatiya Janata Party's (BJP's) spokesperson are claiming, the people in the valley are not happy with the new developments.
It should be noted that although the team was allowed to release their report "Kashmir Caged" in a press conference which was conducted at the Press Club of India, New Delhi, on August 14, they were not allowed to screen a 10-minute video with the same title, that they had shot during their visit. Talking about the same, Krishnan questioned, "The press club told us we cannot use the projector. Privately they told us that there is surveillance here and they are under pressure. If we cannot show what's happening in the Press Club, then where can we show it?"
While releasing the report, the team shared their experience which showed that the Valley is simmering with anger against the government's decision and the way they have implemented it. More than four lakh paramilitary forces have been deployed in the region in the name of ensuring peace in the valley.
"Even the police force are not happy with the developments in the valley. One of the police officers of IPS rank has told me that it is a dictatorship," Krishnan said in the press conference, adding that every person they met are alert and aware of what the State has done.
"When we met a group of four-five kids who were playing in a park, they were chanting Iblis (king of evil) Modi ," she added.
Also read: Exclusive: What do Bihari Workers Returning From Valley Have to Say About Kashmiris?
They also said that, to control the anger of the people, the government has imposed curfew-like conditions in Kashmir. Except few medical shops, ATMs and police stations, most of the establishments remain closed. Schools are closed and even some hospitals are shut. Though the government says that they have not imposed curfew there, people are not allowed to move freely without showing the curfew pass.
"When we talked to students, they expressed fear of losing one academic year since the schools are closed," said Mollah.
Reporters from Kashmiri TV channels and news papers have a similar story to tell. Newspapers that carry the barest mention of protests like the one in Soura are made to feel the heat from the authorities.
One of the journalists who the team had met during their visit had told them that "Newspapers are printing in spite of everything. Without the internet, we do not get any feed from agencies. We were reduced to reporting the J&K related developments in Parliament, from NDTV! This is undeclared censorship. If the government is giving internet and phone connectivity to police but not to media houses what does it mean? We had some people come to our offices, speaking on behalf of Army and CRPF, asking why we are publishing photos of the curfew-affected streets."
"Above all, the Kashmiri newspapers are unable to get the newsprints as they come from Delhi," Mollah added. They also found the newspaper offices in Press Enclave in Srinagar closed on August 13, and the area deserted except for a few stray journalists, and some CID men. Apparently one of the journalists told the team that papers could not be printed till at least August 17.
Economist Jean Dreze observed that though the Indian media is afraid of reporting the truth, "Reuters, BBC, New York Times are doing good reporting." Foreign press reporters whom the team had met said that they, too, are facing restrictions on their movement by the authorities. Also, because of the lack of internet, they are unable to communicate with their own main offices.
Also read: Did BBC, Al Jazeera, Reuters Fabricate Reports of Unrest in Kashmir?
The team also said that few journalists have even been targetted without any provocation. On August 6, a graphic designer for the Rising Kashmir newspaper, Samir Ahmad, who is in his early 20s, had remonstrated a CRPF man near his home in the Manderbag area of Srinagar, asking him to allow an old man to pass. Later the same day, when Samir opened the door to his house, CRPF fired at him with a pellet gun, without any provocation. He received 172 pellets in his arm and face near the eyes, but his eyesight is safe.
"It is clear that the pellet guns are deliberately aimed at the face and eyes, and unarmed, peaceful civilians standing at their own front doors can be targets," says the report by the team. 
In Soura also, the police force fired pellet guns at about 10,000 people who were protesting on August 9. Though the team had tried to go there, they were blocked by CRPF. However, the team met two victims of pellet gun injuries in SMHS hospital in Srinagar. The face and arms of the two young men (Waqar Ahmad and Wahid) were covered with pellet injuries.
"Their eyes were bloodshot and blinded. Waqar had a catheter in which the urine, red with blood from internal bleeding, could be seen. Their family members, weeping with grief and rage, told us that the two men had not been pelting stones," the report says.
All the teams members reiterated one thing that in every village they visited, as well as in downtown Srinagar, there were very young schoolboys and teenagers who had been arbitrarily picked up by police or army/paramilitary and held in illegal detention. Hundreds of boys and teens are being picked up from their beds in midnight raids.
"The only purpose of these raids is to create fear. Women and girls told us of molestation by armed forces during these raids. Parents feared meeting us and telling us about the "arrests" (abductions) of their boys," said Mollah, explaining the grim situation in the valley.
People are afraid of Public Security Act (PSA) cases being filed and some fear that the boys who "disappeared" may have been killed in custody and dumped in mass graves, of which Kashmir has a grim history.
"Of course, there is no information about the arrested people," said Dreze.
The political leaders and civil society activists from the valley are also under arrest. At least 600 activists and leaders are under arrest and there is no clear information on what laws are invoked to arrest them, or where they are being held. Political leaders including Farooq Abdullah, Mehbooba Mufti and Mohd Yusuf Tarigami are under house arrest. Though the team had tried to meet Communist Party of India (Marxist) [CPI(M)] MLA Tarigami, they were refused entry to his home in Srinagar, where he is under house arrest.
"Amit Shah had said that Farooq Abdulla is not under house arrest. But shortly after he had addressed the press, the forces who were deployed at his house have been suspended," Krishnan added.
According to the team, the protests are not likely to stop. A young man who they met at Sopore had told them, "Jitna zulm karenge, utna ham ubharenge" (The more you oppress us, the more we will rise up). They said they heard a familiar refrain at many places, "Never mind if leaders are arrested. We don't need leaders. As long as even a single Kashmiri baby is alive, we will struggle."
Also read: Why Kashmir is Suddenly a Potential Global Point of Conflict
Get the latest reports & analysis with people's perspective on Protests, movements & deep analytical videos, discussions of the current affairs in your Telegram app. Subscribe to NewsClick's Telegram channel & get Real-Time updates on stories, as they get published on our website.
Subscribe Newsclick On Telegram