Lakshadweep: Sedition Cases Next Tidal Wave on the Archipelago? 
The first ever case of sedition in the archipelago has been filed against filmmaker-activist Aisha Sultana, based on a complaint filed by BJP's Lakshadweep unit president Abdul Khader.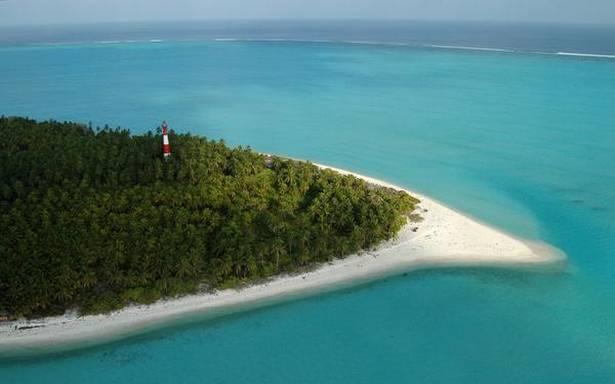 Image Courtesy: The Hindu
Even as Lakshadweep remains in the news for protests against administrator Praful Khoda Patel's allegedly controversial proposals pertaining to disqualification of panchayat poll aspirants with more than two children, beef ban, permission for alcohol consumption, implementation of Goonda Act, changes to land use and ownership as part of development projects etc., fresh controversy has struck the archipelago. The Lakshadweep Police have charged filmmaker-activist Aisha Sultana with sedition.
She was booked based on a complaint filed by the Bharatiya Janata Party's Lakshadweep unit president Abdul Khader. According to news reports, Khader filed a complaint with the Kavaratti police on Wednesday (June 9) stating that Sultana "alleged that the Central government used biological weapons for the spread of COVID-19 in Lakshadweep". The alleged statements were made by the filmmaker during a television news debate.
The Kavaratti Police registered a case under sections 124A (Sedition) and 153B (hate speech) of the Indian Penal Code against Sultana who is also an actor and a model. During the TV show, she reportedly asked why Lakshadweep, which had zero COVID-19 cases, now had around 100 cases. She alleged that there was a 'bio weapon' deployed or used to experiment upon the people of Lakshadweep. But instead of dismissing it as a bizarre conspiracy theory, a case of sedition was filed against Sultana.
In solidarity with Aisha Sultana. Voices of dissent can't be suppressed by using sedition. pic.twitter.com/kiwRL9R2z6

— Aishe (ঐশী) (@aishe_ghosh) June 11, 2021
According to news reports, Khader has stated that Sultana's "statement was an anti-national act, which tarnished the "patriotic image" of the Central government".  This is being reported as the first sedition case registered against a resident of, and in, the Union Territory.
Who does Lakshadweep Police report to?
Lakshadweep is a Union Territory and its police force is controlled by the Home Ministry via the local administrator. So in effect, UT Administrator Prafull Khoda Patel has approved of or ordered that a sedition case be filed against an islander, who allegedly made a comment on or criticised the government during a television news debate. This is the organisational structure of the UT's police command as given on its website.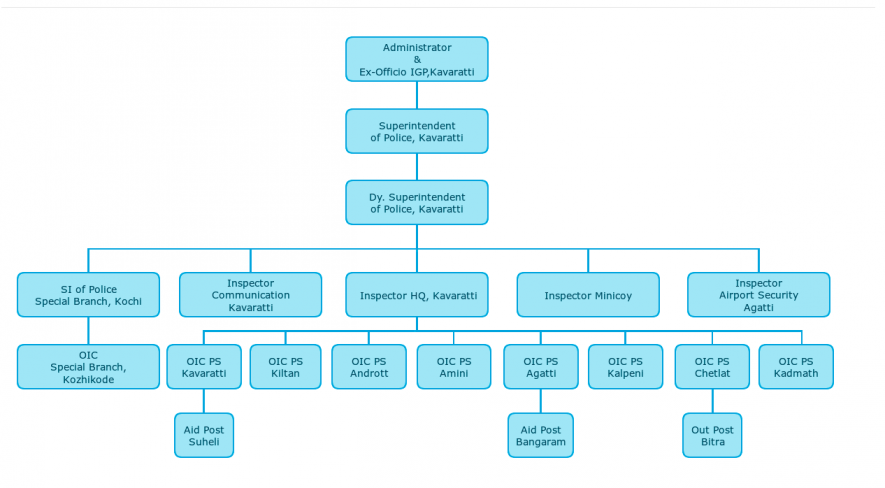 It is not wrong to assume that the Union Home Ministry would be aware of this sedition charge against Sultana, as the UT police is under it.
Also read: Why Lakshadweep Administrator Praful Patel's Proposed Reforms Echo Gujarat Laws
Recently, Mohammed Faizal Padippura, Member of Parliament representing Union Territory of Lakshadweep, had told SabrangIndia that he had been assured by Home Minister Amit Shah that the controversial draft notifications and decisions taken by administrator Praful Khoda Patel will not be cleared if they are found to be 'anti-people'. "I met the Home Minister, he has assured me that he will not go in a hasty way on this, and will definitely consider the pulse and sense of the people, panchayat members of Parliament. And the drafts which are not needed will not be taken forward, there may be drafts which need modifications for Lakshadweep's development. They will be consulted only then will they go ahead," Faizal had said.
This suggests that the MHA keeps a close eye on what transpires in Lakshadweep.
Meanwhile, support for Aisha Sulana is growing.
Aiysha Sultana, budding filmmaker, booked under sedition charges. Crime: Dared to describe admin policy a bio-weapon . Reason: Laccadives did not have a single case of Covid for a year until admin removed mandatory quarantine for travellers. Now Covid rages. Some sedition indeed! pic.twitter.com/oZU9m7hBGX

— Thomas Isaac (@drthomasisaac) June 11, 2021
Seems like the central agencies are not interested in 'Kodakara money heist.' Apparently, they are fully invested in seriously scrutinizing the passing comments made by Aisha Sultana (filmmaker from Lakshadweep) in a television debate. Central Agencies deserve a gallantry award ~ https://t.co/dwwqQBzHkM

— V P Sanu (@VP_Sanu) June 10, 2021
Issued a notice to Lakshadweep Administrator @prafulkpatel & UT Police demanding:

(a) Sedition FIR against Aisha Sultana be withdrawn+classified with "C Summary"

(b) Enquiry & action against officials involved in this.

Failure to comply will be challenged in Kerala High Court https://t.co/W01V10S1NT pic.twitter.com/kM8f2T8q6G

— Saket Gokhale (@SaketGokhale) June 11, 2021
Lakshadweep continues to protest Administrator's proposals 
The archipelago has been in the news for a series of proposals by administrator Praful Khoda Patel that the residents of the islands have found unacceptable. They recently held a historic hunger strike to show their unified opposition to these recent decisions.
Padippura had revealed to SabrangIndia that an order had been issued that every fishing boat must now carry a government employee for surveillance! He said this was the administration's way to "establish in the people's mind that something is happening around Lakshadweep and surveillance is being done". But given how the Navy and Coast Guard are well established in the region, the order serves little practical value.
On Thursday June 10, media reports confirmed that the Lakshadweep administration had withdrawn this order. According to a report in The Week, it was on May 28 that the administration decided to depute "responsible government servants onboard local fishing boats for intelligence gathering".
A decision had also been taken to "monitor the local fishing boats and crews, intensify checking of passenger boats and vessels reaching the islands and strengthen the ship berthing points and helibase by installing CCTV cameras".
According to a report in The Hindu, Sachin Sharma, director of port, shipping and navigation in the UT emailed officials that "as per further inputs, all concerned may revert back to standard protocol and SOPs (standard operating procedures)…"
Also read: #World Environment Day: Lakshadweep Happenings -- The Big Plot
(The author is an independent journalist. The views are personal.)
Get the latest reports & analysis with people's perspective on Protests, movements & deep analytical videos, discussions of the current affairs in your Telegram app. Subscribe to NewsClick's Telegram channel & get Real-Time updates on stories, as they get published on our website.
Subscribe Newsclick On Telegram