Why Lakshadweep Administrator Praful Patel's Proposed Reforms Echo Gujarat Laws
Praful Khoda Patel, the Lakshadweep administrator, a BJP leader and RSS member, has the island on the boil with a series of reforms that locals claim tampers with their culture and the ecology of the island.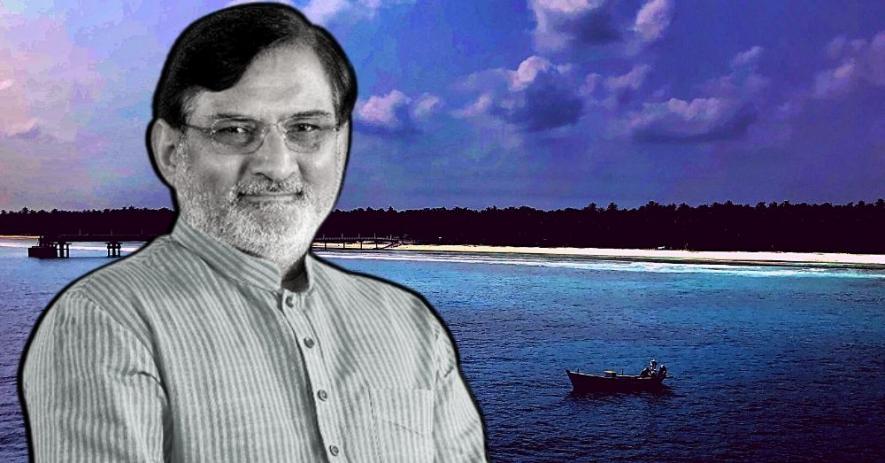 Image Courtesy: Sabrang India
Praful Khoda Patel, a BJP leader from Himmatnagar, Sabarkantha district in Gujarat was appointed as the Administrator of the Union Territory of Lakshadweep in December last year following the demise of his predecessor IAS Dineshwar Sharma. Patel, who already was the administrator of Daman and Diu and Dadra and Nagar Haveli, was given additional charge of Lakshadweep.
Ever since the appoint of Patel, a seething discontent has been brewing in Lakshadweep owing to a series of administrative reforms that he has brought in. Multiple Members of Parliament (MPs) wrote to the President last week stressing on the resentment among locals in the island and stated that the reforms were aimed at destroying the unique culture of Lakshadweep.
That apart, former Administrator of Lakshadweep Wajahat Habibullah, former NCW chairperson Mohini Giri and former Planning Commission member Syeda Hameed have written to Vice President M. Venkaiah Naidu and Kerala Governor Arif Mohammad Khan seeking their intervention in halting the implementation of proposals initiated by Praful Patel in Lakshadweep.
"The changes being proposed are stated to be for the welfare of the human community, which means a thorough consultative process by the said human community. Programmes being planned need a vision that takes into consideration a consultative approach rather than be imposed from the top," they said in the letter.
"The policy changes have been unilateral and arbitrary and have given no consideration to matters such as land use, land ownership, ocean resource utilisation and livelihood practices of the community," the letter added.
Lakshadweep, India's smallest Union Territory, is an archipelago which comprises 36 islands of which only ten are inhabited. Its population of about 65,000 citizens are made predominantly of Muslims and indigenous communities classified as Scheduled Tribes.
Slew of Bills Proposed by Praful Patel
The Lakshadweep Development Authority Regulation,2021, (LDAR) gives the administrator powers to remove or relocate locals from their property for purposes of town planning or any developmental activity.
The draft is very similar to the law used to acquire land for the Dholera SIR (Special Investment Region) and the Statue of Unity in Gujarat. Notably, about 60,000 farmers across 22 villages in Gujarat were served notices citing the Gujarat Special Investment Region Act, 2009, depriving them of half their land that they had been cultivating for generations. The notice read that the lands of the farmers were being taken away under Section 17(2) of the Gujarat SIR Act which allocated the entire SIR area under the Gujarat Town Planning and Urban Development Act, 1976 for developing roads for the SIR.
The Lakshadweep Prevention of Anti-Social Activities Regulation (PASA), more popularly known as the Goonda Act, brought in by Praful Patel, isn't unique to Lakshadweep. Multiple states including Gujarat, Karnataka, Tamil Nadu and Uttar Pradesh have the law.
However, the draft brought in by the Lakshadweep administrator is very similar to the law implemented in Gujarat, which had amended it in September last year to bring in sexual offenders, money-lending sharks, gambling den operators and cybercrime into its ambit.
The draft states: "The administrator may if satisfied with respect to any person that with a view to preventing him from acting in any manner prejudicial to the maintenance of public order, it is necessary to do so, make an order directing that the person should be detained".
It further states that a person engaging in bootlegging, a drug offender, immoral traffic offender, property grabber, found guilty under cybercrime laws, money-lending offender and sexual offender shall be arrested under the new law.
The proposed regulation has been met with protests from both locals and opposition parties.
Under the Lakshadweep Panchayat Regulation, 2021, Patel proposed to bar people with more than two children from becoming a member of the gram panchayat. For those who already have more than two children, the regulation does not disqualify them provided they do not have further children after the date on which the rule comes into effect.
Notably, Gujarat, Rajasthan, Maharashtra, Telangana, Andhra Pradesh, Uttarakhand and Karnataka already have in place disqualifying a person having more than two children from contesting panchayat elections.
During local and civic polls in February this year, three candidates who were in the fray for municipal corporation polls in Vadodara and Rajkot in Gujarat were disqualified under the two-child policy in place in the state for candidates.
The Gujarat government had amended the Gujarat Local Authorities Act in 2005 to prevent a person having more than two children to be a member of a panchayat, the councillor of a municipality or municipal corporation.
The draft Lakshadweep Animal Preservation Regulation, 2021, bans beef. The order seeks to ban the slaughter of cow, calf, bull and buffalo without a certificate from a competent authority. It also prohibits the sale, transport and storage of beef and beef products. Violation of the new regulation will lead to a maximum jail term of ten years and a fine of up to Rs five lakh.
The regulation states that it will allow keeping and preservation of animals suitable for milch, breeding or for agricultural purposes and that the slaughter of animals, other than cows or bulls for religious purposes will require a certificate from the authorities.
Who is Praful Khoda Patel?
Praful Khodabhai Patel, son of senior RSS leader Khodabhai Patel, was a civil contractor before he entered electoral politics. His firm Sabar Constructions based in Himmatnagar –where he hails from – has executed multiple projects with the government of Gujarat.
Patel won the assembly elections from Himmatnagar in the year 2007. In 2010, when now Union Home Minister Amit Shah was jailed in connection with the Sohrabuddin encounter case, Modi, who often visited Patel's father and was close to the family, appointed him the state Home Minister. He also was handed eight out of ten portfolios held by Shah after a cabinet reshuffle in the same year.
However, he lost the assembly election from Himmatnagar in 2012. Thereafter, he was appointed the administrator of Dadra and Nagar Haveli and Daman and Diu in 2016 by the NDA government in a precedent change from the earlier practice of appointing only IAS officers to the post.
In his stint as administrator of Dadra and Nagar Haveli, Patel ended up in a tiff with IAS officer Kannan Gopinathan who was the then Collector of the Union Territory and electoral officer during 2019 Lok Sabha elections.
Patel had sent a notice stating that Gopinathan's behaviour was "unbecoming of an officer", and had sought an explanation on why his conduct should not be reflected in his annual performance report.
However, Gopinathan who had complained to the ECI of pressure from Patel, resigned in August 2019.
Notably, Patel was named in the suicide note of Dadra and Nagar Haveli MP Mohan Delkar. On February 22, Delkar died by suicide at Hotel Sea Green South in Marine Drive, Mumbai. He had left a 15-page suicide note in which he wrote the names of several administrative officials from the UT, including Patel.
A case of abetment to suicide was registered with Delkar's son Abhinav as the complainant. Later, the Maharashtra government had announced in the state assembly that a Special Investigation Team (SIT) would be set up to probe the suicide.
Get the latest reports & analysis with people's perspective on Protests, movements & deep analytical videos, discussions of the current affairs in your Telegram app. Subscribe to NewsClick's Telegram channel & get Real-Time updates on stories, as they get published on our website.
Subscribe Newsclick On Telegram