Lakshya Sen Flouted Covid-19 Protocol: Ajay Jayaram Opens Up About Tournament Exit and Quarantine in Germany
Having played and won a game, Ajay Jayaram, who is on a personal comeback trail was forced to pull out of the SaarLorLux Open in Germany. The shuttler's disappointment was compounded because of circumstances beyond his control. In an interview he talks about the situation, the lost ranking points, the new normal and the way ahead.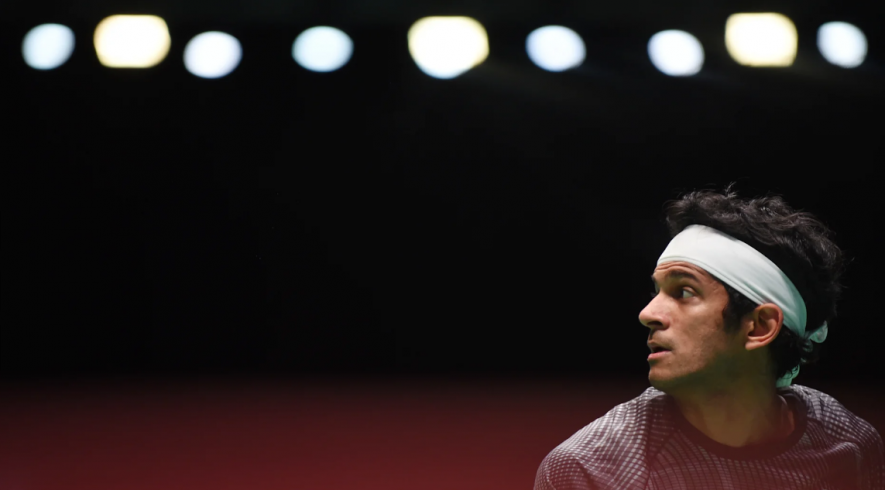 The SaarLorLux Open was Ajay Jayaram's second tournament on the trot. The former World No. 13 was ensuring he takes part in as many tournaments possible in a year where there are almost none to play (Pic: Olympicchannel.com).
Of the three Indian badminton players who were forced to pull out of the SaarLorLux Open in Germany, and then quarantined in Saarbrücken for almost a week, Ajay Jayaram probably feels the most bitter. Justifiably so.
Jayaram, along with Lakshya Sen and Subhankar Dey had to withdraw from the BWF Super 100 tournament after Lakshya's father and coach, DK Sen, tested positive for the coronavirus.
World No. 53 Jayaram, on a comeback trail after overcoming an injury, had played and won his opening-round match before being asked to quit and move into quarantine. The other two had byes in the opening round, and while their forced exit was disappointing too, one feels a little extra sympathy for Jayaram for he had fought and won a match -- against Belgium's Maxime Moreels -- before exiting the tournament undefeated. 
Also Read | ATK Mohun Bagan Fan Uprising: A Battle Won Online, the Plot Lost at the Maidan
The SaarLorLux Open was Jayaram's second tournament on the trot. The former World No. 13 was ensuring he takes part in as many tournaments possible in a year where there are almost none to play. In Denmark, he had a disappointing outing and he was keen to make amends in Germany.
However, it was not to be and Jayaram, who returned last Monday, accepted it like a true sports person would. However, all this could have been avoided had Lakshya not been so callous about protocols, and organisers not pressed the panic button and quarantined the entire Indian contingent, said the 33-year-old. 
"The tournament for me and Shubhamkar took an unfortunate turn as we were told to pull out after Lakshya's father tested positive," Jayaram told Newsclick. 
He revealed that Lakshya did not follow the prescribed Covid-19 protocols and once a positive test came, the organisers, just to be sure, locked out the entire Indian contingent, expecting contact and exposure.
"I think it was a big blunder from the organisers' side as well as Lakshya's as the protocols were not really followed," he added. "We were supposed to take tests prior or on arrival to the tournament. While Shubhankar and I followed them properly, however, Lakshya didn't. He took the test two days after he landed and the organisers did not accept his submission of the negative test result. [Besides] he went all around the hotel," Jayaram elaborated, disappointment brimming in his voice.
Also Read | Big Football Leagues Will Begin in India, But For the Rest There Remains Nothing
"So basically, when he was tested two days later, his dad tested positive," he said. "Then, the organisers took a hasty decision of putting the entire Indian team under quarantine and that was very unfortunate and I even played a match and cleared the first round."
Disappointment was followed by shock and an eerie feeling with the uncertainty around the number of days they would be forced to stay in Germany.
"After we were told that we had to pull out of the tournament, the first two to three days we were just in shock. The uncertainty and also we have never encountered such a situation before," said Jayaram. "I mean after putting in so much effort just to get there and be there for three weeks so the disappointment was a little hard to handle because it's never happened that we have been at a tournament and were unable to play."
Jayaram was relieved when the organisers decided to help them out by allowing a test five days later.
"Initially, the quarantine was up until November 10th in Germany but I am glad that the organisers managed to figure out a way and we took another test after five-six days and then we were able to leave," he said. "It is what it is and we accepted it and were happy that we were able to get out of the country and come back home."
For Jayaram, it is the start of a long wait for the next tournament. He was hoping that the outing in Denmark and Germany would get him into the groove. He was also keen to garner some ranking points. 
Jayaram had slipped down in rankings to 81 by the end of 2019 after being out of action due to a hamstring injury he suffered the year prior. Right before injury, he was ranked No. 13 in the world, his highest position on the BWF chart. The slide meant Jayaram has been on his own as far as funding for travelling to tournaments is concerned.  As per the rules of the Badminton Association of India (BAI) rules, a player has to be ranked in the top-25 in the world to get full funding by the federation. 
The lost points in Germany seem a bigger blow when we take the ranking and funding aspects into account. 
Jayaram has had the worst of luck in the little travelling he has done to tournaments in the pandemic era. While flying to Denmark last month, he was not allowed to board a British Airways flight. Some protocol breach was cited. The player isn't even sure what, as things are confusing out there. The rules are different for each airline, and countries. And even the officials aren't fully aware of them.
"There are so many protocols to follow, honestly there is not much clarity in terms of airlines and immigration regarding the sort of protocols that need to be followed. The entire process is mentally exhausting but if that's the new normal then we really do not have any choice but to get used to it," he said.  
Jayaram insisted he is well on his way to "getting used to" the new normals of being a professional athlete in the era of Covid-19. He has quickly gotten back to training and seems to have taken the experience -- disappointing as it is -- in his stride and moved on.
"As of now, it is just practice and training. We are hoping to compete in January. The federation has planned a few tournaments but nothing is certain due to the ongoing situation and at any time the tournaments could get cancelled," he said. 
Get the latest reports & analysis with people's perspective on Protests, movements & deep analytical videos, discussions of the current affairs in your Telegram app. Subscribe to NewsClick's Telegram channel & get Real-Time updates on stories, as they get published on our website.
Subscribe Newsclick On Telegram