Lin Dan Retirement: Modern Badminton's Moody Star Bids Adieu
Super Dan, the two time Olympic gold medallist and five time World Champion announced his retirement after struggling with injuries and fitness over the past year, pulling the curtain down on not just a career but also an era of the sport itself.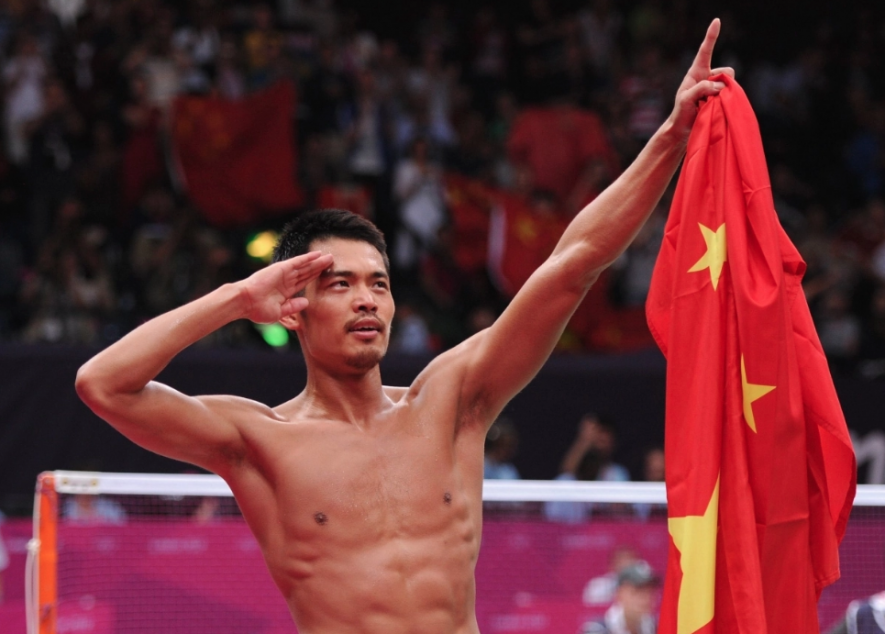 Dan will forever be remembered for his rivalry with Lee Chong Wei, whom he beat to win both his Olympic golds. (Picture: Denmark Triads/Twitter)
And that's it. Badminton's greatest ever rivalry has officially ended. The sport's greatest player ever (argue away) has now retired. If you never saw him live in action, you missed out on experiencing what can best be described as science fiction badminton. What seems possible now is only so because of Lin 'Super' Dan. What will happen next will happen because Dan made it so. 
Everything that can be said about Lin Dan's game has probably already been said many times over in many different languages, but here's something you might not know. If you watch Lin Dan play live, you can control him with your thoughts. It seems absurd and abnormal, but it's hard to disprove this theory. Watch a Lin Dan rally. Just click on any, now watch as the opponent pushes the shuttle on to some distant corner of the court from which a return is only theoretically possible. Now, empty your mind, focus on that dropping shuttle and will Lin Dan towards it. Visualise the shot you think Super Dan should play. Visualise him in a cape if it helps. Dan will do it. 
Also Read | FIFA's Relief Fund Needs to Reach Indian Football's Grassroots to Help Save Domestic Structure
And he did. He did not just for fans, haters, audiences and pundits, but he also did for the game itself. Of course, Lin Dan's brilliance isn't a singularity. An elite athlete's greatness is defined not by who they are but what made them so. Or in this specific case, who. You really thought you'd read this whole thing through without seeing his name mentioned?
Every sport needs a rivalry, every sportsperson a nemesis and every fan a duopoly. This is true for team sports as well as individual pursuits. If none exist people will dream one up. Federer-Nadal. Messi-Ronaldo. LeBron-Durant/Kawhi/Fill next name here. Badminton, widely accepted as a fringe sport with a niche fan following was propped up for a full decade on this one rivalry between Lin Dan and his Malaysian counterpart Lee Chong Wei. 
Wei retired last year in June. Lin Dan a year later in July. Whenever the next Olympics are held it will be the first time these two names will not be on the roster since Athens 2004. If you don't realise how long back that is, here is some context. When Lin Dan made his Olympic debut, John Abraham was not a football club owner. He was actually doing this. 
Time travel to 2004 and you realise that the first Olympics was a disaster for this rivalry. Dan was the top seed, a spiky haired 21-year-old who was shuttered away in the first round. Wei was the spiky haired Malaysian who barely qualified for it and was home after the second round. 
Where it all came together though was when they played each other, a year later in the Malaysian Open final. Wei won 17–15, 9–15, 15–9. It is an incredible match to watch. As you watch it you realise something new is being birthed. It is like watching a movie sequence slowly shift from black and white to technicolour. This isn't meant to disrespect all those who came before. It is just how much influence Dan and Wei had on the decade of badminton that followed.
They played each other 40 times over the course of their careers. Dan won 28 of those encounters. Dan won two consecutive Olympic golds, beating the Malaysian in both finals. He won five World Championships. Wei won three Olympic silvers. The one year he got to the final having beaten Dan in the semis, he still ended up with silver. Sometimes the scar heals but the wound remains. Lee Chong Wei (and this sounds incredible) won a grand total of zero World Championships. 
Also Read | Wilson Kipsang Banned For Four Years For Lying To Miss Dope Tests
The longest winning streak was Dan's: five matches between 2012-15 that signalled to everyone who was watching that this wasn't so much a rivalry as it was a consistent demolition job. And so, Wei hit back, logging off his best win streak (3) over one year. 
22 of those 40 encounters went to three games. 22 were in the finals. The amazing symmetry of their careers though comes in the next statistic. Dan won 16 of those three game encounters, and 16 of those finals.
Looking at these numbers it would be easy to dismiss this rivalry on the pile marked 'Serena-Sharapova'. But that is missing the point. It isn't so much who won that matters here than the encounters themselves. Every Lin Dan vs Lee Chong Wei match was an event of guaranteed entertainment. You grabbed your popcorn, pulled a beanbag and told family and relatives you'd see them in anything between one to two hours.
The stands would obviously fill themselves, but the highlight reel would too. If you went to go get yourself a glass of water you'd miss out on something incredible. Everytime. 
There was a beautiful symmetry to them. One was flashy, tattooed, prone to anger (a Chinese athlete with emotion!) and left handed. The other was quiet, subdued, thoughtful and right handed. Both jumped high enough to clean the stadium ventilators when they went for a smash. Both were agile, flexible, wirey; perfect specimens for a game that relies on millimetres. 
The symmetry echoed itself in the way they saluted each other's retirements. When Wei retired after a doping ban and a battle with nose cancer, Dan was morose, sounding almost dejected and abandoned that this had happened. "I will be alone on the (badminton) court and no one will accompany me," he posted on the social media platform Weibo. 
Lee Chong Wei was perhaps more graceful, choosing poetry over prose. 
What happens next? Who shall arise? What shall badminton do now? The debate can rage on. Sindhu-Marin? Or is it Okuhara? Maybe the women's game will spawn the next great rivalry. 
Either way, for all who expected Tokyo to be Lin Dan's last dance, this retirement is unexpected (despite being long rumoured). Dan knew he was going, and he went on his own terms. This was an off-court decision you see. There is no way you could've controlled it.
"Rather than simply pursuing rankings as I did when I was younger, in these years, I have been wanting to challenge the physical limits of an 'old' athlete and practise the sporting spirit that I will never give up. (But) my physical abilities and pain no longer allow me to fight alongside my team-mates," he wrote in his retirement statement. 
If ever you moved him with your mind, and now from his playing career you will have memory. 
Get the latest reports & analysis with people's perspective on Protests, movements & deep analytical videos, discussions of the current affairs in your Telegram app. Subscribe to NewsClick's Telegram channel & get Real-Time updates on stories, as they get published on our website.
Subscribe Newsclick On Telegram