Lobera Ball Returns in the ISL; US Women Win Agreement on Work Conditions and Solskjaer Calls for Player Education
Short Passes (Football News): Three matches into their Indian Super League (ISL) campaign, Mumbai City FC's gears finally kick in | USWNT reach agreement on equal work conditions as male counterparts with the federation | Ole Gunnar Solskjaer calls for player education in the aftermath of Cavani social media gaffe.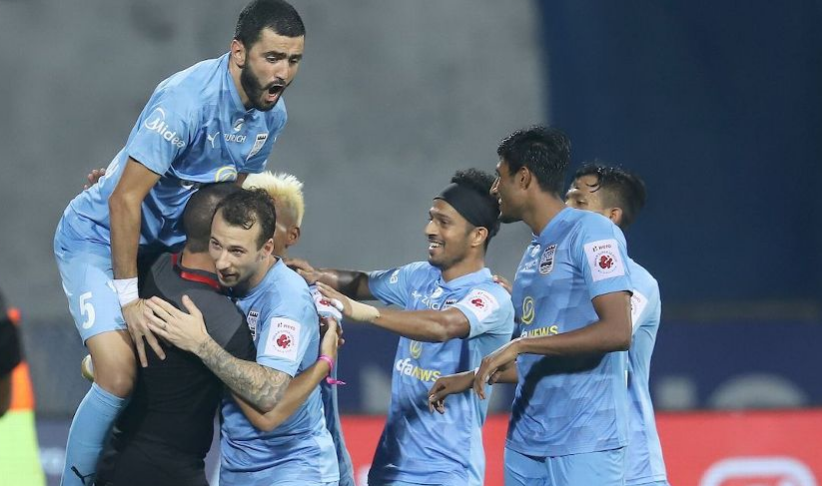 Ahmed Jahouh (left) celebrates with Mumbai City manager Sergio Lobera and teammates after a goal against SC East Bengal in the Indian Super League (Pic: ISL, Twitter).
Twelve matches, eleven match days, two hundred minutes of Mumbai City FC game time and finally, Lobera ball has returned to the Indian Super League (ISL). It took all of three touches for that confirmation, and once those three perfect touches had been made, the train was up and running. Dinner was being served.
Much of the plaudits for Mumbai's opener against SC East Bengal on Tuesday night will go to Hugo Boumous. It was after all his physicality and dexterity that took out two East Bengal defenders from the game to open up the easiest of chances for Adam Le Fondre. But to do that would do great disservice to the brilliant crossfield ball -- over 30 yards no less -- from Rowllin Borges, with East Bengal players swarming and closing all around him. 
Also Read | State Associations Write to AIFF Demanding Elections
Here is how it went. First touch, Borges launches his long range precision missile. Boumous is running and collects it running, barely breaking stride, Surchandra Singh, a heap much before the ball has started rolling on the ground. Boumous keeps stride and goes into the box, from the left. Magic is to come. Mohammed Irshad anticipates a cut in, and slides hopefully, but Boumous does a Maradona tribute act, rolling his foot over the ball, chest open, defender deceived (and clowned and memed) before passing it to Le Fondre, two yards out with the goal gaping. Debjit Majumder has committed he has nothing to do here. Le Fondre's touch is the third. It is the simplest. Goal.
That Boumous touch became a real problem for East Bengal even as Sergio Lobera's men took charge of the tempo of the match. It was a similar shoulder movement and deftness that caught Majumder early in the second half, as he slid into the Frenchmen to concede a penalty. Le Fondre duly put it away. The third, as brilliant a training routine as it was was a formality. By then East Bengal were listing out their excuses. Lobera ball had returned to Goa. Except this time it was tinseltown playing it.
Commiserations to East Bengal? Or just damnation? Robbie Fowler's post game comments (on the broadcast feed no less) were the latter. "I hope the players are hurting more than I am. We have to go again in 4-5 days," he said, before launching into a statement that has been echoed by a few others in the ISL. "We are still coaching players; some Indian players look like they haven't been coached before. We are teaching intricate passing. We have to learn pretty quick. We have to be better."
Almost immediately a presenter launched into a question about how perhaps the lack of a foreign striker was hurting them (a damning verdict on the league and Indian domestic football itself perhaps), and to Fowler's credit he dismissed it outright. But questions over this team remain. They were outpassed, outthought, outrun and outwitted. In the aftermath many memes were doing the rounds. One particularly good one simply said, 'EB didn't lose 2-0 to Bagan they lost to ATK. They didn't lose 3-0 to Mumbai City they lost to Manchester City'. 
It may not have been wholly accurate but the fact that East Bengal has been reduced to them is a problem in itself.
US Women's Victory in Equality Battle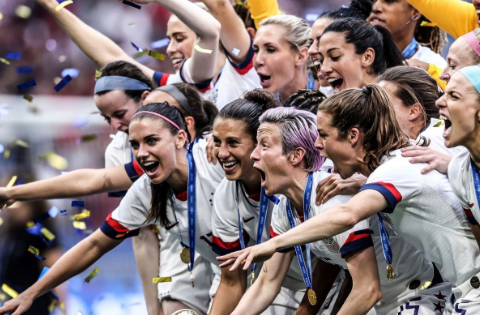 The US women's National Football Team (USWNT) have reached an agreement with the US Soccer Federation over equal work conditions with their male counterparts.
The players were seeking the same conditions as the US men's team in areas such as travel, hotel accommodation, the right to play on grass rather than artificial turf, and appointment of staff. The settlement yesterday also meant the team can now proceed with their appeal over equal pay after a judge surprisingly threw out their case in May.
"We are pleased that the USWNT Players have fought for – and achieved – long overdue equal working conditions," Molly Levinson, a spokesperson for the players, said. "We now intend to file our appeal to the court's decision which does not account for the central fact in this case that women players have been paid at lesser rates than men who do the same job."
US Soccer president Cindy Parlow Cone, who won 158 caps for the USWNT, said the settlement was crucial in moving the sport forward. "I believe our approach helped us reach this agreement and demonstrates the commitment of US Soccer's new leadership to find a new way forward with the USWNT. This settlement is good news for everyone and I believe will serve as a springboard for continued progress."
Parlow Cone also reiterated that this settlement would be a major step forward for not just the game in the US but across the world, saying that it would help in "encouraging FIFA to invest equally in the men's and women's game, including increasing the World Cup prize money".
In the appeal over equal pay, the players are seeking millions of dollars they say are owed to them after years of "institutionalized gender discrimination" by the national federation.
'Players Need to be Educated on Racism'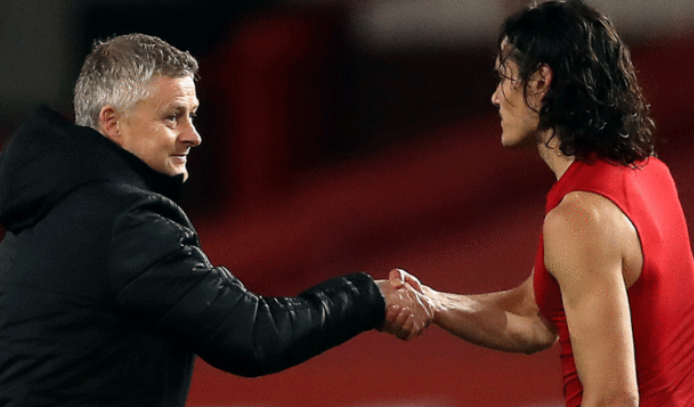 Manchester United manager Ole Gunnar Solskjær came out in support of Edinson Cavani after the striker landed in hot water following his instagram comment that had racist intonation. It has been claimed -- and probably rightfully too -- that the Uruguayan did not mean any malicious intent when he thanked a friend for congratulating him on his match-winning show against Southampton by saying "gracias negrito". 
Cavani apologised soon after to try and diffuse the situation that could lead to a three-match ban by the English FA. Players "from different cultures" -- and with language barriers -- should receive education regarding racial issues to avoid such situations, said Solskjaer, while confirming that the FA had written to Cavani for an explanation. The player had deleted the post soon after the controversy erupted.
"I think so," Solskjær was quoted by the Guardian, replying to a question about player education. "I saw Gary said something [that] maybe all players coming from different cultures should be educated and I'm sure Edinson has learned the hard way.
"We've communicated with Edinson and he's really deeply sorry for the mistake he's made. There was no malicious intent at all – it was just an affectionate greeting to a friend of his – but we explained to him [the situation].
"He has been asked by the FA to explain so he'll cooperate with them, and we'll support him. It's one of those unfortunate situations where he's just come into the country and in Uruguay he's been using a different [meaning/context] to what we have [for the word] so we'll support him and we support the FA. It's important the FA have asked him to explain and it's out there for everyone to see because we want to be in the fight against discrimination with everyone," added Solskjaer.
Get the latest reports & analysis with people's perspective on Protests, movements & deep analytical videos, discussions of the current affairs in your Telegram app. Subscribe to NewsClick's Telegram channel & get Real-Time updates on stories, as they get published on our website.
Subscribe Newsclick On Telegram