Madhya Pradesh: Is Anti-Conversion law Being Used to Target Muslim, Christian Youth?
FIRs registered in the cases suggest 'pressure' on girls to change statements and the questionable role of Right Wing groups.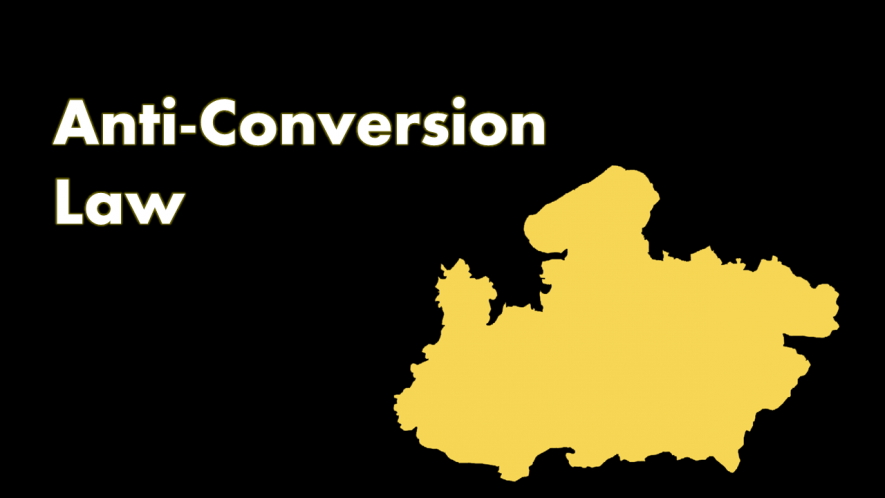 Bhopal: Salman Khan from Harda, Sahil Khan from Khargone, Arbaz Khan from Rewa, Joyel from Seoni, Birbal Hudwe from Alirajpur, Tabiz Khan from Seoni, Sister Bhagya from Chhattarpur, Chattar Singh Katre from Balaghat – what's common in all these people? All of them were booked under the new anti-conversion law in Madhya Pradesh and belong to either the Muslim or Christian community.
The 'Freedom of Religion Act -2021', which was projected as one that would empower women, similar to Triple Talaq for Muslim women. It was said that this law would curb cases of 'illegal' conversion, as claimed by state home minister Narottam Mishra in the Assembly on March 8, 2021. However, the law is becoming a tool for suppressing and harassing members of the minority community under the garb of conversion, suggests an in-depth look by the Newsclick into the First Information Reports (FIR) filed in these cases.
Since January 9, 2021, when the law was enacted in Madhya Pradesh, as many as 21 cases have been registered against 43 people and 70% of them have been arrested, as per the state police.
The highest number -- four cases  -- were registered in Indore, three in Seoni, two in Bhopal and one each in Rewa, Barwani, Chhattarpur, Khargone, Dhar, Sehore, Alirajpur, Harda, Khandwa, Balaghat, Barwani and Mandsaur.
All these persons were booked under the stringent anti-conversion law with charges of kidnapping, raping; proposing to a girl in the park, going to celebrate birthday with minor schoolmates, clicking photos or shooting videos of a girl without her consent, opposing a rally carried out in support of the anti-conversion law, for falling in love and eloping, for sacking an ineligible teacher, one-sided love. In fact, some were booked after a love affair went wrong, while some were booked for allegedly forcing tribals to embrace Christianity by offering money, according to the FIRs.    
In a majority of the cases pertaining to Muslims, the police slapped charges of kidnapping, rape, criminal intimidation, obscene acts and songs, along with Section 3 (attempting to convert) and Section 5 (Imprisonment up to 10 years and fine) of Freedom of Religion Act-2021, in cases of Christian conversion, the accused were booked only under the conversion law.
The complaint registered in the police station and what the victims told NewsClick over the phone entirely varies. In two cases -- Rewa and Seoni -- the victim changed her statements two-three days after filing the FIR and the police not only changed it, but also added the relevant sections.
Besides, the role of Right Wing groups, including Vishwa Hindu Parishad and Bajrang Dal, is highly questionable in all these cases. Out of the 21 cases, nearly 16 FIRs were registered after the intervention of Right Wing groups, reveals the Newsclick's investigation. In some cases, these groups not only created a ruckus and vandalised the place alleging conversion, but also took "victims" to police stations and pressured them to register FIRs, say activists.
When contacted, Pragya Richa Srivastava, Additional Director General of Police (Crime Against Women) said: "21 cases have been registered in MP under the new Freedom of Religion Act- 2021 and in one case police has submitted challan in the court. The cases have been registered on complaint of women (victims) and investigation is on."
When asked about the intervention of right wing members in the cases she replied, "We don't indulge in day to day affairs of police stations. But, if this happening, will take account of this."
While Madhuri Krishnaswamy of Jagrit Adivasi Dalit Sanghatan (JADS) of Madhya Pradesh said, "Instead of ensuring that all women are guaranteed their right to safety, dignity and employment, the government is turning a blind eye to this urgent need while manipulating women's security concerns to attack the minorities. This law and its abuse is anti-women as well as repressive of minorities."
Coming down heavily on the government, Krishnaswamy accused it of "hypocrisy" as there are no arrests when the man is of the majority community and woman is from a minority community. "Media and Right Wing leaders celebrate such marriages or love affairs and term it "shuddhikaran" or "ghar wapsi".
Supreme Court Lawyer Ehtesham Hashmi pointed out that the freedom to choose a partner has now become a crime in Madhya Pradesh, adding that "this is a complete violation of all constitutional and democratic rights."
Citing an example, he said: "If cases like rape, kidnapping or molestation took place between the believer of the same faith or between a Hindu man and a Muslim woman, then it's just a normal case and police books the accused under the relevant IPC Sections. But if the accused is Muslim, the police adds charges of conversion which enables 10-year of imprisonment and fine. Crime is crime, how can it be differentiated on the basis of religion?"
Let's take the textbook case of Ruby Singh of Chhattarpur. Ruby had filed a complaint at the Khajuraho police station of Chhatarpur district on February 20, 2021, against a principal of a missionary school where she was a teacher and was later sacked. She alleged in the complaint that the Principal, Sister Bhagya, was forcing her to embrace Christianity and used undignified words for her religion. When she refused, her salary was stopped followed by her sacking in April 2020.
In the presence of right wing VHP leaders, the police registered a case under Section 3 and 5 of the Freedom of Religion Ordinance-2020. The ordinance turned into law after the Assembly passed it on March 8, 2021.
When the matter reached the High Court, the Jabalpur bench of Madhya Pradesh High Court on Tuesday termed the allegations as 'false' and granted bail to the Principal, after her first bail was rejected in the lower court.
The single bench of Justice Atul Shreedharan observed that the case was false and was lodged in frustration after the Principal sacked her from the school. "It is clear that Ruby Singh falsely implicated the Principal Sister Bhagya by levelling allegations of forced conversion of her and her family," the judge said before granting her interim bail.
After the school Principal sacked her for her "ineligibility" to teach and for lying about her graduation degree, Ruby Singh threatened to immolate herself if she was not reinstated. The Principal informed the district education officers, including the collector. When all Ruby Singh's "tricks" failed, she lodged a police complaint accusing the principal of forcing her to embrace Christianity so that she could be reinstated, said sources. 
Just like Sister Bhagya's case, five other cases have been registered against people allegedly associated with Christian missionaries in tribal-dominated districts for allegedly forcing or alluring people to embrace Christianity by offering money. Of the six cases, two cases of conversion have been registered in Seoni, one each in Balaghat, Indore and Alirajpur and 22 people have been booked. Police has only made arrests in two cases -- Indore and Balaghat.
In Alirajpur district, woman believed to be a Christian, Sheela, was booked and arrested under the new conversion law, SC/ST Atrocities Act-1989 and Section 294 and 34 of the Indian Penal Code for allegedly chanting 'Jai Yeshu Prabhua' (Jai Lord Jesus) and allegedly abusing the organisers of a rally in support of the anti-conversion law. Police booked her after the organisers lodged a complaint against her.
In another case, Bhawar Kuan police of Indore booked 11 people allegedly associated with Christian missionaries for allegedly converting tribals to Christianity during an event. The matter came to light when members of some Right Wing groups created ruckus at the event and vandalised the and later informed the police. On a daughter's complaint, the police booked her parents and nine others, accusing forceful conversion.
In contrast to these cases, some Rashtriya Swayamseval Sangh (RSS) men allegedly attacked the home of a tribal, Sardar Vaskale, 35, a resident of Thikri tehsil of Barwani district, in suspicion of conversion on December 31, 2020, and allegedly pushed an eight-month pregnant woman. Tragically, the woman lost her baby. Also, after over two months and several agitations by local tribal outfits and villagers, the police have turned blind eye and are not even ready to register an FIR.
Read Also: MP: 8 Months Pregnant Woman Miscarries Following Alleged RSS Attack on Tribal Village, No FIR Even After 2 Weeks
"The Christian community is under constant fear since the arbitrary anti-conversion law enacted in the State," alleged Maria Stephen, Public Relations Officer of the Christian Community in MP.
"We can't even pray inside our own homes as someone from Right Wing may attack our homes in suspicion of conversion and police may register an FIR without any inquiry. This law has empowered fundamentalists to target the minorities," he added.
Cases Against Muslims
As far as conversion cases against Muslims are concerned, a total of 13 cases have been registered against 21 youths aged between 20 to 28 years. Unlike in cases related to Christian persons, police has arrested the accused in almost all these cases.
Take the case of Salman Khan, a resident of Harda, who allegedly eloped with a 19-year-old girl to Aurangabad (Maharashtra) on January 25, 2021 for a court marriage. Both knew each other since the past eight months.
Since both the boy and girl were residents of Madhya Pradesh and wanted to marry in another state, Maharashtra (Aurangabad), an agent told them to arrange Rs 25,000 for a court marriage. Since they had no money, the plans for marriage had to be put off.
Besides, their savings had gone dry, and they even had to sell their mobile phones to survive in the city.
But, this didn't help much, said the complainant over the phone to NewsClick. "We want to marry. He never pressured me to convert. But we had no money for court marriage. And we were also beginning to fight with each other as we were becoming penniless with each passing day," said girl over the phone. Hence, they decided to return Harda.
A day after returning to Harda, the girl approached the police station with her parents and filed complaint accusing Salman for kidnapping, raping and forcing and assaulting her to convert. Police booked Salman and arrested him.
But the Rewa elopement case is alarming. There an 18-year-old girl allegedly eloped with Ibraz Khan to Daman and Diu on December 26. They were from the same village and had known to each other for years, as per reports. When the girl did not return home, her father lodged a missing complaint at Saman police station and put the needle of suspicion on Ibraz. Talking over the phone, the girl admitted that she had gone with Ibraz Khan on her own free-will as her parents were trying to marry her off to someone else.
Meanwhile, members of Bajrang Dal handed over a written complaint to Saman police to trace the youth else they would take the matter in their own hands. Subsequently, the police detained Ibraz's kin and pushed for his surrender.
On January 26, the couple appeared at Saman police station of Rewa and the woman confessed in front of police and family that she had gone with Ibraz on her own free-will and was under no pressure of religious conversion. But, the police booked Ibraz under conversion, rape and kidnapping charges. Three days later, the girl changed her statement after "long counselling sessions" by the police and allegedly by the members of Right Wing group. "They (Bajrang Dal) helped us so much in registering an FIR against Ibraz", said the girl over the phone.
Likewise, Sehore's Kotwali Police booked 28-year-old Shaikh Turab of Bhopal on charges of rape, kidnapping and conversion after a missing complaint lodged by kin of the 24-year-old woman who worked in a beauty parlour in Bairagarh locality of Bhopal and allegedly eloped with Turab on March 2-3.  
The couple was spotted in Bhopal on March 13 by the police during an investigation of a missing complaint filed by the woman's family. During police interrogation, the girl claimed that Turab hid his real identity and allured her to elope and that she is innocent. Subsequently, police booked Turab on charges of rape, kidnapping and conversion and arrested him.
Among all those cases, the FIR against Tabiz Khan at Seoni's Dunda Seoni police station is exceptional. Police booked 23-year-old Tabiz Khan under nearly 10 Sections, including sections of IPC, SC/ST Atrocities Act, POSCO and Freedom of Religion Act for allegedly clicking objectionable photos and filming videos of a tribal girl and pressuring her to marry by converting to Islam.
The police registered a molestation case, but a day later, invoked sections related to forced conversion after the girl changed her statement alleging that Khan was blackmailing her to convert by clicking her photos and taking videos.
The new anti-conversion law has a provision of 10-year imprisonment and a fine of Rs 1 lakh for conversion though allurement, forced marriage, misrepresentation among other things.
"There are cases in which women clearly appear to have been in consenting relationships, but seem to have been pressured to give statements alleging fraud or coercion," said Madhuri, a rights activist.
Since January 9, when the law came into effect, 23 cases had been registered across the state in a month, said home minister Narottam Mishra while tabling the Bill in the Assembly. However, the State police said that only 21 cases have been registered till date.
In another case, Indore's Vijay Nagar police booked Mohammad Siddique, 22, a mechanic, who was reportedly in love with a 17-year-old neighbour, according to Vijay Nagar police. The girl was pressuring her parents to let her marry Siddique, but it did not go well with her parents who lodged a case against Siddique. The police booked him under Section 363, 376 of the IPC and section 3 and 5 of the Freedom of Religion -2021.
"Any love that leads to Jihad, offends our sentiments and makes our daughters suffer, we will oppose it," said minister Mishra, while talking to reporters after passage of the Bill. Just before the voting over the Bill, he had said the law will empower women and our daughters as Triple Talaq did to Muslim women.
Read Also: MP Passes Anti-conversion Bill by Voice Vote Amid Opposition by Congress
But, Mishra's argument did not please Madhya Pradesh High Court advocate Mohammad Mahir. He said, "The analysis of FIRs have proved that the law was not framed to empower women, but to falsely prosecute Muslim youths and Christians in the garb of conversion. The law has criminalised love on the grounds of religion."
Mahir, who is also state president of Muslim Vikas Parishad, further said the case of 22-year-old Muslim youth from Seoni, booked under 10 Sections of the IPC, ST/ST, POSCO and conversion for clicking photos and making videos of the girl without her consent, is "bizarre".
"One was booked for conversion for loving a neighbour in Indore, while another was booked for proposing to a girl in the park in Indore. If this is women empowerment, according to Home Minister Mishra, then I'm against it", he said.
Madhuri of JADS said the "Home Minister Mishra during the debate over the anti-conversion Bill in the Assembly said that 'if Azhar will identify himself as Ashu, Rafeek as Ravi and Shakeel as Suraj, we'll have a problem with it and they will be punished for it'. But, he forgot to mention that what if Ashu identifies himself as Azhar to lure a Muslim woman for friendship in Hindu- dominated society, Ravi become Rafeek and Suraj become Shakeel. This isn't crime? Who will take account of these?" 
Maria Stephen, PRO of the Christian community in MP, believes the government is interfering in the personal space of youths and encouraging them not to make friends in other communities.
"Youths, college mates don't make friends on the basis of religion, caste or colour, but this law divides them on the basis of religion. They will not make friends from the other community because of this autocratic law. It will disturb the social fabric. Why is the State interfering in the personal space of youths and friends? Where are human rights watchdogs?" he said.
Supreme Court advocate Ehtesham Hashmi questioned why no cases have been registered for opposite conversion (Hindu men -Muslim woman)?
"Since the new law has been enacted in the State, no case has been registered in case of a Hindu man eloping with a Muslim woman? There is a possibility that Hindu men may be making friends with Muslim women by hiding their real identity and may have fallen in love. If this isn't a crime, then how can a Muslim boy be prosecuted for the same act? Love is beyond the boundaries of faith, and the government should not interfere in personal issues," Hashmi said.
Framed to target minorities, says Congress MLA  
First time Congress MLA from Jabalpur, Vinay Saxena had pointed out during the debate in the Assembly that the Freedom of Religion Bill-2021 was a violation of Right to Freedom of Religion (article 25, 27, and 28) of fundamental rights guaranteed by our Constitution. 
"There is already an existing law for every crime. And everyone is free to choose their faith on their free will as our Constitution guarantees it. But this new law is nothing but a tool to target minorities and to win praises before their political masters," said.
Three PILs filed
Three separate PILs have been filed before the Jabalpur bench of Madhya Pradesh High Court challenging the legal validity of the 'MP Freedom of Religion Act-2021'. The court has clubbed all three PILs into one and admitted it. The PILs have been filed by senior journalist and Bhopal-based social activist LS Hardiniya, social activist Azam Khan and by a law student Amratansh Nema. 
The petition says that the new anti-conversion law is violation of Article 14 (Equality before law), 19 (Freedom of Speech and expression), 21 (Protection of life and personal liberty) and 25 (Freedom of Religion).
"The impugned Ordinance is antithetical to the basic structure of the Constitution of India while also being manifestly arbitrary and discriminatory and infringing the fundamental rights to privacy," said the Ordinance.
The High court has accepted the petition and has sought a reply from the state government. The next hearing of the case is on March 31, 2021. 
Get the latest reports & analysis with people's perspective on Protests, movements & deep analytical videos, discussions of the current affairs in your Telegram app. Subscribe to NewsClick's Telegram channel & get Real-Time updates on stories, as they get published on our website.
Subscribe Newsclick On Telegram