Maharashtra's Small Farmers Land in Major Financial Crisis Due to Lockdown
Small scale vegetable and fruit growing farmers are facing financial losses for the second year in a row.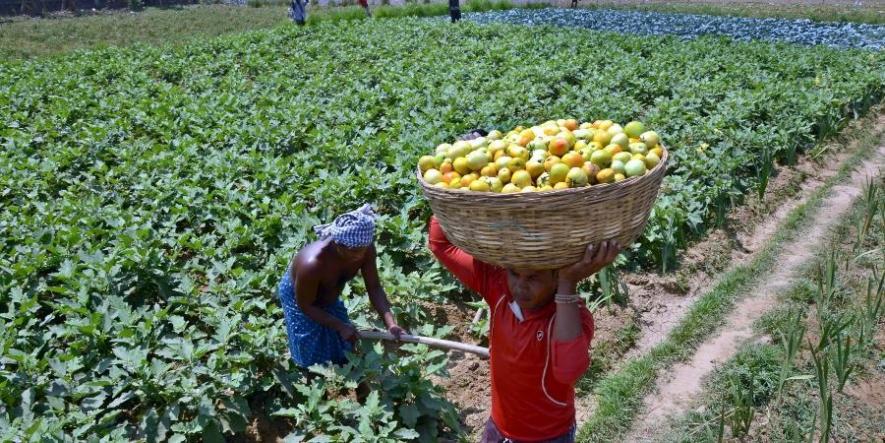 Representational Image. Image Courtesy: New Indian Express
Gulab Ghosale from Satara's Patan tehsil felt helpless when he heard that the lockdown has been extended and become stricter in his district from June 1. As a vegetable growing farmer with a small farm of around 2 acres in his backyard, his entire summer has passed without earning anything.
"My total crop of tomato and beans was wasted as I could not take the crop to market in April. If lockdown continues, then I would not have any hopes in July-August also. I do not know how we will come out of this," said Gulab. He is planning to go for farming work in the neighbouring village. "I will have to work on another's farm to survive and feed my family," he said. This lockdown has flattened the entire economy and one of the worst-hit sections is small scale farmers.
Maharashtra's 80% farmers are minimum landholders. According to the state government's data during the loan waiver scheme of 2019, the number of such farmers was around 81 lakh and they account for the major chunk of farmers across all districts. Today, almost all of them are in trouble as the lockdown has slashed their income.
"Small farmers mainly cultivate vegetables. Because they don't have deep pockets to hold money for a longer time they need a regular flow of money. Even if the amount is small it is life-saving for them. In such a case, they need the market to remain open constantly so that they can take the crop and sell it on a monthly or two-month basis. The lockdown has killed this cycle. That is why small scale farmers are in big trouble," said Maruti Kandale, senior agriculture journalist, who himself is also a farmer.
Sooraj Barshinge is from Kalamnuri tehsil of Hingoli district in Marathwada. He has 2.5 acres of land in his name. His main crops are cauliflower and tomato. As his farm is on the banks of a river, his production is good in quantity. But for the last two summer seasons, he could not sell his farm produce. "We generally give it to agents. As the lockdown is in place, the demand for vegetables has also gone down. There are restrictions on selling in cities. The agents took vegetables mainly to the cities. Half of my production has gone to waste. Agents were not coming regularly to us. What to do? We ate some crop, distributed among relatives and rest went to waste," said Sooraj.
According to Dr Ajit Nawale, leader of All India Kisan Sabha, the state government again mismanaged this agricultural economy. "There was a mess about the guidelines on agricultural activities. Second, if cities are shut then there should have been a mechanism to bring the vegetables in cities and take them to the doors of the consumers. Nothing had happened on this line. So, due to the lack of planning at the government level, farmers faced financial losses," said Dr Nawale.
The low demand also resulted in a lesser amount of vegetables reaching the market yards. Navi Mumbai's Agriculture Produce Market Committee is Asia's number one cooperative market committee. Ashok Dak, chairman of this APMC, said that the incoming supply to the APMC has been lesser than normal days. "In normal times, more than 1000 jeeps and tempos come to the market daily. These days, the number is down to 500 to 700. As there was less response in the retail market and also many vendors, mainly street vendors and small vendors, were not sitting regularly, the sale of vegetables was not normal," he said.
Maharashtra has been under lockdown since April 14. From June 1, restrictions have been partly lifted in some cities. But 18 districts, where fatality and positivity rates are still higher, the lockdown has been made stricter.
The spread of the novel coronavirus in smaller towns and villages of the state has also affected the farmers in a significant way. Nasik was in a 'red zone' due to a higher positivity rate for almost half of April and May. So, there was strict lockdown in the entire district. Bhagirath Chavan, a farmer from Igatpuri district, saw his crop of coriander and bitter melon go to waste in the farm itself. "I could not have taken it to market as the entire tehsil was closed down. I would have lost more money in plucking and transportation. This is the second such year. The government should at least allow vegetable vendors to continue their businesses," said Bhagirath.
Small farmers have always been at the end of consideration while implementing any policy by any government. This has been seen in Maharashtra many times. Losses incurred in two consecutive years due to lockdowns are a big blow to these small farm families as it takes them years to come out of such financial burdens. It will be hard for them to overcome the losses if the government does not come up with schemes to accommodate their grievances.
Get the latest reports & analysis with people's perspective on Protests, movements & deep analytical videos, discussions of the current affairs in your Telegram app. Subscribe to NewsClick's Telegram channel & get Real-Time updates on stories, as they get published on our website.
Subscribe Newsclick On Telegram