Mamata, TMC in Tight Spot With Rising Violence and CBI Stepping in
Amid increasing instances of political violence with the involvement of Mamata's party members in West Bengal, the Calcutta HC is sending more and more cases to the CBI.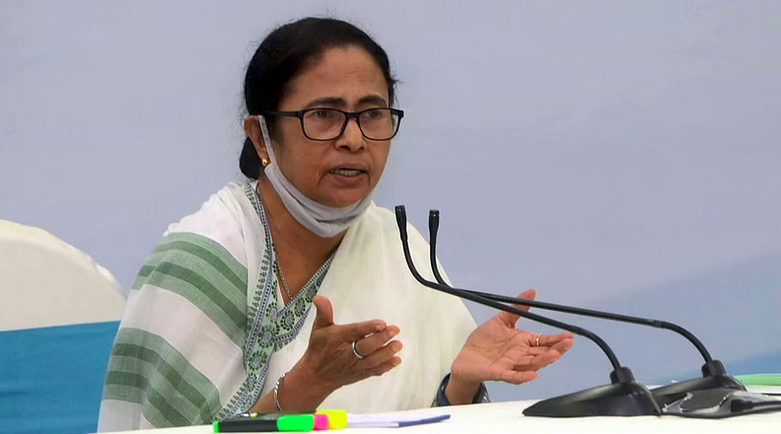 Frequently occurring incidents of political violence and other serious crimes most often with accusations against Trinamool Congress members, it is becoming awkward for Chief Minister and party supremo Mamata Banerjee. It is only becoming worse with kin of victims expressing distrust in the state police and demanding court intervention.
Mamata, with her dictatorial ways in governance and party matters, suddenly finds herself in a tight corner as involvement of the police in some of the incidents is being widely suspected. The acts of misdemeanours that have come to light in recent times also involve her party workers.
In these circumstances, there is a noticeable increase in the number of Calcutta High Court-ordered probes by the Central Bureau of Investigation (CBI). In some cases, the high court has even stipulated that Special Investigation Teams (SITs) set up by the state government should keep off and only render assistance sought by the CBI.
Moreover, at a time when governance deficiencies and lapses have become talking points, fissures within her party are coming to the fore. War of words broke out between highly controversial Birbhum district TMC chief Anubrata Mondal and Rampurhat MLA Asish Banerjee, who is also the deputy speaker in the West Bengal Legislative Assembly, a few days after the Bogtui massacre. The argument was on the role of Anarul Hossain, a block level TMC leader, whom people complained about for keeping silence when they had sought his help in calling the police to the spot of the tragedy. Disgruntled party leaders venting their grievances publicly are common these days.
At the personal level, Mamata is just making light of some of the incidents even though those have aroused public ire and evoked strong reaction. She claimed that West Bengal has a better track record in law and order maintenance than several other states and the Opposition is conspiring to defame the state. The latest addition to this catalogue of Mamata's grievances are: the opposition is hell-bent on thwarting her industrialisation efforts and the media – print and electronic – is apparently acting irresponsibly. Stretching the second point, she has asked corporates to not extend advertisement support to the media; she suggested that they should instead put up hoardings and use other outdoor options to advertise their products and services.
Referring to an incident on April 1 this year at Aliah University in New Town, in which Vice-Chancellor Mahammed Ali was heckled and abused by a group of students led by alumnus Giyasuddin Mondol over some academic issues including the PhD list, the CM said at Nabanna on April 4: "Students at Aliah have some grievances; a student has used slightly foul language against the VC; he (the student) has been arrested."
There was a furore over her remarks. A large number of educationists under the umbrella of, among others, West Bengal College and University Teachers Association, Calcutta University Teachers Association, and Jadavpur University teachers' outfit, and Rabindra Bharati teachers' organisation have condemned her attempt to downplay the matter. "Her statement amounted to encouraging uncivil students. We all saw how he (the VC) broke down before TV camera. What can be more shameful for a teacher?" they asked. Student leaders found guilty of committing atrocities against teachers have been nominated to the governing bodies of colleges, the teachers pointed out while lamenting the incident at Aliah University.
The second glaring instance of the Chief Minister making light of a serious crime relates to the death of a class IX girl student after she was gangraped at Hanskhali in Nadia district on April 4. Sohail, son of TMC leader Samar Gayali, and one of his friends have been arrested in this connection. The victim's family members claimed that they were forced to cremate her body without an autopsy or a death certificate following pressure from the TMC leader. Referring to this incident, the CM said, "I asked the police what would you call it -- rape, pregnancy or love affair... it's a small incident ; I do not like such incidents and yet such incidents take place; it was repeatedly shown on TV. Why was it not reported to police soon after they came to know about it?"
Mamata's observations were decried by large sections of the public for being insensitive. Now, the most stinging comment has come from Asha Devi, mother of Nirbhaya who died in New Delhi in 2012 after being gangraped in a running bus. Asha said, "If she (Mamata) makes such comments about a victimised girl, she is not fit to occupy the chief minister's chair. It is highly unbecoming of a person – a woman at that -- who holds the post of a chief minister."
The division bench of Calcutta High Court, which assigned this case to the CBI, said it would monitor the progress and asked the agency to submit periodic reports to it. West Bengal CPI(M) secretary Mohammed Salim described Mamata's insensitive remarks as "UP-isation of Bengal by her".
Before Bogtui was assigned to CBI on March 25, the agency was probing about 80 illegal finance companies including, Sarada and Rose Valley; corruption in providing jobs to kin of victims of Jnaneswari Express accident, Narada sting operation, illegal coal transactions, illegal cattle smuggling into Bangladesh, and post-2021 Assembly election violence. Cases handed over to the CBI after March 25 include the murder of Jhalda (in Purulia) Congress councillor Tapan Kandu (ordered on April 4), Bhadu Shaikh's murder (ordered on April 8, linked to Bogtui), unnatural death of Niranjan Baishnab (ordered on April 12, linked to Kandu case), gangrape at Hanskhali in Nadia (handed over on April 12), and malpractices in recruitment for Group D and C employees in the state School Service Commission (ordered by a single judge-bench in March, and education minister Partha Chatterjee was asked to report to CBI by 5-30 pm on March 13, but later this order was stayed by a division bench the same day).
The only high profile case an SIT is probing is that of student activist Anis Khan who was killed in mysterious circumstances at Amta in Howrah district and in his murder, the police's role is a key element. His family has not insisted on a CBI investigation so far.
Asked about how the CBI is handling the sensitive Bogtui case, the opposition CPI(M) leader and Rajya Sabha member Bikash Ranjan Bhattacharya told NewsClick the agency has to be extra cautious as it has to proceed on the basis of circumstantial evidence and interrogations because there is no documentary evidence. Bhattacharya, who is an eminent lawyer, said, "We are keeping a watch; there is no need for any action on our part at this stage."
To sections of the civil society, who were originally pro-Left and who subsequently 'defected' to the Mamata camp after she became Chief Minister in May 2011, the recent incidents of political violence, other crimes, and acts of gross indiscipline by TMC student activists appear to have caused unease. Some of them have termed the incidents "unfortunate, shocking". But interestingly, they have also said that Mamata is becoming the face of right-wing political space; she should be more watchful.
These civil society members had hit the streets during the Left Front regime after Nandigram and Singur incidents had taken place. Bikas Ranjan Bhattacharya, when asked to comment on this aspect, told NewsClick, "They do not have the guts to come out and register their protest against the atrocities and injustices being perpetrated in this regime. They are simply afraid; you can make that out from the wording of their statements."
Senior Congress leader and Rajya Sabha member Prof Pradip Bhattacharya (PB) told NewsClick that he has reasons to believe that some of these civil society members are trying to distance themselves from this regime; it is a subtle move on their part. "Mamata brought them over to her side with a liberal scheme of rewards, awards, and assignments. They did not visualise she would be heading a highly corrupt regime," Prof Pradip Bhattacharya said .
Rajat Bandopadhyay, general secretary of Paschim Banga Ganatantrik Lekhak Shilpi Sangha (WB democratic writers artists association), does not think these civil society people have at all condemned the heinous crimes the state has witnessed since March 21-22. So, the question of them finding it difficult to reconcile does not arise. Bandopadhyay, who is the former registrar of Jadavpur University, told NewsClick that on the occasion of World Theatre Day on March 27, several Left and democratic outfits together, in a departure from their usual practice, first held a protest meet on the Bogtui carnage and then took out a rally, which converged at the pre-determined venue for the rest of the programme. Coordinated by his organisation, the protest meet was addressed, among others, by former Asiatic Society president Pallab Sengupta, theatre personality Asit Basu, and he himself.
Get the latest reports & analysis with people's perspective on Protests, movements & deep analytical videos, discussions of the current affairs in your Telegram app. Subscribe to NewsClick's Telegram channel & get Real-Time updates on stories, as they get published on our website.
Subscribe Newsclick On Telegram