Manesar: Auto Component Firm's 'Vindictive' Lay-off Action Leaves 271 Workers High and Dry
Incidentally, in March this year, Napino Auto was among 75 auto and auto component firms to get the nod for receiving incentives under the Centre's PLI scheme aimed at creating job opportunities.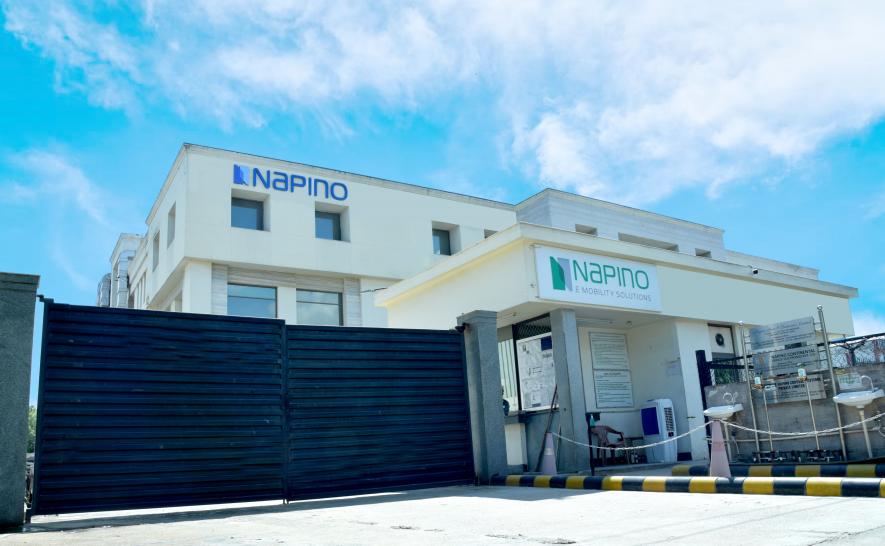 Napino Auto & Electronics Limited is a Tier-1 automotive component manufacturing firm. Image Courtesy - Napino.com
Gurugram: The agitation over long-pending wage increment of the workforce in a Gurugram-based auto component manufacturer has taken an unfortunate turn after the factory management resorted to what the union terms "unfair labour practices," making it further difficult for its workers to eke a living amidst rising cost of food and groceries.
On August 17, Napino Auto & Electronics Limited, a tier-1 automotive component manufacturing company, laid off the entire permanent workforce – 271 workers – of one of its facilities located in Sector 3, Industrial Model Township, Manesar. Set up in 2002, the said unit was engaged in manufacturing wiring harnesses and other auto electrical components for two-wheeler maker Hero MotoCorp.
The lay-off notice, addressed to the company's employees union, and seen by NewsClick, cites "there is no work" and "no hope of getting work at present" as the reasons for the action.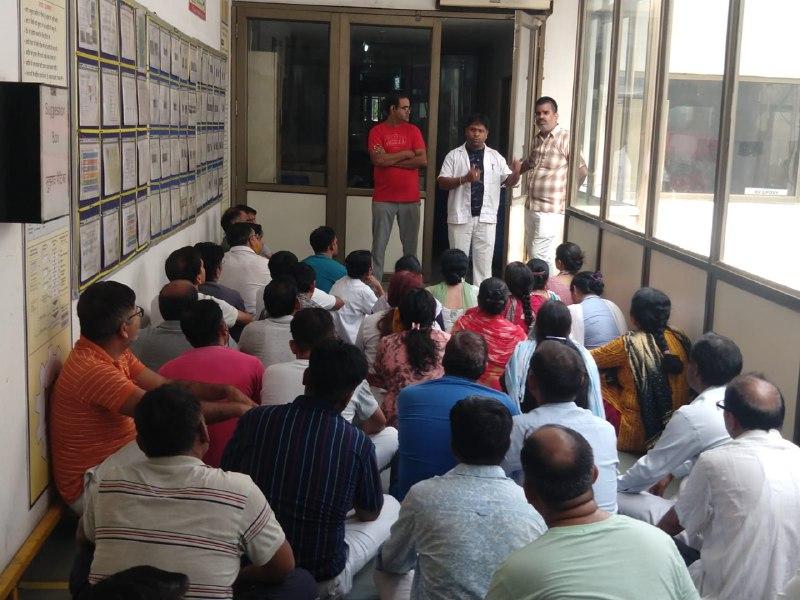 Workers, led by Napino Auto employees union, stayed put inside factory premises as part of their strike action for 20 days in July. Image Courtesy - Special Arrangement
Incidentally, no permission from the labour department was required, as per the Haryana government's amendment to the Industrial Disputes (ID) Act, 1947, which enables firms having less than 300 workers to do so.
The company's move, which has turned the lives of its workers upside down ever since, comes days after the management arrived at a settlement with the employees union last month, after the latter agreed to call off their work strike of 20 days to press for wage revision.
Demanding a three-yearly wage settlement agreement which was due in 2019, the permanent workforce, which includes women, stayed put inside the factory premises in protest since July 14 this year.
Terming the lay-off as amounting to "unfair labour practices", the Napino Auto employees' union alleged that the firm, which earlier this year was also shortlisted by the Narendra Modi-led Central government for incentives under its flagship Production-Linked Incentive (PLI) scheme, was "conspiring" to "retrench" its permanent workers after the latter went on strike for their "legitimate demands."
The union has resolved to fight the "anti-worker" move of the company through legal means, leaders told NewsClick here on the sidelines of their scheduled meeting with officials of the state labour department on Thursday.
'Machines Shifted to Other Factories'  
"Most of the workers, who are in their 30s or 40s, are going through mental problems because of the vindictive attitude that the company now has toward us," said Naresh Kumar, president of Napino Auto Employees' Union. "After not receiving full salaries for the past two months, they, along with their families, have also been pushed to the point of starvation," he added.
"The management has breached the agreement reached in a tripartite manner, with the Napino Auto employees' union," the latter alleged in their complaint, addressed to Assistant Labour Commissioner, Gurugram (circle VI) on August 17, the day the lay-off notice was issued. NewsClick accessed a copy of this complaint.
After the work strike was called off on August 2, following an injunction order by the Gurugram court, prohibiting any union activity within 200 metres of the factory premises, the management had agreed to begin production within the said manufacturing facility within "three or four days."
"Our customer has taken back the orders from us, regarding which the management will try to secure them back. Due to this, workers can be kept on leave for 3 or 4 days, in lieu of which workers will be made to work on any day in future," reads the agreement letter dated August 10, which was seen by NewsClick. It is reached as per the provisions laid down under Section 12(3) of the Industrial Disputes (ID) Act, 1947.
"Instead of calling back the workforce and resuming production, the management shared the lay-off notice to us over WhatsApp – which is clearly a breach of the agreement that was reached in the presence of Deputy Labour Commissioner of Gurugram (circle II)," Kumar said.
He further alleged that movement of machines out of the said factory premises, with the help of individuals had been witnessed since the day the workers' strike was called off. "We believe that the management has shifted machines to its other factories (in total, there are four manufacturing facilities of Napino in Gurugram) and is set to continue the production from there itself for now," Kumar alleged.
A source within the company, however, denied the workers' allegations, noting that some machines were taken out to be sold as they had become obsolete. "Production has not resumed anywhere because the company's orders were cancelled during the strike action. The management is trying to secure new orders so that workers can be called back. Till that time, all the legal provisions are being followed with respect to lay-off," said the source with knowledge of the company's decision-making. 
A company spokesperson was not available to make any official comments. The Napino Auto employees' union leadership confirmed that laid-off workers were paid compensation earlier this month till August 31 for now. 
A laid-off worker is entitled to compensation which shall be equal to 50% of his/her total basic pay and dearness allowance for the first 45 days, as per section 25(C) of ID Act,1947. After this period, s/he can be retrenched under relevant provisions of the said Act.
Management in 'Breach' of Terms
Meanwhile, on Thursday, NewsClick learnt that Napino Auto's management was indeed found to be in breach of "two of the total five terms" that were agreed upon on August 10, as per the labour department's inquiry, initiated after the employee union's August 17 complaint. It is learnt that a report, based on this inquiry, has been filed in which prosecution against the company management under Section 29 of ID Act, 1947, has been recommended.
Under the said section, any person who is found to be committing a breach of any term of a settlement, which is binding on him/her under the 1947 Act, is liable to pay a fine or face imprisonment for six months, or both.
'It Has Become a Matter of Saving Jobs'
NewsClick had earlier reported on how the workers' agitation at Napino Auto had brought to the fore the growing rift between factory managements and trade unions in the country's leading auto hub, especially  in the backdrop of the passage of the controversial four Labour Codes, which the Central government has promised to roll out soon.
Speaking with NewsClick,  All India Trade Union Congress (AITUC) leader Anil Panwar said the Napino Auto employees' union have written to state Labour Commissioner, Labour Minister, and Chief Minister Manohar Lal Khattar, seeking their intervention in the matter. "It has now become a matter of saving jobs and livelihood of 271 workers, most of whom are employed for decades with the same company," he said.
Incidentally, in March this year, Napino Auto was among the 75 auto and auto component firms to get the nod for receiving incentives under the PLI scheme – one of the objectives of which is to lead to additional employment opportunities within the manufacturing sector in the country.
Under the scheme termed as 'Component Champion Incentive Scheme', for which Napino Auto's application was approved, the government expects 75 companies to invest close to Rs 29,834 crore. The other shortlisted firms include Maruti Suzuki India, Bosch India, and Bharat Forge, among others.
All this, however, does not mean much to the 42-year-old Uday Mandal and his family of four (him, along with his wife and two children), for whom making ends meet has become more difficult than ever – ever since he was made to sit at home, owing to Napino Auto's lay-off action.
On Thursday, Mandal said he was already feeling financially stressed because of the recent surge in prices of essential commodities. "The price of cooking oil has just been doubled in the past few years," he told NewsClick in a telephonic interview. 
"Even after working for the last 23 years in Napino Auto, I haven't been able to save enough – enough to get me through just for a few months without my monthly salary. The lay-off compensation is not enough; I have already borrowed some money from my relatives to pay for my children's tuition fees," said Mandal.
Parshuram, general secretary of the Napino Auto Employees' union told NewsClick: "Every day, I receive multiple calls, letters from worried, laid-off employees. All of them have only one question: When will we get our jobs back?"
Get the latest reports & analysis with people's perspective on Protests, movements & deep analytical videos, discussions of the current affairs in your Telegram app. Subscribe to NewsClick's Telegram channel & get Real-Time updates on stories, as they get published on our website.
Subscribe Newsclick On Telegram