Marcus Rashford 'Blown Away' by Response From Organisations for #endchildfoodpoverty Campaign; Nigeria Players Call for Boycott of National Team Matches and More
Short Passes (Football News Round-up: Close to 100 organisations came forward to supply free school meals during the half term in the UK, in support of Marcus Rashford's campaign | Footballers call for boycott of national team matches, protesting against the government's atrocities in Nigeria | Pep Guardiola feels sides playing in Europe have a disadvantage this season due to the hyper hectic schedules | AIFF's Executive Committee refers Anwar Ali's case to Medical Committee | Gerard Piqué tears into FC Barcelona over Lionel Messi episode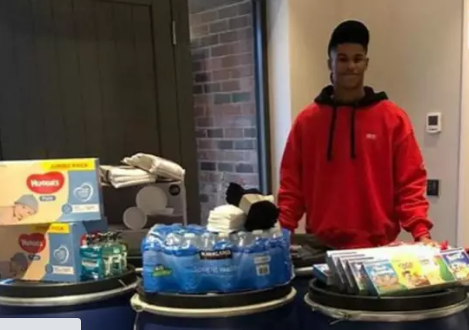 Last week, Marcus Rashford proposed the extension of the campaign to provide school meals for children till March next year with a petition, getting more than 500,000 signatures.
Marcus Rashford is right in the middle of a noble movement in England, one that has brought to the fore, like the footballer puts it, "Selflessness, kindness, togetherness, this is the England I know." 
The Manchester United forward was referring to the inspiring tale of 100 organisations coming forward to supply free school meals during the holidays -- the half term in the UK. The widespread support came after Rashford's vocal campaign to end child food poverty. He was awarded an MBE for his work in helping children from poorer sections of society during the Covid-19 crisis. His campaign -- and the overwhelming support it garnered -- forced the government to change its stance in July, ensuing free meals during school and the summer holidays.
Last week, Rashford proposed the extension of the campaign with a petition getting more than 500,000 signatures.
Also Read | I-League Set to Begin on January 9, Say AIFF Sources; No Decision on Federation Elections Yet
However, MPs earlier this week, voted against the Labour Party motion to extend free school meals over the holidays until Easter 2021. The government justified the move by saying families of lower income receive enough support from the state. Needless to say, Rashford was quick to express his criticism following which he appealed to private organisations to come forward in support. The response surprised everyone, including the footballer.
The offers of help, in answer to Rashford's #endchildfoodpoverty campaign, ranged from small sandwich shops, catering companies to big fast food chains such as McDonald's UK, which announced its partnership with FareShare UK, a charity backed by Rashford, to provide funding for 1 million meals for poor families.
Councils in Liverpool, Greater Manchester, Rotherham, Doncaster and Birmingham among many others have also pledged support, along with several London boroughs including Redbridge, Hammersmith and Southwark. Rashford said he was "blown away" by the response.
Meanwhile Juan Mata, Rashford's teammate at Manchester United, saluted the work, saying he feels proud that he is using his reach and popularity as a footballer for something very noble. He said every player should use the platform they have for a larger cause and urged Rashford should continue not 'sticking to the game', a line his critics have been using right through.  
"It's important for every player to realise the platform that we have, the message that we can get across and the amount of people that we can help," Mata told the  Pitch to Post Preview podcast.
"I'm very proud of what Marcus has been doing. On the pitch, of course, we know how good he is and he is still performing very well but off the pitch also, the work he's been doing over the last months has been great.
"And I think it's important also to get the message that of course we are football players and our main focus is our professional life, which is training and playing football and being ready to perform but that doesn't take away from having time to do these kind of things, which doesn't take any focus away from our professional life.
"I've seen some people saying, Marcus should stick to playing football and things like that, which I don't really agree with because he can do both, as he's showing. And I'm very proud of what he's done and he's getting the reward he deserves."
Nigeria Players called on to Boycott Matches
Nigerian midfielder John Ogu called on his teammates to "make a statement" and boycott the country's upcoming matches, protesting against the government, which has unleashed violence on young citizens at protests across the country.
Over the past few weeks, Nigeria has witnessed widespread protests with people demanding the scrapping of a notoriously violent police unit, the Special Anti-Robbery Squad (Sars). Many protesters have been reportedly killed in the action by the forces even though Nigeria's army has denied killing demonstrators. According to Amnesty International reports the forces killed at least 12 people in Lagos, Nigeria's largest city, just on Tuesday.
Also Read | Mohammedan Sporting's Ghosts Refuse to Disappear
Ogu is not the first Nigerian footballer to come out in the open, calling out the government. Earlier in the week, Manchester United forward Odion Ighalo called his country's government "a shame to the world".
Football players making a stand would indeed give the protests in Nigeria a global reach and support, and would trigger widespread condemnation of the state-sponsored violence in the country. The power of footballers -- sportspersons in general -- in social, political and economic matters is immense. And, ever since the Black Lives Matter movement, we have increasingly seen sportspersons getting more active in matters outside their sporting realms. 
The trend may not have caught on in India, with a majority remaining silent and secure in their bio and socio-secure bubbles, hardly letting out a grunt in response to the goings on in the country. The irony? Most speak up on global issues,  ones which have no direct impact on their immediate lives -- a social media hypocrisy.
No such hypocrisy in Nigeria though, where the implications, dangers rather, of making a stance is pretty clear. The players do it regardless of the cost. 
Nigeria is scheduled to play the Africa Cup of Nations qualifiers in November, and Ogu said that even if boycotting would mean the country would lose its place in the tournament, "it would be a price worth paying".
"What is the point in representing the country if this is what the politicians, the people we're representing, can do to us?" Ogu, 32, told the World Football show on BBC World Service radio.
"I feel like this is the best thing to do right now until they get back to their senses and listen to us. We want a good government, the police brutality to stop, we want the Sars to stop, we want the killings to stop, we want good laws, we want job opportunities. It's just crazy.
"I believe most of my colleagues understand where I am coming from, I wish we could do this. There are games coming up and if we boycott these games I'm sure they will know we've made a statement.
"I haven't really spoken to any of my team-mates about this. They feel for the people here, their loved ones, those that have died. I'm sure the players are aware," he added.
Pep Worried About 'Crazy Schedule'
While it is always a matter of prestige to compete in the continental championships, the pandemic has put elite teams at a disadvantage. Manchester City boss Pep Guardiola feels his players will feel the pinch playing in Europe this season since the punishing schedule -- not to mention going in and out of biosecure bubbles and quarantines while travelling -- would leave them with little time to recover between matches.
The Covid-19 situation postponed the start of the season to September. The European club championships -- Champions League as well as Europa League -- began this week. So, the teams will end up playing group-stage matches every week till the international break next month. Besides the continental commitment, the sides will also have Premier League fixtures sandwiched in between at the weekends. 
Also Read | Japan to Set Up Cyberattack Countermeasures to Protect Tokyo Olympics
"Definitely, this league is so difficult," Guardiola said  "The guys who have seven, eight days between games have more time to prepare. On the other side, we are competing for titles and this is how we have to live.
"All the teams playing in Europe have the same problem... Right now the day before I don't know my selection. We play tomorrow at 1230, not much recovery. The guys train well and tonight we decide."
AIFF Refers Ali's Case to Medical Committee
The All India Football Federation (AIFF) Executive Committee referred Anwar Ali's case to its Medical Committee, a Goal.com report suggests. The Committee will now convene and deliberate on the future of the young footballer who represented India in the 2017 U17 World Cup and was earmarked as one of the brightest talents in Indian football. Anwar had signed for Indian Super League (ISL) outfit Mumbai City FC back in 2019 before being relayed about his congenital heart condition. 
Having been cleared by a certain group of medical officials — others had asked that he do not continue playing professional sport — he signed with Mohammedan Sporting for the I-League qualifier campaign earlier this month. However, he did not get clearance to play while the federation deliberated his case. 
Also Read | Silent, Inert or Watchful? What is the AIFF's Game Plan to Address the Elephant in the I-League Room?
The player, however, approached the Delhi High Court which on Tuesday, allowed him to carry on playing until the federation arrived at a final decision. The judge added that Ali can seek judicial recourse once again after AIFF announces its final decision. 
Earlier this month, Anwar's case received a boost from Professor Sanjay Sharma, chairman of the Cardiology Consensus Panel for England's Football Association. Sharma told the AIFF that there is a small risk for Anwar but the risk profile could change over time. He further suggested that since the risk is not very high, the final decision to play should be left to the player and his family.
Piqué Tears into Barcelona
Two days after he signed a new contract, and hours before the first Clasico of the season, Gerard PIque ripped into FC Barcelona's board for their treatment of Lionel Messi over his contract in the summer transfer window.
"I ask myself: 'How can it be that the best-ever player to have played the game, who we have been lucky enough to enjoy, wakes up one day and sends a burofax because he feels like he's not being listened to?" Pique told La Vanguardia newspaper.
"It's all too confrontational. What's going on? Messi deserves everything; the new stadium should be named after him first and then the sponsor. We should preserve our figureheads, not underappreciate them. It really gets to me."
Pique's comments come after the defender and club stalwart took a massive pay cut to renew his contract, amidst a furore that could bring about a vote of no confidence against the board soon. 
Pique also offered up his comments on the fact that the president Josep Bartomeu knew the club hired a social media agency to criticise the players this year.
"I, as a Barça player, see that my club have spent money, money they're now asking us for [in salary reductions], to criticise us – and I'm not talking about criticising people outside the club, but current players; it's atrocious," Pique said in the interview. "... That hurts me a lot. And I'm saying that here because I've already said it to the president, too."
Get the latest reports & analysis with people's perspective on Protests, movements & deep analytical videos, discussions of the current affairs in your Telegram app. Subscribe to NewsClick's Telegram channel & get Real-Time updates on stories, as they get published on our website.
Subscribe Newsclick On Telegram