How Many Headlines Can Systemic Abuse Warrant? At What Point Should the System be Burnt for Letting its Athletes Down?
Two high-profile cases of sexual abuse and misconduct in the span of a month highlight the need for safeguards for athletes pledging their future to Indian sport.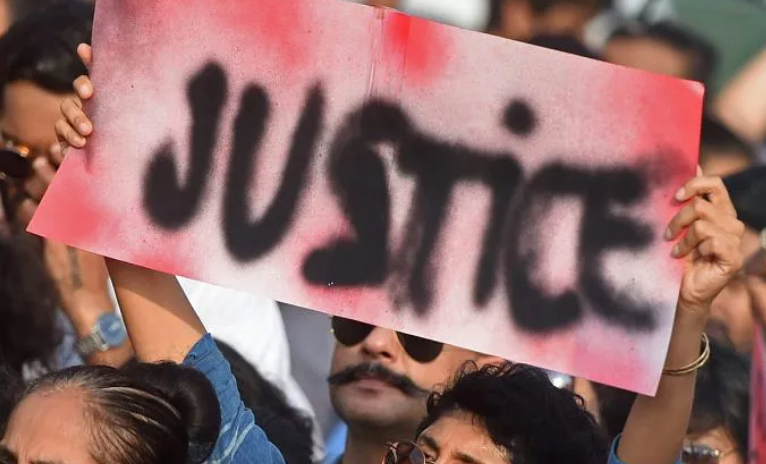 (Representative image) There is this unshakeable sickening feeling too, that the degree of abuse or assault becomes a factor in the intensity and intent of our reaction. If death is involved, we see mass movements flicker till the perpetrators are punished; a hashtag or name coined for the woman — a strong, fearless one — who is soon forgotten (pic: The Print, Twitter).
In the span of a month, two major incidents — one of sexual 'misconduct' and the other of sexual abuse — have shaken Indian sport. The two incidents — the sacking of Indian Under-17 Women's football team assistant coach Alex Ambrose with criminal action awaited, possibly under the POCSO act; and the dismissal of national cycling head coach RK Sharma in June following allegation of sexual abuse by a woman cyclist in the team — have flashed quickly and brutally across the news cycle. Neither have triggered public discourse, outcry and introspection beyond the initial tweets, hashtags and debates that are par for the outrage course. They have all but subsided.
This, the reaction, is indicative of where India's societal mirror is focused on at this point — turned away from introspection, course correction and thereby justice. There is this unshakeable sickening feeling too, that the degree of abuse or assault becomes a factor in the intensity and intent of our reaction. If death is involved, we see mass movements flicker till the perpetrators are punished; a hashtag or name coined for the woman — a strong, fearless one — who is soon forgotten. And all around, similar incidents take place repeatedly, at an alarming frequency. We go on. What makes this abuse in sport different? We have seen so much that why does this warrant our attention?
Every incident of abuse warrants our attention. Period. These two incidents point at a more disturbing factor too. It has occurred in a celebrated zone — the national team set-up. The Indian sporting system is quite layered, structured, and comes under strict government control. It is based on the 20th century, but still workable, systems adopted from countries such as the erstwhile Soviet Union. A version of the Chinese model even: the state given a larger say in identifying and nurturing talent and bringing them onto the global stage. 
Also Read | FIH Women's Hockey World Cup: Indian Begin With Payback in Mind
The system, despite its shortcomings, is something that has yielded results and also provides a sense of security — a social and economic safety net — for young athletes getting absorbed in it. Sport in India is still an individual's engine for upward mobility. This mobility we are talking about is from the barest of existence to a decent living — the possibility of landing a government job following a good career on the playing field.
So, when a child enters the system — one of the hostels run by the Sports Authority of India or a state body — he or she comes in not with social capital derived from affluence, but with insecurities and submissiveness natural of people who realise that the opportunity in front of them is their best chance of making it. The girls and boys in the system are  under tremendous pressure to make it. Not make it large, but just make it. It is a survival game. And, they place their trust, and their future, in the hands of their managers — coaches, officials or officers in the system.    
I've always tried to do my bit to advocate the push for women's football in the country. But the alleged incident/s from the past week is are a reminder that I, and all of us, need to do more. Sexual misdemeanours should have no place in society, let alone football.

— Gurpreet Singh Sandhu (@GurpreetGK) July 5, 2022
This is where things get tricky or murky. Having been part of a sports hostel system, I can vouch for the fact that while being players we look at the officials and the power they wield with trepidation. While appeasement is not the goal, rubbing them the wrong way is something you want to avoid. To make matters worse, we all know that in sport, the training involves pushing the individual's mind and body. This is where the line gets blurred. Where does the moulding and forging end, and abuse begin? It is hard to give a definite answer here. It is harder when you are that athlete and your whole career is at stake.  
It is difficult to decipher the nasty or hostile subtleties in a coach's behaviour or approach. Especially when the athletes are in the formative stages of their career — fresh off the boat from their villages and small towns — and with a lot at stake. Making it is paramount in their minds and the first step is to ensure they remain within the system no matter what the cost. So they submit. 
Also Read | Serena Williams Brushes Aside Retirement Talks, But for How Long?
The worst part is the athletes of the past express no surprise. This abuse of power has been going on for years and generations have faced it to varying degrees. We should be glad that voices are coming out now, they say, breaking the unofficial but ever present gags that are part and parcel of the Indian sporting system. We should all join these voices in ensuring it leads to change. 
The stories of abuse that have started coming out in Indian sport are an illustration of more. This is happening in a set-up meant to protect and nurture these athletes. That only means a failure questioning the very foundations of the Indian sporting culture — the guru-shishya parampara — and also the ethical and moral compass of modern society. 
When a rape or abuse happens in the country — the statistics are damning — we rightfully blame society for what it has become. We cry, though momentarily, for social change. What do we cry for now when the abuse is happening in a state-run system? We should not cry — not on social media platforms, not on dark stadium corridors. We should, instead, force changes. 
The question here is not just about an individual and his punishment, but also about the failure of a system that needs a larger overhaul. The bigger outcome of this should be putting mechanisms and diligent and tested personnel in place who would act as safety valves. There should be a systematic attempt at building the psyche and confidence of young athletes to know their rights and stand up for it, with confidence in the knowledge that the system will protect them. If we cannot guarantee the safety of children then we must burn the system down. 
The failure here is robbing children of their childhood and scarring them for life. We all know what that entails. It jeopardises the very future of this country. It is not just about medals. It is about shaping the larger future of India that sport — with all its emancipatory potential in a society — does. Let's not forget that, and let us address the real issues here for a change, and for good. 
Get the latest reports & analysis with people's perspective on Protests, movements & deep analytical videos, discussions of the current affairs in your Telegram app. Subscribe to NewsClick's Telegram channel & get Real-Time updates on stories, as they get published on our website.
Subscribe Newsclick On Telegram