Maria Rebello: She Played Football, Lest We Forget | Indian Women's Football History Special Series
From playing for India at the Asian Games in 1998, captaining them at the 2001 Asian Championships, to becoming the country's first FIFA panel referee, Rebello's journey in football is the stuff kids daydream of; sometimes adults too (Part 2 of a five-part special series on Indian women's football history).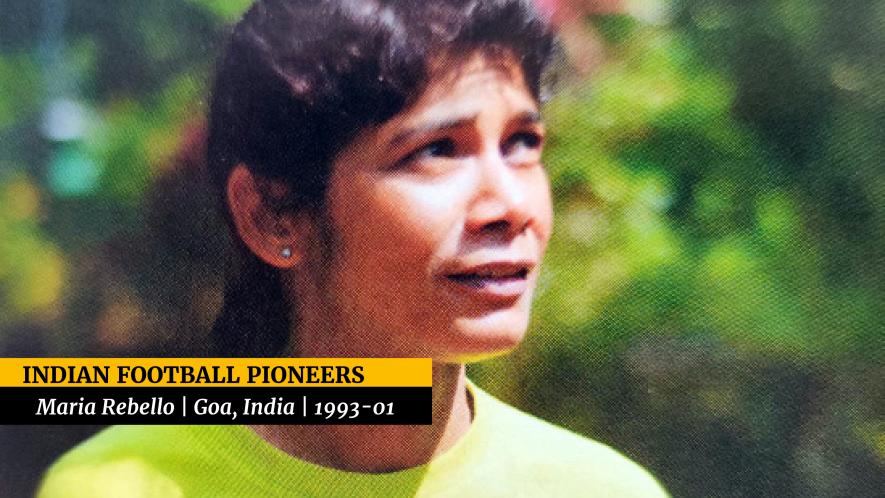 Maria Rebello (Pic: Vaibhav Raghunandan)
"People forget I played football, you know," she laughs, knowing all the while that this statement is patently false, even if the intention is pure. If you were the first person to summit Everest, people tend to forget the other peaks you climbed (a listicle may help). We are, after all, living in a scroll down world; Reels offer little chance for reflection and consideration.  
'But I did!" Mostly as an opening act at first. Like a bout on the undercard, girls in Goa would play exhibition matches right before the final of a men's tournament. It wasn't even a full game, just 25 minutes a half, but it was something. And it was enough for her to show the crowd the outrageous talent they were living with. Today, when she walks the streets of Margao in the evenings, she is looked at with a different kind of awe. If you're the first of a kind, after a while, people just look at you as a legend. 
Maria Rebello — the first FIFA listed woman referee from India, the first woman to take charge of a game in the I-League, and purveyor of the best Goan sausages ever — has gone for the Asian Games three times in her life. In 2018, she went as an instructor for referees, to Jakarta. In 2014, she was there as a referee and took charge of group stage games in Incheon. 
And in Bangkok 1998 (also known as the Dinko Singh Games) she was there as a player; captain of the Indian women's football team. 
Also Read | Subhas Bhowmick Tribute: A Daring Striker With a Penchant for Big Occasions
Historical details rarely exist in Indian sport. Record keeping standards across decades have been unable to reach a compromise, the keepers have lacked an imagination and the diligence demanded of such a pursuit. As a result, events became statistics and everything else was left to the fading memory of those who were there. Things have only gotten worse. With some of our best historians marginalised or gone from the world, the establishment has taken over — the narrative is the norm. The lights get fainter the further you travel back in time. 
This sinkhole is best displayed via Wikipedia — that liberal resource of information and misinformation, amended, apprehended and disseminated 'democratically' without restrictions. Wikipedia lists two entries for Indian women football. The first is a detailed record of the Indian women's football team. It is footnoted with multiple federation links, competition notes and reports. There is a cleanliness to it that behoves the subject. It's bland. It's uncritical. It's information minus opinion. 
The second entry is 'Women's football in India'. Now, this is a comment piece. Rebello has her own entry. Her mythical status as India's first female referee to take charge of a men's game, an I-League game and get certified as a FIFA referee has allowed her that honour. She is a cult figure in Indian football. A great conversationalist, plain speaking and clear. She is a referee. No riff raff. Rebello, the footballer, is a story less told.
"How did I start playing football?" she grins. "That's easy. I used to go watch football with my father. And then, once, I saw Yolanda play."
If, over the course of the last couple of years you have questioned your sports fandom, the importance of this frivolous activity in times of crisis, and been hypnotised by artificial noise inserted into televised football games, then these sentences are a reminder of what live sport can do. The statements change, but their essence even today, remains the same. 
Also Read | AFC Women's Asian Cup: India, Iran Play Out a Game of Misses
Speaking to the media before India's opening game at the AFC Women's Asian Cup in Mumbai, captain Ashalata Devi acknowledged the responsibility her teammates shoulder, for changing and affecting living, breathing, growing lives. 
"We talk about this between ourselves," she said. "When we leave from camp and go home to our towns and villages I tell them to spread the word, talk to young girls who want to play the game, talk to their parents too. In many parts of this country, people still believe women shouldn't play football. It's our responsibility to prove them wrong. It's essential for our future…" 
"Goa isn't like this," Rebello laughs. "It's a free country, man." She grew up playing football on the beach with boys and girls alike; it was an idyllic leisure activity (Goa, bloody hell) it wasn't something to be taken seriously. In 1979, with the Women's Football Federation of India (WFFI) in charge of the game, the Nationals were staged in Goa. The hosts had a group of incredibly talented, swashbuckling players, who had come close to winning the championship twice before. "The Goa team had all these big shot players. Yolanda [De Sousa], Succorinha Pereira, Juliana Colaco were playing…" Rebello says. "That was the first time I saw ladies play football. I don't have much of a memory of the games themselves. But I remember Yolanda scoring goals galore. I was hooked, man."
And so came the girl playing on the undercards, a hugely popular figure in Goa at the time. No matter the scale, size or location of the tournament, young Maria would inevitably be declared the best player, or end up as the highest goal scorer of the event. There weren't many clubs for women playing football — with two federations running the game and no real clarity on a regular domestic calendar — and the association, although not particularly strong, held tournaments as often as they could. The only way to grind through the levels was to get scouted by one of the big clubs (Vasco, Calangute Rangers and Panjim Footballers among them) and hope it worked out. 
Also Read | BCCI Allocates Rs.3,494 crore For Legal, Arbitration and IT Contingencies
"I must've been in Class VII-VIII, when someone approached me after an inter-school tournament and asked if I was interested in playing for them?" Rebello says. "It was a new club [Seraulim] with just young kids. In our first year we conceded buckets of goals. Vasco, Panjim… they took us for dozens, but believe me, in the next year we were thrashing them around."
As Rebello's playing career rose to a peak, the women's football landscape altered drastically around her. In 1991, a few years after FIFA took over the women's game and the rebel alliance disbanded, the Sports Ministry asked the WFFI to merge with the AIFF, who took charge of the women's game in the country. Mergers are never easy — Succession fans, line up here — and the drama of such a huge call would play out till 1995, when the two finally settled matters out of court. They were trying times for players,young and old alike.
"I'd say, my career, and maybe I can speak for all the ladies in the team too, took a turn in Tamil Nadu in 1995," Rebello says. The Dr. Jayalalithaa Gold Cup, named for the Chief Minister who masterminded it (coercing the federation to schedule a women's event after they conducted the Nehru Gold Cup in Chennai) was an eight team invitational women's tournament, the first of its kind hosted by India since the 1980 Asian Championships. India fielded what was essentially a young, developmental team who took on Hungary, Chile and Uzbekistan in the group stage, conceding 12 and scoring two, but learning much more. 
"It was the first time we were exposed to such a well organised tournament," Rebello says. "We were put up in a five star hotel, saw international players with massive chops, a huge number of us formed the core of the team for the next decade, and it was because of this hugely progressive step…"
Jayalalitha's political rivals didn't think so. M Karunanidhi took one of the main sponsors of the tournament to court over a misuse of funds in the years to come and the tournament was never hosted again. It remained for decades the only international tournament India hosted  — till the Women's Asian Cup came to town.
Also Read | AFC Women's Asian Cup: India, Iran Play Out a Game of Misses
Rebello is neither collaborator nor critic of everything that has transpired in the years between. Despite all the apathy going around, or perhaps because of it, Rebello slowly rose through the ranks as a tough, all or nothing professional, focussed on protecting her team and their memories at all costs. In 2001, Rebello captained India at the AFC Women's Championship. Debuting in that team was a 17-year-old phenom who'd go on to become one of the greatest players India had ever seen. "You have to see that picture," Rebello laughs, "Look at how young she is! I have to send it to her and remind her of this haircut…" 
As coach of Manipur, Oinam Bembem Devi won the state their 21st title. In its aftermath, she talked about issues that reek of the 1990s. "Stakeholders," she said, "should take more interest in women's football, so that girls are encouraged and motivated to play this sport for a career. More tournaments, clubs, even at the state level will give girls more game time and create more earning avenues…" 
Rebello concurs. "We need to give the girls more game time, more job opportunities…" she trails off.
There is an air of hope from the eyeballs that will fall on the women's team during the Asian Cup. This young team has already scored a goal against Brazil, held Chinese Taipei to a draw and played more games this year than in the past five. It's a seismic change from what was till very recently a relegated afterthought.
"A lot of people have asked me what the difference was between us and the top teams in the world in my time," Rebello says. "I've always had the same answer. When it comes to skills, our team wasn't inferior. But tactically we were behind. Physically we were far behind. We couldn't compare ourselves. The present lot are lucky, they have opportunities. We didn't even have this."
Rebello recalls travelling to Kerala to play sevens tournaments with friends, just as a way to keep her skills and fitness up to level. The men's clubs had women teams but very little interest in maintaining them — a problem that persists even today. "It is a tragedy that they don't do that. It's a big deterrent for the women's game," Rebello says. "The women's game will grow much faster than the men's, if you just do the basics right. Much quicker and steeper, because we really aren't that far behind… it's just that everyone is investing a lot in it all around us. We should too…"
Now, at least in the short term leading up to the Asian Cup there's been an interest in giving, at the very least, the national team some game time and air time. Rebello has watched all of this with a keen interest, not just as an observer, but in many ways as an insider. 
She trains referees now, pushing younger women referees into the system. In the years since Rebello's path breaking journey, many others have followed — two Indian women, Uvena Fernandes and Ranjita Tekcham will be match officials at the AFC Women's Asian Cup. A senior pro, with a lot of salt in her hair, Rebello will kick back and watch the football for its merit and think about the past.  
"I could've played a few more years," the words come easily without regret, "But I wanted to do something else. I'd already set my mind on becoming a referee. I never wanted to sit in the technical area and give instructions. I wanted to be inside the field. At least this way I get to do that."
Get the latest reports & analysis with people's perspective on Protests, movements & deep analytical videos, discussions of the current affairs in your Telegram app. Subscribe to NewsClick's Telegram channel & get Real-Time updates on stories, as they get published on our website.
Subscribe Newsclick On Telegram