MC Mary Kom vs Nikhat Zareen: The Bout Indian Boxing Needs But May Not Get
Nikhat Zareen, who has appealed to the sports minister to get a chance to fight MC Mary Kom and earn the right to represent the country in the Olympic qualifier tournament next year, is not the first boxer whose career has been put in jeopardy because of the Boxing Federation of India's subservience to its mainstream superstar.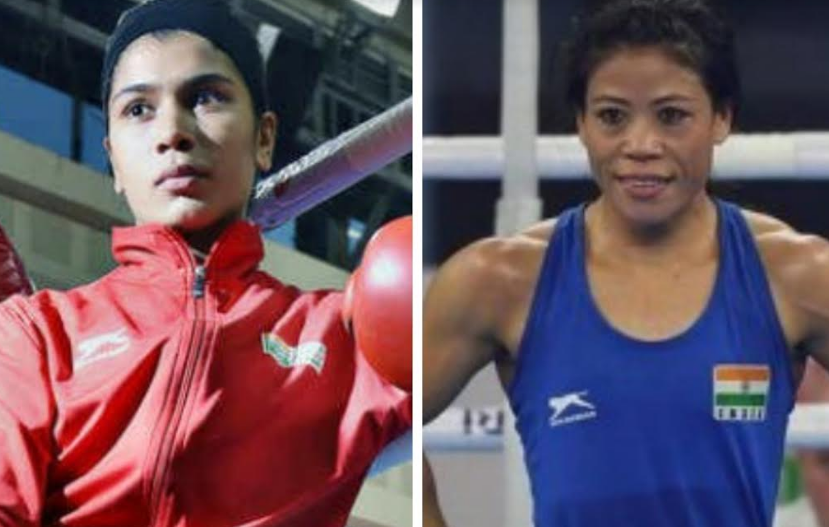 Nikhat Zareen had raised a complaint earlier this year when she was denied a trial against MC Mary Kom to compete at the World Championships.
Imagine being Nikhat Zareen in MC Mary Kom's world! 
You're a young professional, with a well laced CV, working at one of the few companies prepared to offer a job in your profession of choice. In your first few years as part of this company you perform admirably, you win several accolades representing them at global summits. You got into this profession inspired by the brilliance of one of the top stars of this company. You believe that if you put your head down, work hard, and continued to prove yourself, one day you will rise high in the ranks too. 
Unfortunately, every time there is an opportunity to represent your company (indeed even the country) on a global stage, they pick the senior star for the job. If she so desires. There is pressure from above. The situation gets grimmer every year. This is a dead end job. What do you do? 
All I want is a fair chance.If I'm not given the opporunity to compete what am I training for. Sports is about FairPlay & I dont want to loose faith in my country.Jai Hind @KirenRijiju @RijijuOffice #AjaySingh @Media_SAI @DGSAI @BFI_official @kishanreddybjp @PMOIndia #TopsAthlete pic.twitter.com/t1ie62tMJy

— Nikhat Zareen (@nikhat_zareen) October 17, 2019
Nikhat Zareen has taken to writing a letter directly to the Sports Minister expressing her concerns in the hope that justice will be served, giving her a chance to fight Mary Kom for the right to represent the country in the Olympic qualifiers. For good measure, she has also posted the letter on Twitter, sparking a round of support from eminent sportsmen.
Mary's World
This latest saga has been triggered by the Boxing Federation of India's (BFI's) announcement that all medallists from the recently concluded women's World Championships will get a direct selection for the Olympic qualifiers to be held in China in February next year. Earlier, they had said that gold and silver medallists would be an automatic pick in the women's segments, and all medallists from the men's World Championships would get direct tickets. The U-turn, in BFI's opinion, is an attempt at 'gender equality'. Mary Kom, a bronze medallist in the 51kg category at the Worlds, will benefit from this decision.
Zareen had raised a complaint earlier this year when she was denied a trial against Mary to compete at the World Championships. At the time, the BFI cancelled a trial in the 51kg category and fast tracked Mary's selection, citing 'more consistency in performances', despite the fact that Mary was actually moving up a weight category for the event. Her natural weight category (49kg), in which she has won all her World Championship titles, is not part of the Olympic Games.
Also Read | IAAF World Championships: The Indian Athlete and the Spinning Vortex of Failure
Neither is this the first time — or indeed the first boxer — who has seen her career in jeopardy because of the federation's subservience to its mainstream superstar. Close watchers will be familiar with the name Pinki Jangra, who beat Mary in the 2014 Commonwealth Games (CWG) trials to seal a place in the team. Mary threw a fit about the decision — one that took the judges 10 minutes to finally announce — and raised a huge hue and cry about it too. 
The next chance that Jhangra got against Mary was for the trials for the World Championships in 2016 — which also served as a qualifier for Rio Olympics. This time, the BFI (which was suspended at the time and being run by an ad-hoc committee) declined Jhangra's application for the trials and selected Mary directly. Jhangra's pleas eventually landed her a qualifier against — who else, but irony — Zareen, and having defeated her she was finally granted a second qualifier against Mary. Mary won, but the decision was contentious. 
"The day before my selection bout, Mary was made brand ambassador of AIBA," Jhangra said, "Who do you think was going to win the bout and go for the Worlds?" Mary's eventual capitulation in the second round of the Worlds meant no Indian woman qualified for the Rio Olympics. A fact that Jhangra believes was 'justice served'. 
Seniors First
Winning and losing, and losing and winning in controversial fashion is par for the course when it comes to combat sports. A combat sport athlete who hasn't launched a tirade, a complaint or a protest over being shortchanged is not worth their salt. Even the greats have expressed their displeasure at the judges scorecards.
Video | Where Does Indian Football's Roadmap Lead: A Conversation with Novy Kapadia
But the greats never shied away from those scorecards. Zareen's demand for a trial isn't unreasonable. There is little reason to believe she can beat Mary -- in her letter she expresses this fact plainly and obviously herself — especially considering her lack of pedigree when it comes to big game contests. The federation's U-turn is convenient. It isn't wrong, but not right either. 
Across the world, Olympic medallists, world record holders, national champions and the lot compete against each other in selection trials to land the coveted spot for the Olympics. Many a time, they miss out. A case in point is 100m hurdler Kendra Harrison of the USA. Harrison, long considered one of the best in the world, failed to qualify for the Olympics at the US Trials in 2016. Two weeks after the trial, at the London Muller Anniversary games, she broke the world record. At the Olympics, the women who out qualified her, was part of a USA 1-2-3 on the podium.
In India though, trials are considered derogatory. In a culture where seniors get first preference, a young athlete asking for a chance is a firebrand.
And the norm in Indian sport is that the athlete who earns the spot for the Olympics (the spot is awarded to the country) goes for the Games. This has created controversies in another combat sport — wrestling.
Multiple wrestlers have benefitted from this rule. And, it was one reason why Yogeshwar Dutt came out in support of Narsingh Yadav when he won a spot for the Rio Games in 2016. At the time, Sushil Kumar had demanded a trial to judge who the spot should go to. "I stand for what is right. How can you expect me to denounce a rule which I know I have benefitted from in the past?" Dutt had magnanimously said. 
Also Read | Mat Finished: A Wrestling Icon's Bout Against Time
In wrestling, the norm works differently. Senior wrestlers are mentors to those junior to them. They work with them, spar with them and are on the mats with the novice everyday. Bajrang Punia will make his Olympic debut next year, but having worked in Dutt's shadow for so many years, he knows how it may well shape out to be.
With Mary there is no such. For all her humility and selflessness, the truth is that she has no relationship with the young boxers she expects subservience from. She knows that without her, boxing in India is a fringe sport, and relies on that knowledge for reward.
While I have all the respect for Marykom , Fact is ,an athletes life is an offering of proof. Proof that we can be as good as yesterday. Better than yesterday. Better than tomorrows man /woman. In sport, yesterday NEVER counts. https://t.co/B0MBT3HFU0

— Abhinav A. Bindra OLY (@Abhinav_Bindra) October 17, 2019
Champions are born from competition. Let us continue to strive for excellence and not complacency. https://t.co/f8RJ25LOBH

— Shiva Keshavan, OLY (@100thofasec) October 17, 2019
The first time I met Mary Kom was in 2011. At the time, she was already a five time World Champion. But Mary mania had yet to take hold. Priyanka Chopra didn't even know her, let alone play her in a film. This meeting was at the Karnail Singh stadium in Paharganj where Mary was training. I was assigned to do a recce shoot for a story, while a colleague was writing about her. My photographs would be used as a reference for a shoot the magazine planned to do at a later date. 
Also Read | Peerless in Kolkata: How a Small, Hungry Football Club Snatched Bragging Rights From the Big Two
After her training session, Mary packed up the bag herself, slung her jump rope on one shoulder and beckoned us to her hotel 'just a kilometer away'. On the way we stopped at a kirana bhandar, because Mary wanted to buy shampoo to wash off the highlights she had got earlier in the day. She was completing the purchase when finally the writer couldn't hold it any longer. "Do you know who she is?" he asked the bemused shopkeeper. 
"People shouldn't know you for who you are," Mary proffered back, "they should know you for what you do."
Zareen's letter has sparked a furore on social media. And two athletes who know perhaps more than any other what it means to earn a spot for the Olympics have offered their support with very sensible words. Mary would do well to just recall hers.
Get the latest reports & analysis with people's perspective on Protests, movements & deep analytical videos, discussions of the current affairs in your Telegram app. Subscribe to NewsClick's Telegram channel & get Real-Time updates on stories, as they get published on our website.
Subscribe Newsclick On Telegram