Mat Finished: A Wrestling Icon's Bout Against Time
Sushil Kumar changed the paradigm for wrestling in India in more ways than one. But time and age are the two opponents that even Indian wrestling's game changer can't beat. And the failures pile up...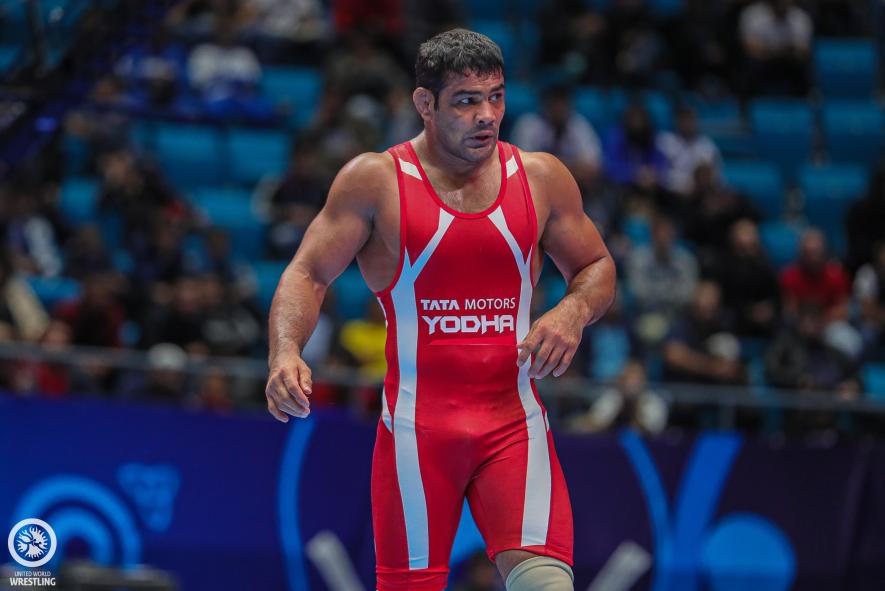 Sushil Kumar, who was returning to compete in the UWW World Wrestling Championships after a gap of eight years, lost in the qualifying round (opening round) of in Nur-Sultan, Kazakhstan, on September 20 (Pics: UWW).
There is no uniform script to greatness, nor is there a definite means to measure it. In the arena, it is like a fragrant summer breeze — a breath of fresh air in the heat to energise our lives, touch our souls, and leave the sport refreshed. Will you try to quantify the summer breeze? In our obsession with the statistical models of greatness of late, we end up trying, and failing. More often on the mat or in the ring. 
Fight sport has its own set of rules that transcend the idea of success provided by those columns against an athlete's name with the headers: 'medals won', 'world titles captured', 'awards received', 'duels won', or even 'battles lost'. These columns add to the burden of greatness a wrestler walks around with. Couple of days back, one could feel wrestler Sushil Kumar wilt to that burden, en route his latest international defeat. 
Sushil's thick neck and shoulders, honed by infinite repeats of weighted bridges and drills, stooped, struggling to take the fight to a young and hungry Azerbaijani millennial, all of 20 years, during the qualifying round of the 74kg division at the UWW World Wrestling Championships in Nur-Sultan, Kazakhstan. Sushil's career on the mat is a good three to four years older than Khadzhimurad Gadzhiyev, but the years, and wisdom too, hardly factored or came into play in the eventual outcome. It cameoed, three fleeting moments, in the first period of the bout when the Indian two-time Olympic medallist attempted a failed reversal (similar to the one that earned him a bronze medal at the Beijing Olympics), and executed two high-scoring throws — one, a neck throw from an arm drag, a textbook beauty Gadzhiyev had no idea about; and the other, a twist and throw from the edge of the mat which had its risks, but Sushil was wise to the percentages involved. Four minutes or so after that throw which gave Sushil a 9-4 lead in the bout, he was walking away from the mat with disappointment writ across his face in thick, bold beads of sweat. 
Also Read | Bajrang Punia's Loss at World Wrestling Championships was Fair, Here is Why
It was all too clear. Sushil is the latest victim to an age old malady that is good for verses, but, when it catches up with a fighter, invariably best of the best, it takes its toll. Mohammad Ali would testify, the great Russian wrestler Alexander Karilin would…. No one dared tell those countless champions, who could break out of the conventions of age and eras to redefine greatness, that their time was up. And, when fate handed it out to them, an excruciatingly painful reality check, all were left scarred, some for life.  
Now, who will tell Sushil Kumar, India's greatest wrestler, to confess to the world, and more importantly to himself, that he is done with the burden. A bit of it must have dawned on the 36-year-old in the long walk from Mat B of the arena in Nur-Sultan to the green room. Or did it? 
Like all men, the lure of gold and the opium of relevance is too hard to ignore.
It is understandable why Sushil is yet to meaningfully register in his mind the sluggishness and slowness in his limbs and arms. He must be feeling a bit more pain with each passing day of hard training, a different pain to the soreness he was used to in younger days, soreness that was a telltale sign he was progressing. The pain now has an inversely proportionate relationship with performance. It is a sign of deteriorating ligaments and tendons, and even the psyche.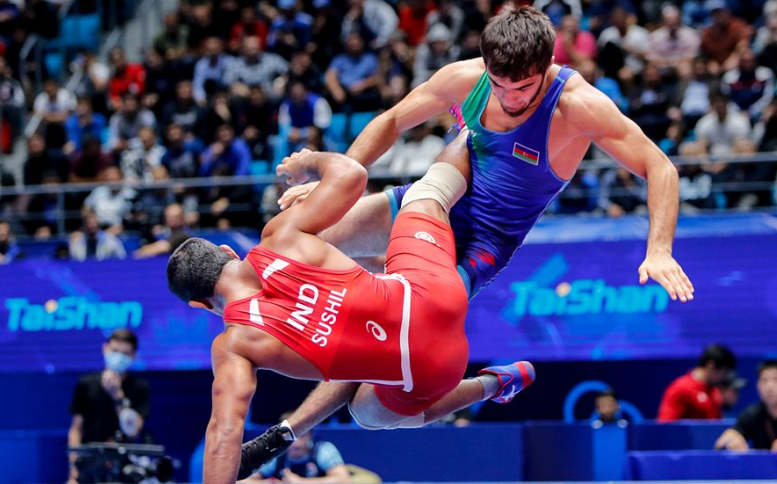 Sushil Kumar's technical brilliance and experience made fleeting cameos during the loss against Khadzhimurad Gadzhiyev at the UWW World Wrestling Championships, including a failed reversal attempt, the very technique which had landed him bronze at the Beijing Olympics.
Sushil, like all fighters, feel the one big moment is right around the corner. It is not a delusion. It is not as simple as a fighter's ego either. It is a complex involuntary duel the fighter in Sushil, or any great fighter in history, takes up in a bid to stay relevant. To the outside world, it ends up as an ageing man's futile attempt to linger around in the limelight, but for Sushil, it would really be as basic as his need to breathe to stay alive.
Someone has to tell Sushil that his time is up, assuring him that he need not fight anymore. The full stop is not to preserve the legacy of his victories past, he needs to be reassured. Many have started saying he should stop making a fool of himself. Well, a wrestler is not a fool for fighting, and losing to a better grappler. That's how the sport is, one man [or woman] wins, invariably, while the other wins his or her demons through the loss. Sushil has slayed enough demons and should not be bothered about a tarnished legacy. 
Instead, Sushil, and even us, should be more worried about why he still is the first choice Indian wrestler in 74kg and why no one else, a post-Millennial Indian, has come forward to relieve him of his burden as India's best. Sushil should be all the more worried since Indian wrestling, where it is now this side of the millennium, was shaped by him largely, alongside old friend Yogeshwar Dutt, who by the way, overstayed a tad himself, before stepping down after a injury-marred outing at the Rio Olympics.
Also Read | Indian Cricket's Latest Dilemma, Playing Patience with Rishabh Pant
Dutt's protege, Bajrang Punia, stepped in where he left off. No one has taken over from Sushil. 
Maybe it is a sign of Sushil's greatness, or maybe an indicator of the glossed-over, larger systemic rot in Indian wrestling. India is yet to become a champion factory like some of the strong nations in the sport. We have only produced a Sushil or two max in a generation. Then again, there has only been one Sushil in Indian wrestling history. We are poor.
And, it is from a much more poorer era Sushil came up, showing a hunger that was never seen before among Indian wrestlers, nor among peers.
********
Going back to the time I spent on the mat, fighting in the Indian nationals, a bit of the dangal circuit even, Sushil was a junior with promise. This was the late 1990s. A close friend who completed a research paper on motivational levels of elite Indian wrestlers at the Sports Authority of India (SAI) centre in Patiala in the fag end of last century had noted a drive in Sushil which made him stand out amongst peers.
By the late 2000s, Sushil was indeed standing a class apart. He had changed Indian wrestling, giving the fraternity a proud moment to celebrate and cherish at the Beijing Olympics in 2008. Meanwhile I, a junior scribe at the time, was left beaming too, after he helped me script a valid point in my profession. 
A few months before Sushil's bronze in Beijing, I was going through the last rounds of a job interview to join a national daily. The interviewer, my would be editor, asked what my favourite sports were. I mentioned wrestling. He made a small 'C' shape with his right thumb and index finger, winked, and said, this is just about the space the newspaper gives to wrestling. I smiled, fighting the urge to ease him through the glass panels of the cabin we were in. Four months or so later, I wrote the holding piece for a full broadsheet page coverage on Sushil's journey to the medal in Beijing, metaphorically throwing the editor through the newsroom window.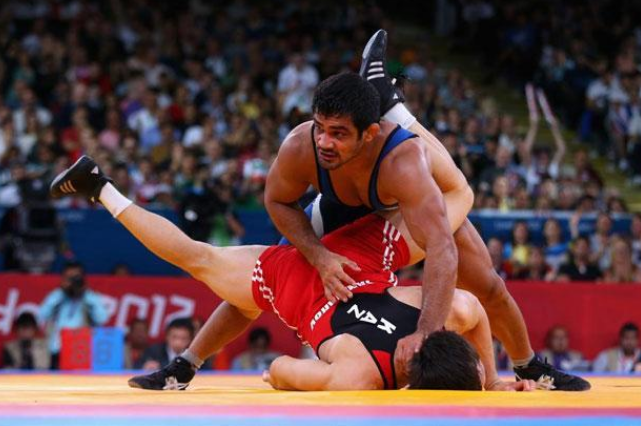 Though many consider Sushil Kumar's peak to be during his run to the silver medal at the London Olympics in 2012, his best year was 2010, where he was the undisputed king in the 66kg division, winning the world title in Moscow.
The personal anecdote is just to illustrate how Sushil changed not just the mindset of wrestlers in the country and their aspirations. His influence, like how greatness transcends, went beyond the nine metre circle of the wrestling mat. Sushil, single handedly changed how the one-dimensional, one-sport Indian media covered wrestling. It indeed was a big deal in the cricket-dominated real estate and was indicative of bigger changes for the sport in the country, cutting across the vibrant social fabric. 
Video | Gurpreet Singh Sandhu Interview: India's No. 1 Kicks-off the New Season
Suddenly, wrestling news was out of the single column brief round-ups, and became front page anchors. Just like that, Sushil was anchoring commercials, rather awkwardly on the camera, and was giving motivational speeches to school children across the country, and handing out awards. And, between the public commissions, he was showing the world what it takes too, by training whenever and wherever he could manage. I remember him doing a quick warm-up with one of his travelling partners at the backstage of an event in Chennai in 2008. Two years later, he showed why those small sessions mattered. He was the world champion, Commonwealth Games gold medallist, an Olympic medalist, and the undisputed king of his weight division.
Many say the London Olympics silver was Sushil's peak, but I would consider 2010 to be his watershed year. He was simply unbeatable in 66kg, won the world championships that year beating a Russian former world champion in Moscow, silencing and then earning the respect of a partisan crowd. London, perhaps, was the first indicator of a waning grappler, the decline expedited when world governing body of wrestling scrapped Sushil's weight category in 2013, forcing him to make a tricky transition to 74kg. Sushil's global career was more or less done by then, by the category change first, while his body started developing those small niggles like a workhorse automobile does once past the 15-year period.
Now came the tricky years. Sushil never knew how to refocus, from the responsibility to the country by being on the mat, to continue meeting those exalted obligations, being out of it. That is where, like all great fighters, he entrusted his motley coterie of big men to take calls for him. A role as head of School Games Federation of India followed, in which he struggled. Controversies raged, mismanagement and lack of accountability too, as he remained a mute instrument, perhaps trapped in a strange prison of obligations and reverence to his immediate well wishers and their vested interests. 
There were attempts to use him for political gain in the Wrestling Federation of India cesspool. The Narsingh Yadav vs Sushil court case ahead of the Rio Olympics, mudslinging and the subsequent dope ban on the junior wrestler who could have taken over from Sushil, showed how the champion was slowly losing the plot.
He was at sea, and was possibly telling himself that dealing with a single wrestler on the mat, in the only business that he understands, was far easier than dealing with a public life he never signed up for when he first took the local DTC bus from Najafgarh on the outskirts of Delhi to Chhatrasal Stadium to learn to wrestle. 
********
Sushil's comeback decision, and a stubborn resolve to fight in Tokyo next year, is perhaps his way to try and come out clean from a dark and confusing period. The hours of dedicated training needed to pull this comeback is perhaps helping him hide from getting involved in businesses he neither has any grasp of, nor any aptitude for.
Sushil trains, harder than he used to. While tweaks are being made in his style of fighting, both by himself and his personal coaching staff, the biggest reprogramming needed was for his mind. When part of the motivation to wrestle is perhaps to run away, the guess is that one starts lying to oneself too. When a wrestler is younger, such lies help. When age and injuries catch up, the lies prove fatal.
Also Read | Alchemy Through IQ: How PV Sindhu Flipped the Script
Sushil Kumar may indeed compete at the Tokyo Olympics, perhaps making it through one of the smaller qualifying tournaments that will happen next year. His journey in the coming months will be good for poetry and odes too. Will it be good for the wrestler himself? Will that leave him scarred? Will that add some more of the melancholy to his elegy? 
It would. Along with the perplexing truth that it won't help Indian wrestling in any way. Perhaps, the realisation of the latter, where he understands that the legacy of the era he helped shape is at stake, is all that is needed for Sushil Kumar to leave, searching for a better space to grapple with life and its trivialities.
Get the latest reports & analysis with people's perspective on Protests, movements & deep analytical videos, discussions of the current affairs in your Telegram app. Subscribe to NewsClick's Telegram channel & get Real-Time updates on stories, as they get published on our website.
Subscribe Newsclick On Telegram