MGNREGA Fund Freeze Puts Purulia's Workforce in a Tight Spot
Poverty and migration have increased in the district after the Centre stopped funds, citing corruption almost one-and-a-half years ago.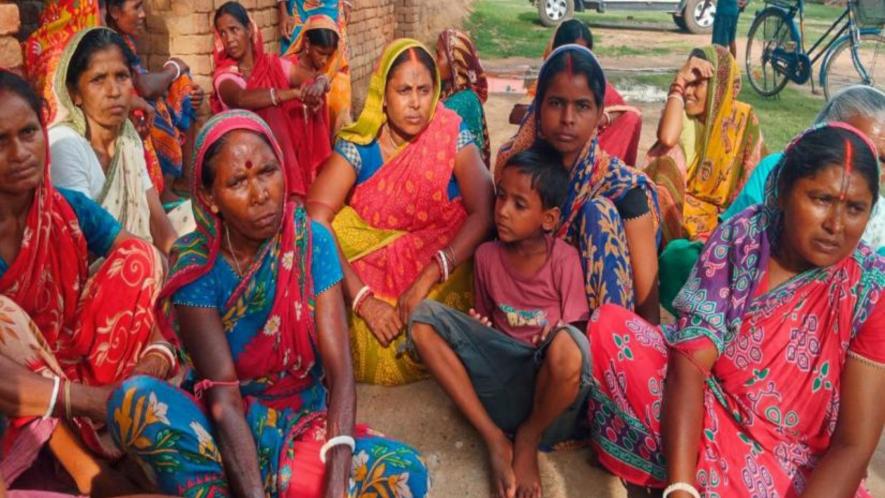 Women of Raghudi village (Photo - Rahul Singh, 101Reporters).
Purulia, West Bengal: 'Soil cutting' and '100 days of work' are the two terms that villagers in West Bengal use to define labour under the Mahatma Gandhi National Rural Employment Guarantee Act (MGNREGA). At present, they are more concerned about the 100 days, thanks to the dwindling person-days under the scheme.
"When we had 100 days of work, we could eat well. Expenses related to medicines and children's education were also covered with that money," said Mamta Rajak (50), an MGNREGA worker from Raghudi village in Belma panchayat of Purulia block-2. 
The work was simple but strenuous. Her husband, Bhakti Rajak, would cut the soil, and she would move it to the required spot. However, for the last one-and-a-half years, they have been without anything substantial. Asked what her husband does these days, she remarked, "What else other than grazing goats?"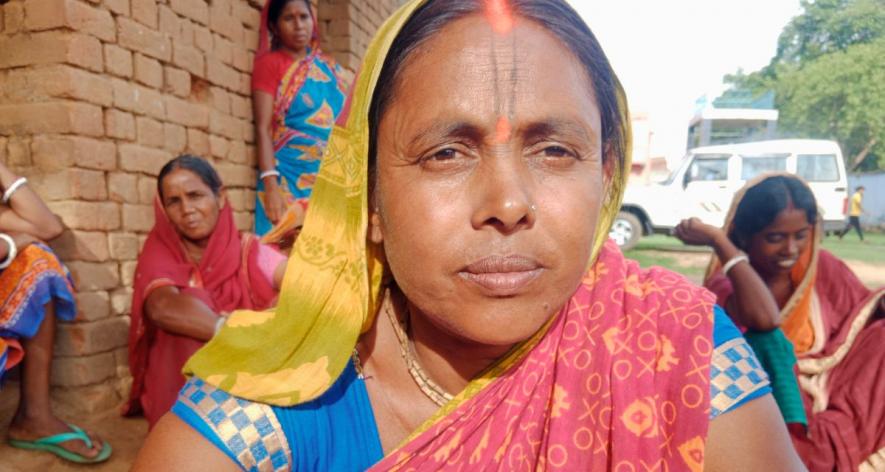 Mamta Rajak (50), an MGNREGA worker from Raghudi village (Photo - Rahul Singh, 101Reporters).
Most people in Raghudi ward number two had depended on the MGNREGA in recent years. However, the Central government's allocation has stopped due to a conflict with the West Bengal government over corruption in the MGNREGA. "I worked in MGNREGA but did not get any money. Now I do not get work either," said Helu Pal (60), a labourer.
In the face of unemployment, workers are migrating to other states. Those who have stayed back have been constantly searching for employment in nearby cities. Vishakha Pal (26) of the village said her husband had found work as a labourer in Purulia.
People in Raghudi have agricultural lands in the range of three to 10 decimals only. Therefore, they cannot earn much through farming. That is the reason for their dependence on MGNREGA for almost 15 years.
"The Centre says the state government does not provide accounts of the MGNREGA money, and there is corruption, but what is our fault in this? They should catch those who misappropriated funds and lodge them in jail. Why have they stopped the money of the poor," questioned Mukhtar Ansari (26) of Raghudi.
Be it Central or state schemes, the entire wages are paid by the former. As for material cost, the Centre bears 75% and states the remaining portion. With the fund freeze in West Bengal, only work related to schemes run by the Central government is happening, that too only in a few districts. 
Speaking to 101Reporters, Pradipta Biswas, MGNREGA Nodal Officer of Purulia, informed that 11 lakh MGNREGA labourers were present in the district.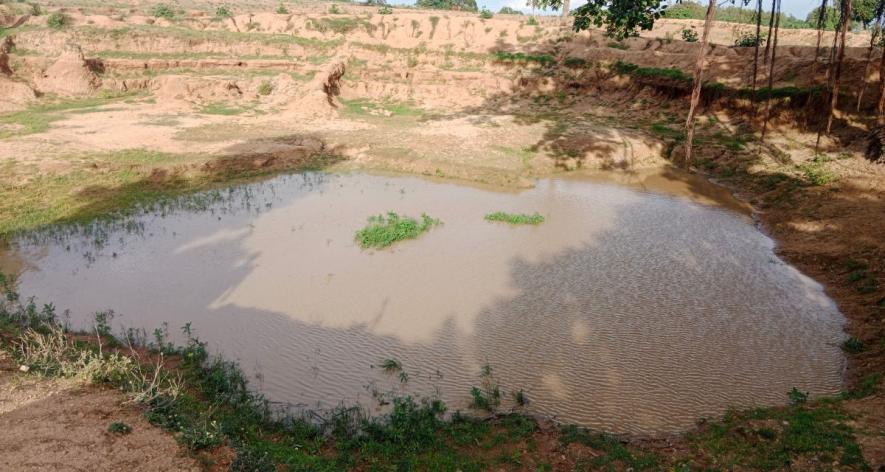 MNREGA work involving pond construction (Photo - Rahul Singh, 101Reporters).
"Due to the stoppage of allocation from the Centre, payment of Rs 121 crore has been outstanding. Many types of activities, including work on barren land and pond construction, stand cancelled," he informed.
A study by a fact-finding team in July last year assessed the ground situation in South 24 Parganas, Nadia and Purulia districts in the aftermath of the fund freeze. "The district panchayat and rural development officer of Purulia highlighted that the average number of workers in the district in July 2021 was around 80,000-90,000, which has now dropped to 5,000 to 6,000... The administration is unable to carry out water restoration projects or to plant saplings," said the fact-finding team's report.
James Heranj, a team member and convener of Jharkhand NREGA Watch, told 101Reporters that the Centre used Section 27 of the MGNREGA Act to stop funds. "It is a wrong decision. If there are irregularities, the Centre should send its representative to investigate and take action against the guilty officials. Not paying wages to workers is an attack on their right to life," he protested.
Some of the team members met the Central officials of MGNREGA and the Rural Development Ministry last June. Citing the clear response of the Central authorities, the report said they claimed the ministry repeatedly wrote to the state government in the last three years seeking action on identified issues, but the state's response has been slow and unsatisfactory.
A Case of Over-dependence
According to the September 24 data (2023-24) on the MGNREGA website, there are 11,33,189 registered workers in Purulia district, of which 5,25,597 are women. Of the total registered workers, 2,34,019 belong to the Scheduled Caste (SC) category and 2,33,264 to the Scheduled Tribe (ST) category.
However, the number of active job cards is 3,33,745. There are 5,52,057 active workers, in which the number of women is 2,58,732. There are 1,07,945 SC, 1,18,949 ST and 3,25,163 other category workers.
An active job card means at least one person from the family who has worked for a single day in the last three years or at least one day in the current financial year. Purulia Block 2 has 16,926 active job cards and 25,018 workers, of which 12,582 are women. Of the total active workers here, there are 8,037 SC and 1,282 ST workers and 15,699 other category workers.
In Belma panchayat, there are 2,286 active job cards and 3,168 active workers. The number of active women workers is 1,740. Of the total active workers, there are 979 workers from the SC category, 148 from the ST category and 2,041 from other categories.
According to the 2011 Census, the population of 13 out of 15 villages in Belma panchayat was 20,072. The literacy rate was 66.42%, which is much lower than West Bengal's literacy rate of 76.26%. There were 8,771 workers, of which 5,335 were registered as marginal workers, who get work for less than six months.
Obviously, the MGNREGA workers fall in the category of marginal workers as they are guaranteed only 100 days of work. If we consider the 2011 Census as the basis, the panchayat has about 22% workers. These figures thus indicate the dependence of the residents on MGNREGA.
Kaushik Chaudhary, who served as Belma panchayat secretary until last December, told 101Reporters that about 3,700 families were associated with the work during his service period, in which the number of active labourers was around 2,300.
Former sarpanch Rajkumar Chakraborty told 101Reporters that migration from the panchayat has increased after the MNGREGA fund freeze. 
"People are going to Odisha, Gujarat, Tamil Nadu, Andhra Pradesh, Delhi and neighbouring Jharkhand to earn money." Belma panchayat chief Lokosani Rajak echoed his views.
Poverty on the rise
According to the National Family Health Survey-5 (NFHS-5), 26.84% of the population in the Purulia district was multidimensionally poor during the 2019-21 period.
Devjit Roy, Block Development Officer of Purulia block-2, told 101Reporters that MGNREGA is utilised only for Central schemes now. "Except for people aged below 18 years and above 60 years, 75% of the people were dependent on it. Besides leading to high poverty, stopping works has affected asset creation, like ponds," he said.
An email sent to Purulia District Magistrate Dr Rajat Nanda on the functioning of the MGNREGA scheme in the district did not elicit a reply. 
According to Paschim Banga Khet Mazdoor Samity (PBKMS) state committee member Anuradha Talwar, MGNREGA had made a large section of women first-time wage earners. "Around 50 to 60% of labourers were women. The freezing of funds has increased their suffering. Migration of men from the state has increased, but women are unable to leave. Both the livelihood crisis and the burden of family responsibilities have increased for them."
The PBKMS has filed a petition before the Calcutta High Court on the issue. It stated that Rs 2,764.84 crore in wages were pending. It has demanded that the state government create a revolving fund of Rs 1,000 crore so that in case of delay from the Centre or any complication in payments, the wages of MGNREGA workers can be paid from it. 
Meanwhile, a news report said the West Bengal government was considering launching a scheme at its own level to provide 100 days of employment. If the Trinamool Congress government does this before the Lok Sabha elections, it can also get political benefits from it.
Of the 2,57,63,901 workers in West Bengal, 1,38,99,391 are active workers. In the current fiscal, 1,64,780 employment days were created in the state till September 24. South 24 Parganas and Purulia got the maximum number of employment days at 81,906 and 43,742, respectively. Murshidabad was at the third spot, where 18,620 employment days were created. However, there were many districts where not a single employment day was created. Notably, all these employment days were created under Central liability only.
(Rahul Singh is a West Bengal-based freelance journalist and a member of 101Reporters, a pan-India network of grassroots reporters.) 
Get the latest reports & analysis with people's perspective on Protests, movements & deep analytical videos, discussions of the current affairs in your Telegram app. Subscribe to NewsClick's Telegram channel & get Real-Time updates on stories, as they get published on our website.
Subscribe Newsclick On Telegram