The Middle Path: Croatia, France's Midfield Magic Storms FIFA World Cup
A successful FIFA World Cup campaign revolves not around individual stars, goal-scoring magnets or headline acts -- it boils down to the best partnership in the middle of the park and Croatia and France had the best.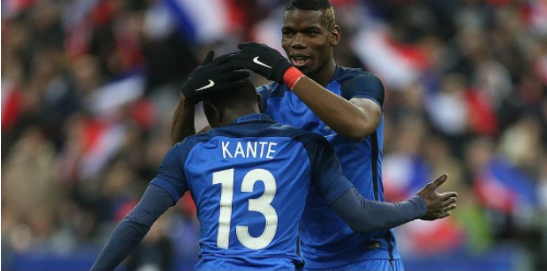 The World Cup has boiled down to a contest between six men in midfield -- France's trio of Blaise Matuidi, Paul Pogba and N'Golo Kante; and Croatia's Ivan Rakitic, Luka Modric and Marcelo Brozovic (Pix: Twitter).
In a few hours from now the 2018 World Cup will come to a conclusion at the Luzhniki Stadium in Moscow. Shortly thereafter we will probably receive figures putting it on top of the list of the year's most-watched television event. The eyes of the world will be watching football, as they have been over the past month, and will continue to as we seamless sail from the end of World Cup to the start of a new season. The football behemoth rolls on.
But perhaps nowhere in the world will there be as many conversation-starters and headlines as the media centre at the Luzhniki tonight. Yet, and forgive me if this sounds a little too pompous, barely a journalist present in that media centre tonight will have called a France-Croatia final on June 15. I did.
The purpose behind my telling you this story is not to have the next World Cup soothsaying octopus named after me. Nor is it to establish my credentials as the most astute of the hundreds of men and women that cover our sport. Far from it. The vast majority of my experience of the game is in an Indian context. In a football context it might as well be an altogether different sport.
Also Read | Meunier, Eden Hazard Score as Belgium Beat England to finish 3rd at FIFA World Cup
The reasoning, however, might be of interest to some football fans. The World Cup has boiled down to a contest between six men. On the side of France there is the trio of Blaise Matuidi-Paul Pogba-N'Golo Kante and on the Croatian, Ivan Rakitic-Luka Modric-Marcelo Brozovic. In my examination of the 32 coming to the 2018 World Cup these two combinations formed the most potent, and most complete, midfield units.
In football there are all kinds of teams that win. Some are boring, some are fun. Some are big and powerful, others small and fast. The best teams are a combination of intelligence and aggression; power and finesse; rules and freedoms. But in my view of football there are few truly great teams that are not driven by a midfield unit of exceptional quality.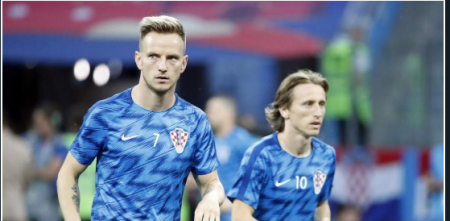 The combination must have the ability to provide a range of elements not demanded of other positions on the pitch. They must protect and advance, shut down and create, be stable yet dynamic, composed and explosive all at once. In international football these sorts of midfield combinations are few.
And, therefore, easier to identify. For European teams -- France (the '98 vintage), Spain (the most dominant of them all) even Croatia ('98 again) are just some examples -- this is even more pronounced. At a European World Cup there was realistically little chance of any other style of football lifting the trophy.
Also Read | FIFA World Cup: A Beautiful Midfield's Ugly Realities – the Croatian Irony
That's Part One. Part Two is the difference between a tournament and a league competition. In a tournament the luck of the draw -- no matter how many other prerequisites you thrown in -- always plays a major role.
For my prediction to work, the two sides had to top their respective groups and  end up on opposite sides of the bracket. France were is an easy group, so this was not an issue. Which brings us to Part Three -- the role of Argentina. Lionel Messi's came back from a brief international retirement to play the World Cup. It was billed as a title bout between the top prizefighters in the world, himself and Cristiano Ronaldo.
This was myopic. Neither Argentina nor Portugal have the midfield to match the ones in the final today. The rest of the draw would depend on one game: Croatia v Argentina on June 21. Argentina were on the receiving end of a mauling that day at the feet of a rampant Croatia. It was an awesome display in which both Modric and Rakitic got on the scoresheet. But it fell to Marcelo Brozovic to handle Messi. He did so with aplomb.
This set up the next critical tie in my plan: France v Argentina in the first knockout round. France were almost as dominant as Croatia. The scoreline -- finally 4-3 -- flattered the South Americans. Messi had one moment of magic, where he put an inch-perfect ball into the box to bring them back within one goal, but by then (in second half injury time) the game was done and dusted. Other than that, Matuidi, Pogba and the indefatigable Kante executed their roles to perfection. That both these games were also extremely entertaining makes it all the more worthwhile.
Also Read | Oscar Tabarez: A School Teacher's Revolution Which Changed Uruguayan Football
The relentless Rakitic and Modric have been playing together for Croatia for 10 years (74 international matches). In that time, Modric has slowly established himself as one of the best in the world. This December he will be in with a serious shout for the Ballon d'Or. In Rakitic he has the perfect partner and junior leader. Brozovic is first choice for the third spot, because he also knows how to play his role so well, but Croatia have plenty of bench strength in the middle too.
For the French the choice is a little less complicated. Didier Deschamps would not start a full-strength game with either Pogba or Kante on the bench. And Matuidi has established himself as third. France have the ability to sit back for long periods, waiting for space to open up in the opposition half. Then they win the ball and break with explosive speed.
A friend recently said to me, while were discussing the French at the World Cup, that he did not expect people to have a constant definition of aesthetics. Two football fans, even if backing the same team, can have deeply divergent views on what constitutes good football. For me it is all about these epic midfield confrontations. The minds and bodies of not just individual players, but of multiple players, pulling together in unison to create moments of intense power. That's football. And tonight, no matter what the result, we're all winning.
Get the latest reports & analysis with people's perspective on Protests, movements & deep analytical videos, discussions of the current affairs in your Telegram app. Subscribe to NewsClick's Telegram channel & get Real-Time updates on stories, as they get published on our website.
Subscribe Newsclick On Telegram