Migrant Workers in Kerala No Longer Live as Outcasts
The Communists in Kerala have formulated a freely accessible social security net and a literacy programme for workers migrating there from other states of the country.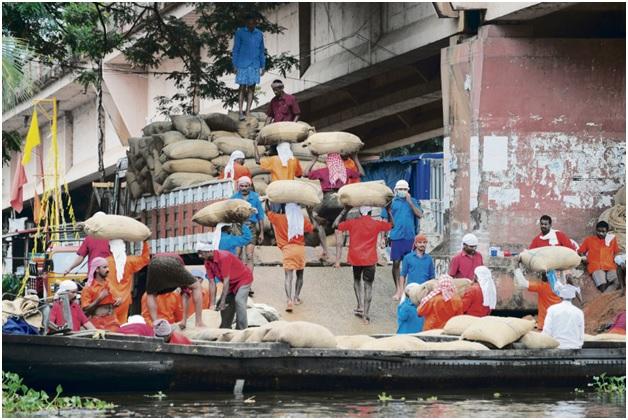 Photo: Sebastian Kahnert, AFP/Alliance
Kerala has become a welcome destination for migrant workers who constitute around 7 % of its total population. It is offering social security for workers who were so far outside of the ambit of its welfare schemes.
Arriving in dozens in the early hours of the morning standing tightly packed in their pick-up vans, migrant workers spread out to work at the construction sites of Thiruvananthapuram, in the textile factories and in nearby fields. Situated in the southwest of the Indian peninsula, and being a state witnessing large scale emigration of its population to Gulf countries, Kerala offers a welcome destination to immigrants because of its higher standard of living compared to other places in the Indian Union. Today they constitute around 7% of the total population of Kerala. In such a situation, the Left Democratic Front Government led by Pinarayi Vijayan from the Communist Party of India (Marxist), which has returned to power after a five-year gap, has devised a social security net for nearly 30,000 workers who have been so far outside of the ambit of most welfare schemes [The previous LDF government of Kerala had launched India's first welfare scheme for migrant workers in 2010. – Ed.] This scheme is the first of its kind in India where migrant workers live not only without any legal rights to access basic services like identity papers, housing or social rights, but also face steep challenges of the huge differences of language and culture within the country. These facts question the idea of their social inclusivity. In a sense, therefore, Kerala offering to provide social protection and medical care to migrants is a small revolution in a highly neo-liberal country further marked by its oppressive caste system.
Medical Treatment is Highly Expensive
Safety conditions are precarious for most migrants who offer to do jobs which the better-trained local people refuse to take up. "Due to the nature of their work, the chances of injury or fall are too many. And when something happens, they have trouble getting timely treatment in the absence of financial support. For these workers, most places of stay do not meet any standards of hygiene. Providing social protection is therefore urgently needed",says trade unionist Mini Mohani. These migrants, mostly from West Bengal, Bihar, Uttar Pradesh, Orissa and Assam, will have access to the hospitals selected by the government and will be entitled to compensation in the event of an accident.
In India, a leading drug-producing country, patients have to pay up to three-quarters of health-related costs. For migrants who send a good portion of their income to their families, medical care poses unbearable costs. According to a study carried out by the Kerala Institute of Labour and Employment, 87% of migrants do not have any health insurance. Finally, for sake oftheir integration, the government is also launching a literacy program for migrant workers in Hindi and Malayalam, the language of Kerala. According to the State government, a large majority of migrants from North India are illiterate, including in their mother tongues, which exacerbates their exploitation at work.
These steps aimed at helping the migrant workers is part of the political tradition of communist Kerala which, since 1957 (with a few periods of alternation), has shown good results in social development. In 1991, it was the first state to claim a literacy rate of  89.9% of  its population. More generally, the level of human development is now almost comparable to that in the advanced countries (life expectancy at 74 years, 80% of households being connected to the electricity network and 78% to running water).[Kerala is going to be declared fully electrified on May 29, 2017. About 150,000 houses have been newly given electricity connections in the last one year since the LDF government came to power. – Ed.] After the Congress Party defeated it in 2011, the Left Democratic Front was voted again to power in the state after a term."[Three years ago,] the Congress leaders' corruption adversely affected the payment of pensions to the farmers and the distribution of social benefits," explains the current Minister of Agriculture,VS Sunil Kumar. In Kerala, Congressmen were held as responsible for the illegal acquisition of land for speculative purposes, even if the peasants working on it were doomed. Since its return to power, the Left Democratic Front has raised the minimum wage in 80 branches of work, raised the pensions of agricultural workers (from 156 to 1425 euros) and has recruited 1500 nurses in the hospital sector.
Disclaimer: The views expressed here are the author's personal views, and do not necessarily represent the views of Newsclick.
Get the latest reports & analysis with people's perspective on Protests, movements & deep analytical videos, discussions of the current affairs in your Telegram app. Subscribe to NewsClick's Telegram channel & get Real-Time updates on stories, as they get published on our website.
Subscribe Newsclick On Telegram