Military Budget: Ambition Amidst Resource Crunch
If the government is determined to pursue the path of foreign OEM-led expansion of manufacturing of military wherewithal, then the best it can do is to hedge the bets.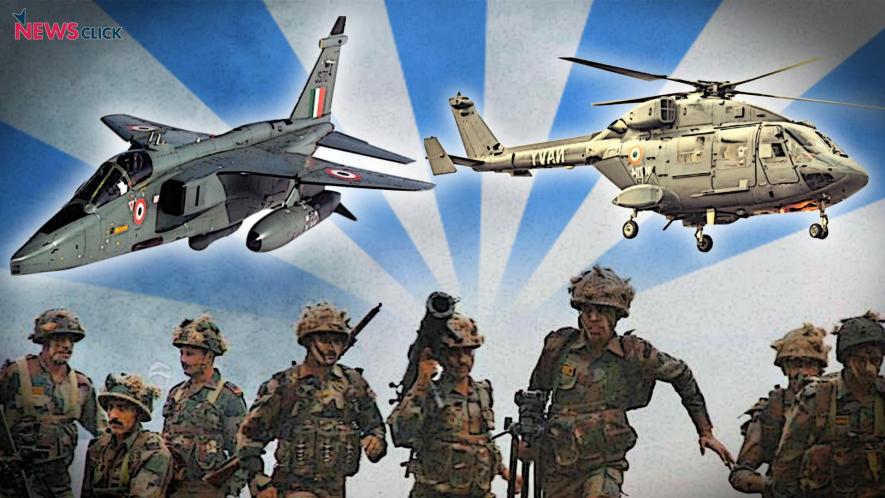 If national security is what won the Modi sarkar another term in the office, then downplaying of allocation for defence by the minister of finance while presenting the Union Budget is quite significant. The Budget speech for financial year 2019-20 merited a single reference from the Union Finance Minister Nirmala Sitharaman:
"Defence has an immediate requirement of modernisation and upgradation. This is national priority. For this purpose, import of defence equipment that are not being manufactured in India are being exempted from basic customs duty (being paid since 2016)".
If paucity of fund made the Ministry of Finance turn coy discussing defence allocation, then it might have been the right occasion to remind fellow citizens of budgetary constraints, rather than carry on with the pretence that military will get whatever it asks for and selling the idea of India as a military power.
Waiving custom duty for imported military hardware will "save" defence forces Rs 5,000 crore annually (or Rs 25,000 crore over five years). Making imports relatively more attractive compared to purchases made from domestic sources, especially from Defence Public Sector Undertakings (DPSUs) and Ordnance Factory Boards (OFBs). Their products will continue to be priced higher since they carry excise duty and GST. And strangely enough, the government refused to heed the demand for withdrawing excise duty and GST.
According to a study [Defence Budget 2019-20: The Slide Continues, Vinay Kaushal, IDSA Brief, February 04, 2019], where customs duty was being charged at the rate of 18.5 to 29.74% on material cost of  components in FY 2016-17, Modi government introduced 5-10% basic customs duty, 12.5% of countervailing duty and 4% special additional duty of 4%, on direct imports by the Ministry of Defence (MoD), which are  finished products. But customs duty which impacted imports was just one part of the burden on MoD. There's excise duty of 12.5% for spare parts and GST of 18% was imposed on repair and overhaul by the DPSUs and OFBs. Some items such as vehicles purchased by services carry 24% GST.
Significantly, the excise duty and GST on DPSUs and OFBs was brought in 2015-16 under pressure from the private corporate sector which had been clamouring for 'level playing field' vis a vis the public owned military sector and thus exemption. DPSUs and OFBs were entitled to this exemption, which was withdrawn as well as CAD and SPD began to be applied for their imports of spare parts/components. In a manner of speaking, products manufactured by DPSUs and OFBs are 'Made in India' and those are being priced out in the name of providing level playing field to private players. And what is being promoted is 'Make in India' is merely a euphemism for foreign Original Equipment Manufacturer (OEM) controlled units with India's private sector as junior partner in the military sector where proprietary control over technology will remain with the OEM. So, on the other hand, DPSUs and OFBs manufacturing military equipment are being priced out of the market, and starved of funds compelled to turn to capital market for equity or debt to raise finance.
The argument in favour of custom duty was that this would prod the OEMs to come and invest in India. Now, removal of customs duty encourages outright purchase from abroad. So, government is encouraging direct import rather than help indigenise.
Taxes and duty on DPSUs and OFBs are senseless because MoF gets a big chunk of what it allocates to the MoD returned to it. But it adds to the cost of domestic manufacturing. Government would have lost nothing by foregoing taxes and duty, albeit, it would have encouraged DPSUs, OFBs to compete with foreign OEMs on equal footing. Only they can offer competition because Indian private sector would just be a junior partner of the foreign OEM.    
Instead of strengthening public defence sector, what the government intends to do is to try and monetise land and other assets of DPSUs and OFBs and sell them partially or fully. In principle, decision has been made. But little is known about the plan. What is the amount intended to be raised by "monetising" defence public assets? What projects will the funds be used to finance? Will the funds be used to bolster public sector-owned defence units or be used to finance private sector?
Also read: Defence Deal: India Caught in U.S. Strategic Grip
Meanwhile, the selection process for 114 fighter jets will take five years to complete. This provides space for the government to breathe easy. So, the cancellation of nearly done deal for 126 Rafale jets – including removing public sector Hindustan Aeronautics Ltd from the scene and pushing Dassault towards signing up with a novice, Anil Dhirubhai Ambani Group – has come in handy. Because after paying what seems to be an exorbitant price for Rafale jets, India is unable to afford any more expensive buys for the time being. In the process, it has also shown that the assessment of requirement of 42 squadrons is not as dire a necessity as was being trumpeted.
If the government is determined to pursue the path of foreign OEM-led expansion of manufacturing of military wherewithal then the best it can do is to hedge the bets. Instead of putting most of the eggs in the basket of the US, as being coaxed to do by powerful lobbyists, and accept the need for inter-operability with US-led NATO and its allies, it might be wiser to look at inter-operability among India's three services, and having multiple partners from diverse sources to manufacture, to keep leverage in Indian hands. Indeed, it can be argued that by keeping away from US clamour for 'inter-operability', India would send strong signal to neighbours and others that India remains its own master. Besides, if wisdom prevails, then it would also be realised that defence navratnas and OFBs in which public resources has been invested with capability acquired over decades, need to be reformed, nurtured and made competitive in long-term interest of the country and not run down and sold to highest private bidder.
Size of the Defence Cake
The table below provides allocations for MoD, Services, Capital Budget of MoD and Defence Pension.
| | |
| --- | --- |
| Total Expenditure of the GoI | Rs. 27,86,000.00 cr |
| Revenue Allocation | Rs 2,02,000.00 cr |
| Capital Allocation | Rs 1,03,000.00 cr |
| MoD (Civil) | Rs 13,635.00 cr |
| Defence Pension | Rs 1,12,000.00 cr |
| Total allocation for MoD FY19-20 | Rs 4,31,011.00cr |
The DB represents 2.04% of the GDP and forms 15.4% of the total expenditure.  This is more than two and a half times the total combined allocation of Rs 1,59,000 crore for education (Rs 94,854 crore) and health (Rs 64,999 crore).
Going by Stockholm International Peace Research Institute's (SIPRI's) definition of military budget – including the allocation for central para-military forces which comes under the Ministry of Home Affairs, of Rs 71,713 crore (out of total MHA allocation listed under Police of Rs 1.19 lakh crore) – then the military budget shoots up to Rs 4,84,714 crore.  The allocation then jumps to 2.4% of the GDP.
Admittedly, linking budget allocation to GDP is anyway fallacious because for one, there is no magical number as such and 2.5-3% touted is simply an imaginary number. Besides, China, for instance, brought down its military budget to below 2%. Although, the 1.9% in actual terms represents $250 billion simply because of the size of its GDP of $13.60 trillion. This is in contrast with India's at $54 bn MB which is 2.4% of the GDP of $2.72 trillion. In addition, the recent controversy over GDP figures makes linking military allocation to GDP even more futile.
For the services, the problem is different. Government keeps boasting about its commitment to a militarily-strong India to fight – as per Army Chief – "two and half wars" (China, Pakistan and wars at home). In order to maintain "military dissuasive posture", India is not too badly off, but it is the military ambition, fuelled by pro-US strategic thinkers and the US itself, that has made government make tall promises without having resources to spare. For instance, just prior to the visit of US Secretary of State, Indian corporate media briefed by the officials, carried stories of India preparing a $10 bn procurement plan for imports from US. An important question here is where the money is to come from.
Current year's capital budget is evidence of a resource crunch. The Army asked for Rs 36,000 crore, received Rs 29,461.30 crore, but has "committed liability" or instalments due for purchases previously contracted of Rs 21,600 crore.
Air Force asked for Rs 74,895 crore, received Rs 39,303 crore and has committed liability of Rs 47,413 crore. Whereas, Navy asked for Rs 35,714 crore, received Rs 23,157 crore, and has a committed liability of Rs 25,461 crore. In other words, both Navy and Air Force have capital allocation less than required to pay for the instalments due to the vendors. Whereas, Army has Rs 7,800 crore for new acquisitions. But overall, all three services have received less than what they asked for.
Cutting Flab, Saving Money
It's worth keeping in mind that the Armed Forces have been provided an ambitious goal of fighting "two and a half wars" simultaneously. Not only is IAF's requirement of 42 squadrons based on this, the Army reportedly recruited in the last decade 100,000 personnel in the name of countering China for which two special mountain divisions were first raised, which was followed by decision to set up a new Mountain Strike Corp. The personnel cost of Army rose higher as a result. Now, the Army, as part of its "right sizing", will shed 100,000 posts over the next five years or so. The idea is to cut down the so called "flab" such as by closing military farms, some auxiliary services amongst other things, and induct young officers for short duration services. But increasing the length of service of jawans flies in the face of financial constraints as well as real right sizing of the army.   
The idea of shedding "flab" is a good move and must be welcomed because the salary, wages, allowances and pension of service personnel is a big source of expenditure. Instead of addressing why Army became "flabby" without disturbing the status-quo of the internal wars, it will not go too far and needlessly will cause resentment among veterans and serving personnel. In order to save money, "right sizing" demands that Army consider where there is maximum possibility of saving resources. When they do, they might find that bringing down their engagement in domestic wars might be the most effective way of "right sizing" and saving scarce human and material resources from being wasted.  
The pre-occupation of the army to carry on fighting prolonged subconventional wars against our own people contradicts national security. Pitting a huge deployment for secondary role (wars at home) against our own people, army's primary role to defend the country gets compromised. Worse, it makes hinterland unsafe, whereas army needs a safe and secure hinterland to fulfil their primary role. With more than one third of the army deployed fighting our own people, that too in Jammu and Kashmir and Northeast, with shared land border with the two adversaries, China and Pakistan, there is all the more reason to free Army from internal duties rather than leaving them to face the two adversaries at front and confront enraged population in its rear. Indeed, there is more money to be saved as well as to reduce the "flab" if the army were to withdraw or gradually pull back from waging wars at home.
In fact, army was brought in because it was then argued that there were not enough para-military forces to tackle insurgency. Now, augmentation of central para military formations carries on unabated – rising from 1,052,231 personnel in 2017 to estimated 1,113,770 in 2018 and reaching 1,131,704 in 2019. It makes even less sense for the army to persist with the view that without them, there would be so to say "deluge" if they were to withdraw. They fail to see that militancy persists precisely because there is no attempt to resolve the problem politically. That apart, it is senseless for the government to keep augmenting strength of para-military formations while asking army to "right size" its force. Because there is not much difference in pay scale and allowances between army and para-military formations and ballooning costs of manpower affects them too.   
All in all, scarcity of resources stares at us. And there is just no way India can afford to buy everything MoD or Services ask for. The government is turning to international capital market out of desperation to raise resources for investing in infrastructure. Thus, India's so-called development will be paid for by raising foreign debt and by exposing the country to vagaries of international financial market. Such a situation can be an opportunity to shift gears by cutting back on wastage of man and material resources being poured into internal wars and thereby effect sizable saving of scarce resources. Unfortunately, neither the services nor the government show any inclination towards this. But the peace dividend from cessation of war, dismantling "Disturbed Area" in J&K and NE would be a boon for a country grappling with the economic downturn.
Also read: 100% FDI in Defence: How Wrong can you Get?
Get the latest reports & analysis with people's perspective on Protests, movements & deep analytical videos, discussions of the current affairs in your Telegram app. Subscribe to NewsClick's Telegram channel & get Real-Time updates on stories, as they get published on our website.
Subscribe Newsclick On Telegram