Modern Slavery Is Alive and Thriving in India, Say Rescued Bonded Labourers
"We make clothes for others, while our kids sleep naked in the winters. We build houses, we are forced to sleep under the bridges. This is a state of slavery in 2019 and that is not acceptable to us."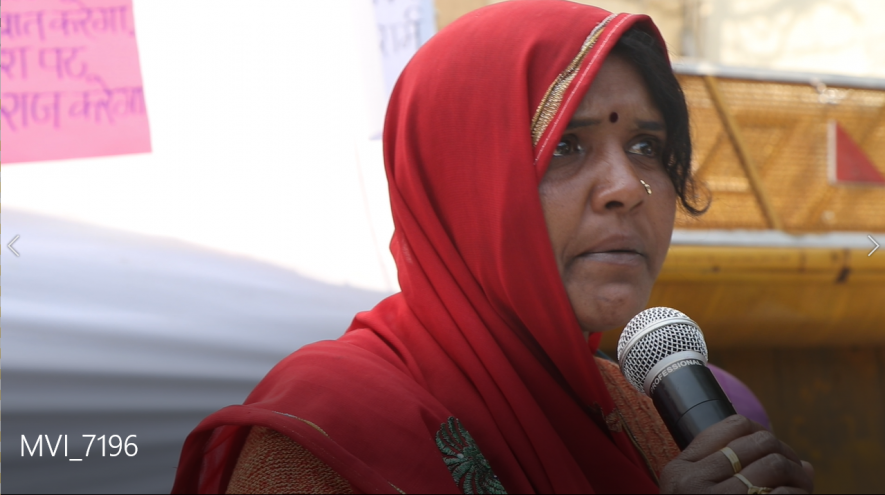 "I was beaten up, abused and forced to pick up faeces and excreta despite being hired to do construction work. Modi ji wants to wash the feet of the sanitation workers. Would he ever know what it means to be forced into picking up human faeces?" Asks a teary eyed Kedabai from Madhya Pradesh.
Over 50 crore workers in India are employed in the unorganised sector. The National Campaign Committee for Eradication of Bonded Labour (NCCBL), along with district magistrate and local officials, has rescued 125 bonded labourers from four districts.
The workers had congregated in New Delhi on the March 1 to give their testimonies, hoping that their voices would reach the Modi government. The labourers were rescued from construction sites, by intervening with the local contractors in Ambala, Kangara, Gurgaon, Noida, and multiple districts in Madhya Pradesh and Jharkhand. They are currently awaiting rehabilitation and their release certificates from their respective state administrations.
Trapped in the vortex of lack of education and poverty, the only escape available for the labourers was to migrate to other states in search of work. That is where they were lured by contractors who promised fixed pay and decent work. Instead, they were trapped in exploitative conditions, without food and water, living under bridges to sustain themselves, and resorting to begging to survive in the cities.
Nanhelal, who is now in his seventies, started working under these exploitative conditions from the time he was 10 years old. "Contractors used to give us kernels of corn for food, we used to just swallow it with milk to survive."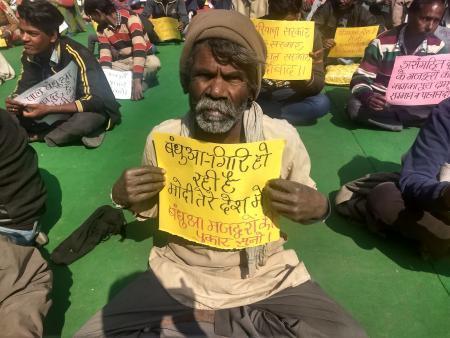 The workers shared heart-wrenching testimonies of being fooled by contractors. Gita, a woman worker was promised construction work; instead, the contractors forced her to do manual scavenging. "Modi ji, jis janta ne tumhe banaya woh aaj khud gulaam hai. (Modi ji, the people who made you who you are today are slaves themselves today.) Is the life of dignity only something that the rich can afford? Just because I happen to be poor and a woman, do I not deserve the life of dignity?" she questioned.
"The contractor made me work from 8 in the morning till 8 in the night, and would beat me up if I tended to my young child's needs," she said.
Another sewage cleaner, Dashrath told Newsclick, "All of us were falsely promised a wage of Rs 1000 per month. The contractors would sometimes give us as less as Rs 200 and sometimes not even that. Once they trapped us, they would force us to live in sheds, cutting off all the contact with others, harassing us, beating us and torturing us to work for them and making sure we do not leave. I still don't have my release certificate. I don't consider myself free. I am still a slave to the poverty."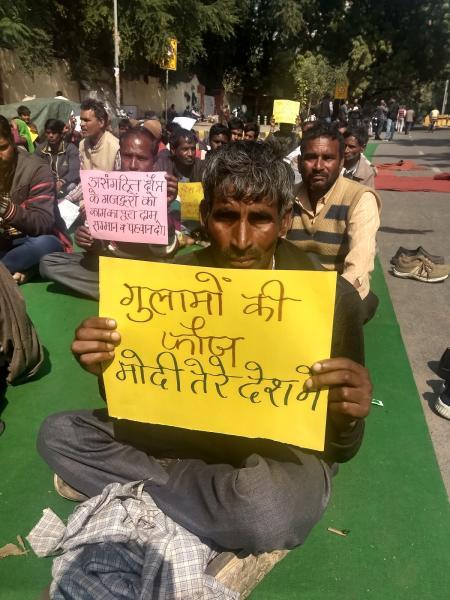 The labourers were not only harassed by the smaller contractors and property developers, but have been cheated by bigger firms as well. Amit Kumar, now in his thirties, came to Delhi with aspirations to improve his life, working for the construction giant, Larsen and Toubro for their Metro corporation project. He had felt that he had come closer to that dream. Little did he know a corporate giant would be no different than unorganised contractual work. He said, "I worked day in and out for them for three months, on the promise of regular wages. I was not paid even a penny for three months."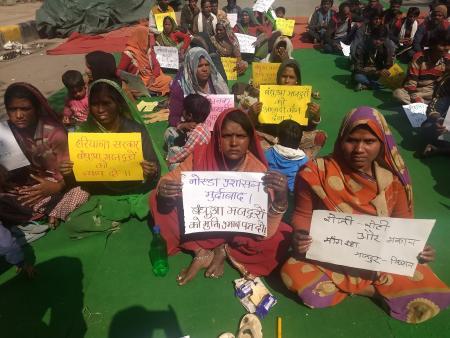 Shedding light on the condition of the workers, Vimal Gorana of the National Campaign Committee for Eradication of Bonded Labour explained, "The Modi government has brought in an amendment to the Human Trafficking Bill, however, the provision of the rehabilitation for the bonded labourers is nothing but a joke. How is rehabilitation even possible without the release certificates from the government?"
He went on to explain that it is the Dalits and the Adivasi communities bearing the brunt of the multiple intersections of systemic oppression placing them in the condition of poverty, regular harassment and the denial of their right to life and dignity.
He said, "These labourers are being deprived of their basic right, and even in 2019, modern slavery exists. We demand that the government form a policy protecting the rights of these labourers. Also, the government should immediately issue release certificates to all these rescued labourers along with interim relief fund of Rs 20,000 per labourer. The government should provide rehabilitation to these workers and ensure that the manual issued by the ministry of labour is implemented."
Talking about the legal action being taken against the contractors, Gorana said, "There are currently multiple petitions being filed in about 10-12 High Courts across multiple states. However, investigations are still going on in the cases."
As the 2019 elections approach, the workers have shifted attention to the oldest electoral demands, the basic rights of food, water and housing, which still remain a distant dream for the 50 crore workers even 71 years after the Indian independence.
Also read: #WorkersStrikeBack: The Invisible Lives of Delhi's Home-Based Workers
Get the latest reports & analysis with people's perspective on Protests, movements & deep analytical videos, discussions of the current affairs in your Telegram app. Subscribe to NewsClick's Telegram channel & get Real-Time updates on stories, as they get published on our website.
Subscribe Newsclick On Telegram