Modi and Netanyahu's Shared Vision: Islamophobia
Modi's proposed visit to Israel, the first such visit by an Indian Prime Minister, symbolises his administration's desire to draw closer to Israel, or what Daniel Carmon, the Israeli Ambassador calls, "tightening relationship between Israel and India". Though Sushma Swaraj, the External Affairs Minister has "clarified" that there will be no change in India's policies towards Palestine, we all know that this is hogwash.
We are not dealing between two states -- Israel and Palestine -- which are in dispute. We are talking of a colonial occupation in which Palestine is occupied and Israel is the occupier; we are talking of Jewish settlers continuously taking over the land of the occupied Palestinians in violation of international law; we are talking of Settler Colonialism and an apartheid state, the last one of its kind in the world. Reverend Desmond Tutu, the Nobel prize winner, and one of the major figures in South Africa's anti-apartheid struggle, calls Israeli apartheid as worse than that of South Africa. That is why there is a worldwide call for boycott, divestment and sanctions (BDS) against the apartheid Israeli state.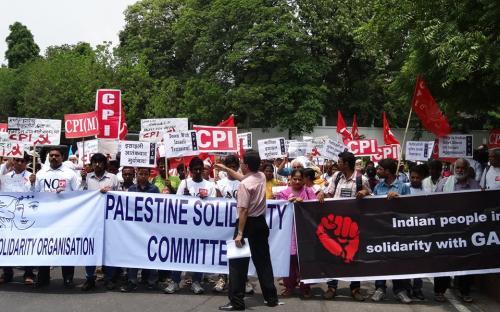 Modi's visit to strengthen relations, particularly military ties and arms imports, will in turn strengthen Israel and its occupation. Israel's arms industry is its biggest industry, underpinning its national economy. India is already Israel's biggest arms buyer, buying more arms from its arms industry than even the Israeli armed forces, in effect underwriting its occupation of Palestine. Its attempts to foster closer military and security ties with Israel is in the face of growing international calls for the boycott of Israel. Even close "friends" of Israel such as France and England have declined to participate in the seventh annual Israel Defense expo that has just opened in Tel Aviv.
Israel not only occupies Palestinian lands, it is also the only country in the world, which has yet to declare its borders. It has defied world opinion and disregarded UN Security Council resolutions that it should go back to its 1967 borders. It is continuously taking over more and more occupied West Bank land for illegal Jewish settlements. It has converted Gaza to the biggest open air prison in the world and periodically bombs its people, with Israeli military figures speaking chillingly about "mowing the lawn" in Gaza. It has imposed brutal apartheid policies in occupied Palestinian lands, sparing not even football and footballers. As the recent FIFA debate showed, Palestinian footballers are routinely arrested, not allowed to travel, humiliated at border crossings and check posts. The worst example of such egregious violence was shooting two young Palestinian footballers, Jawhar Nasser (19), and Adam al-Raouf Halabiya (17), at a check-point. Ten bullets were pumped into Jawhar's feet, while Adam took one bullet in each foot.
It is not that the Congress had not started deviating from the earlier national consensus of an independent foreign policy and a firm commitment to decolonisation, the bed rock of non-alignment. The Narasimbha Rao government, and subsequently the Manmohan Singh government had also built ties with Israel, the formal setting up of diplomatic ties in 1992 between Israel and India taking place under Narasimbha Rao.
What distinguishes the BJP-led NDA's policy from the UPA's is the added element of majoritarian Hindutva and the hatred of Muslims that BJP shares with Netanyahu and his ilk in Israel. That is why BJP-lead NDA's external policy dovetails naturally with Islamophobia that is gripping much of the western world. That is why the Modi government finds the US, the NATO and Israel as its "natural" allies. It is not an accident that the first visit by an Israeli PM happened during Vajpayee's tenure as PM and the first Indian PM's visit to Israel is taking place under Modi as PM.
The world however, is moving another way. The global BDS campaign is already perceived in Israel as a threat to its business as usual. People all over the world, under the banner of BDS, are rejecting Israel's occupation of Palestine and discrimination against Palestinians. The Indian Campaign for the Academic and Cultural Boycott of Israel and the Palestinian Solidarity Committee have called, "We, as Indian citizens of conscience, protest this "tightening" relationship, and demand that the government put an end to military, trade and other ties with apartheid Israel." The Indian people must also join their voice to that of others in the world and reject Modi government's policies towards Israel and Palestine.
(Prabir Purkayastha is one of the convenors of Indian Campaign for Cultural and Academic Boycott of Israel. A slightly different version has also appeared in Scroll.in)
Disclaimer: The views expressed here are the author's personal views, and do not necessarily represent the views of Newsclick
Get the latest reports & analysis with people's perspective on Protests, movements & deep analytical videos, discussions of the current affairs in your Telegram app. Subscribe to NewsClick's Telegram channel & get Real-Time updates on stories, as they get published on our website.
Subscribe Newsclick On Telegram