Modi Government Continues Sucking Out Cash from Profitable PSUs through Share Buybacks
A number of companies owned by the central government have recently announced they would buy back some proportion of their shares from the central government, because they are being forced to do so by the Modi government to meet its disinvestment target.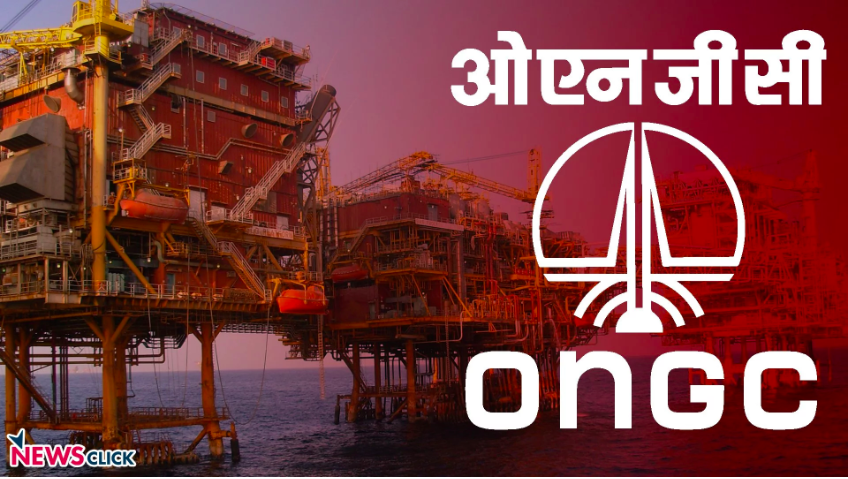 Recently, Oil India Limited (OIL) — the country's second largest state-owned oil and natural gas explorer — announced that it would shell out a whopping Rs. 1,085 crore to buy back 5.04 crore of its equity shares.
In fact, it was reported that the three largest state-owned companies — Oil and Natural Gas Corporation (ONGC), India's largest oil company; Indian Oil Corporation (IOC); and Oil India Limited (OIL) — are expected to buy back their shares for a total of Rs. 10,000 crore.
But why are these companies spending such staggering amounts to buy back their own shares?
Because the Modi government is forcing them to do so. But why?
So that the BJP-led NDA regime can meet its disinvestment target of Rs. 80,000 crore for the financial year 2018-2019 — by squeezing out as much cash as it possibly can out of these cash-rich public-sector companies through a variety of ways.
What is Share Buyback?
'Share buyback' — or 'share repurchase' — is a corporate practice whereby a company buys back its shares from its existing shareholders, usually at a price higher than the market price. Share buyback reduces the number of shares of the company available in the open market; thereby reducing capital (shareholders' equity).
The common reasons as to why a company may perform a share buyback include increasing the value of the remaining shares available in the market through the reduced supply and improving earnings per share, or to prevent other shareholders from taking a controlling stake, or even in response to a decline in the company's operating profits or a revenue loss that seems unlikely to be recovered through expected future earnings. Share buyback can also be a way for a company to reward its shareholders by returning cash to them, especially if a company with surplus funds is not investing in capital expenditure.
However, none of these reasons account for why India's major public-sector undertakings (PSUs), including the oil companies, are going for share buybacks.
Why are PSUs Buying Back Shares?
Newsclick has already written about the Modi government's multi-pronged attack on the cash reserves of the Central Public Sector Enterprises (CPSEs) to accomplish its short-term goal of meeting its disinvestment target — besides the long-term goal of eventually rendering these companies sick so that there is a case for selling them off into private hands.
The government's mechanism to suck out cash from government-owned companies includes forcing companies to pay extra dividends known as "special dividends" and getting cash-rich PSUs to buy the central government's stake in other, often ailing, PSUs.
Also Read: As Modi Sucks Cash From Public Sector Companies, Dividend Payment to National Coffers Declines
Forcing companies to buy their shares back from the central government at prices higher than the market price is another way to do this.
In May 2016, new guidelines issued by the Department of Investment and Public Asset Management (DIPAM) mandated that every CPSE having a net worth of at least Rs. 2,000 crore, and cash and bank balance of over Rs. 1,000 crore must buy back government shares.
This September, the Finance Ministry had drawn a list of at least 11 central public-sector companies from different sectors — excluding the oil companies — to conduct share buybacks in the ongoing financial year (FY) 2018-19.
These companies are Coal India Limited; NTPC Limited (formerly known as National Thermal Power Corporation); National Aluminium Company (NALCO); NMDC Limited (formerly National Mineral Development Corporation); Neyveli Lignite Corporation (NLC); Bharat Heavy Electricals Limited (BHEL); NHPC Limited (formerly National Hydroelectric Power Corporation); NBCC Limited (formerly National Buildings Construction Corporation); SJVN (formerly Satluj Jal Vidyut Nigam); KIOCL (formerly Kudremukh Iron Ore Company Limted); and Hindustan Aeronautics Limited (HAL).
It was reported, for instance, that the Centre expects to raise at least Rs. 1,000 crore from share buybacks by Coal India to inch closer to its disinvestment target.
Among the many companies that have already announced share buybacks is BHEL, which recently announced that it would buy back 5.16 per cent of the company's paid-up share capital at a price of Rs. 1,628 crore. Similarly, NALCO announced share buyback at Rs. 505 crore. Cochin Shipyard is also among the state-owned companies that have announced share buyback offers.
Meanwhile, the cash reserves of the large public-sector companies are at their lowest in nearly a decade. According to a Business Standard report, the aggregate cash reserves of PSUs fell by 14 per cent in FY18 to Rs. 1.03 trillion in FY19.
Also Read: How Govt Milking of Cash Cow LIC is Endangering India's Most Trusted Life Insurer
The cash reserves have been depleting because — as mentioned above — the Modi government has been regularly extracting "special dividends" from these companies to the extent that the annual dividend has declined. Another major way the surplus of healthy companies has been sucked out is through forcing them to buy government's stake in other companies. A couple of glaring recent examples of the latter include the ONGC-HPCL deal and the LIC-IDBI deal.
Newsclick has already written about how ONGC was reduced from among the most cash-rich companies in the country to a company under high debt with depleted cash reserves.
Draining Out Oil Companies
The oil companies, that are supposed to have substantial amounts of surplus in order to undertake the extremely capital-intensive and risky business of oil and gas exploration, were reportedly unwilling to participate in the government's share buyback policy.
In fact, in August/September, the ONGC officials had categorically asked the government to exempt the company from the share buyback plan as its cash reserves have been exhausted (by the Modi government) and it needed money to service the debt taken to finance the forced acquisition of Gujarat State Petroleum Corporation (GSPC) and HPCL.
But the plea fell on deaf ears and was rejected, as ONGC has to buy back 3 per cent of the government's shares in the company for Rs. 4,826 crore. So ONGC has informed the government that it may defer the interim dividend payment for 2018-19, as it can only afford to either pay the interim dividend or buy back the government shares. In the last fiscal, the company had paid interim dividend twice, totalling Rs. 6,736 crore.
Also Read: How Modi Govt Exhausted ONGC's Cash Reserves And Drove It Under Debt
What's more, it is reported that Indian Oil Corporation — expected to buy back 3 per cent of its equity shares, valued currently at around Rs. 4,000 crore — may have to take on more debt for buying back its shares. The company already had a borrowing of about Rs. 45,000 crore as on March end, the report said.
The Bogey of Disinvestment
Why is the Modi government doing this — leeching out cash from public-sector companies that are already in dire straits?
Because the government wants to sell the country and all of its industries and productive assets into private, or rather corporate, hands that are always and aggressively groping for profit — destroying any obstacle of public concern on its way while dealing under the table with the government.
Ever since the Modi government came to power in 2014, it has sold off PSUs — which are public-sector national assets — worth over Rs. 2.09 lakh crore, amounting to 58 per cent of all disinvestment since 1991.
The government states that all of this, the destruction of the public-sector assets, is aimed at meeting its disinvestment target. But why do we need disinvestment?
According to this government as well its neoliberal predecessors and counterparts everywhere, the ostensible argument is that disinvestment is needed to raise money for the public exchequer and to help the government stick to its fiscal deficit limits as decided by the neoliberal masters in the international financial institutions (such as International Monetary Fund, World Bank, etc).
But is selling off the country's assets, meant for the public interest as opposed to private interest, into private hands the best way to raise finances?
As economist Prabhat Patnaik has elaborated, this way of "fiscal consolidation" is destructive beyond measure for the country and its people in the long run.
And where is the lucre that is accumulating in the "public exchequer" going — since year by year the government has been cutting down expenditure on public needs such as health, education, etc.?
Clearly, it is going into the 'private exchequer' of corporates — as, among other things, the government continues massive tax concessions to corporates (Rs. 86,145 crore in 2016-17) and gets the country's banks to write off bad loans of atrociously high sums (Rs. 2.41 lakh crore between April 2014 and September 2017).
Get the latest reports & analysis with people's perspective on Protests, movements & deep analytical videos, discussions of the current affairs in your Telegram app. Subscribe to NewsClick's Telegram channel & get Real-Time updates on stories, as they get published on our website.
Subscribe Newsclick On Telegram