MP Budget: Govt Eyes Women Voters and Religious Sentiments in Election Year
Of the total Rs 3.14 lakh crore budget, one-third or Rs 1,02,976 crore has been allocated to women-oriented schemes.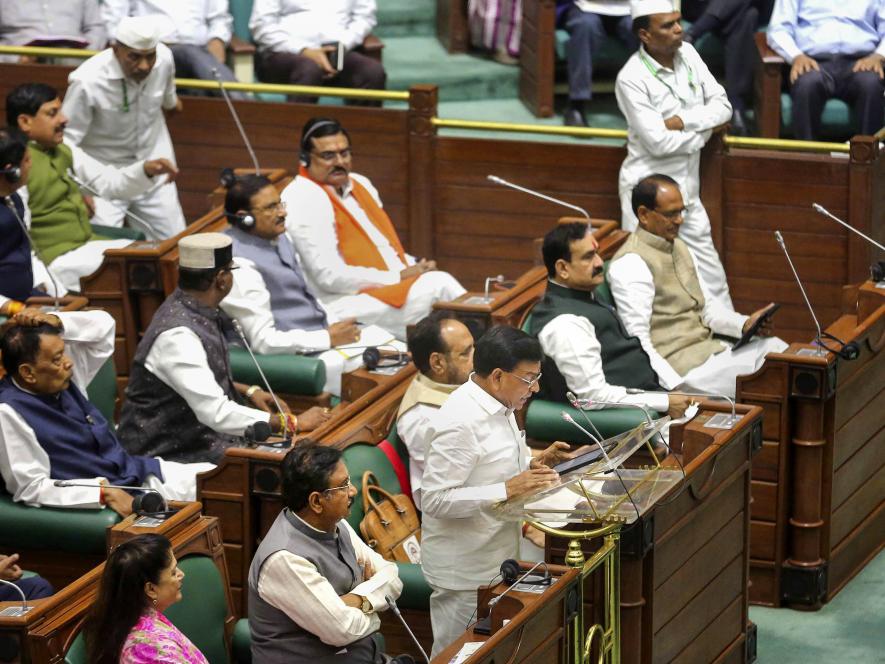 Bhopal: Focusing on 48% of women voters and religion, the Bharatiya Janata Party (BJP)-led Madhya Pradesh government presented the last budget of the 15th Assembly Session on Wednesday.
Amid the Congress' walkout over the surge of Rs 50 on LPG and 350 on commercial cylinders, Finance Minister Jagdish Devda presented the first paperless state budget with an estimated expenditure of Rs 3.14 lakh crore and revenue receipts of Rs 2.25 lakh crore. It includes the state's tax earnings of Rs 86,499.9 crore, share of central taxes amounting to Rs 80,183.6 crore, non-tax revenue of Rs 14,913.1 crore and central grants of around Rs 44,113.1 crore.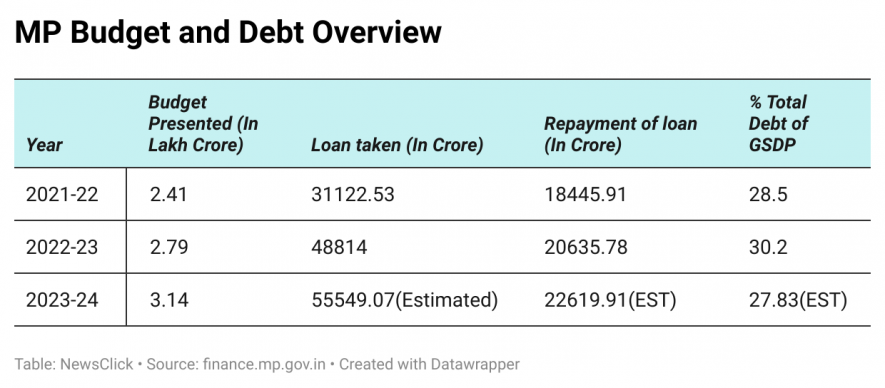 BUDGET BREAKDOWN
Of the Rs 3.14 lakh crore, Rs 1,02,976 crore (One third) of the budget has been diverted to women-oriented schemes. As much as Rs 8,000 crore has been allocated to the newly introduced 'Ladli Bahna' scheme under which 1.2 crore women in the age group of 23 years to 60 years will get a grant of Rs 1,000 per month starting from April-May.
Besides, Rs 929 crore for the CM's flagship Ladli Laxmi Yojana, Rs 660 crore for 2% interest subsidy on bank loans for women's self-help groups, Rs 467 crore for Pradhan Mantri Matri Vandana Yojana, and Rs 300 crore for the continuance of the nutrition allowance of Rs 1,000 per month to women of Sahariya, Bharia and Baiga tribes. The girls who secure first division in higher secondary will be gifted e-scooters.
Apart from women, the state, which is reeling under a debt of over Rs 3 lakh crore, allocated Rs 358 crores to expand and establish four temples; Devilok in Salkanpur, Ramlok in Orchha, Ravidas Samark in Sagar and Divya Vanvasi Lok in Chitrakoot. Last year, the government allocated Rs 370 crore for the 'statue of oneness' Adi Shankaracharya in Omkareshwar and Rs 700 crore for Mahakal Lok Corridor, which was inaugurated by PM Modi last October.
"The provision of Rs 50 crore has been announced for 'Mukhyamantri Teerth Darshan Yojna' through airways. A 900 km Narmada Pragati Path will also be developed in the state for the Narmad Prakarmi. The helicopter facility for pilgrimage will be started soon," Finance Minister Deoda said in the budget speech.
The FM, who announced Rs 142 crore for treatment of animals at the doorstep last year, has now declared to open 3 346 cow shelters in the state. He also announced a museum dedicated to Dr Keshan Hegdevar in Balaghat and a memorial for the late Atal Bihari Vajpayee in Gwalior.
The other major focus of the budget is the implementation of central and state government schemes. The government allocated Rs 8,000 crore for the PM Awas Yojana and Rs 7,332 crore for Rural Drinking Water scheme under the Jal Jeevan Mission.
Speaking to reporters at the Assembly, CM Shivraj Singh Chouhan said, "The budget is going to make the concept of Ram Rajya a reality. It will fulfil the resolution of PM Modi to usher in a change in the lives of marginalised people."
"This is a budget for infrastructure development and people's welfare. Women's welfare is our priority and a provision of total Rs 1,02,976 crores has been made for schemes like Ladli Laxmi, Gaon ki Beti, Kanya Vivah for subsidising the interest on loans taken out by women self-help groups (SHGs) and others. This is a historically high provision for women," the CM said.
The budget makes provision of Rs 11,406 crore for the construction of government primary schools, Rs 6,728 for middle schools, Rs 5,520 for power bills subsidy under the Atal Krishi Jyoti Yojana. Besides, Rs 4,775 crore have been marked for free electricity supply to five HP agricultural pumps and Rs 3,500 crore for Atal Griha Jyoti Yojana as a subsidy for domestic consumers.
In the budget speech, the Finance Minister announced an allocation of Rs 53,964 crores for farmers and agriculture and Rs 38,375 crores for the education sector. The Gas Relief Department, which was not getting funds for the last two years, has been allocated Rs 136 crore in the election year.
The sports budget of the state was increased three times to Rs 738 crores as Madhya Pradesh recently organised 'Khelo India' in eight cities. He also said special provisions were made for Scheduled Caste, Scheduled Tribes, OBCs, and denotified, nomadic and semi-nomadic tribes. The budget has a provision of Rs 36,950.16 crore under the ST Sub-Scheme and Rs 260,86.81 crore for the SC sub-scheme.
CONGRESS SAYS 'FALSE BUDGET'
When the Finance Minister was reading out the budget, the Leader of Opposition, Dr Govind Singh, opposed it by saying the LPG prices have been hiked by Rs 50 per cylinder, affecting the finances of households. "I request that this government not implement this increase in cooking gas prices. Let the chief minister announce this," he said.
Former finance minister Tarun Bhanot said, "There is no provision to control the growing inflation. Instead of giving relief, LPG price is increased by Rs 50. Like Rajasthan, the Madhya Pradesh government should have announced subsidised LPG at Rs 500 to marginalised families."
Former CM Kamal Nath told Speaker Gautam to intervene saying at one point you (CM Chouhan) claim women are Ladli Bahnas and then you raise the prices of gas cylinders."
When the CM did not speak, LoP Dr Govind Singh said, "The Chief Minister has not said anything on LPG. Over five crore population of the state is under the BPL (below proverty line), yet the government is silent on inflation. Therefore, to protest this, we are walking out."
The entire Congress opposition, including former chief minister Kamal Nath, staged a walk-out.
Speaking to reporters after the budget in the assembly, State Congress president Kamal Nath said, "Untruthful budget of an untruthful government."
In a Tweet, Nath said, "This is a budget of loans, commissions and annihilation. Everything is just 'proposed'. If we look at the budget of last year, then only 55% of the proposed funds have been granted. This is a budget of just three months that focuses on poll promises and tries to mislead through theatrics."
To counter BJP's Ladli Behna Yojana, in which Rs 1000 would be given to over 1.2 crore women, he said, "This is a copycat of Congress' Himachal Pradesh's Scheme. If we come to power in 2023, we will give Rs 1500 to women against 1000."
He further said that the ground reality is that last year there were 90 lakh unemployed youth in the state and the number has now grown to one crores. The numbers of schools with no teachers and hospitals with no doctors have grown by 25 per cent. "The budget today was a mere formality with the intent of misleading and fooling the people," the ex-CM said.
Referring to the announcement of waiving off bank interests of farmers he pointed out, "Chouhan announced waiving of bank interest for farmers who have defaulted on agri loans. But the budget has provided only Rs 350 crore for it against 2500 crore. It's a hoax."
In an official communique, the Congress leader said, "The biggest setback in this Budget has been for the rural economy, which is the backbone of the state. The way farmers and rural development have been neglected in this budget is highly condemnable."
The senior Congress leader argued that the budget has decreased its allocation for the agriculture sector. "The loan waiver scheme of up to Rs 2 lakh has been stopped," he said in an official communique of the Congress party.
On the taxes, he said, "Then the government should explain how revenue earnings from state taxes will increase to Rs 78137. 24 crore in 2022-23 to Rs 86499. 98 crore in the Budget estimate of 2023-24. How will that happen? How can such a huge increase in the state tax occur without imposing any new tax?" Kamal Nath asked.
DEBT ON STATE
Madhya Pradesh government took a loan of around Rs 76 crore every day between June end 2022 to February 1, 2023 (seven months), which is estimated to be Rs 16,000 crore.
Replying to the question of Congress MLA Mevaram Jatav, finance minister Jagdish Devda in a written statement said, "Out of the total Rs 16,000 crore loan taken between June 29 to February 1, a loan of Rs 4,000 crore was taken on February 1, days before the budget. In September last year too, the government took a loan of Rs 4,000 crore, which means half of the total loan taken in just two of the seven months."
The interest on the loans ranges between 7. 46% to 8. 64%. The due date of the loans is between 2032 to 2038.
Even though the state promised to keep the fiscal deficit at 4.02% of the state gross domestic product (SGDP) in the next financial year, the state's debt is estimated to rise from 3 lakh crore to 3.85 lakh crore by March 31, 2024 as the government has planned to take loans for fund the welfare schemes. "The debt to GSDP ratio would be 27.83% in 2023-24, down from 30.12% in the current financial year," said FM in the budget speech.
According to opposition leaders, every citizen of the state has a debt of over 50, 000, yet, the government says the state's budget is in the best shape.
Get the latest reports & analysis with people's perspective on Protests, movements & deep analytical videos, discussions of the current affairs in your Telegram app. Subscribe to NewsClick's Telegram channel & get Real-Time updates on stories, as they get published on our website.
Subscribe Newsclick On Telegram