MP: Doctors at War With BJP Govt, Threaten Indefinite Strike from Feb 17
Uniform policy for recruitment, promotion and regularisation is bothering doctors leading to their exploitation at the workplace for decades and violation of their constitutional rights.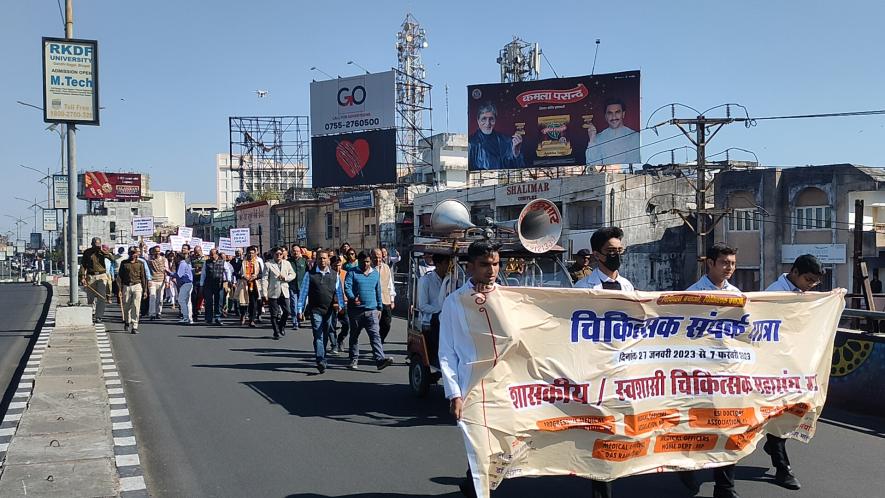 Bhopal: The surgeons who are supposed to be in Intensive Care Unit (ICU) or at the Hospital treating patients are on the streets in Madhya Pradesh during the election year.
With slogans like "Hum Se Jo takraoge, Ilaj kaha karwao ge," (If you go up against us, how will you get treated?) a group of over 500 doctors and health workers carried out a kilometre-long march on Tuesday afternoon in Bhopal on the culmination of a 12-day-long 'Chikitsak Jagran Yatra' Yatra at Gandhi Medical College. Similar Yatras, with much glitz and fervour, were held in Indore, Rewa, Gwalior and others. 
The absence of a uniform policy for recruitment, promotion and regularisation is bothering doctors leading to their exploitation at the workplace for decades and violation of their constitutional rights. They are also demanding the revival of the Old Pension Scheme (OPS) and the appointment of working doctors in administrative posts instead of Indian Administrative Services (IAS) officers. "We have three major demands including OPS. It's our security of retirement and service. It's our right and we will fight tooth and nail for it," lamented a doctor during the rally.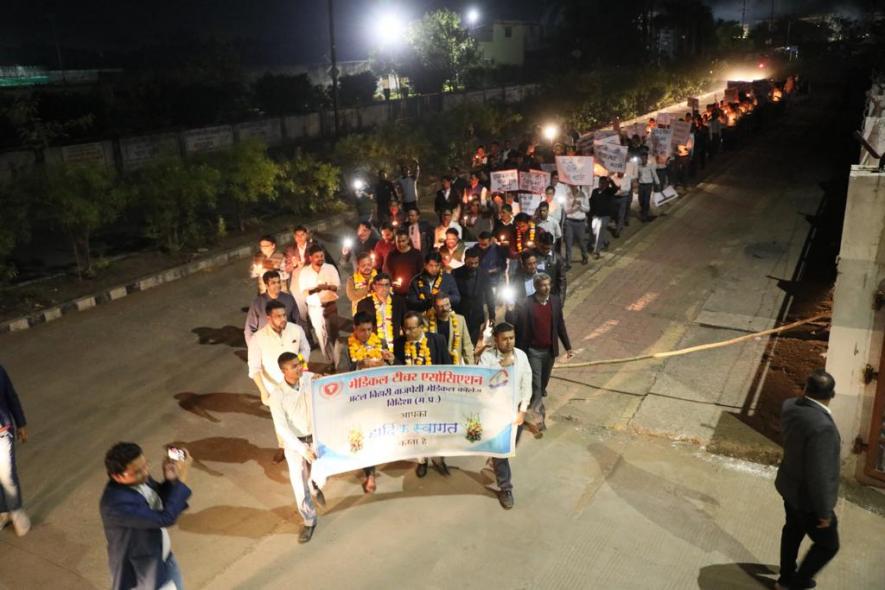 Under the banner of 'MP Shaskiye / Swasahi Chikitsa Mahasangh' -- a union of seven doctors' associations -- carried out Yatra at 38 districts to harness the support. On Tuesday, they announced to go on indefinite strike from February 17 if the government did not initiate the talks. The union, which has over 10,000 members, launched the Yatra from Gwalior on January 27 from Gajara Raja Medical College.
"All 10,000 government doctors and health workers spanning various departments, will sport a black ribbon on their shoulders in a bid to show solidarity to the strike on February 15. The following day, doctors will boycott the work for two hours," Dr Rakesh Malviya, President of the MP Medical Teachers Association said at the event. "If the government doesn't come to the sense even after it, all the doctors will go on indefinite strike from February 17 and the entire responsibility will fall on the government because they forced us to protest," he added.
They were demanding the implementation of Dynamic Assured Career Progression (DACP) 2008 in Madhya Pradesh which was enacted by the Union Government back then. This policy has been opted for by 13 states so far.
The Central Health Service (CHS) Officers in Central Government are governed by the DACP Scheme. It was enacted on the recommendations of the 5th Central Pay Commission to provide promotion to the CHS officers without linkage to vacancies up to the level of Chief Medical Officer – Non-Functional Selection Grade / Specialist Grade I/ Professor.
"Every state has its laws and policies to govern. But Madhya Pradesh has neither of them when it comes to doctors. In absence of uniform policy, the government is exploiting doctors, paramedical staff, health workers and others," lamented Dr Suneel Aggrawal, a surgeon and professor posted at Gwalior medical college. He told NewsClick, "All 13 deans appointed at Medical Colleges in Madhya Pradesh because of their political connections not on merit or seniority."
"We chose one of the most sophisticated and dignified professions and became doctors to cure patients. On the contrary, we are carrying out yatra, holding rallies and protesting against the government for our fundamental rights leaving patients unattended. This is not what we dreamed of," he pointed out.
Doctor associations' claimed that a delegation of five doctors met with Additional Chief Secretary, of Health, Mohammad Suleman on February 2, 2023, to resolve the issue with talks. But the 1hr 30min long meeting ended on a bitter note forcing them to continue a state-wide protest.
Since 2020, the doctors are at war with the government. Many incidents have been reported which widened the differences between the two agencies. In June 2020, unpaid for the last three months, 67 medical officers of the Bundelkhand Medical College, a dedicated coronavirus ( COVID-19 ) facility in Sagar, went on an indefinite strike. In June 2021, close to 3000 junior doctors resigned after the State government and the High Court termed it "illegal". They were demanding a hike of 24% in the stipend. The state also used police to quell the protest. 
There are a dozen of such incidents which led to the confrontation. 
Sharing the experiences of the Yatra, a doctor Seoni district of MP said, "Against the vacancy of 75 doctors, only 25 are running the hospital and are working 12-14 hours a day without leave. They need the district collector's nod to approve the leave after providing a replacement doctor. There are many such obligations which are forcing doctors to quit government jobs and join private hospitals. Close to 4900 doctors' posts are lying vacant."
Besides, in 13 medical colleges, 856 posts were lying vacant out of 2,814 sanctioned posts as per the data of the CM Review meeting on March 6, 2021. Jabalpur Medical College has the highest number of vacant posts at 96, followed by Chhindwara with 92 and Shahdol with 89. Bhopal's GMC has the lowest- 37 vacant posts.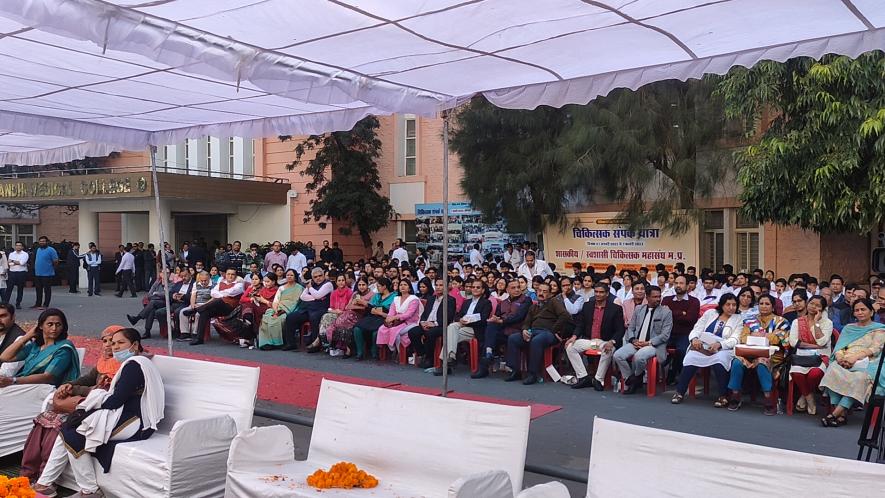 They claimed that the callous policies of the government not only hamper the progress of doctors but it's also the reason that Madhya Pradesh has been performing poorly in the national health index. 
Listing out an example, a doctor said, "The BJP has been in power for almost 20 years. But offered nothing to doctors but laudatory words. The government, which claimed to have built a robust public health infrastructure in the state, should reply why the Chief Minister, the Health Department's Principal Secretary, and over 30 % of health Department staff chose private hospitals instead of government colleges when infected with COVID19 virus in 2020 and 2021."  
The state government provides benefits to 4.5 lakh employees, such as allowances, residence, and grade pay, but these are not offered to doctors. A medical teacher promotion policy from 1987 is still in effect in the state, which is the "worst policy" for doctors, pointed out Dr Malviya, adding that these policies needed to be changed to attract new doctors.
Dr Devendra Goswami of the MP Health Officers Association pointed out that the state should provide quarters, non-practice allowance and a conducive work environment to doctors who go to three-tier or developing cities, like Khandwa, Shahdol and Chhindwara.
"If the State is recruiting doctors for rural areas and under-development cities, they should provide homes, allowances and other facilities to attract new doctors," said Goswami questioning why a person, who has become a doctor after much toil, would serve a village leaving a white collar job in a private hospital? 
When asked about the timing of the protest when elections are months away, Dr Madhav Hasani replied, "We have been trying to talk with the government for the last decade. We got an assurance in 2018, just before the assembly elections, but it turned out to be a hoax." 
"If the government does not fulfil our demands, this is going to be one of the biggest doctors' strikes in Madhya Pradesh so far which will leave the patients baffled and suffering," warned Dr Hasani.
Get the latest reports & analysis with people's perspective on Protests, movements & deep analytical videos, discussions of the current affairs in your Telegram app. Subscribe to NewsClick's Telegram channel & get Real-Time updates on stories, as they get published on our website.
Subscribe Newsclick On Telegram