MP: One Dead, Dozen ill After Railways Demolish two Bhopal Gas Victims' Colonies
These colonies were barely half a km away from the Union Carbide factory, where the majority of residents were either 1984 Bhopal Gas Tragedy-exposed victims or victims of the aftermath of the gas leak, who settled there in the fallout of the gas leak incident waiting for rehabilitation.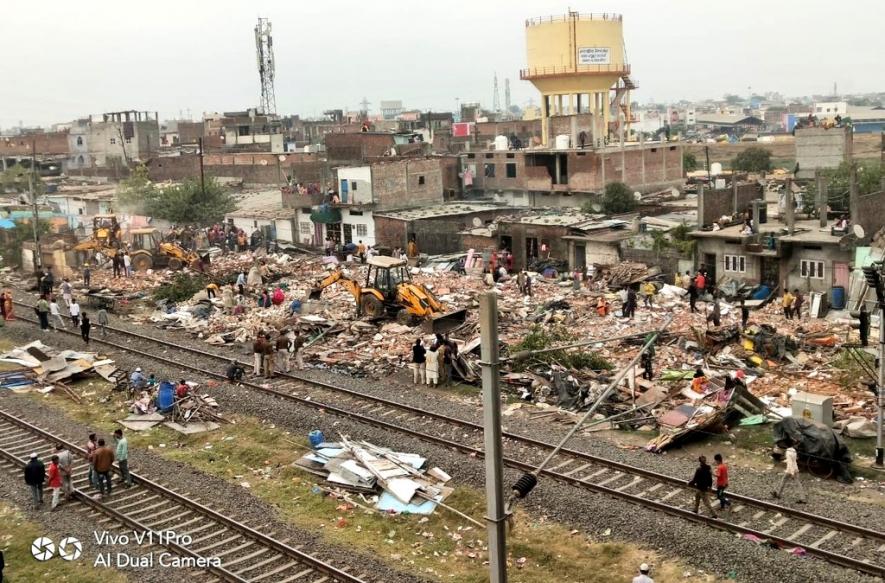 Bhopal: On the morning of January 12, Devi Ram, a 60-year-old victim of the Bhopal Gas Tragedy (Paani Peerit), allegedly died of hypothermia (cold) a month after Railway demolished his house at Annu Nagar locality along with 346 jhuggis. It had been a month since he slept on the floor of a makeshift, built close to the debris of his demolished home.
The Bhopal Division of West Central Railway wiped out three-four decades old colonies (Annu Nagar, Arif Nagar and nearby colonies) between December 12-13, 2022, for the new Bhopal-Ramganj Mandi railway line and the laying of Bhopal upline and loop line tracks.
These colonies were barely half a km away from the Union Carbide factory, where the majority of residents were either 1984 Bhopal Gas Tragedy-exposed victims or victims of the aftermath of the gas leak, who settled there in the fallout of the gas leak incident waiting for rehabilitation. They were supposed to be rehabilitated using Bhopal Gas Tragedy Relief funds. The Union government in 2010 allocated Rs 40 crore for housing such families, but that amount was left unutilised even after over a decade.
The official figure says 347 homes, but media reports pegged the number of demolished homes to over 450 or some to 1000.
Speaking to NewsClick, Ram's wife, Prem Bai (55), alleged that her cancer-ridden husband was on dialysis when the Railway, along with the district administration, razed her home without offering rehabilitation or giving a chance to scramble their belongings to safety.
When the marginalised residents tried to unite and resist the demolition, the Railway dealt with it with an iron hand. When local leaders meddled with the railway officials for compensation, the railway officials nimbly put the onus of rehabilitation on the Bhopal district administration and the state government.
When ailing Ram returned home on December 14 from the hospital, he left befuddled after seeing the rubbles of his home, which he built over decades doing a labourer job. The loss of his home broke him, and cold was the last nail in the coffin as his desire to live had long gone when he saw the debris of the home, said his wife.
Devi Ram, (60), a Bhopal Gas Tragedy victim (Pani Peedit) allegedly died of hypothermia weeks after Railway razed his home at Annu Nagar area along with 346 other homes.

Befuddled with the demolition, ailing Ram found cold on Jan 12 at his jhuggi set up

5/1 pic.twitter.com/YHmaI5aAg5

— काश/if Kakvi (@KashifKakvi) February 3, 2023
The sobbing family (a wife and two children) of Ram built a makeshift close to the debris using a saree and hard polythene and collected utensils and belongings from the debris. The family often slept on an empty stomach as hospital bills have made them destitute sans Ayushmann Bharat Card. It covers Rs 5 lakh of medical bills to the cardholder.
"Sleeping on the floor for days made him sick, and he was found cold on the morning of January 12," recalled his wife, Bai.
When asked about rehabilitation, she lamented, "We did not get any relief from the government. Neither do I have a roof to live on nor food to eat. I can't work due to ageing."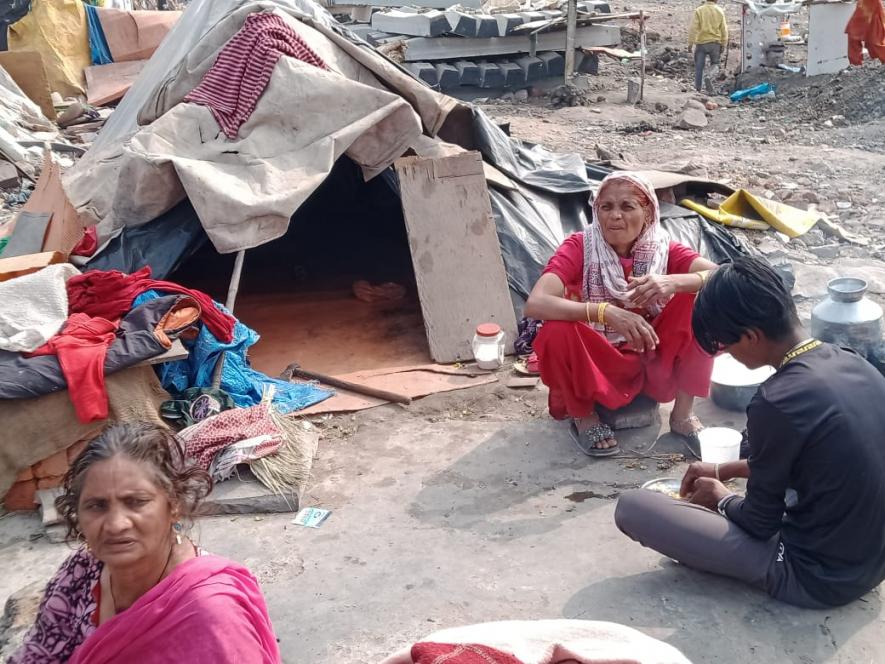 In the official communique, the Railway claimed that they (residents) acceded for eviction after the district administration offered four acres of land to rehabilitate them. On the other hand, residents claimed they were evicted without offering rehabilitation or compensation.
Many residents of Bhopal's poorest slum dwellings were moved out to rented homes days after the demolition. A few were verbally given a patch of 15x15 sq fit on a disputed Wakf land, and close to 100 families were left on the god's mercy in the piercing cold.
Ram's family is among over 100 families who did not get any compensation. Her daughter Laxmi Vishkarma (22), demanded a place to die peacefully.
"Shift us to any place where we can live, eat and die in peace. I don't want to meet the fate of my father."
Similarly, the home of bed-ridden widow Bilkis Bi (63) was also razed on December 12. A gas-hit victim, she has paralysis, blood pressure and thyroid. Bi, who can hardly walk, was dragged out of her home before it was demolished. The officials left her crying close to the scattered home and moved to the next home.
3. Similarly, home of a bed-ridden widow Bilkis Bi (63) was also demolished on Dec 12.

A gas-hit victim, she is suffering from paralysis, blood pressure & thyroid. She gets ₹600 under widow pension.

Bilkis, who can hardly walk, was dragged out of home before the demolition. pic.twitter.com/aVRLWtLTEG

— काश/if Kakvi (@KashifKakvi) February 3, 2023
Upset after watching the destruction of her home, her health deteriorated further. Left without a roof, she has been living close to the debris in winter for the last 50 days.
Speaking to Newsclick, her 32-year-old son Naffisuddin said, "Apart from home, I lost my taxi driver job owing to home demolition. I took leave for three weeks to handle the situation. But the owner sacked me when I went to resume the job. She is showing no sign of improvement sans proper health care."
He further said that since most of the residents were BPL (Below Poverty Line) cardholders, including those who were shifted to the Wakf land, they are unsure whether the PDS (Public Distribution System) ration vendors will give monthly ration in the absence of address or deny it.
"Without proper address or change in address (shifted families), the PDS ration vendor may deny us monthly ration, which is the only hope for survival. We didn't get the ration of the previous month after the demolition."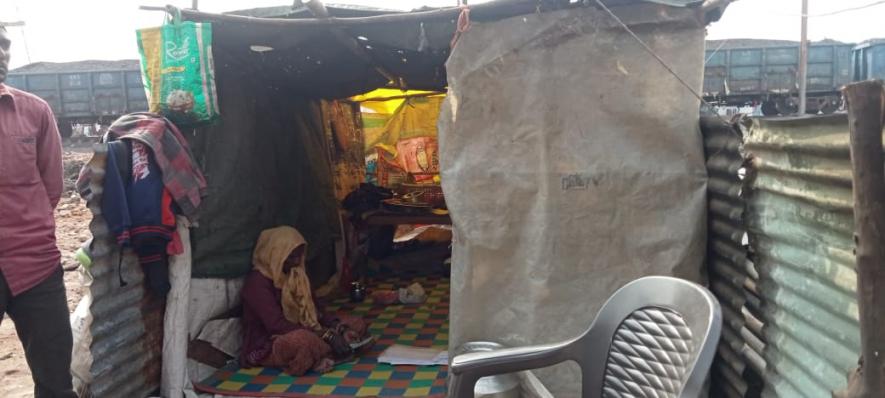 The family has a BPL ration card, and Bi gets Rs 600 monthly under the widow pension scheme for gas-hit victims. When asked for rehabilitation, Naffisuddin replied, "The officials took signatures on two-three forms and gave a token of no use. We have been running pillar to post with the given tokens for almost two months to get rehabilitation, but officials shoo us away."
Similar to the Bhopal demolition, the Railway gave eviction notices to over 5000 families in Uttrakhand's Haldwani allegedly living on encroached land for decades. But the protests broke out, unlike Bhopal. When the matter reached the Supreme Court after the videos of the protests created an uproar on social media, the apex court on January 5 thwarted the eviction on 'humanitarian' grounds.
The Court remarked, "They cannot be uprooted overnight from the land they have been living there for 50 to 70 years... Somebody has to go into the need for rehabilitation while recognising the need of the Railways."
But, the residents of Annu Nagar and Arif Nagar were neither united nor as lucky as Haldwani residents whose protest videos moved the Supreme Court.
A memorandum seeking immediate support to the 63 families, including Ram and Bi, was given to the district collector on January 31. The Bhopal Group for Information and Action -- an NGO working for the Bhopal gas-hit victims -- submitted it with a list of 63 families for rehabilitation.
The memorandum says, "A few displaced families were given a patch of 15x15 land in Arif Nagar. But there are over 63 families who did not get any assistance or place forcing them to live near the debris of the demolished homes in the piercing cold for the last 50 days. A few have died and others are gravely ill. They needed immediate attention."
Speaking to NewsClick, activist Rachna Dhingra, associated with an NGO, said, "Railway demolition drive left 1000 people homeless as it was done without rehabilitation or prior information. Chief Minister Shivraj Singh Chouhan has been distributing Pattas to marginalised families in public rallies. Besides, homes were distributed under PM (Pradhan Mantri) Awas Yojana. Yet, these peasants were left on god's mercy even after 50 days. Why their names can't be incorporated in these schemes?"
"The officials have given tokens to some families, which is of no use. They need immediate attention as most of the families are somehow affected by the deadly Gas leak incident and are more vulnerable than a common person," she added.
Above all, the behaviour of the district administration and the Minister is unapologetic. Manoj Upadhyay, Sub Divisional Magistrate (SDM), whom the district collector assigned the rehabilitation work of the displaced families, is reluctant to share any details when called for the comment.
"We have rehabilitated over 200 families. No one else has left," said Upadhyay and disconnected the call. He did not respond to the calls or messages afterwards.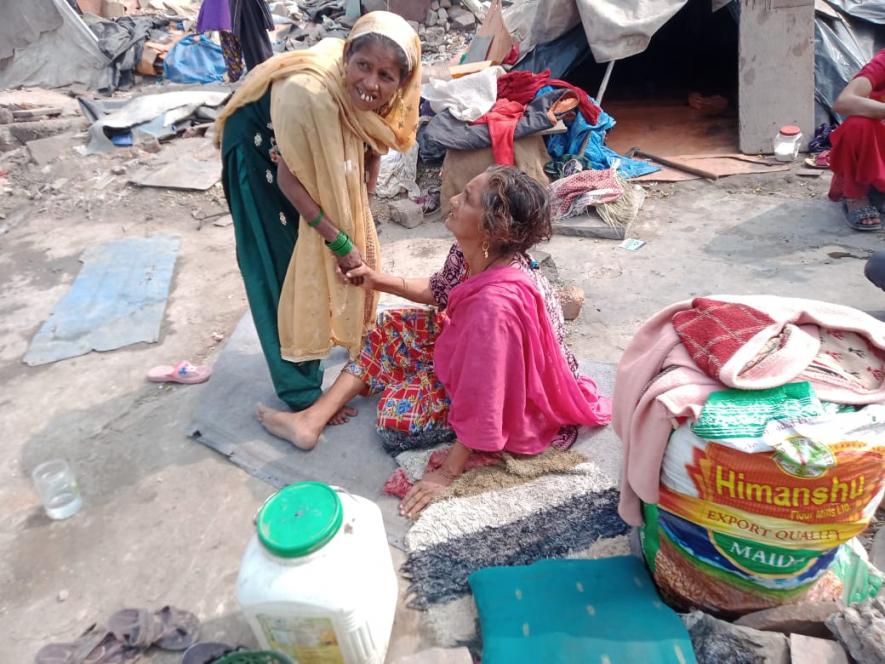 Not just SDM, the behaviour of Bhopal Gas Tragedy Rehabilitation Minister Vishwas Sarang, who is also MLA from that area and Bhopal District Collector Avinash Lawaniya towards these peasants is also callous. Despite repeated attempts, Minister did not comment, and the Collector did not respond to the calls or messages.
Bhopal Mayor Malti Rai, who runs a 'Mayor Helpline toll-free number' to enhance the delivery system, also refused to comment.
When the Railway was bulldozing homes of gas-hit victims in the old city, almost 20 km apart, on Kolar Road, the Municipal Corporation demolished over 100 homes and close to 50 shops allocated in 1998 and 2008 by the government. These homes were destroyed allegedly without notice for a 15-km long six-lane Kolar Road project.
When an advocate filed a PIL at the Jabalpur High Court demanding compensation and rehabilitation to the displaced, the government agreed to offer a patch of land or Rs 1.70 lakh compensation to each family at the Court.
2008 (CM Ashray Yojana) by Shivraj Chouhan Govt.

Some pattas were given on a lease of a year while others are for 30 years.

When an ADV Mohan Dixit filed a PIL at Jabalpur High Court, the reluctant Govt offered a relief of 1.70 lakh or a patch of land to each.

Notice issued. pic.twitter.com/ENFH338Bib

— काश/if Kakvi (@KashifKakvi) January 31, 2023
Asif Zaki, a Congress leader who meddled with the officials for displaced families, pointed out, "Since most of the displaced families belong to the Muslim community, officials and ministers have turned a blind eye to their plight. They had promised the moon to lure the families before demolition but didn't respond after the demolition."
Get the latest reports & analysis with people's perspective on Protests, movements & deep analytical videos, discussions of the current affairs in your Telegram app. Subscribe to NewsClick's Telegram channel & get Real-Time updates on stories, as they get published on our website.
Subscribe Newsclick On Telegram