National Health Protection Scheme: Difference Between 'Coverage' and 'Care'
The idea behind insurance schemes is to provide financial protection against increasing out-of-pocket expenditure amid an increasingly privatised and profit-oriented health ecosystem. Here's why it won't work.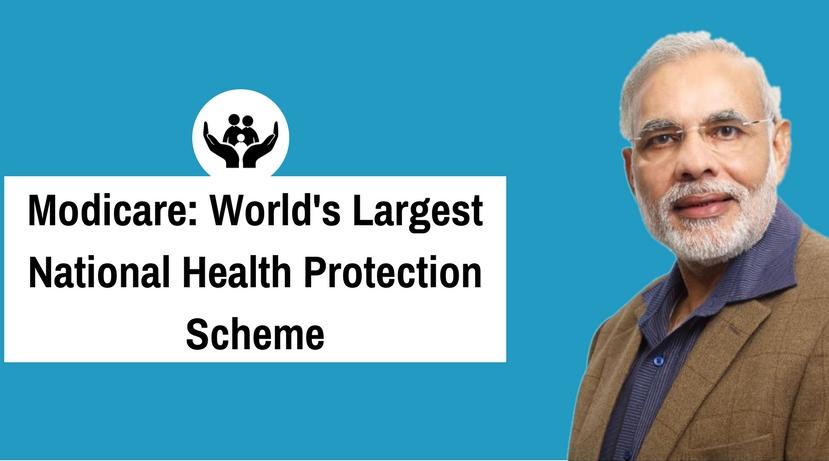 Image Courtesy: IndianMoney
The much-vaunted National Health Protection Scheme (NHPS) is not "the world's largest government funded health care programme", as proclaimed by finance minister Arun Jaitley.
Because the NHPS is not a "health care" programme at all.
It is an insurance scheme aimed at providing financial "coverage" — up to Rs 5 lakh per family per year for 10 crore families for secondary and tertiary care hospitalisation — not "care".
Jaitley said the government is "steadily but surely progressing towards the goal of Universal Health Coverage".
Never mind that the NHPS is far from even being "universal" in scope, but what does this "goal" of Universal Health Coverage (UHC) entail, and where did it come from?
Difference between Coverage & Care
The idea behind UHC or any state-funded health insurance scheme is to provide financial protection to the people — so that families do not become impoverished while trying to access health services because of the catastrophic rise in out-of-pocket expenditure. Between 2004 and 2014, 50.6 million people were pushed below the poverty line due to out-of-pocket spending on healthcare.
The goal of UHC was first propagated by the international financial institutions like the World Bank — which are directly responsible for the dismantling of public services in the developing world.
"Global health agencies such as the World Health Organization, and international financial institutions such as the World Bank, are promoting this approach in response to the rise in catastrophic out-of-pocket expenditure for health services, and in the face of crumbling public health systems in the global South (both of which were precipitated by the fiscal austerity imposed by these same international financial institutions in the 1980s and early 1990s)," writes Dr Amit Sengupta of the Jan Swasthya Abhiyaan (JSA), in the Municipal Services Project.
However, UHC has nothing to do with providing care to the people. Government funded or public provision of healthcare means ensuring that everybody — irrespective of their economic status — can access quality healthcare for free at any point, and includes building an adequate network of primary healthcare centres, affordable and good-quality public hospitals and dispensaries.
Health coverage is merely about financing — the government paying the premium for the insurance cover provided to the people by private insurance companies (whose entry the coverage scheme facilitates) for people to access health services in mostly private hospitals, since public hospitals are not enough in number and are largely in a state of neglect.
As K Sujatha Rao, former Union secretary in the Ministry of Health and Family Welfare, writes in The Indian Express, the NHPS seeks to create "an effective demand to trigger private investments in supply deficit areas".
It "redefines the role of the state — a service provider to the financier,"  Rao says.
"Coverage" is not concerned with the actual delivery of health services to the people, the quality of the service, the equity in access and the nature of health systems.
"The use of the term 'coverage' rather than 'care' symbolizes the move away from concerns of health systems design toward financing," says Dr Sengupta.
This is the most important, but not the only, reason why insurance schemes are not the answer to India's ailing health system.
Coverage Excludes Out-Patients and Primary Care
The NHPS will provide coverage for "secondary and tertiary care hospitalisation", or only inpatient treatment, in other words. 
As health economist Indranil Mukherjee told Newsclick, "The major cause of out-of-pocket expenditure is on preventive care and outpatient care. Out of Rs 100 spent from people's pockets on healthcare services, say, 60 is on outpatient and preventive care, while only around 40% is on inpatient care or hospitalisation."
"So basically you're not covering the major proportion of the expenditure by this focus on insurance."
Indeed, a study of the Rashtriya Swasthya Bima Yojana (RSBY) found that despite high-enrollment in RSBY, out-of-pocket expenses had only increased and that the government-financed health insurance scheme had no impact on medical impoverishment in India.
The study also said one of the reasons for this was "the narrow focus on secondary and tertiary care hospitalisation. Essentially, these models are designed to address low-volume, high-value financial transactions that could result in catastrophic expenditure and impoverishment of households. However, evidence points in the opposite direction."
Mukherjee also pointed to the patients' experience of access to healthcare in the private sector, when they are armed with such schemes.
"All these tax-financed insurance programmes are essentially targeted towards the poor working classes, say, unorganised sector workers, who are supposed to benefit from schemes for free care/free hospitalisation," he said.
"But if you look at the NSSO data, out of hundred people who have insurance and have gone to hospital, only three get free care."
Why? There are several reasons, says Mukherjee.
Malpractices
"Often private hospitals mislead patients by saying this or that treatment is not part of your coverage, because there is a massive lack of information among the poor sections that manifests in different ways. Even though medicines are covered in many schemes, for example, patients are often asked to pay from their pockets."
Another highly prevalent malpractice that private hospitals indulge in — especially when they know that the patient has an insurance scheme — is to provide "unnecessary care". They prescribe unnecessary tests and procedures, and hospitalisation when it is not required.
"Patients are pushed towards hospitalisation, even when they don't need it. They are pushed towards surgery when they don't need it. There have been lots of cases where women are being sterilised. For example, poor women in Bihar who were forced into hysterectomy," he said.
"So the patients' experience tells us that this thing about free care is false." 
Most importantly, given the oligopoly in the healthcare sector — especially in the hospital care market, which is dominated by a handful of large, apathetic and profiteering corporate hospital chains — the costs of healthcare as well as the insurance premium will only keep rising.
"As oligopolisation increases, the cost of care also steeply increases. This has also been the experience in many developed countries like the US, Singapore, etc. Even OECD countries are not being able to deal with these kinds of costs," said Mukherjee.
"Look at states in India where insurance is popular, like Kerala, where the premium is increasing. The state has to keep giving more money to the insurance companies over time as it only becomes costlier. Because the cost of care increases and the premium increases."
Again, it is vital to remember that an insurance premium is a one-time payment, and not a guarantee of the services one gets in return.
"But if you invest in public systems, it's an investment which gives continuous returns. If you recruit a doctor, it's a human resource you're creating. You build a system in the hospital to deliver medicines, it's a systemic thing, which has a long-term gains, which insurance does not provide," Mukherjee said.
"So every time you're paying the premium, this money is given up in some sense. Whether in return you get some care is a derivation, not a natural outcome."
India is already among the countries with the lowest expenditure on health as a percentage of GDP — the Centre spends around 1.2% of the GDP on health. This is also the lowest expenditure on public health among the BRICS countries. Even the National Health Policy 2017 approved by the BJP-led NDA had recommended increasing the central government spending to at least 2.5% of the GDP by 2025.
Investing in public health is not only good for the economy, with long-term impacts on the well-being and productivity of the people, but is also "is the best regulation a country can have over the private sector", as Mukherjee said.
"If all the care is provided by the private sector and then you want to regulate prices in the private sector, it will not work, because they have a virtual monopoly over the care. You need to have an economic instrument to exercise control, and a viable public sector is the most effective instrument to check and negotiate costs."
Get the latest reports & analysis with people's perspective on Protests, movements & deep analytical videos, discussions of the current affairs in your Telegram app. Subscribe to NewsClick's Telegram channel & get Real-Time updates on stories, as they get published on our website.
Subscribe Newsclick On Telegram