Nationwide Call to 'Save India' Observed by Over 1 Crore Working People: CTUs
Farmers, scheme workers, public sector employees across the country hold protests against the Modi government's "anti-people" policies being pushed under the pretext of pandemic.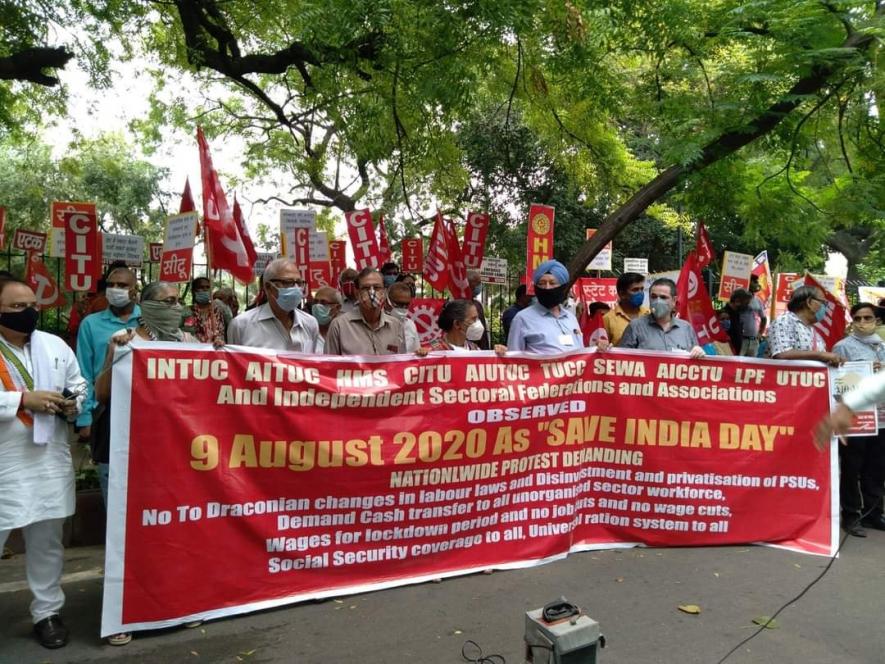 New Delhi: August 9, the day in 1942 when Mahatma Gandhi called for the British colonisers to 'Quit India, as 'do or die' or a final push to eject them from the country, was observed as 'Save India' day by over one crore of the working population across the country on Sunday, said central trade unions.
The call to 'Save India' was given by 10 central trade unions (CTUs) to protest against the "anti-people" policies pushed by the Narendra Modi government under the cover of the COVID-19 pandemic.
The call saw wide participation across states, where farmers, teachers, students, public sector employees along with other sections of labourers came out on the streets across states, protesting massive job losses, wage cuts, lay-off and privatisation among others.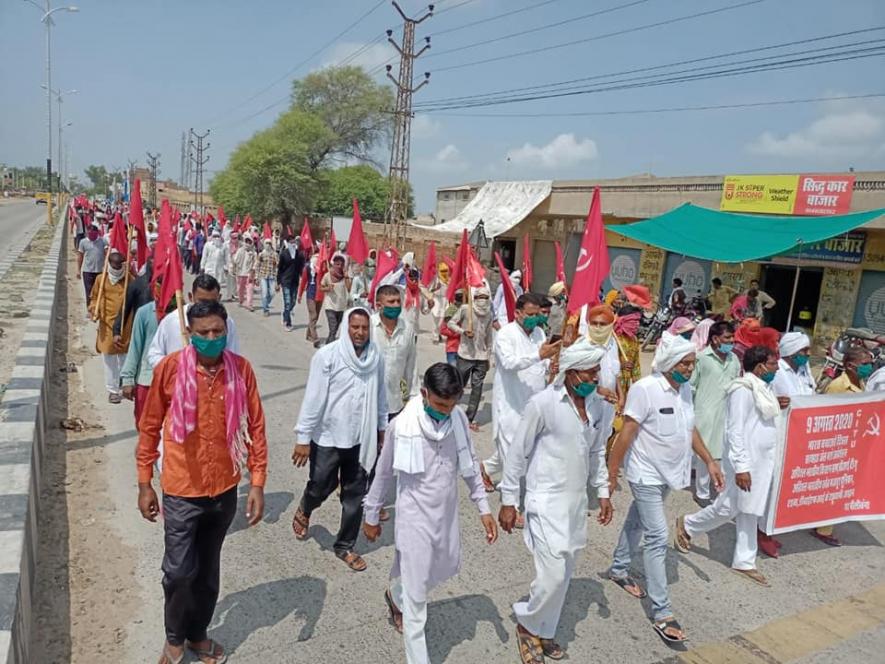 Street meetings were held across states, where the government decisions, ostensibly to achieve an 'Atmanirbhar Bharat' (or self- reliance India), were flayed by the protesting workers' organisations, saying these would eventually go against national interests as national assets were proposed to be sold to private and foreign entities.
Demonstrations were held at more than one lakh places which saw a cumulative participation of more than one crore people, said a joint statement by the 10 CTUS -- CITU, AITUC, AICCTU, HMS, INTUC, AIUTUC, SEWA, TUCC, LPF, and UTUC. Notably, the Rashtriya Swayamsevak Sangh-backed BMS stayed away from the joint TU action.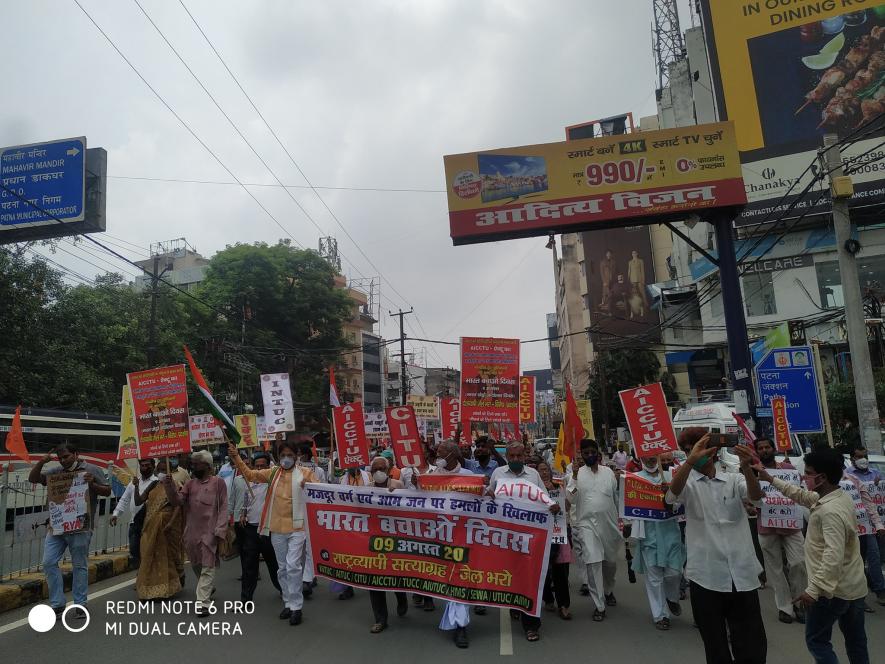 The Central government "has demonstrated cruel insensitivity of the basic human needs of the workers and the people. This cannot be endorsed and cooperated with," the statement added.
According to reports gathered by Newsclick, in many states and workplaces, owing to imposition of total lockdown on Sundays, protests were either postponed for a day or were staged a day earlier – making it a three-day 'Save India' campaign.
This was the third pan-India protest by trade unions, spread across occupational sectors, to be staged in less than three months to press for an alternative path in handling the pandemic as well as a disrupted economy, at a time when the surge in infection cases continues, with a countrywide tally of over 21 lakh cases.
Notably, at almost every protest venue, there was massive participation by scheme workers, such as ASHAs or Accredited Social Health Activists and National Health Mission (NHM) workers, who are the at the forefront of the battle against COVID-19, Aanganwadi workers and helpers and mid-day meal workers, who had held a countrywide two-day strike on August 7 and 8 demanding recognition as 'worker' as opposed to 'volunteer', and minimum wages instead of 'honorarium'.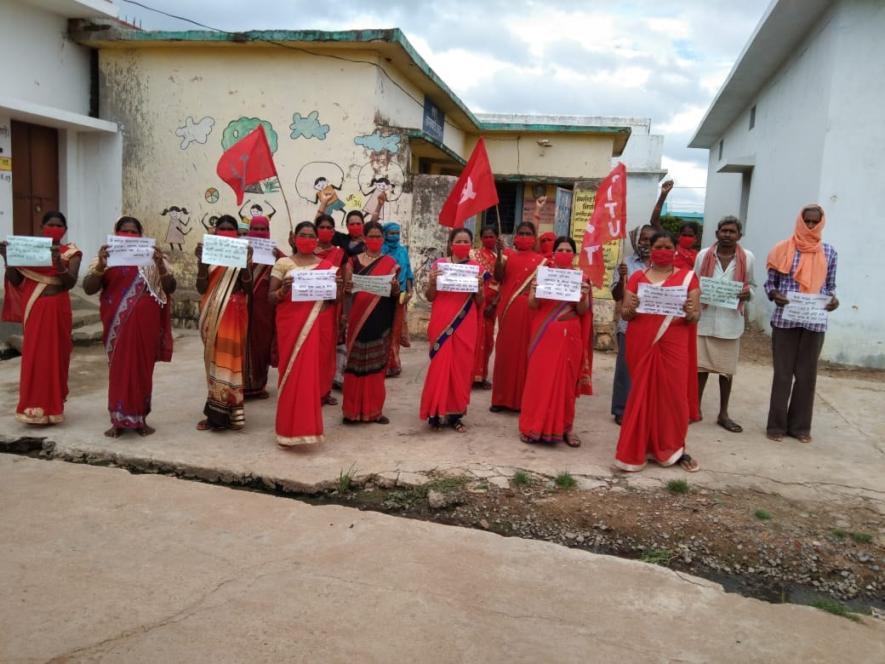 Having played a crucial role in ensuring healthcare to rural households for all these years, the scheme workers are also at the forefront in assisting the government in its battle against the spread of coronavirus, risking their lives.
Government employees in various public sector undertakings also took part in the protest reiterating their opposition to privatisation and commercialisation of strategically core sectors, such as defence, Railways, coal, telecommunication etc.
Trade unions said they would continue their movement and further agitational programmes are scheduled to be organised in offices and work facilities on Monday. These will be mainly held by bank employees and those of state telecom major, BSNL, among others.
In May, Union finance minister Nirmala Sitharaman had announced a new Public Sector Enterprises Policy, under which all but maximum of four public sector companies in strategic sectors were set to get privatised. This also included commercialisation of coal mining, along with corporatisation of the Ordnance Factory Board.
This has agitated workers across sectors, whose unions have conducted a sustained campaign and are planning sectoral strikes.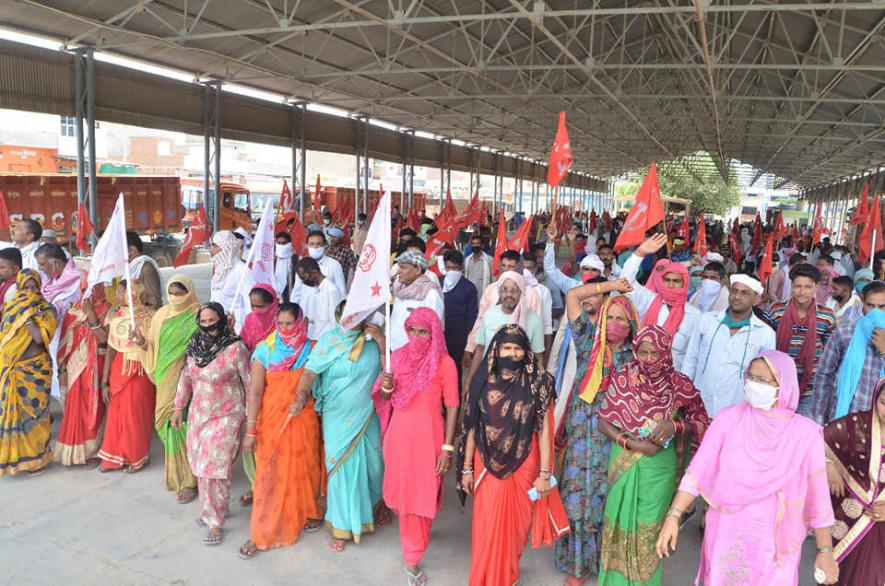 On August 18, coal miners have given a call for a one-day strike, after striking work in at least 400 mines and 75 establishments for three days last month.
Beginning October 12, a total of 82,000 defence employees are planning to go on an indefinite strike.
On Sunday, major industrial towns reverberated with slogans by factory workers against the dismantling of the labour regulations under the pretext of COVID-19 and the impending codification of the labour laws.
In Haryana and Himachal Pradesh, several protestors courted arrest to register their anger towards the Bharatiya Janata Party (BJP) government for adding to the miseries to the people.
In the rural areas, farmers and agricultural workers protested against agri trade ordinances, which they fear will attract the private sector to agriculture marketing.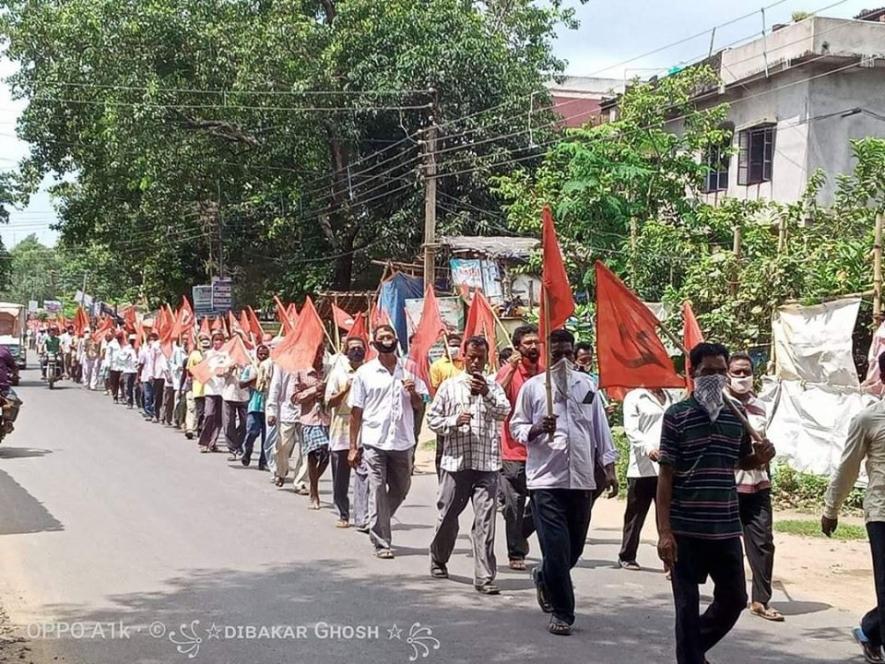 The recent past has witnessed major protests led by farmers' bodies in at least two states – Punjab and Madhya Pradesh – which saw wide participation.
In the national capital, the CTU leaders gathered at Jantar Mantar, where hundreds had reached for a demonstration.
Addressing the gathering, Tapan Sen, general secretary, CITU said: "the working class of this nation will not allow the selling of the nation. In the coming days, more agitational programmes in this direction will be charted out."
He referred to the recent policy decisions as an " full frontal attack" on the people of the nation.
Get the latest reports & analysis with people's perspective on Protests, movements & deep analytical videos, discussions of the current affairs in your Telegram app. Subscribe to NewsClick's Telegram channel & get Real-Time updates on stories, as they get published on our website.
Subscribe Newsclick On Telegram