New Proposed ITEP to Degrade Quality of Teachers, say Enraged Educators
ITEP in place of B.EI.Ed meets scathing criticism; educators claim new programme imposed with unholy haste with no plan for admission, syllabus remains absent.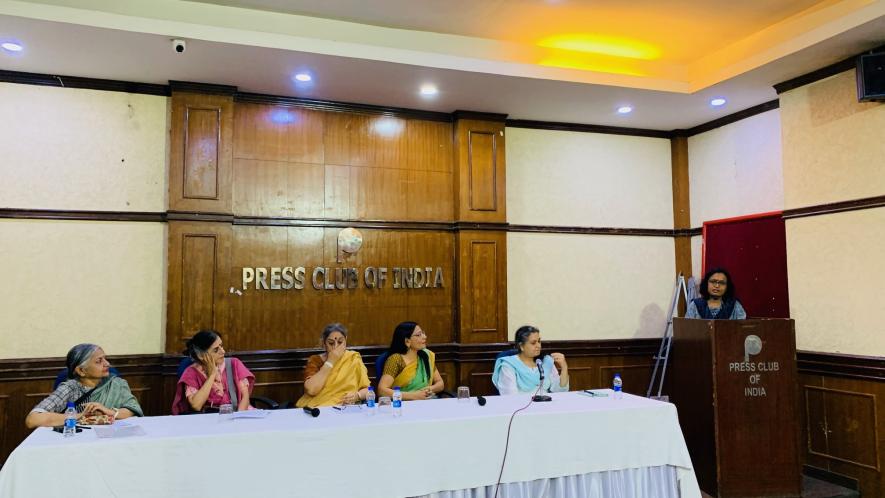 New Delhi: The education teachers of Delhi University have come out with scathing criticism of the newly proposed Integrated Programme for Teacher Education (ITEP) in place of Bachelor of Elementary Education (B.El.Ed). They maintained that the new programme had been imposed with unholy haste where they have no plan for admission, and the syllabus remains absent.
Addressing a press conference at the Press Club of India in the national capital on Wednesday, the teachers said that ITEP, notified by the National Council for Teacher Education (NCTE), is on the agenda of the Academic Council in its forthcoming meeting scheduled for May 26.
Professor Poonam Batra, former faculty, Central Institute of Education (CIE), said that the Academic Council meeting of the University of Delhi scheduled for May 26, 2023, includes in its agenda the introduction, in 'pilot mode' of ITEP - a 'dual-degree major holistic Bachelors' degree'.
She said, " The agenda mentions that ITEP will be implemented in all eight colleges that offer the B.El.Ed programme. It does not indicate that the decision to implement ITEP in three colleges from the academic year 2023-24 and all eight colleges from the academic year 2024-25 has the approval of the concerned college governing bodies, the Committee of Courses (professional) and Faculty of Education as per the University's statutory procedure."
She added, "If ITEP is to be commenced in pilot mode, it can be offered in any college of the University of Delhi. Why is it being imposed in colleges that are conducting the BElEd?  The real reason for coercing BElEd colleges to start the ITEP is the UGC and DU's unwillingness to appoint new faculty required to teach ITEP."
Anita Rampal, former Dean of CIE, said that BElEd is the first and only four-year professional degree programme that prepares teachers for elementary classes. With its interdisciplinary and integrated approach, the BElEd has successfully trained nearly 10,000 teachers in consonance with the Constitutionally mandated Right to Education (RtE) Act. In contrast, the ITEP program provides only one-year professional training following three years of general education (BA/BSc/BCom), which is inadequate to equip teachers with the necessary knowledge and capacities for teaching diverse levels and classrooms.
"It must be remembered that BElEd, recognised internationally, produces graduates who excel in teaching positions across prestigious private and government schools, including Kendriya Vidyalayas. Additionally, their eligibility for Trained Graduate and Post Graduate Teacher positions has been confirmed by High Courts," Rampal said.
Dr S Ram, a teacher at Jesus and Mary College (JMC), University of Delhi, said that the current qualification for faculty teaching the BElEd and BEd stipulate two post-graduate degrees: one in education and the other in a parent discipline related to the Foundation discipline and/or a school subject.
She added that the essential qualification for the bulk of the ITEP faculty, on the other hand, as stated in the NCTE norms, includes a post-graduate degree in liberal disciplines along with an undergraduate degree in education (BEd) to teach liberal disciplinary courses; or a postgraduate (PG) degree in education (MEd) to teach Foundations of Education that includes sociology, psychology and philosophy of education without PG in the concerned discipline.
She maintained that this dilution of faculty qualification and a standardised, homogenised curriculum indicates a profound dilution of the standards required to prepare school teachers. A typical curriculum to educate teachers across diverse cultures, communities and languages of India will not prepare them to teach in diverse classrooms, making them ineffective.
There are close to 50 vacancies in the education faculty teaching the B.El.Ed. After a very long time, DU has advertised these vacancies. The imposition of ITEP will seriously impact ad-hoc and temporary faculty teaching in substantive posts for several years.
Ram Moorti Sharma, a teacher at CIE, said that NCTE norms and standards state that "the curriculum and implementation of ITEP shall be based on a Model/Suggestive curriculum developed by NCTE…(with) 30% flexibility while adapting or modifying the Model/Suggestive curriculum as per local requirements. However, NCTE reserves the right to validate any modifications…if necessary". This imposition of ITEP goes against Delhi University statutes that protect the university's autonomy in designing curricula.
Since ITEP is a 'dual-degree programme, the exit system applicable to ITEP is stated to be 'finalised in the National Higher Education Qualification Framework by UGC'. This, too, violates Delhi University statutes.
He questioned, "Closing down a well-reputed programme such as the B.El.Ed is not only illegal, but it is also academically and professionally irrational. The University should clarify why it is coercing colleges to replace the BElEd with ITEP?"
Get the latest reports & analysis with people's perspective on Protests, movements & deep analytical videos, discussions of the current affairs in your Telegram app. Subscribe to NewsClick's Telegram channel & get Real-Time updates on stories, as they get published on our website.
Subscribe Newsclick On Telegram