New Starvation-Level Wage Announced by Labour Minister
The minister announced a national floor level minimum daily wage of Rs. 178 (or Rs. 4,628 monthly) which is one fourth of accepted norms, in contradiction to Labour Conference recommendations and Supreme Court guidelines.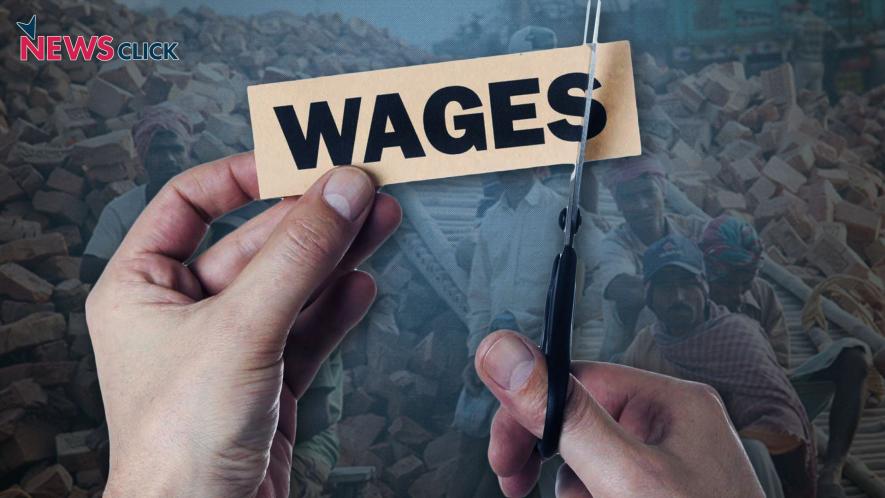 In a bizarre turn of events, the labour minister in Modi government, Santosh Kumar Gangwar, announced at a press conference that the new floor level minimum wage for the country will be Rs.178 per day. This translates to Rs. 4,628 per month.
This is bizarre on several counts. First, the official declaration of the National Floor Level Minimum Wage (NFLMW) is done only after the statutory Minimum Wage Advisory Board meets and approves it. No such meeting has been held – yet the minister jumped the gun. An announcement is due because this revision is done every two years. The last one was in June 2017. But without any due process?
Second, and more importantly, the new wage rate announced is a mere Rs. 2 more than what was declared two years ago. Just a 1% increase in two years? This is less than the inflation rate in the past two years, meaning that in real terms, it would be a decline!
Third, the declaration of Rs. 178 per day goes against the government's own Expert Committee recommendation of Rs. 375- Rs. 447 per day (or Rs. 9,750- Rs. 11,622 per month) as the National Minimum Wage. This Committee, headed by Anoop Satpathy, was set up by the same minister in Modi 1.0 government in January 2018 and gave its recommendations in January 2019. The recommended levels are actually pegged much lower than the accepted norms by reducing the minimum calorific intake norm from 2,700 to 2,400 Kcal, and other sleights of hand. But the Modi government appears to be pushing it even further down.
Also read: Govt. Report Reveals Shocking Condition of Workers in India
Fourth, and most importantly, this extempore declaration of the minister fixes the level of minimum wage at about one fourth of the norm recommended by the 7th Pay Commission in 2016. This in turn had emerged by taking into account the well-known and hitherto universally accepted standards set by the 15th Indian Labour Conference, reiterated by successive Labour Conferences (especially 44th 45th and 46th Sessions), and also accepted and supplemented by the Supreme Court in the famous Reptakos Brett case in 1992. These norms mandate a minimum wage level of Rs. 692 per day or Rs. 18,000 per month.
In fact, 31 states and Union territories in the country have current minimum wage levels higher than what Gangwar announced.
Pandering to Corporate Greed
The NFLMW is a non-statutory measure – it is meant as a recommended level below which minimum wages should not be allowed by state governments. Since labour is in the Concurrent List of the Constitution, it is primarily states that deal with minimum wage fixation. The central government fixes wage levels for its own employees. According to law, those types of employments (jobs) that are listed in Schedules are open to fixation of wage level by governments. In India, over 1,600 jobs are currently listed in Schedules across states and the Central government. NFLMW is specifically meant to recommend wage levels for non-scheduled jobs which may run into thousands.
By announcing an absurdly low minimum wage level, the labour minister and the Modi government itself is sending a signal to the industrialists and employers that the government is not interested in protecting the interests of workers through policy interventions. It is allowing a free hand to employers to push wage levels as far below as possible. In the government's thinking – borrowed from Western neoliberals – output and growth will be boosted if labour costs are cut to the skin and bones level.
That the government has this approach is confirmed by the fact that the minister made his announcement while addressing a press conference to reveal that the Modi Cabinet had cleared the Code on Occupational Safety, Health and Working Conditions Bill, which seeks to amalgamate 13 labour laws and selectively retain those favourable to employers. Earlier, on July 3, the Cabinet had also cleared the Code on Wages which is a similar amalgamation, doing away with protective provisions in several labour laws. Thus, dilution of labour laws – a long standing demand of the Indian corporate class – is finally going to take place in this session of the Parliament. And, carried away by his excitement, the minister also declared the new starvation level minimum wage.
The Centre of India Trade Union (CITU), in a strong statement denounced the new declaration and termed it as "National Floor Level for Ease of Loot". Tapan Sen, president of CITU said in the statement that the newly installed Modi-led BJP government is "in a hurry to 'pay-back' their corporate bosses" through dilution of labour laws and pegging the minimum wage at such low levels. CITU has called for a country-wide opposition to these moves. Interestingly, the Rashtriya Swayamsevak Sangh (RSS) affiliated Bhartiya Mazdoor Sangh, a supporter of the Modi government too, was quoted as saying that the new wage level was "meaningless".
Get the latest reports & analysis with people's perspective on Protests, movements & deep analytical videos, discussions of the current affairs in your Telegram app. Subscribe to NewsClick's Telegram channel & get Real-Time updates on stories, as they get published on our website.
Subscribe Newsclick On Telegram