No, Sexism is Not Par for the Course During Election Campaigns
With their blatantly sexist remarks, the Prime Minister, his BJP, and a number of other politicians and outfits are vitiating the public sphere.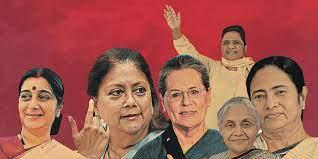 Image Credit; Feminism in India
In the 17-second clip that went around, he hisses and jeers "Didi, O Didi" at least six times with pauses and heavy breathing in between. Innocent words, lecherous tone. There is some applause from the crowd at this election rally but then crowds lap up risqué double-entendre stuff anyway.
The woman he taunts is the incumbent elected chief minister of West Bengal Mamata Banerjee.
He is India's Prime Minister Narendra Modi. His party's chief in Bengal, Dilip Ghosh, on March 24, mocked Banerjee for "displaying" her bandaged leg at election rallies. Banerjee was injured during an earlier rally and her left leg was in plaster. "Plaster has been cut, there's now a crepe bandage, and she keeps raising her leg to show everyone…she's wearing a saree with one leg covered and the other uncovered…If she has to keep her leg out, why wear a saree? She could wear a pair of bermudas instead," jeered Ghosh.
The Bharatiya Janata Party has pulled out all stops to capture power, treating the Assembly election as its make-or-break attempt to dominate the state's politics. In the surfeit of election coverage in the media, the sexist remarks received some play but nearly not as much as they should have; there was some outrage but nearly not as much as there should have been.
It is almost as if some dose of sexism during election campaigns is now par for the course; Modi was hardly called out, Ghosh got some bad press. When sexism is practised and flaunted from the top of a political hierarchy, it deserves more attention and stronger condemnation because it sets the tone for political workers and campaign managers, for the party and indeed for the nation itself.
Mamata Banerjee, true to her style, thundered that Modi's "screw is loose". It may have been a good retort but it hardly addressed the issue. She should have dragged both Modi and Ghosh to the National Commission for Women and the Election Commission of India for the sexist remarks. That people assume the ECI will do nothing is testimony to their faith in the institution.
Modi is a repeat offender. There were, of course, the coarse "Jersey cow" and "hybrid calf" for Congress president Sonia Gandhi and son Rahul, the "Rs 50-crore girlfriend" for Congress MP Shashi Tharoor's then-partner Sunanda Pushkar, the less crude but equally offensive "despite she being a woman she declared zero tolerance for terrorism" for Bangladesh Prime Minister Sheikh Hasina. These were not slip of the tongue comments, not errors, not indecent lines spoken in a moment of misjudgement. Had it been so, he would have apologised or, at the very least, expressed regret.
They were intentional, crude, and designed to denigrate women with the knowledge that his audience would lap up the cheap sexist remarks.
It was not a coincidence that ideas of masculine power and machismo, playing on the "56-inch chest" trope, dominated his national election campaign in 2014 though it—the trope, not the chest—was less flaunted in the 2019 campaign. In his speeches, there is an unmistakable sense of toughness being equated with masculinity and leadership, without space for consideration, compassion, and sensitivity.
Even when he offered a compliment, it was underlined by misogyny; a good example was when he described Nirmala Sitharaman as "desh ki beti pehli baar raksha mantra hai". The statement was inaccurate because Indira Gandhi had been India's defence minister earlier but the "desh ki beti" was unmistakably sexist.
Such remarks flow from a patriarchal world view of which misogyny is an important element. For all his acquired worldliness, Modi has been remarkably unsuccessful in shrugging off such ideas acquired in early years, possibly in RSS shakhas. In the political philosophy that drives the BJP, women are mothers, wives, or daughters symbolising the honour of a family or a community and must be protected when not infantilised; women who do not easily fit into this mould deserve to be scorned and abused.
The few independent women who made it to the top of the party hierarchy have had to tolerate their share of jeers and taunts but here's the thing—they hold their silence when the misogynistic fire is directed by their party colleagues at other women. The best that union minister Smriti Irani came up with, after Ghosh's jibe, was to "send a warning" to those making sexist slurs. Irani herself has been a target many times from a range of politicians.
The BJP can boast of a number of state leaders who have made the most sexist and offensive utterances against women – Kailash Vijayvargiya called Congress leader Priyanka Gandhi Vadra a "chocolaty face" while Vinay Katiyar had earlier dismissed her saying the BJP "has more beautiful women star campaigners", even the late Sushma Swaraj was trolled for expeditiously approving passports to a Hindu-Muslim couple, a BJP leader said to the electorate of Uttar Pradesh "when you can tolerate a woman with Mayawati's face for five years, surely you can give us a few too", another BJP leader from UP Dayashankar Singh called Mayawati a "prostitute", BJP's MLA in UP said after the heinous Hathras rape incident that "incidents like these can be stopped with good values…all parents should teach their girls good values", Madhya Pradesh' former minister Babulal Gaur said, "rape is a social crime that's sometimes right, sometimes wrong". The list is long and unflattering.
However, though BJP men's misogynistic voices are heard louder and more frequently, they are not the only ones. There are offenders across political parties. Congress MP Adhir Ranjan Chowdhury attacked finance minister Sitharaman with "We respect you a lot…but sometimes I feel like calling you Nirbala (powerless) Sitharaman". He may have wanted to stress that few ministers in the Modi cabinet enjoy real power but surely his choices of words—despite the pun—were sexist.
Rahul Gandhi too joined the heap when he taunted Modi "The watchman with 56-inch chest has run away…and told a woman (Sitharaman) 'save me, I can't protect myself'". Congress's Sanjay Nirupam had once taunted Smriti Irani as a "nachne gaanewali".
Lalu Prasad Yadav famously promised that Bihar's roads would be as smooth as Hema Malini's cheeks. Sharad Yadav gives Modi a close run; a repeat offender, his notorious "par kati" for women seeking reservation decades ago is matched by his later sexist references such as "the honour of a vote is a much bigger honour than your daughter's honour" at an election rally.
Samajwadi Party, which boasts of strong women such as Jaya Bachchan in its hierarchy, has Azam Khan who taunted his party colleague Jaya Prada as one with "khakhi underwear".
SP chief Mulayam Singh Yadav had sought to justify rape saying "boys will be boys". Kerala's Left leader and former Rajya Sabha MP A Vijayaraghavan said of Congress candidate Ramya Haridas, "She went to meet (Muslim League leader) Kunhalikutty. I don't know what might be her condition". The late Bal Thackeray, as Shiv Sena chief, mocked Sonia Gandhi in filthy ways on stage while addressing party workers. Modi has taken it off the electoral stage too. Invited to a programme of the women's wing of FICCI, he spoke to women entrepreneurs there about the "reverence in Maa (mother)" and held forth on why they should closely study stories of Lijjat Papad and Jasuben Pizza.
A comprehensive compilation is elusive but it's safe to say that there's hardly any party with a clean record on the issue. And what's offline goes online too. Trolls, most of them from the BJP but not limited to the party, have heaped sexist abuse and threats on women politicians from rival parties. It's a continuing – and debilitating – part of being a woman politician in India.
On average, India's women politicians receive 113 problematic or abusive tweets per day including threats and badgering, a report by Amnesty International in January pointed out. The study analysed more than a lakh of social media posts, especially tweets, directed at women during the 2019 general election; one in seven tweets was abusive or problematic. It shows the scale of abuse—a large chunk of it blatantly sexist—women politicians put up with. This was not exclusive to India but India's women politicians dealt with nearly twice as much harassment as their colleagues in the UK or the US, the report pointed out.
When even those who come from known political families are not spared, what chances do others have? Only brave women or those with the ability to withstand constant sexist onslaught choose the political life. This must explain, at least partly, the abysmally low percentage of women elected; the Parliament convened in 2019 has barely 14% women among its members, the average for state assemblies is even lower. Though it's an increase, it's hardly representative of India's women.
Women are certainly not apolitical. In fact, their turnout in the general election, if taken as evidence of political participation, has increased by a phenomenal 27 percent since the early 1960s, the difference between men and women's turnout which was more than 16.5 percent then narrowed down to barely 0.3 percent in 2019 election, election data shows. In some states, women's turnout has surpassed that of men in recent elections.
The strike rate in elections is better for women than men, including in the 2019 general election when women formed barely 8% of total candidates but winning women comprised 14% of Lok Sabha. Women's participation in election campaigning, too, has remarkably increased, the National Election Studies by Centre for the Study of Developing Societies show. Political parties boast of large numbers of women in their primary membership registers.
It is high time political parties, especially top leaders, recognised the link between the political culture they foster and the low representation of women where it matters. If leaders indulge in sexist remarks and vitiate the atmosphere, it is a signal to the second and third rung leaders as also to the cadre that cheap, indecent, sexist words and behaviour are acceptable—and can replace serious debate on issues. This is why Modi's remarks matter. Their impact will last well beyond the Bengal election; over years, each successive sexist remark further vitiates the public sphere.
The author is a senior Mumbai-based journalist and columnist. She writes on politics, cities, media, and gender. The views are personal.
Get the latest reports & analysis with people's perspective on Protests, movements & deep analytical videos, discussions of the current affairs in your Telegram app. Subscribe to NewsClick's Telegram channel & get Real-Time updates on stories, as they get published on our website.
Subscribe Newsclick On Telegram