Nomadic Tribe Chopans 'Disappointed' as J&K Redraws Social Caste List
Abdul Ahad Chopan, who is the president of J&K Chopan Welfare Association, believes that the move to include them in the list of social castes is "sheer injustice".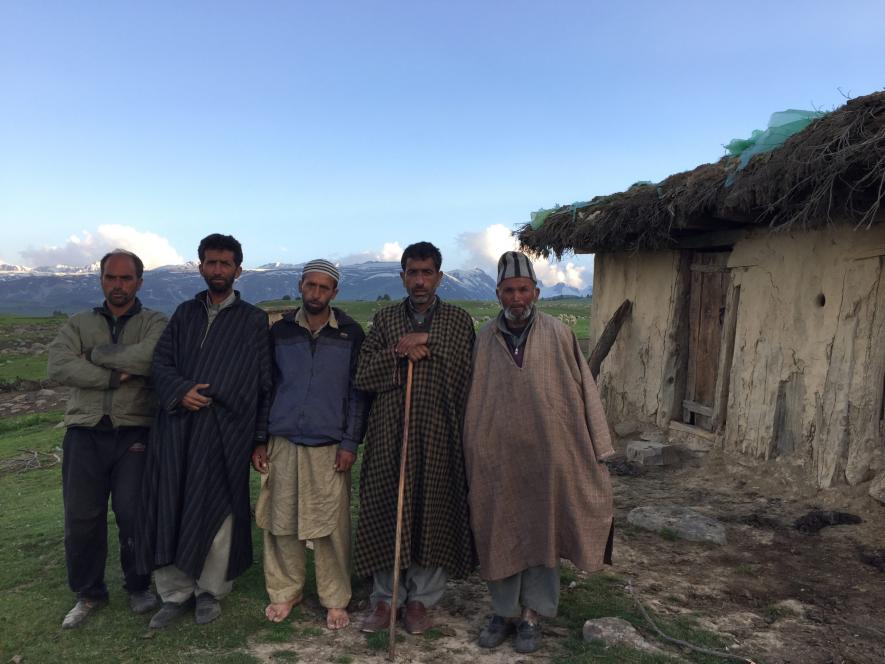 Image for representational purpose. Credit: The Leaflet
Srinagar: The Jammu and Kashmir administration has included 15 new categories to the list of social castes in the union territory, a move believed to benefit marginalised communities while getting education and jobs.
The Lieutenant Governor-led administration issued the order dated October 19 to redraw the social caste list under the Jammu and Kashmir Reservation Act, 2004 and among those included in the list are West Pakistan Refugees (WPR) who had settled in Jammu, Gorkhas, members from the Jat community and a Muslim nomadic tribe – Chopans.
The new classes added to the list are Waghey (Chopan), Ghirath/Bhati/Chang community, Jat community, Saini community, Markabans/PonyWalas, Sochi community, Christian Biradari (converted from Hindu Valmiki), Sunar/Swarankar Teeli (Hindu Teeli along with already existing Muslim Teli), Perna/Kouro(Kaurav), Bojru/Decount/Dubdabay Brahmin Gorkans, Gorkhas, West Pakistani refugees (excluding SCs) and Acharyas.
The decision comes after Union Home Minister Amit Shah announced that Pahari-speaking community will be given the Scheduled Tribe (ST) status in Jammu and Kashmir. The LG administration has also replaced the "Pahari-speaking people" with "Pahari ethnic people".
Abdul Ahad Chopan, member of J&K Chopan Welfare Association, however, believes that the move to include them in the list of social castes is "sheer injustice". He says as per the decision of the erstwhile Legislative Assembly of J&K and the then Backward Classes Commission report in 2000, the Chopans deserve to be in the Schedule Tribe category and not Social Caste.
"We have been struggling for the last 27 years for the ST status. We are nomads and not settled. Unlike Najar or Telis, Turkhan or Ahangar who are settled and are engaged in livelihood; we move for livestock grazing. We are notified nomadic tribes and deserved ST status," Abdul Ahad said.  
Abdul Ahad also met and presented a memorandum to the G D Sharma Commission on July 1, 2021 following which he says there was hope that the community will be finally granted the ST status. Ahad says their similarity with Gaddis, Gujjars and Bakerwal communities qualify Chopans to be included in the ST list, the reason which was put forth by the erstwhile legislative Assembly to pass a resolution and then send a recommendation to the central government proposing the community be included in the ST list.
The granting of ST status to three communities Kollis, Chopans and Paharis was also a key part of the Agenda of Alliance signed between the Bharatiya Janata Party (BJP) and People's Democratic Party (PDP) to form the coalition government in 2014.
Chopans, with a population of about 1.5 lakh, are known as a class of shepherds also called "pohals" locally. They mostly live in high altitudes and pastures for most of the year, especially in the summer, for livestock grazing and move down to plains in late October. Most of them live in mud-thatched homes or dokas in the far-flung mountainous areas of the region. But, unlike Gujjar and Bakerwal communities do not own livestock and have no landholding. They live in highlands, isolated from society, without access to basic facilities like medicine or education.
Tariq Ahmad Chopan, a PhD scholar from the University of Kashmir, said that the Chopans numbered about 10,000 according to the 1931 census and since then, due to continues illiteracy, illiteracy, shyness and backwardness still mar the community.
"Shepherd communities in all States across India have been declared as ST. I don't think it is right to include Chopans in the OSC list, which is only 4%. It appears that our category name has only changed and it is not a change that Chopans need or seek. Their difficulties will remain the same," Tariq says.
Many in the community believe that their rights have been snatched despite being a deserving community. Some claims that the fresh announcement is an attempt to silence their demands for ST. Even as the Chopan community or tribe is similar to Gujjar and Bakerwal, Tariq says, the community also lacks leadership or any political representation that could "represent" or "mobilise" them while Gujjar and Bakerwal communities have had both MLAs and MPs to represent them putting Chopans at a further disadvantage.
Get the latest reports & analysis with people's perspective on Protests, movements & deep analytical videos, discussions of the current affairs in your Telegram app. Subscribe to NewsClick's Telegram channel & get Real-Time updates on stories, as they get published on our website.
Subscribe Newsclick On Telegram