Not 1,000 Years of Slavery, India got Century of History Being Distorted
The Prime Minister's inaccurate references to the enslavement of Indian people do no justice to history.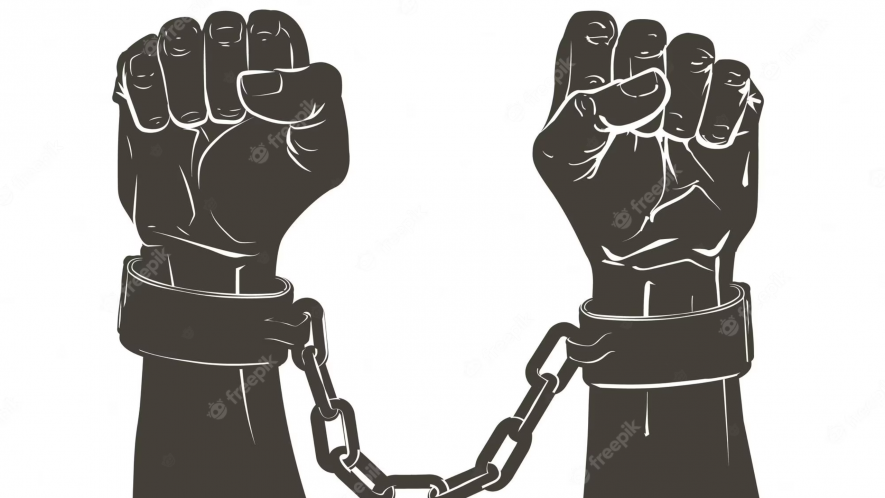 Representational Image. Image Courtesy: Freepik
In his address to the nation on the 76th anniversary of India's independence, Prime Minister Narendra Modi reiterated his odd formulation that India suffered through slavery for a thousand years. Around three months back as well, while addressing the joint session of the American Congress on 23 June, he said India was celebrating the 75th anniversary of independence after "a thousand years of foreign rule in one form or another". The constant refrain about a thousand years of foreign rule contradicts historians' accounts and the freedom fighters who struggled against actual foreign rule—of the British, who first arrived in India in the 17th century.
Nehru on Foreign Rule Over India
India's first Prime Minister, Jawaharlal Nehru, had dismissed the proposition that foreign rule over India could be traced to the pre-British period and encompass the Mughal era. He argued that Britain appointed the British Governors-General or Viceroys to perpetuate its control over India as a colony, while Mughal emperors ascended the throne not by any authority outside India.
Nehru's logical and convincing explanations rejected the Rashtriya Swayamsevak Sangh (RSS) and the erstwhile Jana Sangh's claim about one thousand years of foreign rule. However, these arguments are still conveniently ignored by some, who like to reiterate the specious reasoning that pre-British Mughal rule was part of foreign rule over India. Based on the widely-accepted historical rationale, it is evident that Prime Minister Modi has been spreading an incorrect and false narrative about Indian history.
Talk of 1,000-Year Foreign Rule, no Role in Freedom Struggle
The Muslim League, Hindu Mahasabha and RSS never joined the freedom struggle and supported the continuance of British rule. Ironically, the Hindutva ideologue VD Savarkar took a stand against the historic Quit India movement. These facts are well-documented by historians based on the records of great leaders of the freedom struggle, including Mahatma Gandhi and Subhas Chandra Bose.
For instance, Mahatma Gandhi, in his article, "Savarkar Brothers", published in Young India on 26 May 1920, pleaded for their release from prison by citing, among other grounds: "They both state unequivocally that they do not desire independence from the British connection." "On the contrary," he wrote, "They feel that India's destiny can be best worked out in association with the British."
Netaji Subhas Chandra Bose, in his book Indian Struggle: 1920-1942, provided an account of his meeting with Gandhi, MA Jinnah (president of the Indian Muslim League), and Savarkar, (president of the Hindu Mahasabha). The meeting took place before Bose left India to continue his struggle for freedom from outside the country. He wrote of holding hearty and cordial talks concerning India's struggle for independence with Gandhi, but that his meetings with Jinnah and Savarkar were disappointing.
Bose wrote, "Savarkar seemed oblivious of the international situation and was only thinking how Hindus could secure military training by entering Britain's Army in India." He concluded, "...nothing could be expected from either the Muslim League or the Hindu Mahasabha."
Against this historical backdrop, the spinning of a narrative about "thousand years of foreign rule" smacks of dog-whistle politics. It fits with attempts in the corridors of Hindutva to target the Muslims by drawing false parallels with the "enslavement" of Indians when the Mughals ruled over large swathes of India.
Syama Prasad Mookerjee Called Mughals 'Great'
A peep into the Constituent Assembly's records of 17 December 1946 reveals more facts contrary to those propounded today. On 13 December that year, Jawaharlal Nehru moved the Objectives Resolution in the Assembly. While participating in the discussion on the resolution, Syama Prasad Mookerjee (who founded the Jana Sangh in the early 1950s) referred to Lord Simon's statement that the Constituent Assembly of India was a "body of [elite] Caste Hindus". Mookerjee sharply remarked that the Assembly should convey to the British that they started their career in India as traders and "...came here as supplicants before the Great Mughals."
Mookerjee's name is often invoked with great respect by Prime Minister Modi and his party colleagues, especially considering that the Jana Sangh was the precursor to the Bharatiya Janata Party (BJP). If Mookerjee could call the Mughals "great", how can his staunch followers spin a narrative about thousand years of foreign rule, including the Mughal period?
Gandhi on Mughal Era
Mahatma Gandhi never described the Mughal period, spanning the 16th to 19th century, as an era of slavery. In a speech delivered in Cuttack on 24 March 1921, he famously said, "The pre-British period was not a period of slavery. We had some sort of Swaraj [self-rule] under Mughal rule." He observed, "In Akbar's time, the birth of a Pratap was possible, and in Aurangzeb's time, a Shivaji could flourish." Then, Gandhi asked, "Has 150 years of British rule produced any Pratap and Shivaji?"
Nehru Address to Nation
Prime Minister Modi's narrative on the 76th anniversary of independence sharply contrasts Nehru's address to the nation in 1957 from the Lal Qila on the 10th anniversary of freedom from British rule. That year, India also celebrated the centenary of the First War of Independence of 1857.
Nehru spoke about the struggle for independence from British rule and flagged a thousand-year-old Indian tradition anchored in harmony, understanding and unity of diverse faiths and languages. This speech is available online and must be heard by all those who want to know what India's heritage is all about. It must also be heard by those who seek peace and solidarity—not false narratives that target a section of Indian citizens and hurt the nation's progress.
The author served as Officer on Special Duty to President of India KR Narayanan. The views are personal.
Get the latest reports & analysis with people's perspective on Protests, movements & deep analytical videos, discussions of the current affairs in your Telegram app. Subscribe to NewsClick's Telegram channel & get Real-Time updates on stories, as they get published on our website.
Subscribe Newsclick On Telegram