Novak Djokovic Hits Back At Adria Tour Critics: "Someone Has To Fall To Be The Main Culprit For Everything"
Djokovic slammed his critics and called them malicious after being subjected to widespread criticism for staging the ill-fated Adria Tour. The World No. 1 also expressed uncertainty about playing the US Open while revealing a new ranking system that has been rolled out by the ATP to protect players rankings because of the pandemic.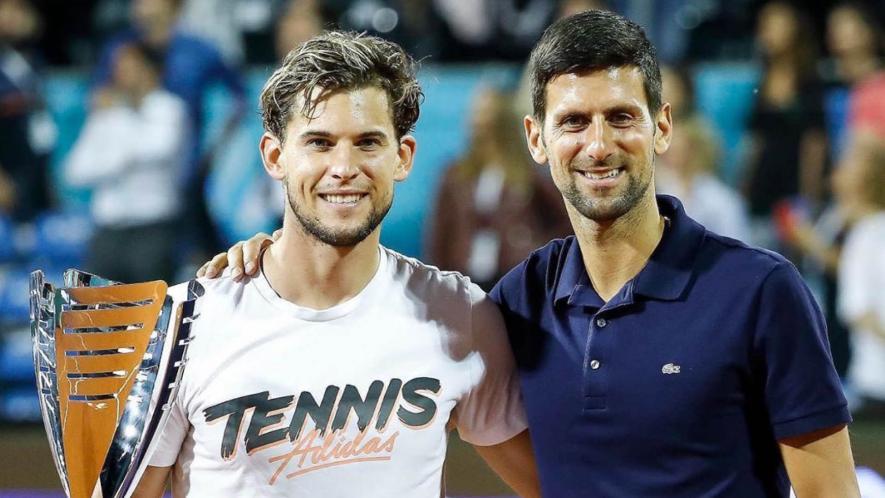 Dominic Thiem (left) and Novak Djokovic pictures at the Adria Tour first leg in Belgrade, which Thiem won. (Picture courtesy: Novak Djokovic/Twitter)
A week after testing negative for Covid-19 Novak Djokovic has hit the war path, denouncing the criticism he received for staging the Adria Tour as 'malicious' and a 'witch hunt'.
Djokovic was one of multiple players who tested positive at the Adria Tour, which was held in packed stadiums, with a clear lack of distancing norms or safety protocols of any kind. What angered many of his peers and observers around the world though was Djokovic's callous attitude towards safety in general, a claim bolstered by a viral video of him and fellow tennis players dancing in a nightclub.
Now having tested negative for the virus, Djokovic has said that he may not play the US Open in August.
"I'm not sure I'll play in the US Open," Djokovic said on Wednesday. "I plan to play Madrid (which starts a day after the US Open finals on September 13), Rome and Roland Garros in September." 
Djokovic is one of many big names who have dropped hints that will pass the US Open in favour of the clay courts in Europe. Unsurprisingly many of those players are European. Their hesitancy stems from concerns over the situation in New York currently and the intense quarantine they will have to undergo just to travel to the state and back. For many who do not harbour dreams of winning the Grand Slam, the exercise is a waste of effort. 
Also Read | Sprinter Bianca Williams Calls Out Police For Racial Profiling After Detainment in London
Despite losing out on two big names (Rafael Nadal also confirmed he would play the MAdrid Masters and not the US Open) cancelling the tournament does not seem like an option for the United States Tennis Association (USTA), who will end up in that situation losing an estimated $120 million on TV revenue. 
The Balkan charity exhibition tour organised by Djokovic and Goran Ivanisevic kicked off on June 12 this year and was later terminated after the World No 1 and other players such as  Viktor Troicki, Grigor Dimitrov, Borna Coric and Goran Ivanisevic tested positive for the virus. The event suffered a huge set back and was criticized immensely for its packed crowds and lack of social distancing. However, Djokovic believes that he has been made the fall guy for the incident. 
In the interview with the Serbian paper Sportski Zurnal sparked rumours that criticism about him were unfair and reeked of a different agenda. 
"Lately I only see criticism, very malicious," he  said, continuing, "Obviously, there is something more than that criticism, as if there is an agenda, as if it were a witch hunt. Someone has to fall, some person, some big name, to be the main culprit for everything."
Also Read | Shashank Redemption: The Other Side to the Anti Indian Facade of the Outgoing ICC Chairman
In the interview Djokovic also detailed plans the Association of Tennis Professionals (ATP) and the Players' Council (of which he is president) have made to protect lower ranked players who have been affected by the pandemic. 
Djokovic detailed that for many players who will face financial problems travelling and playing several tours may be a problem as the game restarts. To protect them, the council proposed a new rankings system which will be finalised and approved soon. "We discussed it in the Council and that decision was made because we wanted to protect the players that don't want to put themselves at risk and travel," Djokovic said. 
"Some won't play until the end of 2020 and in this way the list protects them, they are not losing points. On the other hand, players who play will have a chance to earn new points. In this situation, I believe It was the best option."
Read More | Ranjit Bajaj Makes His Pitch to Buy Quess East Bengal FC Shares
Djokovic's role as the head of the ATP Players Council has also come under scrutiny following the Adria Tour fallout, with many voices asking for him to step down from the role. His leadership, as well as a general apathy towards public safety during the Adria Tour has been one major sticking point for criticism. A huge amount of it came via Nick Kyrgios, who has focussed not just on the World No. 1 but also the others who participated in the exhibition tournament itself. 
Kyrgios has refused to entertain the players' attempts to play the victim and has constantly criticised them for their actions. Recently he got into a spat with Dominic Thiem (one of the players who played the Adria Tour) on Twitter following the latter's interview dissing the Australian for his constant critique. 
In an interview with TT, Thiem said: "Kyrgios has built a lot of nonsense himself. I understand even less when he interferes with everything. It would be better if he came to terms with himself rather than always criticizing others."
Read More | Abuse, Torture And Pain: Former Athletes Reveal Dark Side of British Gymnastics
Kyrgios, never one to let slights slide, responded back via Twitter saying: What are you talking about @ThiemDomi? Mistakes like smashing rackets? Swearing? Tanking a few matches here or there? Which everyone does?" He then carried on to say that none of those criticising him have "the intellectual level to even understand" where he's coming from.
Kyrgios further continued blasting the trio of Thiem Djokovic and Alexander Zverev (who was seen flouting his mandatory quarantine, posting a video of himself outside in Germany) and pointed out how their irresponsibility was a bad image for the sport in itself. "People losing lives, loved ones and friends, and then Thiem standing up for the 'mistake'. These guys are the 'top' of our sport," he tweeted. 
Get the latest reports & analysis with people's perspective on Protests, movements & deep analytical videos, discussions of the current affairs in your Telegram app. Subscribe to NewsClick's Telegram channel & get Real-Time updates on stories, as they get published on our website.
Subscribe Newsclick On Telegram