Djokovic Faces Backlash After Adria Tour Registers More Covid Positives
Five cases have cropped up over the past two days from players and staff who participated in the Adria Tour. Following the results many tennis players from across the globe have criticised the event itself and the man who organised it, Novak Djokovic, who has retreated back home, and is yet to issue a statement.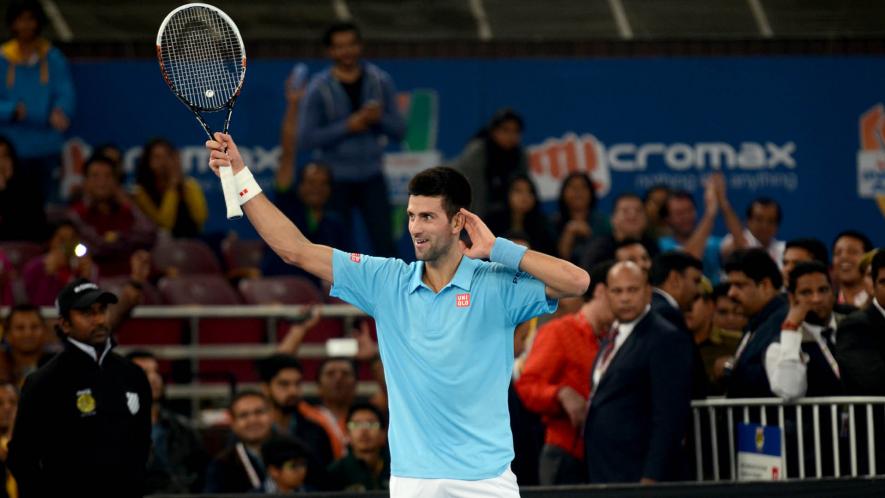 Djokovic has famously also revealed himself to be an anti-vaxxer, saying he may not return to tennis if vaccinating against coronavirus becomes the preferred method for participation in the future. (Picture: Vaibhav Raghunandan)
Novak Djokovic is feeling the backlash with more players and staff who participated in the Adria Tour -- Viktor Troicki the latest -- have registered positive tests for Covid-19. Troicki's positive test takes the tally up to five, which include Djokovic's fitness coach Marko Paniki, Grigor  and his coach Christian Groh and Borna Coric. 
While the event has been called off, the decision to stage it itself has invited huge criticism. A lack of precautionary measures and no social distancing protocols -- which although in line with regulations countries the Tour was staged -- have been heavily criticised by many players on the ATP (Association of Tennis Professionals) Tour.
Britain's top ranked player Dan Evans said that Djokovic needs to put his hand up and accept responsibility for putting players, staff and public at risk.
"It's very unfortunate that Grigor has it and Coric has it but you strip it back, is it a surprise? I think that's the question we should all ask," Evans said to reporters ahead of a behind closed doors 'Battle of Brits' tournament that begins on Tuesday.
Also Read| Tour de Resilience: West Indies Take a Big Step Forward, Into the Unknown and the Known | Outside Edge
While the event itself was organised as a charity drive and a feel good initiative, the turning point perhaps the viral video of players celebrating noisily in a crowded nightclub in Serbia. Big mae players like Dominic Thiem and Alexander Zverev were present for the tournament that was held over two legs in  Belgrade and Zadar (a third leg in Montenegro was cancelled on June 14 because of concerns over safety; as of now, no decisions have been made about the final leg in Bosnia). The players were also seen playing basketball, football and dancing together without any social distancing protocols. 
Evans noted the absurdity of the tournament saying that Djokovic needn't have created a situation where this happened at all. "I don't think he should be having a players' party and dancing all over each other. Two very good tennis players have tested positive. He should feel some responsibility in his event and how it's transpired, really." Djokovic's own Covid-19 test results have yet to be announced today after which he will address the public. 
Evans wasn't the only player to hit out at Djokovic about his involvement in the event. Chris Evert criticised the event on Twitter, soon after Dimitrov's statement regarding his test. "I don't understand... no safe distancing, total physical contact, no face masks, even the fans were without masks.. I don't get it.. not smart...hope no one else tests positive. Get well Grigor."
Also Read| East Bengal Faces a New Identity Crisis, Lost In A Web of Its Own Making
Nick Kygios, a vocal critic of the decision to hold the US Open also tweeted his dismay.  "Boneheaded decision to go ahead with the 'exhibition' speedy recovery fellas, but that's what happens when you disregard all protocols. This IS NOT A JOKE." 
The most damning evidence that the event and Djokovic have unanimously not taken precaution came via criticism came via criticism from one of Djokovic's closest friends on the tour, Andy Murray. 
"I have always had a good relationship with Novak," Murray said. "In hindsight, with what's happened there, it is not a good look. When you are going through a time like this, it's important any of the top athletes around the world should be showing that we are taking this extremely seriously, knowing that we are using social distancing measures and whatever it is."
"Like, when I'm getting treatment from my physio, he is wearing masks and things just to reduce the risk as much as possible. There have been a few players flouting the rules, and it's just not a good look for the sport when something like this happens."
The event and the fact that Djokovic, who coincidentally is also the ATP President was involved in its organising have suffered coronavirus concerns will bring the staging of the US Open back into the spotlight. Many players have expressed concerns about safety protocols for the event, while others like Evans think this could be a great eye opener on what not to do. 
"I think we could definitely learn from that and hopefully that event doesn't take away from the U.S. Open," Evans said. "I hope there's no second guessing on the U.S. Open now because of some unfortunate events."
The suspended ATP and WTA tours are set to resume in August. The US Open begins on August 31 and the French Open will kick off on September 27.
"I hope that we learn from it and, off the back of it, they will be taking it extremely seriously because, ultimately, the Tour won't get back again if we are having problems every single week and the players are doing what they want. We need to make sure we are doing the right thing," he added.
Read More | India U-17 Squad Girls Struggle to Survive as Football Big Boys Talk about Return of Big Leagues
In a statement the ATP expressed hope that players who were infected recover quickly, while also reinforcing that they will restart the season in accordance to social distancing and safety protocols. "In planning for the resumption of the ATP Tour season from August 14, ATP and other stakeholders have made exhaustive plans to mitigate risks through a variety of precautions and protocols to be implemented at ATP events. We continue to plan and adjust these precautions and protocols according to the latest medical information and prioritize safety in assessing every decision," the statement said.
Murray himself, while keen to go to New York (the scene of his first Grand Slam title, where he beat Djokovic in the final) has said it won't be at any cost.
"I hope that we learn from it [the Adria Tour fiasco] and, off the back of it, they will be taking it extremely seriously because, ultimately, the Tour won't get back again if we are having problems every single week and the players are doing what they want. We need to make sure we are doing the right thing."
Get the latest reports & analysis with people's perspective on Protests, movements & deep analytical videos, discussions of the current affairs in your Telegram app. Subscribe to NewsClick's Telegram channel & get Real-Time updates on stories, as they get published on our website.
Subscribe Newsclick On Telegram