NREGA Workers Caught Between job Card Deletions and Aadhaar Seeding
Technical glitches can take away the right to work if one applies for a new card, while names disappear from muster rolls after Aadhaar linking.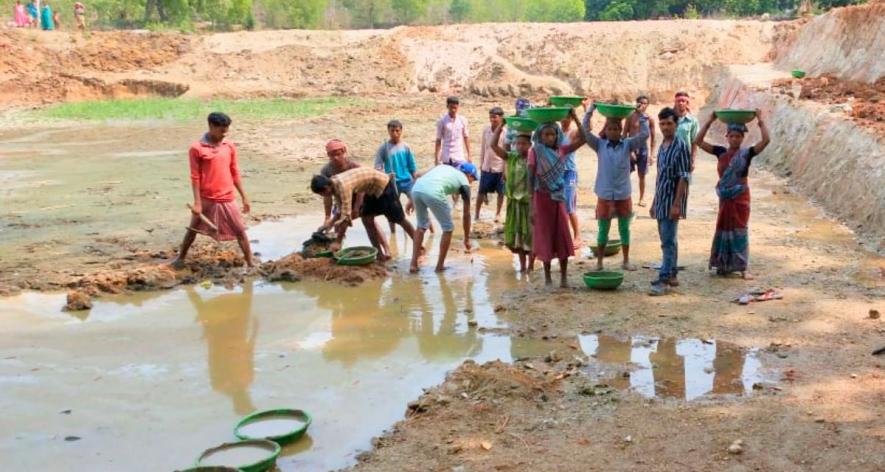 Rayagada, Odisha: When Dhananjay Sahu (29) from Akhusingi village in Rayagada district started living separately after marriage, he decided to apply for a new job card under the Mahatma Gandhi National Rural Employment Guarantee Act (MGNREGA) scheme. He wanted his wife to benefit from the health insurance provided under the Nirman Shramik Kalyan Yojana, for which an MGNREGA job card is used as a primary identification tool. He also hoped to ensure 100 days of work for the new household by accessing the new card.
However, no new card was issued to him, despite applying at Akhusingi gram panchayat last December. Much to his dismay, he later learnt that he had lost his MGNREGA identity. "Once I applied for the new card, my name was deleted from the job card of my parents. When I approached the concerned officials, they said re-entering a name along with the linked Aadhaar number was impossible once it was deleted from the website. In short, I lost my right to work under the MGNREGA," Sahu, a plumber, told 101Reporters.
Sahu's case is no exception. Job cards are flagged as duplicates on the MGNREGA website when family members apply for a new card. Once Aadhaar numbers and account details are linked to a family job card, the website does not allow access to a new card to any member of that family. 
The problem stems from the Ministry of Rural Development's announcement in January making the Aadhaar-based Payment System (ABPS) mandatory for all payments to the MGNREGA beneficiaries. Workers should link their Aadhaar numbers with their job cards and bank accounts to get payments through ABPS. The previous instruction was to link Aadhaar with active job card holders, but the new directive made it mandatory to link Aadhaar numbers of all job card holders.
The deadline for implementing ABPS has been extended a fifth time — to December 31 from the last set time limit of August 31. In a bid to meet the deadline, the names of workers found in more than one database are being removed without much thought, leading to a sharp spike in such deletions.
Responding to questions raised by Congress MPs Gaurav Gogoi and VK Sreekandan about the 244.3% hike in deletion of MGNREGA job cards in 2022-23 fiscal against the previous two financial years, Rural Development Minister Giriraj Singh informed the Lok Sabha in a written reply on July 25 that over five crore job cards have been deleted in the last fiscal.
The reasons mentioned for deletions were fake (incorrect) job cards, duplicate cards, unwillingness to work, permanent relocation of a family from a gram panchayat or cases where the only person listed in the card has passed away.
For instance, in Rayagada district, there were 2,26,151 job card households in 2021. Over the last three years, 68,864 job cards have been nixed, reflecting a more than 30% deletion rate. Similarly, in the Padmapur block of Rayagada district, the number of job cards has come down to 8,230 at present from 15,515 in the 2021-22 fiscal.  
The Aadhaar Effect
When Upendra Mandangi from Perupango village tried Aadhaar-job card-bank account linking, he got the message of successful linking. However, after a few days, his job card number was no longer visible on the website. When he attempted to register for manual work, his name was missing from the muster roll.
"When I complained to the panchayat officials, they told me about an automated process on the website that caused the problem. They said it was beyond their control and they had no idea about the reason for it," he added.
Ananda Dandasena from Akhusingi shared his bitter experience. "I applied for work but did not get a notification. When I enquired with the supervisor (mate) on why my name was missing from the muster roll, he informed me that my Aadhaar number had been automatically deleted (unfreeze) from the website."
Possible Solutions
Without any doubt, one can say that mass deletion has had an impact on many genuine workers as well. The MGNREGA job card serves as a key identification document in rural areas. They are used for completing Know Your Customer (KYC) procedures at banks and post offices while opening accounts. They also serve as the primary document for registering construction workers in labour offices, thereby providing them with insurance coverage.
Akhusingi gram panchayat sarpanch Purnabasi Sabar told 101Reporters that when a family shifted to another panchayat, their data should ideally be transferred to their new panchayat. "This process involves deletion of job card data, including Aadhaar and bank account numbers, from the old panchayat. Although the MGNREGA website permits entry of new household names, errors are shown when attempting to link Aadhaar and account numbers to the new job cards in the new panchayat. So the new panchayat where the beneficiaries shifted are unable to issue new job cards," he said.
Once an Aadhaar card data is deleted from the MGNREGA website, it cannot be re-entered. According to the official sources at the Panchayati Raj Department in Rayagada district, it was earlier possible to unfreeze the Aadhaar and account numbers of the deleted job card holders through the district programme coordinator's login. However, the Ministry of Rural Development removed this option last year.
Utkal Sabar, a social worker from Sandhikhola village, said the Central government should provide gram panchayats the power to delete job cards and the related Aadhaar numbers and account details. Such an approach would prove beneficial when people shift to another panchayat.
Noting that job cards are issued on the basis of Below Poverty Line survey data, 2002, Prabhas Kumar Padhy, a youth leader from Akhusingi, told 101Reporters "it is high time we stopped issuing job cards based on such outdated data."
Anil Kumar Parida, a social worker from Bahupadar, said the Central government should issue job cards based on Aadhaar data and not BPL 2002 data. "This would ensure seamless card generation, where account numbers are already linked. Such an approach would enhance rural job security and livelihood," he said.
Social activist Saroj Kumar Dash of Gudiabandha alleged that the clear intention behind job card deletions and technical errors was to curtail MGNREGA work at the grassroots level.
"During the scheme's initial days, the focus was on maintaining a 60:40 ratio between labour and material components. Now with the deployment of technology and resulting glitches, job seekers are unable to secure even a single day of work," Dash said.
(Suresh Kumar Mohapatra is an Odisha-based freelance journalist and a member of 101Reporters, a pan-India network of grassroots reporters.) 
Get the latest reports & analysis with people's perspective on Protests, movements & deep analytical videos, discussions of the current affairs in your Telegram app. Subscribe to NewsClick's Telegram channel & get Real-Time updates on stories, as they get published on our website.
Subscribe Newsclick On Telegram