Ola and Uber Drivers Continue Facing The Same Old Problem, And Then Some More
Besides low earnings of indebted 'driver-partners', the companies since about a year have started prioritising drivers of the company-owned or fleet cars.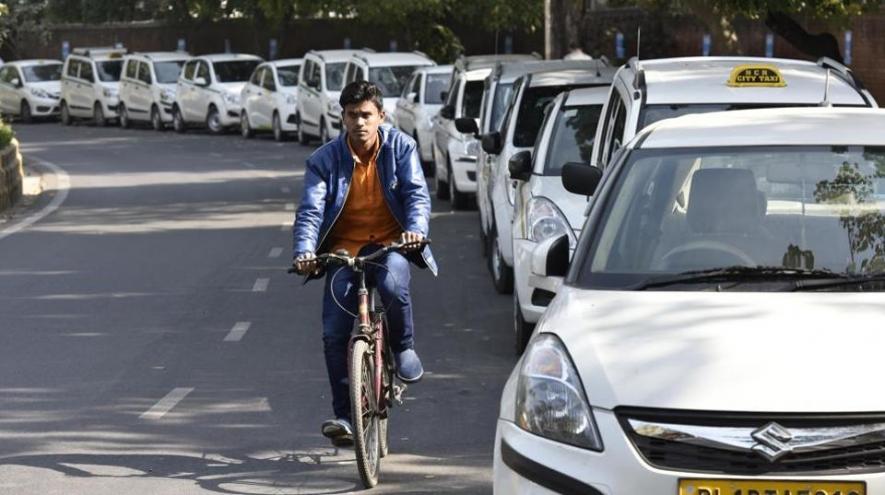 Drivers of Ola and Uber — the app-based taxi aggregator companies —  have once again gone on strike, this time in Mumbai.
Meanwhile, Ola and Uber drivers in Delhi as well as other cities are planning strikes and/or protest actions.
The problem remains the same — when these companies launched (American company Uber launched in India in 2013, while Ola was founded in India in 2011) — they offered a pipe dream of upward socio-economic mobility to lakhs of people, particularly those from the lower-middle classes.  
A large number of drivers were lured by high monetary incentives and the ability to make good money — up to Rs 1 lakh per month even or more — in the initial days. Then there was the attractive facade of "driver partners", who would supposedly drive only as much as they pleased, leading to highly flexible working hours. All you needed was a car, and you could sign up to work, supposedly, on your own terms.
But the terms were set by the companies, of course, as they soon found out.
This initial enticement led to a rush of new entrants into this business — people left their other low-paying jobs, and bought cars on loans, with many even selling whatever property they had, solely for the business. They looked at their new cars as an investment. Given the projected —  and for a brief while, actual — rate of earnings, they though they could easily pay back their loans in no time, paying monthly instalments while saving enough to live a better life than what they were living before.
"Many people sold their land, many others mortgaged their houses, even their jewellery to take loans in order to buy cars," said Kamal Jeet Gill, president of the Sarvodaya Drivers Association of Delhi, speaking to Newsclick.  
And then, about a couple of years ago — once these companies had attracted more than enough drivers and gained popularity among the middle and upper-middle classes due to the convenience they offer in hailing a ride anywhere in the city any time of the day — Uber and Ola dropped the bomb.
The incentives were removed or drastically cut, the fares were slashed steeply to attract more customers, and the commissions that the "driver-partners" had to pay to the company were hiked significantly.
"In the beginning, they charged a commission of around 15%, while the drivers were earning around Rs 15-6 per km along with the incentives and other schemes, for example, for covering a certain distance or completing a certain number of rides. Now, we earn Rs 6 per km, but the commission is between 25% and 30%, while the incentives have been cut back," said Gill.
"So after paying such high commissions, paying for CNG, and then paying the instalments for the car loan, we are barely left with anything. Most drivers do not save more than Rs 500 or so daily. Many drivers have been unable to pay even their instalments. How are they going to pay back their loans while feeding their families? Many, many lives have been ruined."
Since 2017, there have been a number of strikes and protests by Ola and Uber drivers in different cities, including Delhi, Mumbai, Hyderabad and Bangalore.
Plus, now the "driver-partners" are facing a relatively new problem — Ola and Uber have started giving priority and meatier business to the company-owned cars or cars owned by their "fleet" partners. In this case, all that is needed is a driver with a licence to drive.
"Since about a year, the companies started to increasingly assign the longer ride duties to these fleet car drivers. While the non-fleet drivers are given smaller rides, the share/pool rides in which we earn peanuts, etc. They pay a commission of 15%, along with a fixed amount of around Rs 1,200 every day to the companies. But they still earn a lot more than the rest of us," said Gill. 
He said that Ola and Uber drivers in Delhi are planning a protest programme on 23 March, and they will soon also go on strike, though the date hasn't been fixed yet. They are being supported by the Delhi Taxi and Tourist Transport Association as well as an autorickshaw drivers' union.
Gill said the unions of Ola and Uber drivers in different cities — including Lucknow, Ahmedabad, Chandigarh, Jaipur and Hyderabad — were in touch with each other, and were planning further action. They are demanding that the lower commissions, higher pay, more incentives and benefits. Following widespread protests last year, Uber followed by Ola introduced such accident insurance for the "driver-partners".
Get the latest reports & analysis with people's perspective on Protests, movements & deep analytical videos, discussions of the current affairs in your Telegram app. Subscribe to NewsClick's Telegram channel & get Real-Time updates on stories, as they get published on our website.
Subscribe Newsclick On Telegram