Olympian Lovlina Borgohain and Assam Boxing's Sudden Revelation
Lovlina Borgohain has secured a medal on Olympic debut in Tokyo. If Borgohain and Jamuna Boro are the new poster girls (quite literally) for Assam boxing, there are many more waiting at the wings at various training centres which have become big draws for inspired and talented youngsters from the villages.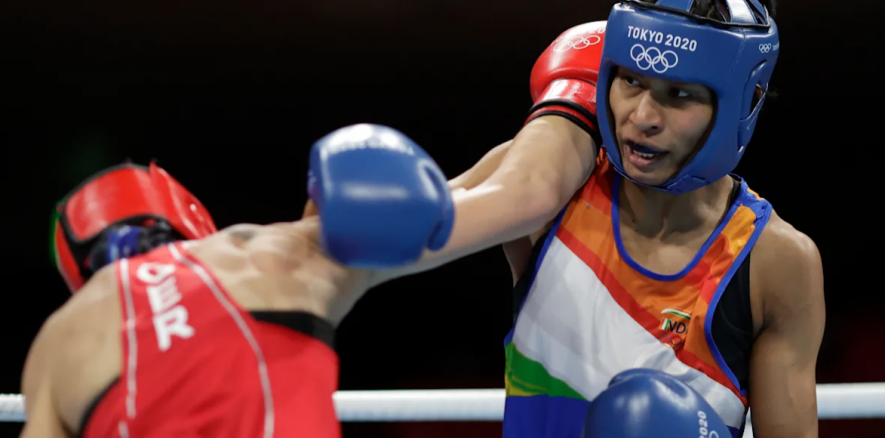 Lovlina Borgohain (right) blocks Germany's Nadine Apetz in their women's 69kg round of 16 bout at the Tokyo Olympics on Tuesday (Pic: Olympics.com).
Pranamika Bora remembers the date clearly. Not just the date, she also remembers the score, the opponent, the setting and even the voice of the announcer. Most athletes remember seminal moments from their careers. Individual sports demand eidetic memory. Except, this isn't a moment from Pranamika's own career. It is a seminal moment that has, in her opinion, changed the course of boxing in Assam forever. August 5, 2012, the day Mary Kom fought her first bout at an Olympic Games.
"When I was boxing these goals didn't exist," she says. "We didn't even dream of the Olympics, because the event wasn't even there. We kept our dreams grounded in reality." (Why it took the 'progressive' 'visionary' members of the International Olympic Committee (IOC) so long to get them there is a story for another time) A SAI boxing coach now, Pranamika remembers that day for the impact it had on boxing in India, and specifically her home state of Assam. 
Click | For More Coverage of the Tokyo Olympics From Newsclick Sports
"Growing up, it was tough as a girl to justify getting into boxing," she says. "Your parents didn't want you getting into a sport which was that physical. It was just not as openly acceptable as it is today.
"Nowadays kids have access to the Internet, the phone, they can see everything. They see these girls fighting on the big stage at big events, winning medals. It affects the way people think. If kids show their parents this then they think differently. Phir agar boxer bada bada poster pe hai, toh interest badega (and then if a boxer ends up in big posters the interest would naturally grow) ."
If you travelled to Assam right after the London Games you'd do well to remember the billboards. MC Mary Kom, the inimitable (then) five time World champion and Olympic bronze medallist, smiling down on flex, pushing wares as varied as cement, iron, rice and jewellery. Mary was also felicitated by the state government, used as a poster girl for various schemes. Inasmuch as those ads seem normal today, at the time they weren't. Opinion was divided. The Assamese intellectuals found it a bit ridiculous, using a Manipuri athlete as a poster girl in Assam. It seemed inappropriate and a bit subjugating. Five hundred kilometres east, in Imphal they found the whole thing appropriated. 
It will satisfy everyone to know then that those ads worked out. In the aftermath of London 2012, boxing coaches in Assam saw a surge of interest in the sport and even organised a talent hunt to handpick prospects for the future. A young girl from Golaghat — who had been learning Muay Thai — was picked out of a school boxing trial to represent Assam at the Sub Junior Nationals in Akola, Maharashtra. The man who picked her is the respected SAI Guwahati boxing coach Padam Boro. Earlier today, that girl became the first Assamese boxer to participate at an Olympic Games. She won her bout via split decision. Lovlina Borgohain is now one win away from registering a medal at her debut Olympics. But as Pranamika Bora says, it's best to keep your dreams grounded. Dream for the sky but also remember it could fall on you.
Also Read | Emulate But Do Not Replicate: Bhavani Devi's Path Breaking Journey in Fencing Testament of Her Grit, and of Indian System's Failure
"We picked her because of her physical attributes, of course," Padam says. "Because she had experience in a combat sport her balance was good, her endurance was good. I asked to shadow-box a bit and saw that she would be able to move efficiently. It was enough." 
Lovlina was immediately transferred to SAI Guwahati. "It wasn't just her, there were many other girls, there was Jamuna Boro, who also came around the same time, I think Pwilao Basumatary also was there around then," Padam says.
And there are many more where they are coming from. If Borgohain and Jamuna Boro are the new poster girls for Assam boxing, then not too far behind is Ankushita Boro, hand picked out of Sonitpur in upper Assam by Pranamika. At the Khelo India Youth Games in Guwahati last year, Ankushita, then a teenager, inadvertently became the poster girl of the boxing event. The Assamese press hounded her every step, every practice session and public appearance, till she did what she was supposed to do — win gold. While there were obvious red flags to the way a teenager was put under the media glare, it also confirmed Pranamika's proclamation that "In Assam boxing has captured the public".
"Every sport needs a role model. Ek aisa joh raasta dikhata hai," she says. "It's not like Assam didn't have women boxers before. Kalpana Choudhury and I myself have represented India at various world meets (Kalpana won bronze in the 48kg at the World Championships in 2005). But it was different. The facilities, the coaching…"
Also Read | Grit, Hunger and Obscurity: Can Mirabai Chanu's Olympic Silver Change the Manipur Athlete Storyline?
As Padam is keen to emphasise, now SAI centres across the state focus on boxing heavily. Each one is equipped with multiple coaches and requisite equipment. All of this comes via the SAI programme. "No, there is no real financial support from the state. We rely on the SAI funding, we focus on development with that. If the state wants to give they can provide in different ways, but they haven't yet," he says. 
Pranamika also cites the inroads SAI coaches and scouts have made into rural Assam as a reason for the sudden glut in boxers in the state. "The TV has helped. The papers have helped. There were no newspapers in villages, now there is. We put ads for trials in them, and parents see them. Their dreams, 'mera beti Mary banega' seem more achievable."
"There is also the other, more simpler thing," Padam Boro says. "Now the kids want to play individual sports. They've realised that in these sports there are more chances of achieving something, landing jobs, even getting selected for higher levels. In a team sport you can be good, but you are judged often as a team. Here it is just you…"
And the person across the ring, of course. In Lovlina's case that will be Chinese Taipei's Chen Nien-chin, a boxer she has faced before, at the World Championships in 2018, when both burst into the public consciousness of their respective countries. On that occasion, in New Delhi, Borgohain lost in the semifinals to Chen, who went on to win gold. Furthermore, Chen is out for redemption — in Rio she crashed out in the first round. 
Also Read | Brawler to Artful Dodger, the Evolution of Mary Kom is Complete in Tokyo
"It's a different bout," Padam says. "Chen has been at an Olympics before and has the pressure of walking in as perhaps the favourite. But Lovlina and the coaches will have planned for her tactically." 
Regardless of the result, these nine years have been a whirlwind of change for a state that is legendary for its lahe-lahe attitude. Pranamika guarantees that bigger things are coming. "Now it will all change. I hope kids say 'I want to be like Lovlina' and hopefully we will see more and more participation in the sport. The more the talent, the better it is for growth itself," she says. 
The billboards, for their part, have already arrived. Perhaps when she returns from Tokyo, they will be done better.   
Get the latest reports & analysis with people's perspective on Protests, movements & deep analytical videos, discussions of the current affairs in your Telegram app. Subscribe to NewsClick's Telegram channel & get Real-Time updates on stories, as they get published on our website.
Subscribe Newsclick On Telegram