Emulate But Do Not Replicate: Bhavani Devi's Path Breaking Journey in Fencing Testament of Her Grit, and of Indian System's Failure
From training on a concrete basketball court to being denied a chance to take part in the Asian Games, Bhavani Devi's career has been beset by funding problems, lack of exposure tours and social apathy. Yet she forged ahead to create history for India at the Olympics. What must not be forgotten though are the administrative lapses that constantly made her — and every other fencer's — journey tougher. There is an urgent need to change the system.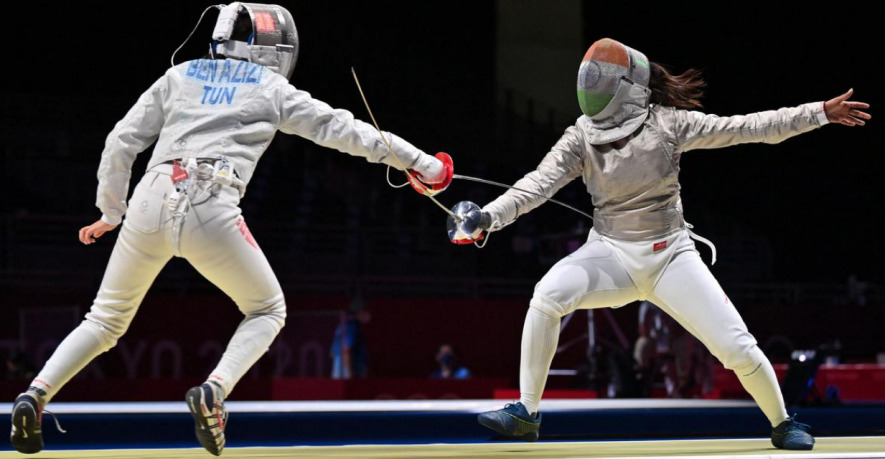 Bhavani Devi (right) in action against Nadia Azizi of Tunisia in the opening round of the sabre fencing event at the Tokyo Olympics on Monday.
The fencing piste — the narrow 1.5 to 2 metre wide strip where the fencers dance, parry and lunge at each other — where Bhavani Devi planted an Indian Olympic landmark in Tokyo on Monday, is constricting in its width, and liberating in its length in ways that go beyond the obvious geometric parameters. This narrow rectangle encompasses life in more ways than one, certainly for 27-year-old Bhavani, who became the first Indian to compete in the sport at the Olympics. It is a feat she should have achieved five years back in Rio had those celebrating her moment in Tokyo been less apathetic and more diligent in running sport in the country.
Bhavani's win in the opening round of the sabre event over Tunisia's Nadia Azizi, and her loss to World No. 3 and eventual bronze medallist Manon Brunet of France in the round of 36 are academic. They are feats, but her real achievement is not on the narrow piste in Tokyo but on a narrower strip she has traversed in the last 10 years or so — one laid down by the babus and politicos of sport in the country, and one that has stifled her natural progression into the top rungs of fencing. It has been a long journey of setbacks, dodging apathy, and moving forward each time, parrying and slashing each time, sliding back when pushed by fate or policy, and then smoothly charging forward again. Pretty much like the way she went about her business in Tokyo on debut. 
Her career has been constricted by the system, and while the very set-up celebrates her, the other side of the story needs a spotlight, just to ensure the Bhavani Devis waiting for recognition and openings to break out at the various training centres across the country need not endure what the pioneer did. 
Click | For More Coverage of the Tokyo Olympics From Newsclick Sports
Bhavani did look smooth on the Olympic piste, didn't she? That itself is a commendable achievement when we consider that for the longest time, till 2015, she used to train not on a piste but on concrete, at a basketball court of the Sports Authority of India (SAI) centre she was based. And, while training on concrete, she had won medals in age-group international competitions, and had grown into one of the most promising fencing talents India has produced, the prodigy who could do the impossible — qualify for the Olympics.
Pop! Was that the bubble bursting? The knowledge is damning as well as revealing. Qualifying for the Olympics was considered so difficult by the fencing fraternity in India that it had become the holy grail the likes of talented athletes such as Bhavani were chasing, till as recently as the day she sealed her spot for Tokyo in March. It is the reality of the sport. It should not be obscured by achievements made by an athlete in spite of the system. This hijacking of the credit line has been the bane of Indian sport and it needs to end now. 
Having to train on concrete for most part of her early career is the least of the troubles Bhavani endured. The list has more indicting entries. 
                                                                                 ********
The year was 2015, the National Games venue in Kochi was celebrating Bhavani for her double gold, representing the host state. At the time, she was training at the SAI centre in Thalassery, Kerala, under coach Sagar Lagu. Bhavani, by then, had established herself as one of the top fencers in the country. However, the National Games medals had come just a few months after she was denied a ticket for the 2014 Incheon Asian Games by the sports authorities. 
Also Read | India at Tokyo Olympics, Day 3 News Round-up
In 2013, Bhavani had grabbed silver in the Under-23 Asian Championships. That performance was, in itself, more than enough to warrant a chance to compete at the Asian Games. She was denied. Apparently, a fencer whom Bhavani beat en route silver at the junior meet, won bronze in Incheon. She was left fretting so much so that her coach did not know how to console her and keep her focused.
"She deserved a chance at the Asian Games way back in 2014," recalls Lagu. "That would have changed the course of her career, fast-tracked it by years. By 2015, we had refocused and wanted to push her and a few other talented fencers I was training at the time including Reesha Puthuasery, Megha Rachan and Neha Khare for international competitions. The plan was to prime Bhavani and others for qualification for Rio. We never got the backing or support to take her for competitions that would have given her experience, and ranking points, and for training stints which would have provided her with quality sparring partners, something that's very important in fencing."
The rest is popular history now, narrated in newsreels and stories the past month or so, celebrating Bhavani's pioneering first for India. What's missed in the woven narratives is the point that her Olympic debut is five years late and that she almost gave up on the sport in 2016, after not making it.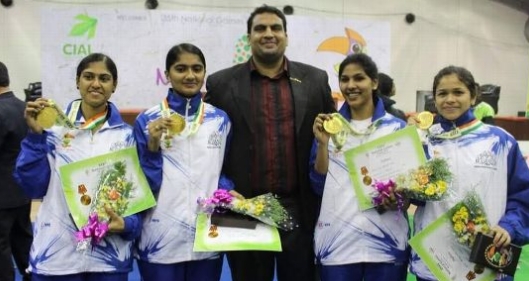 Bhavani Devi (2nd right) with coach Sagar Lagu and other teammates during the 2015 National Games in Kerala.
"What is the point of continuing, she had asked me, while mulling whether to stop the sport and settle down into a job," says Lagu. "I have lost many talented athletes to this very depressing narrative you see."
They give up because there is no way forward, and their growth is restricted, squeezed so much that the will seeps out of them, the will to dream, to keep focus, and to achieve whatever that's possible given their abilities in the sport they chose to pursue.
Bhavani acknowledged that while talking to media persons post her outing in Tokyo. Albeit with the positivity that comes from being in a better place at present. "It has been a long way for me," she was quoted as saying. "As an athlete, the journey was not as simple as winning medals and improving performances. I had to manage things like arranging travel and funds for competition, and do things other than training and competing. Those situations made me stronger. People did not know what fencing was earlier. Now they know about the sport and the different events in it. I am sure in the future more Indians will win tournaments."
Yes, fencing has indeed garnered attention now in India, thanks largely to Bhavani. But will things change? The fraternity is hopeful.
Krishan Rayamajhi, a coach at the SAI Centre of Excellence in Patiala is more than optimistic. 
Also Read | Grit, Hunger and Obscurity: Can Mirabai Chanu's Olympic Silver Change the Manipur Athlete Storyline?
"Bhavani's achievement is huge. We were waiting for this one moment where someone would show the country and the sports bodies the potential in the sport, and the talent that's there to be nurtured in the country. That has happened. Alongside this, the Sports Ministry has included fencing for further funding, which will help some of our elite athletes to train abroad, even if they would be smaller stints compared to Bhavani's.
The Olympian's fortunes took a turn for the better when GoSports Foundation selected Bhavani for their programme and funded her training stint in Livorno, Italy, under coach Nicola Zanotti. GoSports' foray into fencing is again a rarity in Indian sports, considering the private agencies, including the Olympic Gold Quest, have always targeted disciplines where Indians have been traditionally stronger. This change in approach by GoSports is proving to be a gamechanger for fencing.
"Without that sponsorship, she would not have made it to the Games even," says Rayamajhi. "Government funding will increase now for sure. There are also talks to further develop the main centres of fencing (Patiala, Army Sports Institute in Pune, Thalassery SAI centre, and centres in Jammu and Kashmir, Gujarat and Manipur). We are also hopeful that more athletes get picked up by agencies such as GoSports. Two fencers, other than Bhavani, are already with GoSports in their junior programme. More will follow. But that will take a few more years."
                                                                                   ********
The timelines involved in development of fencing is pretty stretched in India. The Fencing Association of India was formed only in 1974. The first edition of the senior nationals was held 12 years later in 1986. The sport more-or-less started getting pushed after 1987 when SAI started projects as part of their Special Area Games programme. This despite it being in the Olympic programme since 1896. 
India's view of sport was so myopic that despite fencing being a medal event at the 1982 Asian Games in Delhi, no Indian fencer was present. The SAI programmes only bore fruit in 2006, when the first Indian fencers took part in the Asian Games. And 15 years later the country got its first Olympian.
So, the fraternity is used to slow progress even though the sport in itself, the on-piste action, is of the blink-and-miss kind. That way, talent and its use-by date is also blink-and-miss in elite sport and we almost missed Bhavani, didn't we?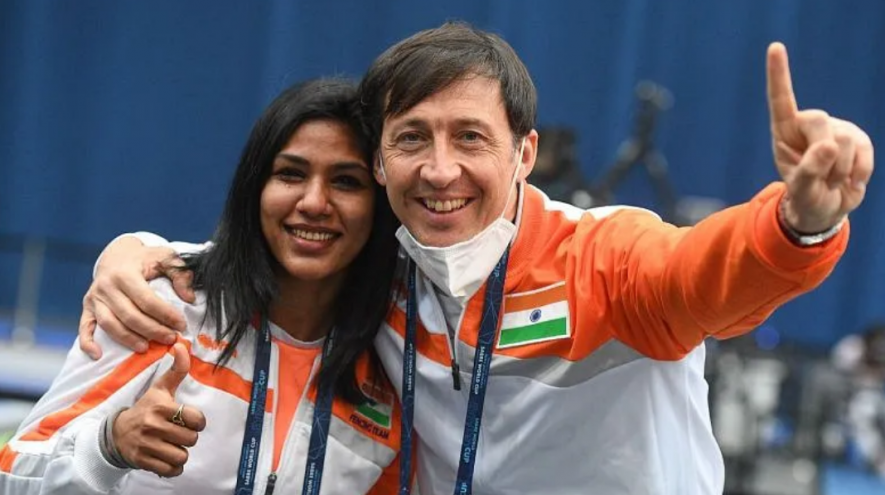 Bhavani Devi with current coach Nicola Zanotti of Italy.
Covid-19, has slowed things further, says Jyotika Dutta, an epee fencer in the senior national team and a trainee at SAI Patiala.
"The past two years have been bad," adds the 24-year-old physical education student. "In any case things were such that we would get one or maybe two international tournaments per year. But after the 2018 Asian Games, when we narrowly missed a medal, finishing sixth in team and individual events, the IOC [International Olympic Committee] sponsored us and we trained in France (two months) and Hungary (three). Our rankings were slowly climbing too. But Covid-19 has killed that momentum. More than that, it has also arrested our training. We have been training on our own, mostly fitness drills. The SAI centre is opening this month so training will begin, but we will have to work that much harder just to get back to where we were earlier. Of course, with Bhavani didi competing at the Olympics, we may get the recognition and support. But it will still take time, I feel."
Coach Lagu hopes Bhavani's pioneering effort at the Games reaps dividends for the next generation if not those in the current mix. "The young kids who take up sport now, will get the benefits, will get absorbed into a better system for the sport. Things should move in the right direction from now on. Already there is buzz, and we are hopeful. Funds are released, for instance, for equipment upgrades at the various centres. And, more scouting will be done to find talent."
                                                                                ********
But in fairness, Lagu was hopeful back in 2015 too, when pushing his wards including Bhavani through the rigours of the nuanced, measured and physically demanding footwork of fencing on a concrete basketball court under the scorching tropical sun in north Kerala. It seems that in Indian fencing, hope can only take you at the pace that's perfect breeding ground for hopelessness.
Also Read | Brawler to Artful Dodger, the Evolution of Mary Kom is Complete in Tokyo
"Those days it was so challenging to keep the athletes injury free while training," says Lagu. "Afterwards, we requested and got a small space to lay down the piste in the gymnastics hall. Now we have got a new hall for a 35-year lease and will be setting up the equipment there. And also, funds have been cleared to spruce up the facility. Still, equipment is expensive, both personal and general. The cost of a sabre or epee blade, and the gear is immense and difficult to manage for the young fencers. Nobody cares for the grassroots in India as you know. They celebrate once you are on top. But the real struggle is right when they start into the sport. In India, fencers start with bamboo sticks. Bhavani did too. Then once they show promise they are absorbed into our training centres. Then again, equipment, which needs to be imported as there are no Indian manufacturers, are expensive and still out of reach for many juniors in the system.  And the centres, themselves, till now have not been in a healthy condition. From the association point of view, the last few years have been better since Rajeev Mehta (Indian Olympic Association secretary general) became president. A person higher up in the IOA makes a difference, I reckon. And with Bhavani's Olympic debut things will move now. The future generation will benefit from this, and yes, they will thank and celebrate Bhavani for whatever she has done for the sport."
Rayamajji best explained the big contribution Bhavani has made. It goes beyond funding or organisation support or equipment. It is something anybody dreaming of upward mobility in the country strives for — be it college grads in IAS academies, or IT aspirants in the thousands of engineering colleges, or sportspersons at the SAI centres. The dream we describe as social acceptance. Bhavani has brought that to the sport.
"Already, I have parents calling me up wanting to enroll their kids for fencing. They know now that it is a great sport and not just sword wielding and slashing. They also know its potential. And Bhavani is the role model. The endorsement deals she received post qualification has given fencing credibility on account of career prospects too. Social acceptance is the major change that has happened," adds Rayamajhi.
Bhavani, herself, was repeatedly discouraged by neighbours and relatives alike to give up the sport and focus on getting a good job. Now, perhaps, the naysayers know better. Standing toe-to-toe on the Olympic piste, fighting a world champion, is not a bad job. It is a perfect job. No, it is more than a perfect job when we consider that she carried herself and her dreams, and also the sport, its baggage, and the aspirations of thousands who practice fencing in the country.
Also Read | Saturday High to Sunday Low: Australia Serve India a Seven Goal Reality Check
For now though, Paris 2024 will be her recalibrated dream. Paris, the spiritual home of fencing. She will also have less butterflies and more experience under her belt by then, having featured in an Olympics, and celebrated for that achievement. Having shed the burden of obscurity too. Just that if and when she enters the piste in Paris, we will still be left wondering if things would have been different for her had she competed in Rio instead of having to wait five more years. 
In all likelihood, that would not matter for her or for Indian fencing at that point regardless of where they all stand or how broad their paths are and how narrow the outlook and policies of the nation towards their sport are. The piste, after all, imbibes that immunity mechanism in the fencer. 
Get the latest reports & analysis with people's perspective on Protests, movements & deep analytical videos, discussions of the current affairs in your Telegram app. Subscribe to NewsClick's Telegram channel & get Real-Time updates on stories, as they get published on our website.
Subscribe Newsclick On Telegram