One Month After NewsClick Raids, Journalists Express Concern Over Declining Press Freedom
The targeting of media houses that provide coverage of dissent has become a concerning trend in India – corroborated by the worsening press freedom index of the country.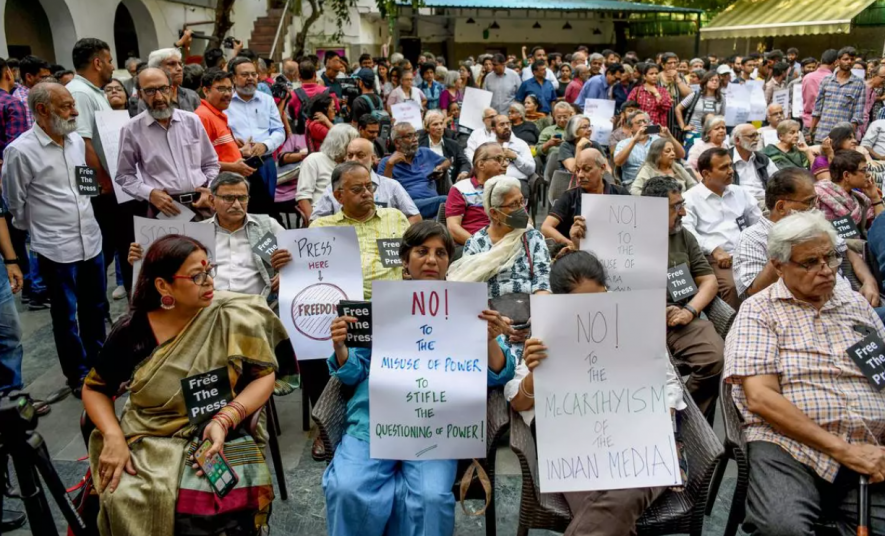 Image courtesy: The Hindu Frontline
New Delhi: The question of shrinking press freedom in India has weighed heavily on the minds of many since the unprecedented raids conducted at the houses of NewsClcik employees – Including journalists, staff members, former employees, and contributors – on October 3 by Delhi Police Special Cell. The raids, it turned out, were part of the investigation in an FIR invoking the draconian Unlawful Activities (Prevention) Act (UAPA) – filed by the Special Cell itself in August this year.
One month on, the raids continue to torment the psyche of journalists, especially those who have dared to question the establishment.  
This raid stands as an unprecedented operation against a media house in recent memory – involving as many as at least 80 current or former employees of the organisation. During the raid, journalists' laptops, phones, hard disks, other electronic devices, and documents among other things were seized from their homes and the NewsClick office without adherence to the due procedure. The majority of the raided journalists were denied seizure memos, while the hash value of their data was provided to none.
However, this was not the first raid faced by the publication. Known for its coverage of social movements and grassroots stories, the publication has not been seen favourably by the BJP-ruled central government. Since 2021, multiple central agencies like the Enforcement Directorate, Income Tax Office, Delhi Police Economic Offenses Wing, and most recently the Central Bureau of Investigation have raided or "surveyed" the organisation's office in Delhi. The house of NewsClick founder and Editor-in-Chief Prabir Purkayastha has also been searched and raided time and again and his devices seized. He was arrested by the Delhi Police Special Cell on October 3 along with HR head Amit Chakraborty. A Delhi court on Thursday sent both of them to 30-day judicial custody until December 1.
Meanwhile, the NewsClick office in South Delhi stays nearly empty, with most of the devices in the custody of Delhi police's Special Cell and Central Bureau of Investigation.
The series of investigations that have been opened against the media house so far has turned out to be otiose with no chargesheet filed in any of the cases and a lack of evidence. As a result, the editor-in-chief and others had enjoyed protection from arrests for the past two years. Many believe that UAPA has been weaponised by the centrally controlled Delhi Police to circumvent this protection.
The targeting of media houses that provide coverage of dissent has become a concerning trend in India – corroborated by the worsening press freedom index of the country.
"The scope to work as a journalist is shrinking, especially for mid-career young professionals like us," said a 30-year-old reporter who works with a digital news publication. "The fear of persecution has increased manifold after the NewsClick raids. More than me, my family is scared for my safety. I even faced a legal notice for a story I did even though there was no mistake or loophole in the report. These are fear tactics to stop our journalistic work," they said, wishing to remain anonymous.  
They claimed that no other democratic government in the world attacks the media like NewsClick was attacked, adding that such incidents could discourage people from pursuing a career in journalism. "As an individual, you may not feel a significant responsibility towards others, but when you have a family, you wouldn't want to put yourself or your family at risk.'"
They also noted that it is important to question the government to keep a democracy functional. "Journalism does not defame or conspire against the government. Rather, journalism shows the government the reality," they said.
Senior journalist Paranjay Guha Thakurta, who works as a consultant with NewsClick, said, "The way the entire raid was conducted was unprecedented. Never before in the history of this country has a few hundred personnel been called to the office of the Special Cell at Lodhi Colony in the early hours. They were woken up in the middle of the night and asked to report for duty."  
"In 1975, after the Emergency was declared, Indira Gandhi's government put a large number of journalists behind bars. Almost all of them were released by January 1977. They were released even before Indira Gandhi won the elections in March 1977. The 2024 elections are six months away," he pointed out.  
Citing examples of others who were raided on the same day, Guha Thakurta said, "There was one person, whose home was completely ransacked. They took out every book from his shelves to see if something was hidden behind. There was also a professor who was pleading with the officials asking for his hard disks back, saying all his academic work and teaching materials were stored in them. So, it is not just journalists whose livelihoods were taken away." 
Sharing his personal account of the experience, Guha Thakurta said, "As I was coming out of the office of the Special Cell, I was surrounded by television cameras, people holding mobile phones. I was mobbed. I have never had this experience. I am the journalist who is supposed to be asking questions, and here I am suddenly in the news." 
"The operation was to have a chilling effect on other independent journalists. It sends a clear message – look, this is what we can do to you, this is the power the UAPA gives us. Already, a huge section of the media in India is no longer doing journalism. They are no longer asking questions to those in positions of power and authority. Instead, they are too busy going after the opposition, doing the bidding of the ruling coalition," he opined.
A reporter working for a national daily told NewsClick that the raid felt like a "personal. "In the last seven years of my profession, I have worked with several mainstream media houses. A lot of these publications ask reporters not to pursue stories that will show the central government in a bad light. In this scenario, such an attack on an independent media organisation is quite harmful to journalism," they said.
Independent journalist Nikita Jain, who covers socio-political issues, echoed this view and said, "Even before the raids, we were seeing censorship and attacks on journalists. So, it has occurred to us that it could happen to us too. But the NewsClick raids really instilled the fear that it could become our reality and that hit really hard."
"However, at the same time, this is the line of work we have chosen," she said resolutely. "Things are changing; they're not as they used to be, and we're well aware of it because we're the ones reporting on these issues. However, I'll never censor my work, even in the face of fear."
A young journalist associated with NewsClick – whose house was also raided – said, "The incident has had a deep impact on me and my family's mental health. Even now, my mother gets anxious whenever the doorbell rings. My family won't let me open the door."
"They took away my sister's laptop as well even though she's not connected to NewsClick in any way. Isn't this a breach of her right to privacy?" asked the journalist.
The loss of phones, laptops, and hard disks, along with the data they contained, has significantly impacted these journalists' lives and work. One journalist shared, "We've had to borrow devices from friends and family, as these are essential to our daily activities, from UPI payments to contacts and passwords. After the raid, I was completely cut off digitally, severely affecting my work. Not everyone can afford to quickly replace these devices, leading to uncertainty about our future. The government's actions are undermining our livelihoods, particularly in a country grappling with high unemployment rates."
The journalist added that even if the courts prove the innocence of the accused, the whole "process of investigation under UAPA itself becomes a punishment". "Journalism is not a crime and we should not be treated like criminals for just doing our jobs," they asserted.
Guha Thakurta further asked, "Can things get worse? I hope not, but I cannot anticipate the actions of the government or the judiciary. Why is it that after one and a half months after the FIR was lodged, the raid took place? I don't think this FIR and the case will stand up before judicial scrutiny. I hope this is the worst that could happen." 
Get the latest reports & analysis with people's perspective on Protests, movements & deep analytical videos, discussions of the current affairs in your Telegram app. Subscribe to NewsClick's Telegram channel & get Real-Time updates on stories, as they get published on our website.
Subscribe Newsclick On Telegram