'Ordinary People in Hilly States Suffer for Mistakes of Powerful'
C P Rajendran, an expert on seismo-tectonics, says that in vulnerable areas, the intensity of any calamity is proportional to the expansion of construction activities.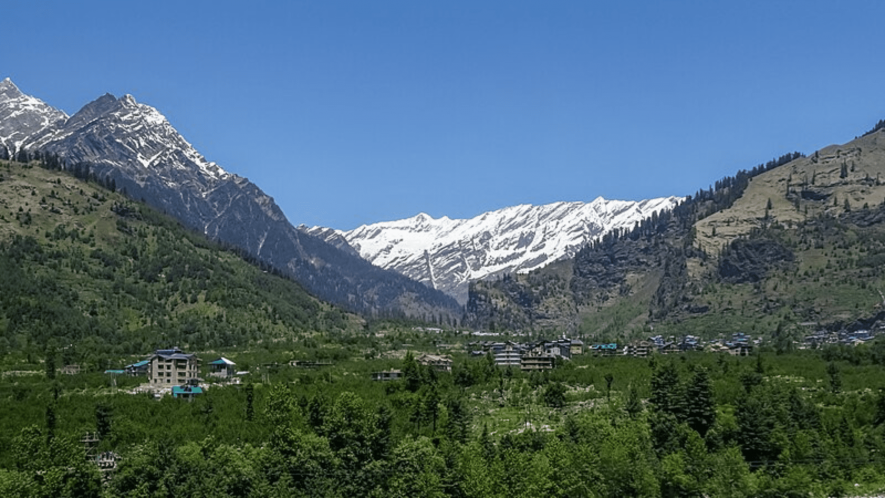 Image Courtesy: Wikimedia Commons
Has the Central government learnt lessons from the recent destruction in the hill states of Himachal Pradesh and Uttarakhand? Should scientists and ecologists get involved in development plans in the hilly states? Dr CP Rajendran, adjunct professor at the Institute of Advanced Studies, Bengaluru, and a renowned expert on earthquakes, fields these questions in an interview with Rashme Sehgal. Edited excerpts:
Rashme Sehgal: What is your reaction to the unprecedented destruction of the Himalayan states of Uttarakhand and Himachal Pradesh in the past two months?
CP Rajendran: The predictions on the disaster scenarios in the Himalayan states have come true. But I felt bad because ordinary people had to suffer for the mistakes of those occupying powerful positions. By opening doors to uncontrolled construction, be it widening roads or making long tunnels, the authorities allowed the overburdening of a fragile ecosystem beyond its carrying capacity.
Now we are witnessing the consequences of human interventions that have contributed to the intensity of disasters, impacting the lives and livelihoods of the people.
RS: Your earlier warnings were prescient—the developmental model in these states has caused irreversible damage.
CPR: It is clear that both the Union and state governments have been following a flawed development model. Due to climate change, we have rising extreme weather events like cloudbursts, flash floods and torrential rain in the Himalayas. Avalanches and floods are part of recurrent natural processes, which can become major disasters in ecologically sensitive regions because of their impact on unplanned settlements.
In vulnerable areas, the intensity of any calamity—a landslide or a massive flood—is proportional to the level of expansion of construction activities. The rise in tourism has led to a construction boom in unsafe zones, such as river valleys, floodplains, and slopes vulnerable to landslides.
RS: Both states have lost lives, livelihoods, homes, cattle etc. Could this have been prevented?
CPR: The 2013 flash floods in Kedarnath gave us a timely warning and illustrated gaping deficiencies in our path to sustainable development. High-velocity water flows during the 2013 event washed away buildings, roads, people and vehicles and smothered a river valley that had already become a crowded place dotted with hotels and shops, killing thousands of people. A major consensus after the 2013 floods was to adopt appropriate land-use planning and watershed management practices better suited for mountainous regions and to follow the best practice norms for constructional practices to minimise damage to ecosystems.
The tragedy should have taught us valuable lessons. It should have taught us not to meddle with the fragile balance within the Himalayan environment. It should have taught us what happens when we don't respect a floodplain's relationship with rivers by allowing unhindered construction.
It looks like the greed for revenue has forced authorities to throw caution to the winds, forgetting the long-term benefits of sustaining the natural environment. But the ruling class, in cahoots with building lobbies and contractors, ignored it and continued toward a flawed development paradigm. The result is for all to see.
RS: How far are the activities of the National Highways Authority of India responsible for the damages?
CPR: Engineering interventions like road expansion are being done with scant regard to the local geology and environment. The construction of highways and railway tracks has now become a prime cause of landslides, whose occurrences have doubled over the years.
As studies indicate, the massive road-building work—a 900 km all-weather Char Dham highway project—will have serious consequences for the Himalayan ecosystem, including the loss of forest lands. Vast quantities of muck generated are being pushed down into river valleys and choking river courses, leading to frequent flood situations.
Increased activities like road construction have made hill slopes extremely unstable. That is why recurring landslides have increased in numbers in the Himalayas, to which heavy downpours and cloud bursts due to climate change have also contributed.
The disregard for the environment is visible in other aspects as well. At the state government's request, the environment ministry wanted to amend the 2012 Bhagirathi Eco-Sensitive Zone notification, which restricts construction activities. Through this amendment, the ministry also sought to redefine "steep hill slopes" to allow construction on hill slopes while easing restrictions on riverbed mining to facilitate mining up to a depth of two metres. Our priorities look lopsided, and the Char Dham highway project is part of that lopsidedness.
RS: As a scientist, would you say dam construction also weakened the hillsides in the Himalayas?
CPR: The recent Intergovernmental Panel on Climate Change report projects that extreme precipitation will become more common and intensify over mountainous areas, increasing the risk of floods, landslides and glacial-lake outbursts. The report stressed the accelerating pace of glacial melting, leading to higher melt-water pressure on the moraines that serve as natural barriers against water rushing down slopes. If the moraines give way, floods will follow.
But the Indian government continues to plan new hydroelectric projects for this area. Even policy decisions seem unaware of the cumulative impact of any given project on its neighbourhood. As a result, we don't have proper mitigation measures, and we continue to compromise our own efforts to conserve and protect these areas.
Infrastructure, like power projects, comes in the way of powerful natural forces. Put another way; high-velocity flows due to glacial bursts turn into disasters when they have to mediate with the built environment, like a dam, which stand in their way.
The Chamoli (Rishi Ganga project) disaster of February 2021 is no exception, which is why it should be treated as yet another warning against unregulated dam construction throughout Uttarakhand's river valleys and floodplains. Hydroelectric power projects could also affect the natural flow of a river.
RS: Are tunnels safe in the mountains? Water from the River Ganga entered an under-construction rail tunnel near Rishikesh last week, and workers had to be rescued.
CPR: Subsurface structures could result in gross damage to the environment, including concentrating pollutants from traffic exhaust, compounded in long-distance tunnels by a micro-environment with no sunlight and limited dispersion.
Rail traffic may rely on electric locomotion, but constantly generated vibrations by train movements is another issue related to tunnels that will keep the mountain slopes eternally unstable and make them vulnerable to slide at the slightest trigger. Blasting to make these tunnels would often weaken rock formations, further leading to landslides, besides generating vast quantities of excavated rock waste.
The irreversible impact on groundwater, such as descending water levels, has also been observed in tunnel construction areas. Excavating a tunnel also induces stress changes, and consequent deformation within rock formations could also contribute to landslide vulnerability.
RS: Since scientists predict more extreme climate events, what do you feel is the way out?
CPR: What we see in Joshimath and other towns is a warning of what lies in store for us unless we take precautions. Too much groundwater withdrawal or damage to aquifers that hold water, leading to leaks, can contribute to sinking or subsidence. Excess monsoons must have led to excessive water percolation through the already-formed fractures resulting in further land sinking. What is happening in Joshimath may occur in other places in the Himalayan states where such intrusive engineering activities exist.
One must understand what is happening before continuing with engineering projects there. It is worrying that the results of scientific investigations are not available even today. What prevents the government from releasing these reports to the people affected by these disasters?
RS: The Uttarakhand government is in denial; the Char Dham yatra has hardly stopped despite pilgrims dying in landslides or being held up for days on landslide-ridden roads—your comments.
CPR: Last year, the average daily footfall in these areas was around 58,000. Ground reports say plastic waste is dumped in large or small pits, and the cleaning operations resort to highly hazardous open burning. The Char Dham routes also have a growing mound of garbage since the beginning of the pilgrimage season. Unregulated human activity during pilgrimages will most likely impact water and air quality. Imagine when millions of travellers on this circuit use the upcoming rail and road travel facilities and how it will pollute the mountain environment.
RS: The Himachal Pradesh government has been more proactive. Chief Minister Sukhwinder Singh Sukhu has spoken out against NHAI and demanded compensation for damages. What are your views on this?
CPR: It's heartening to read the Himachal Pradesh Chief Minister's statement. Unlike his Uttarakhand counterpart, Sukhwinder Singh Sukhu seems keen on a more scientific and inclusive development planning for the future. As I understand, he has demanded a commission of inquiry led by a retired Supreme Court judge to consider the factors that led to this environmental disaster which has rendered hundreds of families homeless and caused damages of over Rs 10,000 crore. He also believes it is not just heavy rains but faulty developmental planning that has resulted in this disaster.
RS: Minister of Road Transport and Highways, Nitin Gadkari, has said that if rivers in Himachal Pradesh are overflowing, they should be straightened out and walls built around them to prevent flooding. What do you make of this?
CPR: It is shocking to hear such foolish and unscientific statements from a senior minister in the Union Cabinet. He is saying that by employing engineering techniques, you could make a naturally meandering river straighten its course. No engineering technique could make this happen. A river follows its dynamics dictated by physical forces. There are numerous global examples of such engineering attempts going awry, resulting in total disaster.
RS: What solution can you, as a scientist, offer to resolve these pressing problems?
CPR: A realistic development strategy should be based on a blueprint that balances infrastructure development, acceptable risk levels, and the terrain's carrying capacity. We must remember that the Himalayan environment is on the brink of collapse. It may not be able to withstand another push. We need to stop all projects involving road widening and the construction of dams and tunnels immediately. We must also constitute a committee of independent experts presided over by a retired Supreme Court judge and let that body determine an action plan for sustainable development.
(Rashme Sehgal is an independent journalist.)
Get the latest reports & analysis with people's perspective on Protests, movements & deep analytical videos, discussions of the current affairs in your Telegram app. Subscribe to NewsClick's Telegram channel & get Real-Time updates on stories, as they get published on our website.
Subscribe Newsclick On Telegram