Uttarakhand Residents Blame 'Development' Spree for Monsoon Woes
Those affected by heavy rains and landslides say the push for environmentally-unsound projects remains unwavering.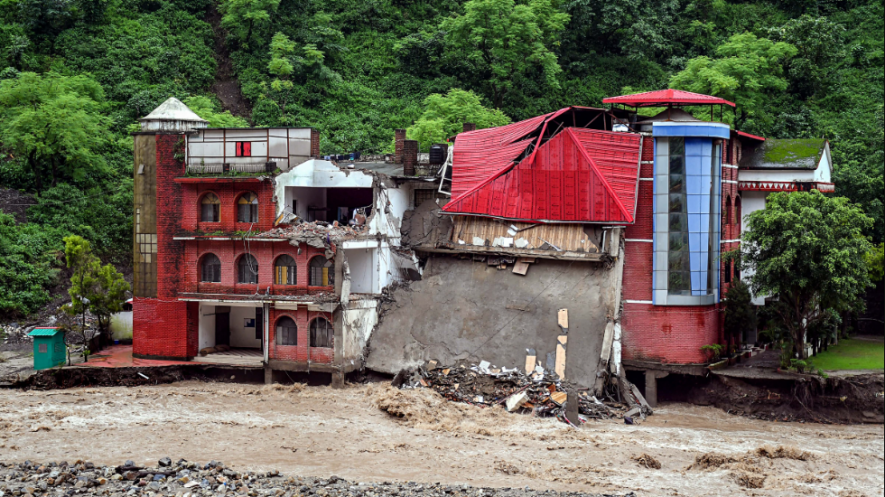 The Doon Defense College building collapses following incessant monsoon rains, near Dehradun, Monday, Aug. 14, 2023. Image Courtesy: PTI
The floods that hit Kedarnath in June 2013 resulted in the loss of close to 6,000 lives. But the pounding that Kedarnath, Gaurikund, Rudraprayag and other towns and villages of Uttarakhand are getting since 3 August from landslides, floods and incessant rain has convinced locals that an endless apocalypse will soon overwhelm them.
Farmer Vinod Negi, who owns five bighas of land in Gauri village of Uttarkashi, laments, "The rain since destroyed my maize and vegetable crop, which is my main source of income. This year it has all got washed away. We are now in the middle of August, and incessant rains continue to batter the crops."
The data for crop losses prepared by the State shows Haridwar district has suffered the maximum losses, with over 8,582 hectares of rabi crop, rice and maize destroyed due to flooding and heavy rain.
But the state government has yet to come up with a compensation package for the farmers who experience a combination of land subsidence and crop destruction. Both have plunged farmers into a fresh cycle of indebtedness.
Atul Sati, convenor of the Joshimath Bachao Sangharsh Samiti who led the movement to protect Joshimath from large construction projects, says, "We need to start a strong movement to pressure the State government to take proper measures to protect the environment and farmers' livelihoods. We could highlight the subsidence and environmental damage in Joshimath, but not in the entire State. The State government is indifferent to our demands because it has learnt how to manage elections—it believes it can win despite people's protests."
Amid the the deluge of the last two months, the younger generation has been migrating out of the State in search of work and safety. Parvati Garg, from a village near Maldevta, recently found work as a domestic worker at the Pacific Golf Estate residential society in Dehradun. She says, "Our village has emptied. I, too, have left my sixty-plus mother alone in our village home and have rented a room. There is no work or future in the hills. At least now I can send a little money home to her every month."
Ever since the Char Dham yatra started around two months ago, 500 to 800 pilgrims have been stranded due to frequent landslides along the Kedarnath Yatra route. A Public Works Department survey records collapsed houses and over 75 bridges in the State left unfit. At least five key bridges have collapsed in two months, most recently the bridge over the Malan River that connects Kotdwar with Sigaddi and Haridwar. It has cut off 50,000 people and left them struggling for supplies. Buildings across the State that have developed cracks or other landslide-related damage are being pulled down.
Rajni Rawat, a teacher in a private school in Uttarkashi, says, "Hundreds of homes have developed cracks. The government says it is due to land subsidence, but we believe it is a combination of heavy rains, land subsidence and faulty planning. We had repeatedly warned the government that the mountains were sinking across the Garhwal region. They paid no attention to our cries."
In Rudraprayag, a stop-over point for pilgrims going to Kedarnath, landslides led to the collapse of a massive three-storey hotel on 5 August. Fortunately, its occupants had been evacuated. On 9 August, five pilgrims died after their car was buried under a landslide in the Rudraprayag district on the Kedarnath Yatra route.
On 3 August, a landslide destroyed three settlements along the Mandakini River, burying 20 men. The State Disaster Relief Force (SDRF) recovered three dead from turbulent overflowing river and its debris, while others are still untraceable.
The following day, bulldozers were brought in to destroy 263 roadside shacks on the route to Gaurikund, the starting point of a 16-kilometre trek to Kedarnath, where pilgrims could find affordable housing.
While the State government claims thousands of crores from the central government as compensation for infrastructure and agriculture losses, it has yet to list the remedial actions it is willing to take to ensure such disasters do not recur.
Instead, with scant concern for the mountains and the public, the PK Dhami government is considering amendments to an Environmental Site Assessment (ESA) notification of February 1989 introduced to protect the Doon Valley. The ESA ensures land use is not changed where it had been set aside for grazing or other environmentally protective activities.
Doing away with the ESA will green-signal "red category industries" whose construction had been prohibited in notified areas.
The Doon Valley notification was issued on the directions of the Supreme Court to protect its unique environment, given that it is a crucial watershed area and the starting point for several rivers that flow into the Ganga basin.
If changed, the State will throw on its doors to harmful industries, including limestone quarrying. Though State Forest Minister Ganesh Joshi has said he wants to do away with the ESA to resume activities in slaughterhouses and other non-polluting industries, environmentalists, including Reenu Paul, fear the worst.
"Limestone quarrying destroyed the hills of Dehradun and was halted after former prime minister Indira Gandhi intervened. The Central Reserve Police Force was asked to help re-green the hills of Mussoorie and Dehradun. All that effort will go to waste," says Paul.
In a recent report, the Parliamentary Standing Committee on Science and Technology, Environment, Forest and Climate Change, chaired by Jairam Ramesh, drew the government's attention to escalating tourism in Uttarakhand and Himachal Pradesh, precipitating the construction of unauthorised structures, including homestays, guest houses, resorts, hotels and restaurants.
These constructions over-exploit natural resources and trigger more encroachments, the report says, asking the Ministry of Environment to curb ecologically damaging activities to save the Himalayas.
No other part of India needs urgent attention like Uttarakhand does. The last two months have been an unending apocalypse for its people. The extended degradation of land and landslides and the non-stop "killer rains" mean blotting out any light at the end of this tunnel.
The author is an independent journalist. The views are personal.
Get the latest reports & analysis with people's perspective on Protests, movements & deep analytical videos, discussions of the current affairs in your Telegram app. Subscribe to NewsClick's Telegram channel & get Real-Time updates on stories, as they get published on our website.
Subscribe Newsclick On Telegram