Our Generation is the Last to See Tigers in the Wild: Aditya 'Dicky' Singh
The noted wildlife photographer and conservationist provides a vivid description of the bizarre and illogical outcomes of many official conservation measures and political decisions.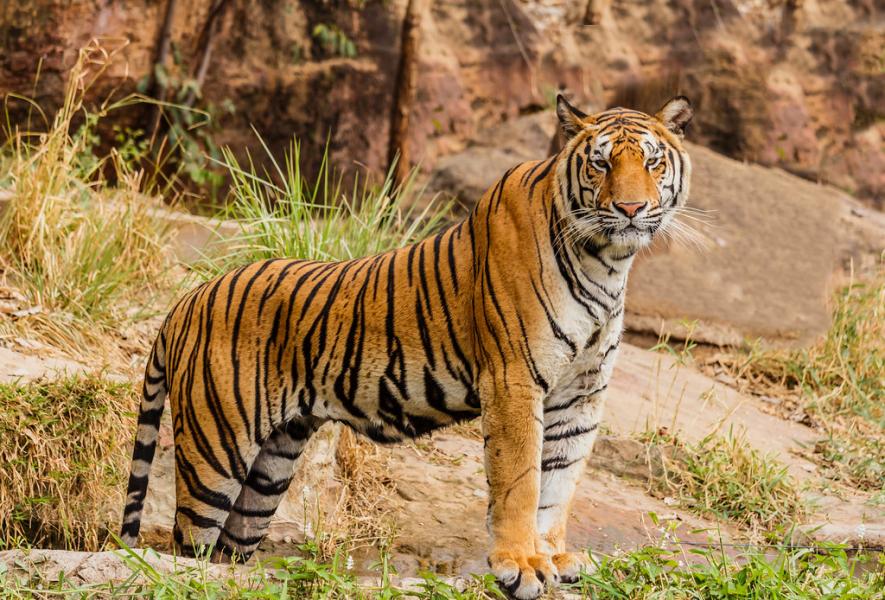 Aditya 'Dicky' Singh's name is synonymous with tigers and the natural history of the Ranthambore National Park. A reputed wildlife photographer and winner of the Carl Zeiss Award for Conservation, Singh believes if India keeps destroying tiger corridors for infrastructure projects, it will sound the death knell for the Indian tiger. In this interview, he critiques official conservation efforts from the point of view of villagers living near tiger habitats, forest guards and other forest department officials—and the tiger itself, caught between the risk of contracting diseases from stray cattle and the temples or giant expressways cutting through virgin forests. Edited excerpts:
Rashme Sehgal: You have issued a very dire warning about the survival of tigers in the wild. Why?
Aditya Dicky Singh: Absolutely. Our generation is the last one left to see tigers in the wild. Tigers are territorial creatures. They move from one reserve to another—but our tiger corridors have been completely cordoned off. The last 20 years have seen most of these crucial corridors destroyed. We are at a terminal death stage.
We have 52 tiger reserves, but 20 do not have any tiger populations. There have been attempts to translocate tigers in some reserves, but an inadequate prey base and sizeable human populations have prevented the tigers from flourishing.
Four tigers were shifted to the Mukundara Hills National Park near Kota, and they even had four cubs. But in 15 days, seven of the eight tigers died, and one was shifted to the Kota zoo, where he is undergoing treatment. These tigers' prey base was stray cattle, and they must have contracted some disease from them. The matter was hushed up, and no enquiry was ordered on what led to their death.
We have a few scattered tiger reserves left in central India, like the Tadoba-Andhari National Park and the Panna, Bandhavgarh and Nagarhole tiger reserves. We also have a few in the Himalayan foothills connected to Nepal. But these are also being lost at a fast rate. We will soon be left with island reserves surrounded by human habitats. One can tranquilise tigers and fly them from one reserve to another, but ecologically speaking, they are as good as extinct.
RS: Why was this allowed to happen?
ADS: No one gives a damn. We keep showcasing the Ranthambore tiger reserve. The reserve is 1,500 sq km in size, 50 km long and 20 km wide, with its deepest part 15 km from the closest village. A tiger walks 10 to 12 km in an hour. It takes him just one hour to reach the nearest village. Some people have been saying, stop tourism as it disturbs the tigers.
Tourism is a controlled activity. Generally, 1,200 tourists visit the park in a day during the peak season. On a light day, [another] 10,000 pilgrims visit the park every day to visit the temples inside the park. This is a small number [considering that] on festivals, 10 lakh pilgrims visit the Ranthambore Park to do puja in these temples. Recently, the Forest Department tried to curtail the number of pilgrims by placing some restrictions, but they were forced to withdraw those due to political pressure.
The reality is that wildlife is facing an existential crisis. The National Tiger Conservation Authority's annual budget has been cut and is presently down to less than Rs 50 crore. The annual horticulture budget of the Delhi Government is over Rs 150 crore, and the budget for the cheetah is over Rs 250 crore.
RS: Villagers were known to have a great deal of respect for the environment and especially forests. Is that still true?
ADS: The earlier generation had respect for the forest. They would regard the forest as their own. Now they see it as belonging to the government. They see it as being a "government forest". Till 10 years ago, Ranthambore had a buffer zone of forested land over which villagers could exercise some rights. They could graze cattle there and collect firewood. But the forest department, as they were losing tiger habitat, decided to incorporate this buffer land into the main tiger reserve.
Let me add that the villagers no longer want to grow trees because they believe the government will take over their land if they grow trees.
RS: How did they arrive at this conclusion about growing trees?
ADS: Look at what the state government has done in Madhya Pradesh. Villagers who raised teak and bamboo for agro-forestry are no longer allowed to sell this wood as this has been deemed forest land. So while the villagers own the land on paper, they cannot sell it.
During the last 25 years, we bought around 50 acres of land next to the Ranthambore National Park and have restored it to a natural forest. We blocked the water channels to collect water, which has helped raise the water level to 50 feet, whereas in the rest of the area, it is down to 500 feet. Tigers come here to drink water, but some forest officials will come here to inquire why we have kept this land.
RS: Yet the government claims the forest cover has expanded.
ADS: The government complains falsely that our forest cover is expanding. What they have done is change the definition of forests—and they keep doing this periodically. The new definition states that any two-and-a-half acres of land with a 10% tree cover is a forest. According to that definition, the Bombay Gymkhana is a forest; the Delhi Golf Course is a forest. Our forest cover is down to 5% though I maintain that even a 7% cover is good enough to maintain tigers. Twenty five per cent of our tiger population is living off stray cattle.
The government claims poachers are the biggest threat to our tiger population, but massive infrastructure projects like the Nariman Point to Delhi eight-way highway that cuts through the Mukundara Tiger Reserve or the expressway cutting through Pench Tiger Reserve are destroying our reserves and the tiger corridors around them. This eight-lane Mumbai-Delhi expressway will destroy the tiger corridors around Ranthambore and Sariska. Sanctioning indiscriminate mining projects is also responsible for the current state of affairs. Twenty per cent of the Tadoba Tiger Reserve has been leased to a corporate house (the Adani Group) for mining purposes.
RS: We hear of stray cattle being allowed to enter the tiger reserves. What is the situation?
ADS: Villagers abandon their aged cattle and allow them to stray into these reserves. To cite an example, the average life of a cow is 20 years. It will give milk for only 10 years. Then it used to be sold to cattle skinners for leather. Now the villagers simply abandon them in these reserves, and the government has closed its eyes to this problem.
This is very dangerous because all kinds of diseases are being spread through these cattle.
RS: Is this happening in the Gir forest as well?
ADS: They have a problem with a spillover of lions straying into neighbouring villages. The prey base has shrunk, and they, too, survive on stray cattle.
RS: But the government also claims it has all kinds of mitigation measures for expressways that cut across sanctuaries.
ADS: Look at how the Pench tiger reserve, which consisted of virgin forest, has been divided by the expressway. Seventy per cent of the reserve falls on one side and the rest on the other side. It takes years to build flyovers, overpasses and tunnels in forests. Experience shows that by the time these projects are completed, no animals are left in that area.
India does not have much land left. Twenty-five years ago, Ranthambore was surrounded by ravines. The government declared the ravines were wastelands, and they have all been levelled and sold by developers. We have no forests left except those in protected areas. It is the same story everywhere. Twenty years ago, the Western Ghats consisted of thick forests. Now it has all but practically vanished. Globally, scientists with the World Wildlife Fund have warned that during the last 40 years, the animal population has fallen across the planet by 60%. After Nairobi, Delhi used to be the bird capital of the world, with over 200 varieties. Here, too, the numbers have declined drastically.
RS: Are you saying the forest department is not up to taking care of wildlife?
ADS: The Forest Department is the only organisation to protect our forests and animals. But they are poorly funded, under-motivated and under-staffed. The Ranthambore National Park needs 440 guards but has only 80, and 40 of them have reached superannuation age and will retire shortly.
Wildlife conservation has governments providing state-of-the-art facilities to forest wardens. Here, forests remain low-priority. Our forest guards continue with their old-style batons. But we cannot allow this drift to continue, or it will be too late.
(Rashme Sehgal is an independent journalist.)
Get the latest reports & analysis with people's perspective on Protests, movements & deep analytical videos, discussions of the current affairs in your Telegram app. Subscribe to NewsClick's Telegram channel & get Real-Time updates on stories, as they get published on our website.
Subscribe Newsclick On Telegram