Pinjra Tod's Campaign Against the Modi govt: Informed Citizenship and Student Politics
Since 2016, Pinjra Tod has been a torchbearer of resistance against the tyrannical institutional practices across university spaces.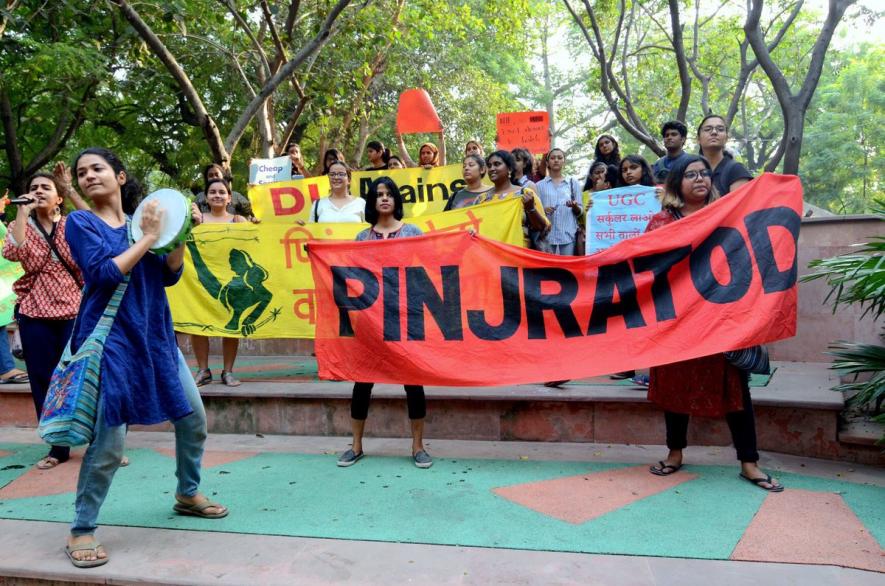 Since 2016, Pinjra Tod has been a torchbearer of resistance against the tyrannical institutional practices across university spaces. The collective, which comprises of women students and alumni from the Delhi University, Jamia Milia Islamia, Ambedkar University, National Law University and Jawaharlal Nehru University, grew out of a simple Facebook page and has transformed into a pan-India movement in the recent years. Starting from fighting the restrictive rules faced by women students in hostels and PGs, to getting the Vice Chancellors of Universities to adhere to their demands, Pinjra Tod has proclaimed itself as a force to be reckoned with.  
In April 2019, they launched a campaign urging voters to vote against the "sanghi" BJP government. Announcing the campaign on their Twitter handle, Pinjra Tod said, "Over the next few weeks, we will be campaigning with songs and pamphlets in colleges and universities, buses and trains, streets and factories, urging people to vote against the BJP."
Today we began our public campaign against Modi government in the context of the on-going national elections.

— Pinjra Tod (@PinjraTod) April 14, 2019
The collective highlighted the failures of the Modi government, beginning with their attacks against the minorities. "This sanghigovernment has been responsible for intensifying violence against women, dalits, muslims and adivasis propagating an atmosphere of hatred and fear." They added that "[the Modi government] has produced unprecedented rates of unemployment, has only colluded with Adanis and Ambanis to further exploit the working poor of this country." The central government's systematic dismantling of the "public education and state welfare provisions" was also called out by the collective.
The BJP-led government "has concertedly worked towards dismantling democratic institutions, has violated the fundamental ethos of our constitution and sought to silence every voice speaking out against this draconian regime," says Pinjra Tod.
Urging their allies to join them, they chanted, "Sanghiyo ki yeh sarkar, nahi chalegi abki baar! Hindu rashtra ko todenge, itihas ki dhara modenge!"
Kanika Katyal of the Indian Cultural Forum spoke to a member of Pinjra Tod about this campaign.
Kanika Katyal: What is the relevance of this campaign? Why does the campaigning target the Modi government in particular and not the state machinery in general?
Pinjra Tod: Pinjra Tod has always questioned the state machinery. Since the beginning of our collective, we have been protesting against a patriarchal surveillance model that is offered as the solution to any and all concerns of women's safety. All our campaigns have been advocated from that position. In the same spirit, this campaign too questions the logic of state violence and its orchestration against specific communities.
However, in Modi's tenure, we have witnessed the government's overt Hindutva project and a politics of hate. We strongly feel that it is important to single out this government which has given teeth to polarising sentiments in this country. There is no doubt, that hate mongering has been done before and polarising sentiments have existed amongst the masses too, but through this campaign we aim to warn the future governments that weaponising these sentiments for political mileage, instead of finding ways to put them down, is not going to win them electoral victory.
KK: The Pinjra Tod has been resisting regressive institutional rules and practices for a long time. Are there still norms that though misogynistic are still not considered "violence"? What is the way ahead for the movement? 
PT: Certain practices are so entrenched into the system and every day routine that they are not even recognised as violence. Keeping them under wraps works in favour of the administration since it ensures that the oppressive sections of the system remain immune from accountability, or any kind of questioning.
Students are increasingly becoming aware of these invisible forms of violence and seeing them as a gross violation of their basic rights. So, a democratic students' movement which consolidates all registers of resistances overhauling these systems of violence is the only way ahead, since clearly, the mere existence of legal protection hasn't done much. 
KK: What is the kind of government you want to see in 2019?
PT: We want a government that furthers the cause of substantive democracy in both social and economic spheres.
Since its inception, Pinjra Tod has exhibited an exemplary model of the strength of the collective that has brought down even the stalwarts of authority. Extending their activism to issues of electoral politics in the ongoing Lok Sabha elections speaks volumes about not just the commitment of the collective to informed citizenship but also the importance of student politics in a democracy.
Get the latest reports & analysis with people's perspective on Protests, movements & deep analytical videos, discussions of the current affairs in your Telegram app. Subscribe to NewsClick's Telegram channel & get Real-Time updates on stories, as they get published on our website.
Subscribe Newsclick On Telegram